Reproduction Transferware Porcelain Tea Sets from the Madison Bay Company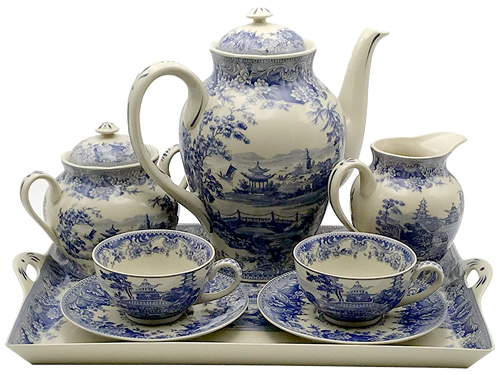 Blue Willow and other Chinese looking patterns are transferware. Transferware was developed in England sometime in the 1750s and became enormously popular. Transfer-printed dishes were affordable.
Cobalt blue, like Blue Willow, was the most popular, but transferware was also available in green, yellow, red, pink, purple, cranberry, brown, black and gray.
The style is timeless. Whether you have a traditional home filled with antiques or a cottage or farmhouse look, transferware touches the right notes.
Ceramics Transfer Process
First a metal printing plate is engraved. Then it is printed onto thin, lightweight paper using cobalt or another pigment. This transfer is put onto the pottery, face down, to "transfer" the image to the surface. The tissue is then either rinsed off, or left to burn off when the ceramic piece is fired.
Some pieces use a number of paper sections to make the pattern. If you look at old ceramics, sometimes you can see where they were pieced together, or even where small folds or tears occurred in the tissue.
The Madison Bay Company
The Madison Bay Company distributes antique reproduction tea sets made using the same transferware process.
The Madison Bay Company is in East Berlin, Pennsylvania.  It was started by a teacher in 1976, first selling civil war photographs, and then moving into all kinds of historical photographs, postcards and notecards.
In 1996 the Madison Bay Company expanded to include historical reproductions including transferware porcelain. They are usually found through museum, national park and theme park gift shops. Some pieces are on Amazon.
They look like the better quality antique transferware, but are dishwasher and microwave safe.
Madison Bay Company Porcelain Tea Sets
These are some of the patterns they distribute. You can also buy some of the pieces separately or buy additional tea cups.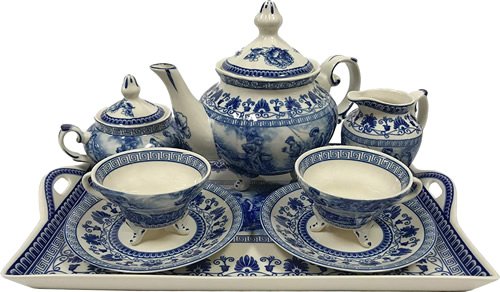 Liberty Blue isn't really an antique reproduction. The pattern wasn't made until more recently. It was made to commemorate the Bicentenial.
Madison Bay Company Liberty Blue Antique Reproduction Transferware >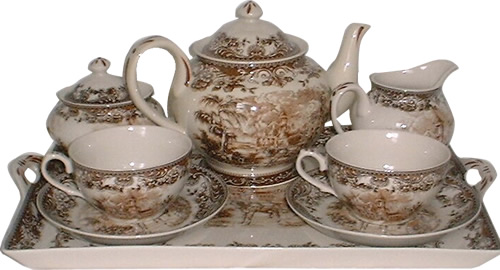 The Charleston or Carolina pattern is a classic brown transferware with detailed low country scenes.
Brown and White Charleston or Carolina Porcelain from the Madison Bay Company >
The Gondola pattern has been available since the 18th-century. Similar Italian inspired patterns have been made by many porcelain companies in browns, reds and other popular shades. The example from the Madison Bay Company uses multiple shades of an attractive historical green.
Gondola Green Antique Reproduction Transferware from the Madison Bay Company >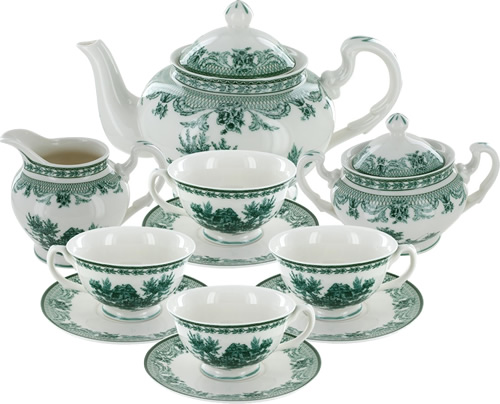 Similar to the Gondola pattern, the Green Toile tea set is transfer-printed in green on white porcelain with a classic English tea pattern.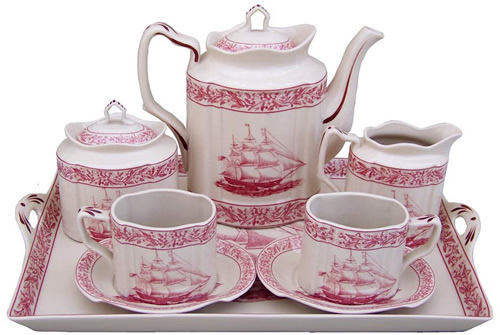 This cheerful tea service is made with cranberry red transferware featuring a ship in full sail bordered by an open floral band.

Red Nautical Rose Antique Reproduction Transferware from the Madison Bay Company >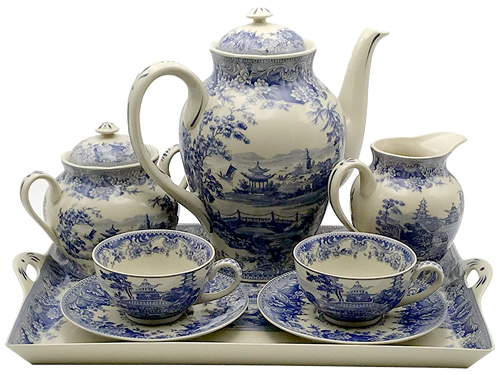 My favorite is the Blue and White Pagoda pattern. It is a beautiful reproduction of traditional transferware with a detailed scene incorporating the traditional Blue Willow Pagoda motifs in a softer English style.
Pagoda Blue and White Antique Reproduction Porcelain from the Madison Bay Company >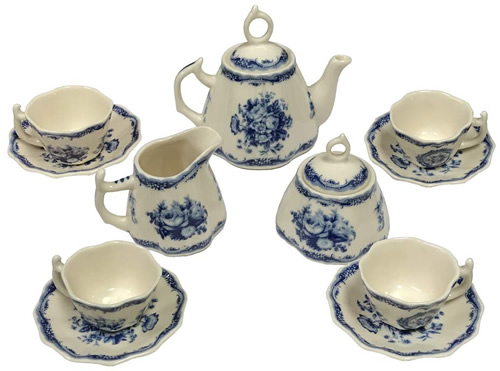 The Madison Bay Company also makes mini tea sets in a reproduction botanical floral Rose pattern in both cobalt blue and traditional red versions.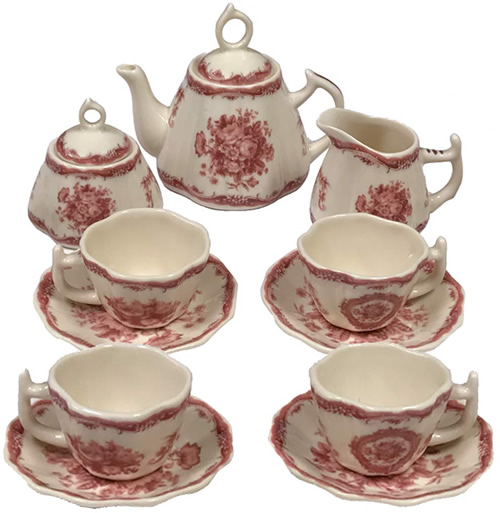 These little tea services have the teapot, cream server, sugar bowl and four miniature teacups and saucers.
Red and Blue Rose Botanical Floral Porcelain from the Madison Bay Company >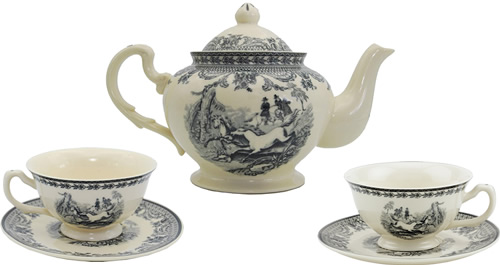 The Equestrian pattern is transfer-printed in high-contrast black on white porcelain. So very traditional with hunting scenes, carriage scenes or other scenes drawn from English or early American life are a traditional in vintage porcelain. The black transfer makes them ideal for modern farmhouse style.

Equestrian Pattern Antique Reproduction Transferware from the Madison Bay Company >