Blue Willow Pot Holders and Aprons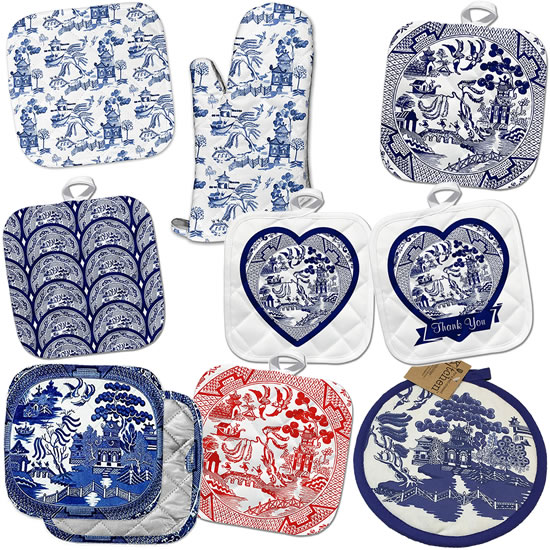 I started looking for pot holders. I realized mine are pretty sad. I don't remember when I bought them, but I think it must have been a while ago.
So why not replace them with something more fun? I started looking, adding all the ideas to my shopping cart and I thought I'd just share.

Blue Willow Pot Holders
These come as a set from Jessies Designs. It says the other side is heat resistant  quilted silver.
I like both of these a lot. The one on the left is from Marye-Kelley. It has the silver backing. The one on the right is Kay Dee Designs for the Kitchen.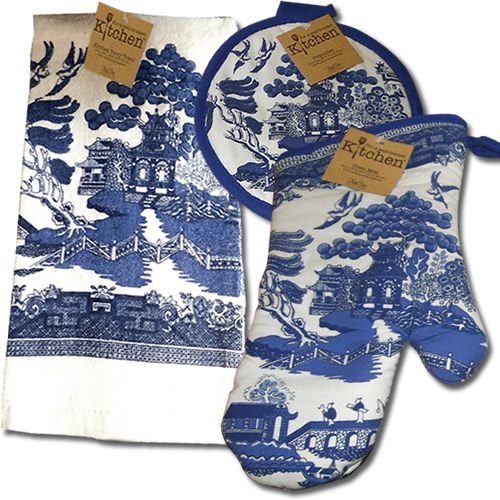 Kay Dee Designs makes hot mitts, pot holders and terry kitchen towels with a traditional Blue Willow design.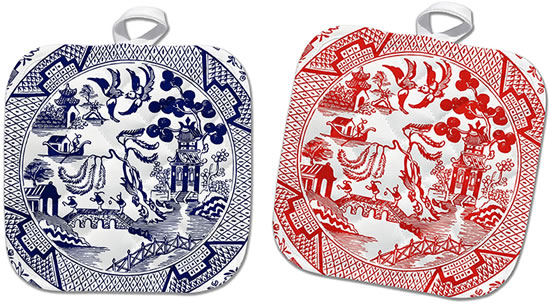 These from 3D Rose come in Blue Willow or Red Willow. They have the quilted silver backing, too.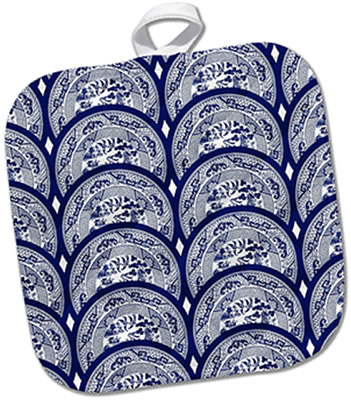 3D Rose also makes this one with little plates on it.
And you know how Amazon shows you more ideas. Now I have to have an apron, too.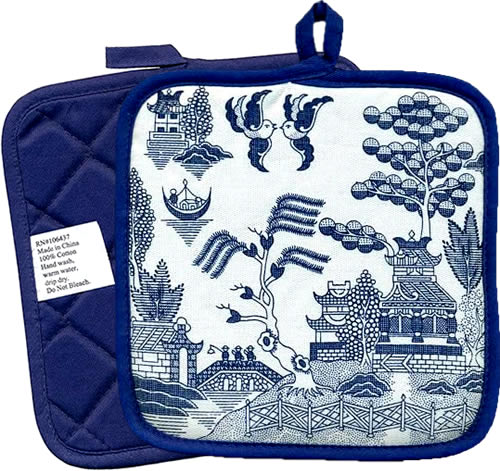 UCO makes these pot holders. They are 100% cotton. The tag says hand wash, which is ridiculous. I can't see any reason why they can't be thrown in the washer.
UCO is new on Amazon. At least I haven't seen them before and I am shopping Blue Willow all the time. They have an apron that is at the bottom of the page. I've also found quite a few other things. I will have to make a post.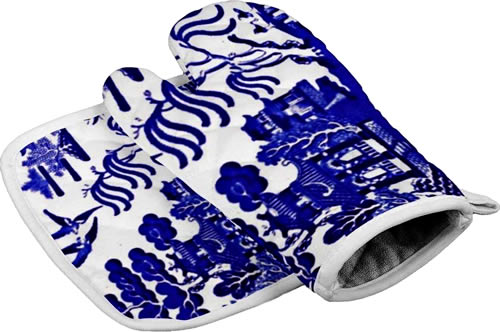 These sets of blue willow oven mitt and pot holder are available from a number of importers. They have the very traditional English Blue Willow pattern.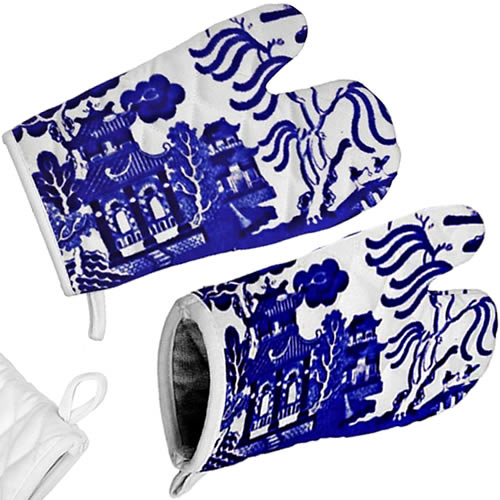 The oven mitt is lined. Unfortunately the other side is white. I don't think it would stay white long.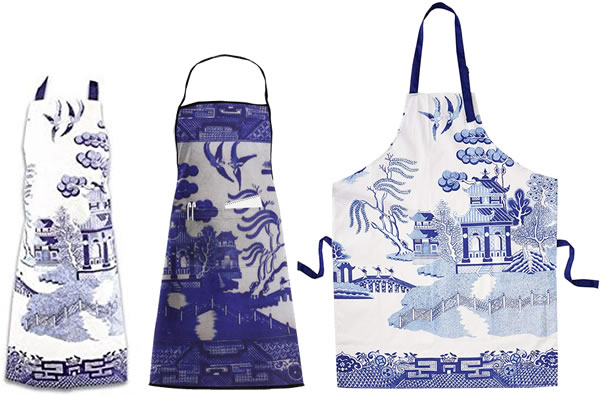 Blue Willow Aprons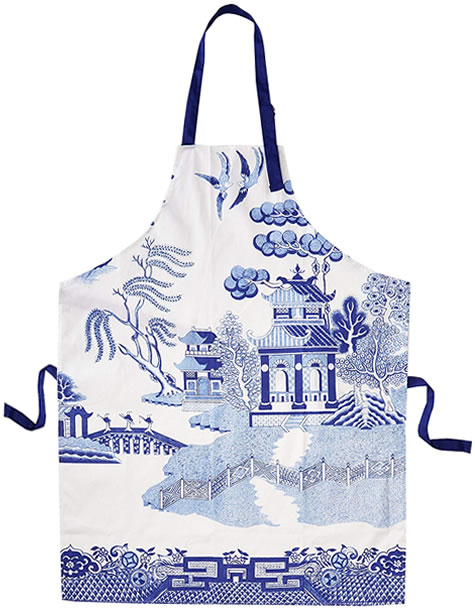 This one is from Gift Republic. It is 100% cotton.
The one is also from Gift Republic. I think it is the same apron, just a different view and a wildly different price.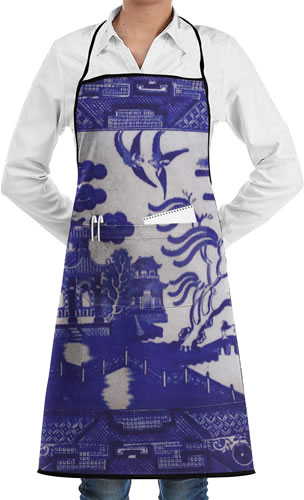 This one has pockets. It is made by Lao Yang Mai. Not only can you "Carve The Turkey in Style," this apron comes with a choice of careers. Waiter, Housekeeper, Pet Grooming, Bartender, Kitchen, Beautician, Hairstylist, Nail Salon, Carpenter.
Carpenter?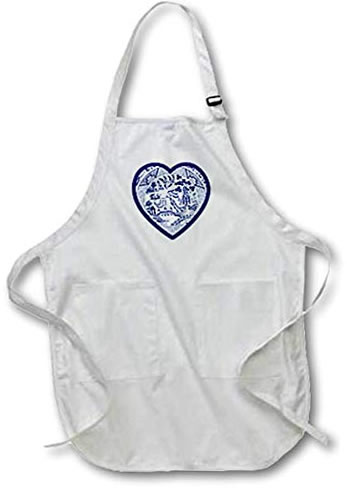 This apron, also from 3D Rose , comes in two styles with the blue willow plate pattern inside the heart. One has Thank You written over it. These have matching pot holders. This might be an idea for a thank you gift. It has pockets. And I do not love it.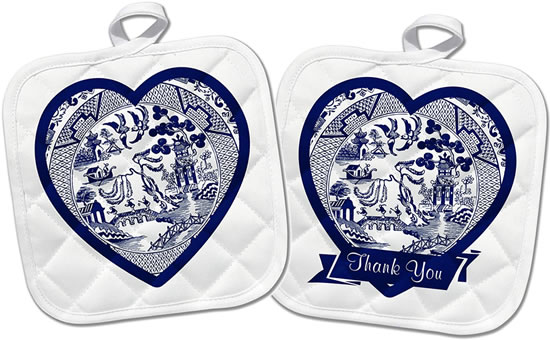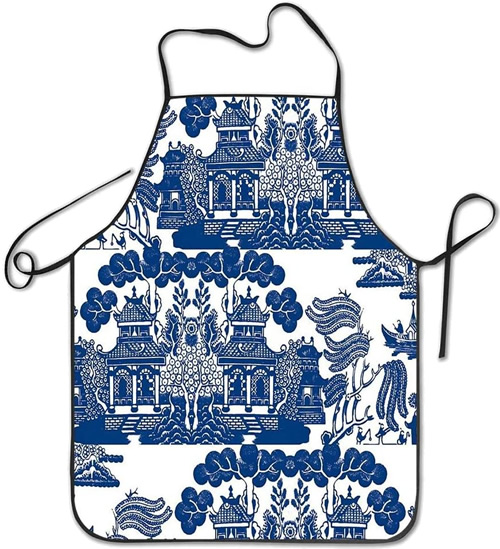 Here is another Blue Willow Chinoiserie Porcelain Inspired Apron.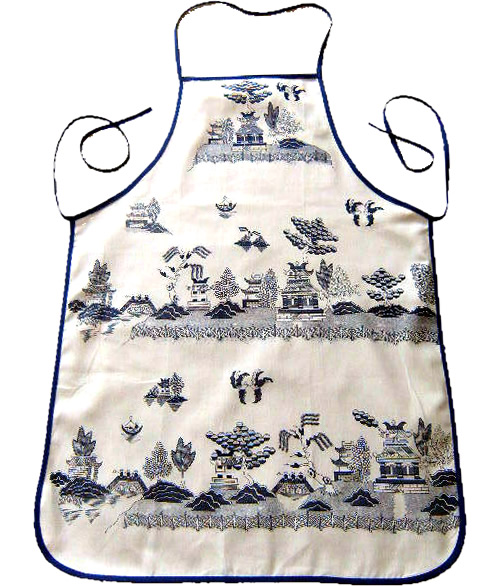 I just found another apron on eBay.
Another Blue Willow Apron just turned up when I was searching for something else.
So I looked and found some others. This set comes with the Blue Willow Apron, Kitchen Towel, Pot Holder and Oven Mitt.
Blue Willow Kitchen Set on eBay >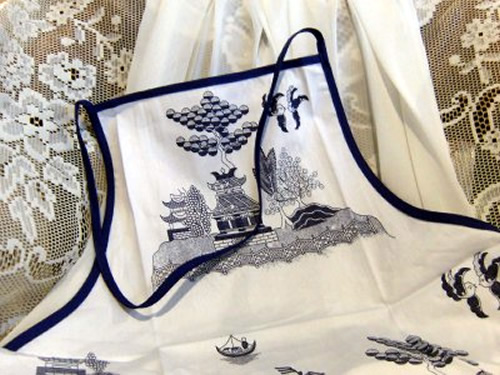 This is a closeup of the top of the apron. They look like they could be the same apron. They are two different auctions by the same seller. She has a lot of Blue Willow things.
Search for Blue Willow Aprons on eBay >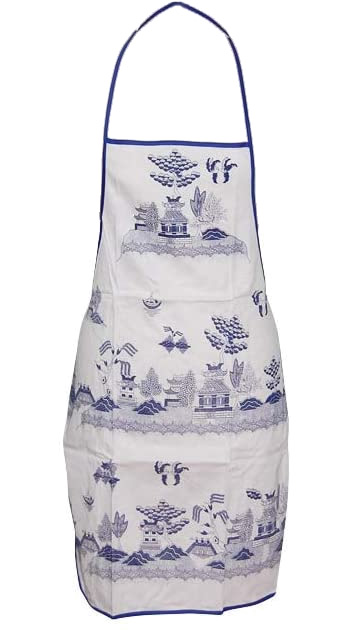 This might be the same one. It is new on Amazon.