Pangu Blue Willow Porcelain Dinnerware from Jingdezhen China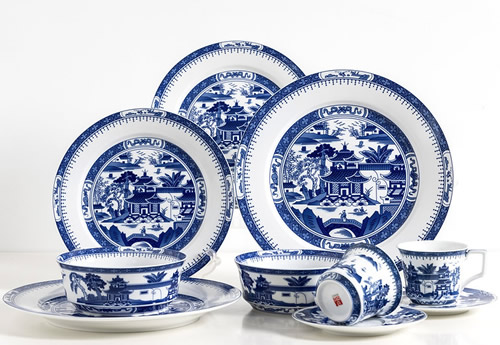 This set of Blue Willow motif china is made in Jingdezhen China using the same materials and techniques as antique import china.
Pangu Blue Willow Porcelain Dinnerware from Jingdezhen China

2 x 11" Dinner Plates
2 x 8.5" Salad Plates
2 x 6.5" Bowls
2 x 6.7oz Tea Cups
2 Saucers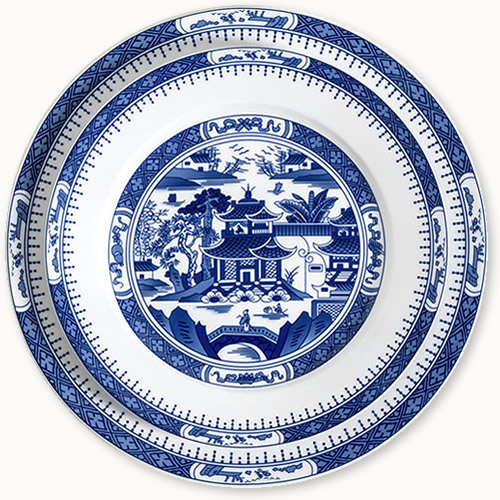 The design is a denser telling of the Blue Willow story, with less white space and the pagoda centered.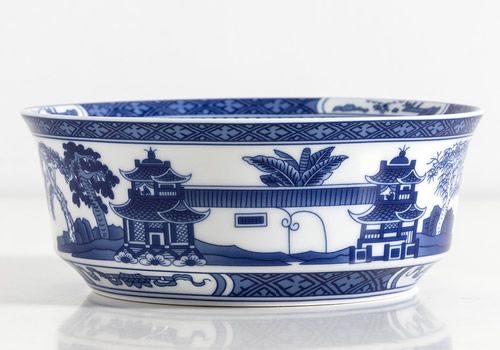 The bowls are a less European shape, deeper, with high sides.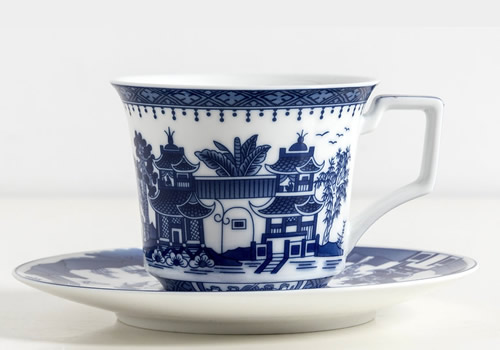 The teacups are small, holding 6.7 ounces or .84 cup. My Churchill Blue Willow cups hold almost 8 ounces.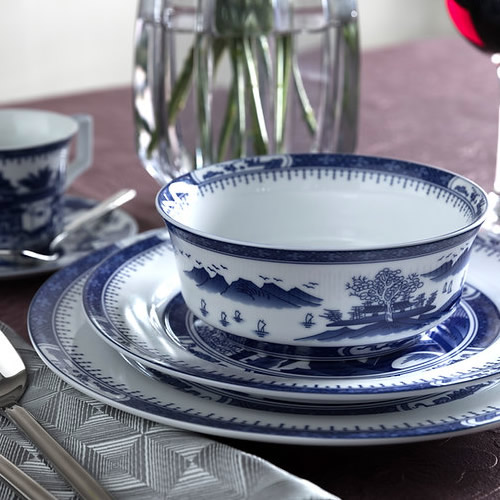 The pieces look delicate, but are durable because of the high firing temperature. "When fired, porcelain becomes a hard, vitrified, non-absorbent clay body." These are made from non toxic, lead free kaolin clay. It has been certified as lead and cadmium-free to European Standards.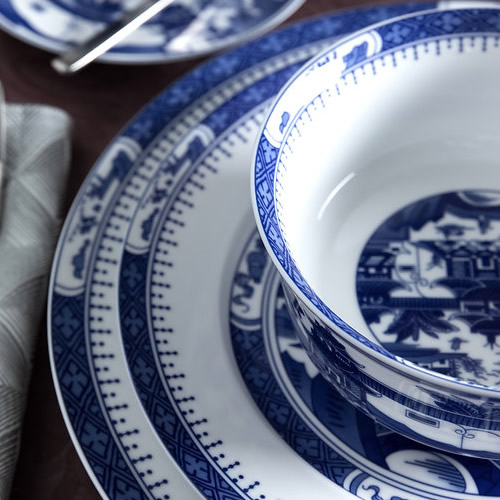 The dishes are beautiful, but durable. You can use them every day. They can be heated in the microwave and cleaned in the dishwasher. They are even freezer-safe.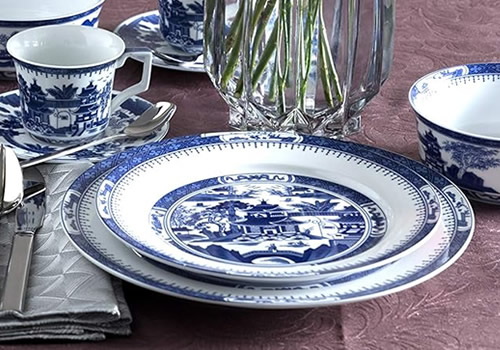 So, if you've wanted to set your table with the look of vintage import porcelain, this set gives you the opportunity at a not-too-dear price.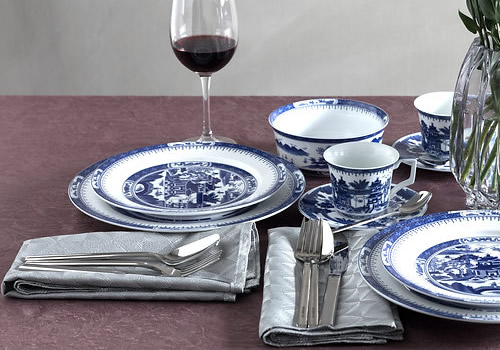 You can mix them with other blue and white china.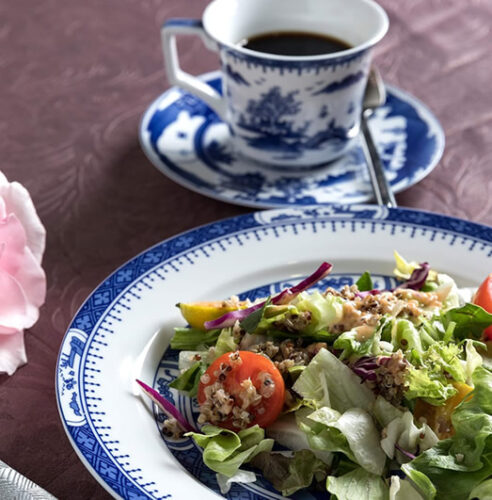 It is sold in sets for two.
Pangu Blue Willow Porcelain Dinnerware from Jingdezhen China

2 x 11" Dinner Plates
2 x 8.5" Salad Plates
2 x 6.5" Bowls
2 x 6.7oz Tea Cups
2 Saucers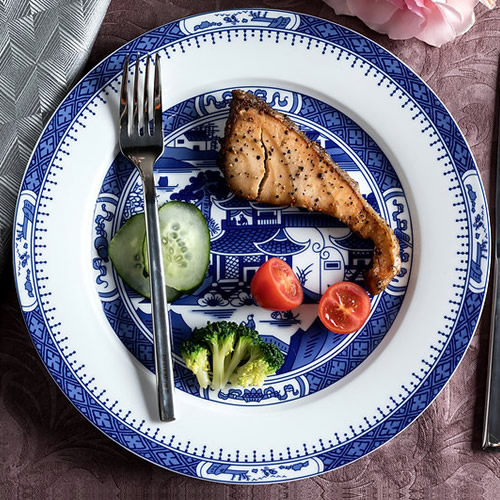 This is what Pangu says about the company.
Pangu

Our company committed to the dissemination of modern ceramics and home furnishings with rich oriental culture.

Our artwork studio located in Jingdezhen has a number of senior porcelain makers and creative porcelain designers. We cooperate with reputed artists in Jingdezhen as well. All of our pieces are handmade. Some pieces are the work of artists. Each piece is unique.

Our dinnerware factory is located in Hunan. Talented designers and professional workers are proud to provide gorgeous and high quality handmade dinnerware.

Carrying forward the traditional manufacture technology, we constantly innovate and put modern design elements that represent the global trend into works, thus inject new vitality into the classical beauty of oriental culture.

Focus on porcelain and ceramic products, our company will continue to develop household items that in line with the company's design philosophy for decorating your home with unique artistic taste.

Jingdezhen China is famous for its delicate porcelain and ceramics. Most porcelain for royalty of centuries past is from Jingdezhen. With 2000-years-long history of Ceramic making and splendid porcelain culture, relying on exquisite Ceramic making craftsmanship and rich product resources, Jingdezhen is well known as The Capital Of Porcelain.
And this is what Pangu says about how their porcelain is made.
How Is Our Dinnerware Fired?

Our dinnerware is fired in 1380 degree Celsius high-temperature kiln. It is non-toxic, lead free, dish washer and microwave applicable. Its contemporary pigmented glaze, conform with European Standard, takes good care of your health. The porcelain is made by high quality brightness petuntze which can be found only in Jiangxi. That makes the quality of our porcelain products different.

Our dinnerware is made of porcelain, not stoneware. Porcelain differs from stoneware in many ways. The main difference between porcelain and stoneware is how it is fired. Our porcelain dinnerware is fired at more than 1380 degrees Celsius, not like low-temperature or mid-temperature stoneware which is easily chipping and cracking when used under high temperature. Furthermore, since our porcelain dinnerware is made from white clay that is called Kaolin clay exclusively derives from JingDeZhen city, Jiangxi, China, which has less impurities and is much finer than any other clay in the world, it is steady and does not change much when used under high temperature. That explains why porcelain dinnerware is more durable and is barely chipping when used in the microwave.

The advantages of high-temperature porcelain are enjoyable in your daily life. Our dinnerware is easy to wash, easy to get out stains and grease because they have solider and smoother glaze comparing with low-temperature or mid-temperature porcelain products. Its surface is tougher and harder to make scratches. Meanwhile, the unique shining glaze on our dinnerware can absolutely kindle your life and make everyday gorgeous.