Cuisinart and Caskata Coastal Collection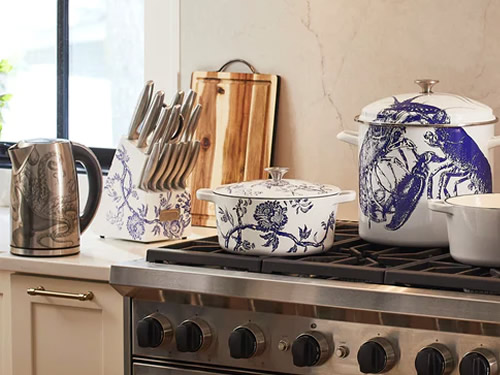 Caskata has partnered with Cuisinart to create kitchenware that coordinate with the unique table and barware they are known for.  Choose from coordinating kitchen and table linens, too.
"Our carefully curated collaboration with Cuisinart seamlessly blends sophistication with everyday grace. Crafted from the very best materials, each piece is more than just a kitchen tool; it's a testament to the cherished moments we share over meals. For me, this collection is a deep reflection of my passion for both design and cuisine and an invitation to each of you to create, relish and celebrate every culinary story."

Shawn Laughlin, Designer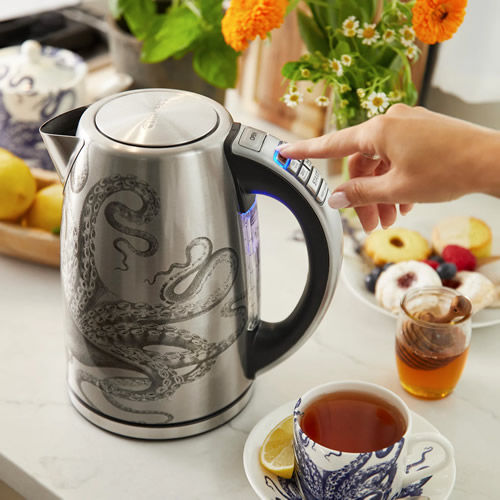 The electric kettle has all of the technology Cuisinart brings with the etched Lucy the Octopus.
Cuisinart Caskata Limited Edition Lucy Programmable Electric Kettle

Here comes an electric kettle you'll want to show off. Lucy, everyone's favorite cephalopod, wraps herself around this serious piece of precision brewing technology.

Sophisticated electronics meet sophisticated sea creatures in this uniquely playful piece that looks as good as it performs.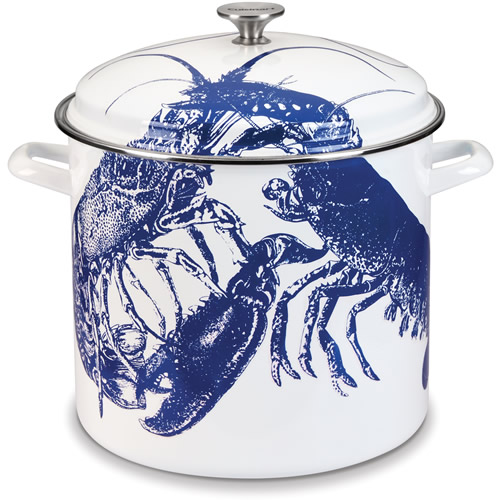 This stock pot can be used for more than lobster! No more worrying where to fit the largest pot, this is beautiful enough to leave on the counter!
Cuisinart Caskata Limited Edition Lobster Enamel on Steel Stockpot

This is a pot that's sure to be the life of the party. Boldly graphic, this oversized stockpot shows off our epic East Coast – West Coast lobster pattern to full advantage.

Perfect for classic clambakes, lobsters- whenever you're hosting a crowd this is the pot you'll reach for first. It's the perfect marriage or great design and great performance.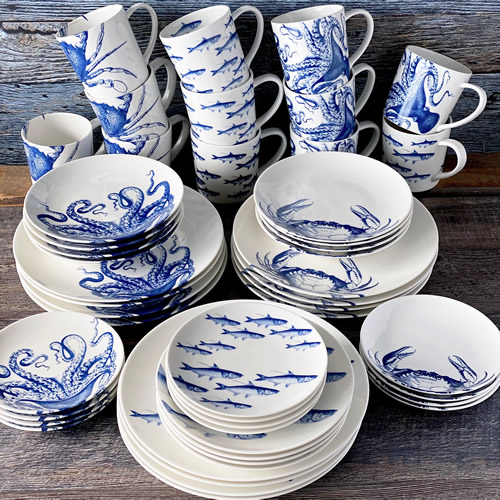 Caskata's Coastal Collection
Both Lucy and the Lobster are part of Caskata's Coastal Collection. The Coastal Collection  is decorated with fish, lobsters, crab and a horseshoe crab, shrimp and other crustaceans, starfish, shells, sea fans, anchors and ships with coordinating pieces in stripes and patterns, all in blue or red on white.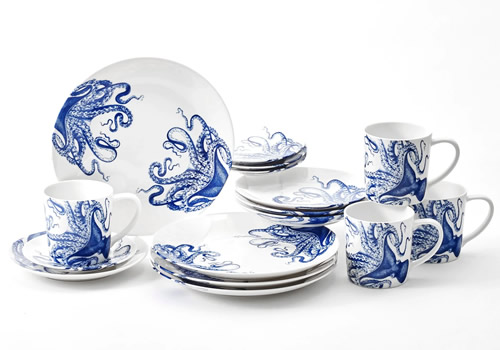 There are tableware sets and all of the coordinating serving pieces to mix and match.
16 piece Tableware Sets

4 x Dinner plages
4 x salad plates
4 x canape plates
4 x mugs
Additional bowls, etc available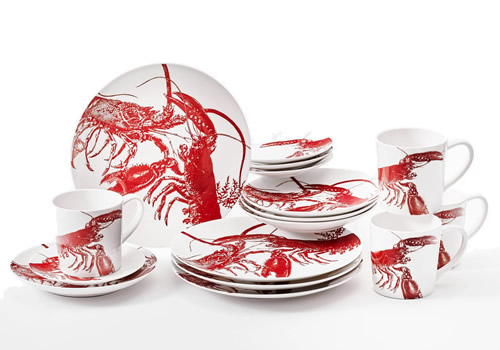 The fun red lobsters are available as a full set, or as pieces to mix with the other sets.
Caskata Coastal Collection Lobster 16 Piece Set

East meets West in this playful battle between these spirited crustaceans. Lobsters from both coasts sprawl across the dinner plates, adding a graphic dose of seaside style to any table. Inspired by the New England clambakes we loved as kids.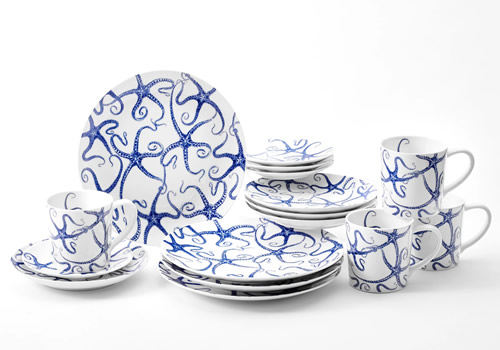 Caskata Coastal Collection Starfish Table Set for 4

Pulled from archival engravings, starfish wave delicately detailed arms across this dinnerware set. These happy fellows seem to dance around the plate, bringing a sense of whimsy and playfulness. Gently curved in creamy white premium porcelain these dishes are fun spread across the table for breakfast, lunch or dinner, and mix and match easily with all the blue and white pieces we make.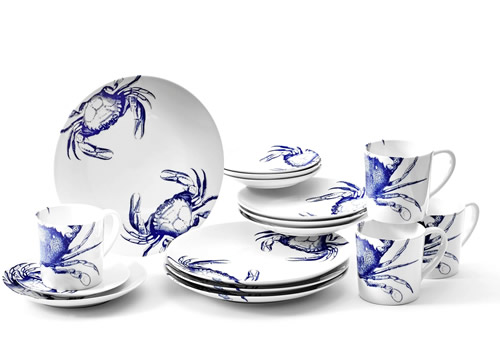 In brilliant blue, a pair of our favorite crabs anchors the dinner plates with a playful sense of place.
The crabs are available in blue and red.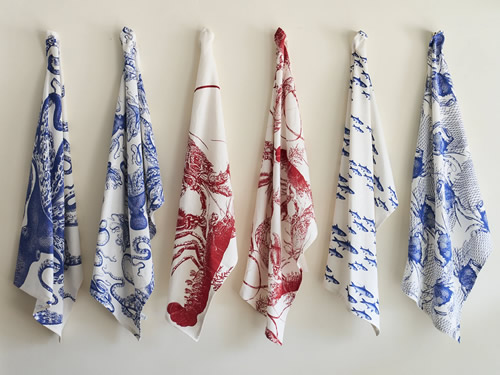 Caskata Coastal Collection Towels and Napkins
Kitchen towels are sold in sets of two matching or coordinating towels.
Caskata Coastal Collection Kitchen Towels

Sold in Sets of 2
Dimensions: 20.5″ wide x 30″ high
100% Cotton
Hang-tab on One Corner
Machine Wash and Dry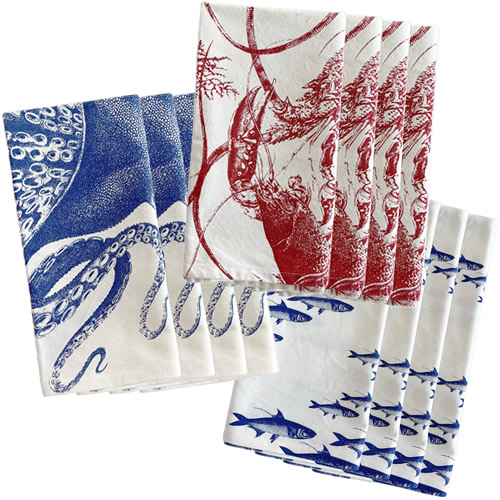 Cloth napkins are sold in sets of four.
Caskata Coastal Collection Sets

Sold in Sets of 4
Dimensions: 22″ wide x 22″ high
100% Cotton
Machine Wash and Dry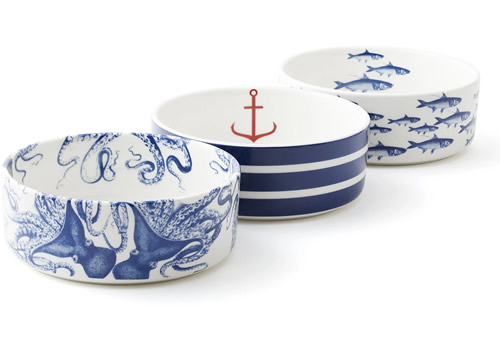 Caskata's Coastal Collection Pet Bowls are made from creamy white premium porcelain with designs inside and outside.  available in 2 sizes and 6 patterns.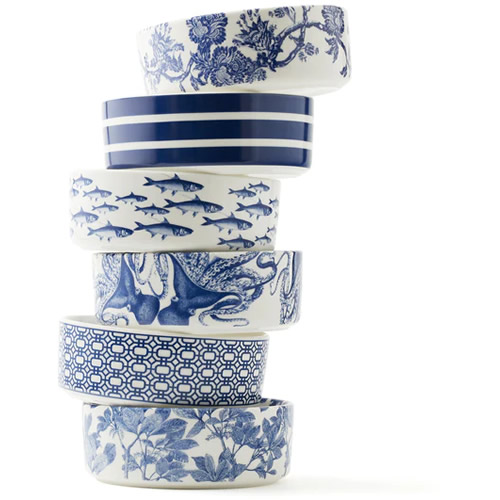 Caskata's Coastal Collection Pet Bowls are available in 2 sizes and 6 patterns.
Medium 7.5″ wide x 2.75″ high
Large 8.5″ wide x 3.25″ high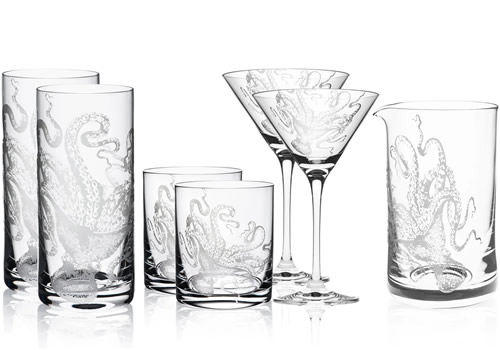 You can have Lucy the octopus on glasses, pitchers, tumblers, a decanter, stemware, wine glasses and other barware.
Lucy is carefully created by hand, using a sand-etching technique that renders her form deep into the glass.
Octopus Glasses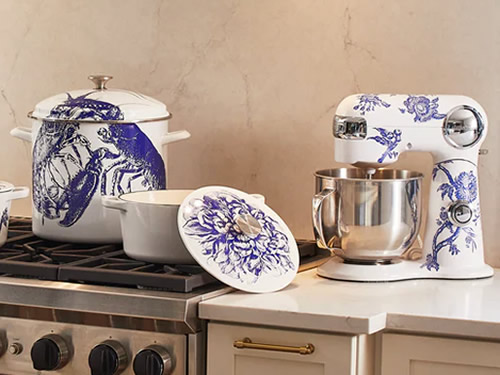 All of these coordinate with other pieces in Cuisinart and Caskata Botanical Collections.