Lomonosov Russian Blue Net or Cobalt Mesh China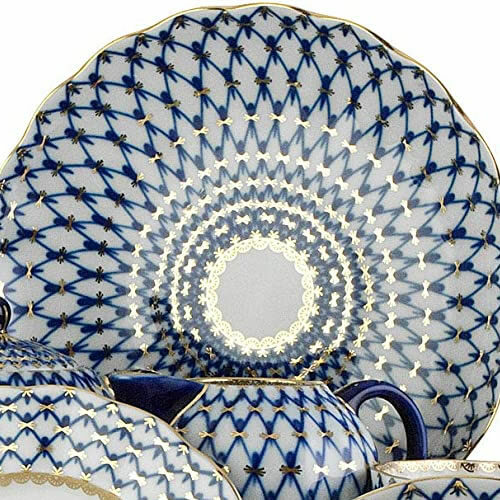 This is the Cobalt Blue Net or Mesh pattern china from Russia.
The basic pattern is crossing lines with "bugs" or bows where they cross.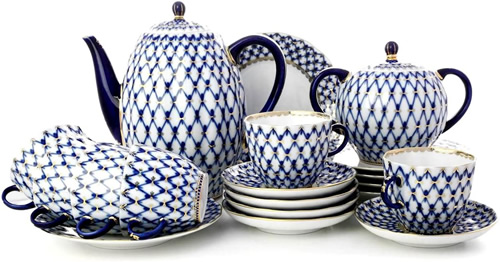 They have been made a long time and are available new and used in hundreds of variations.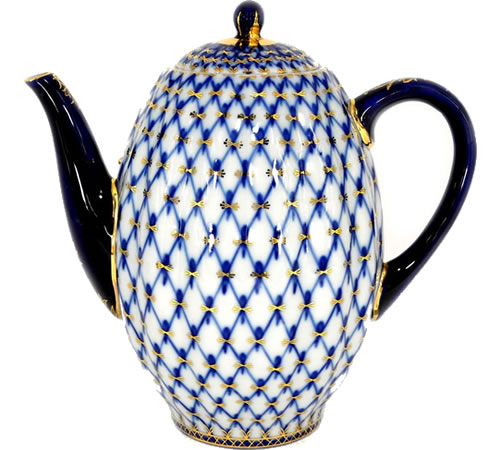 The white porcelain with cobalt blue is accented with solid blue and gold.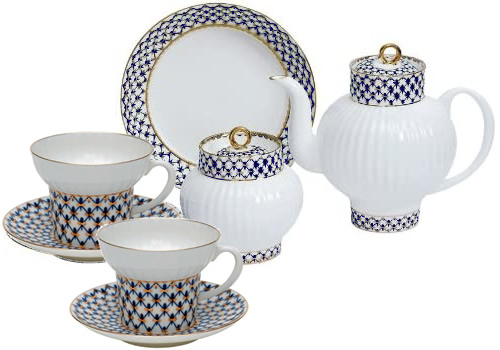 This is the Wave shape shape in the Blue Net pattern.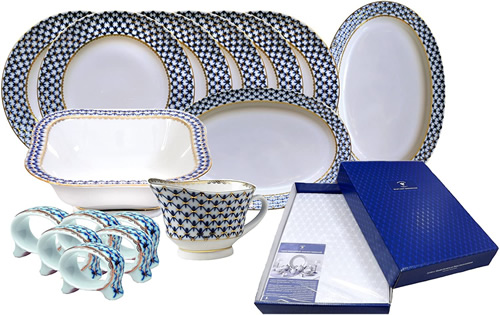 You can buy sets and complementary pieces.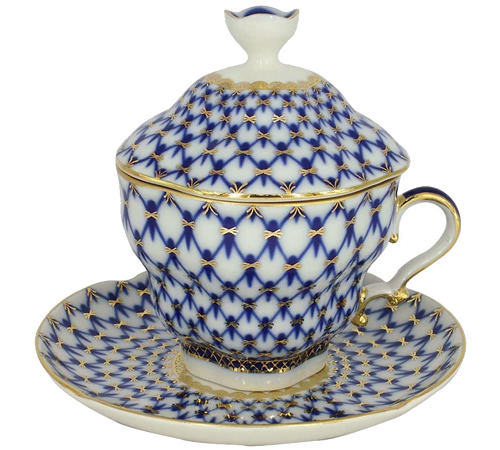 The first place I ever saw Imperial Porcelain Manufactory china was in a teacup collection.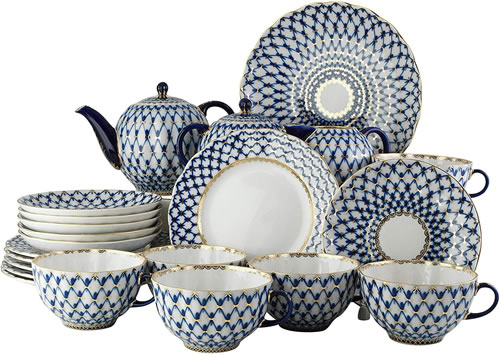 The china is beautiful to display, yet durable enough no use. Maybe not "every day" dishes, because you can't microwave it because of the gold…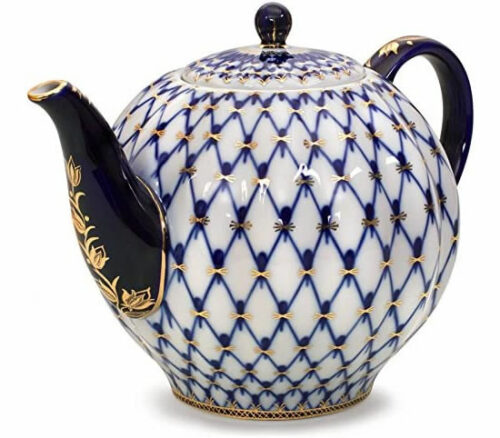 Isn't this just beautiful? The pattern is simple, yet so balanced.
Imperial Porcelain or Lomonosov Porcelain
The story of Lomonosov Porcelain goes back to 1718 when Peter the Great saw porcelain when he visited Germany. His daughter, Empress Elizabeth Petrovna (who did not execute a single person during her reign) established the first factory making porcelain in 1744. The factory was on the Gulf of Finland west of Saint Petersburg in an area called Oranienbaum after the Russian royal residence there. Porcelain was made using a formula developed by Dmitry Ivanovich Vinogradov. His method used only Russian ingredients to make a fine white porcelain.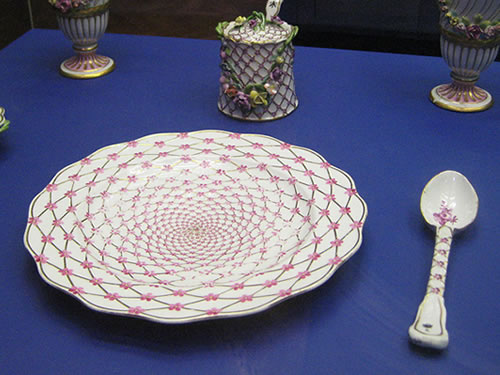 An early pattern with raised intersecting lines anticipated the Blue Net pattern.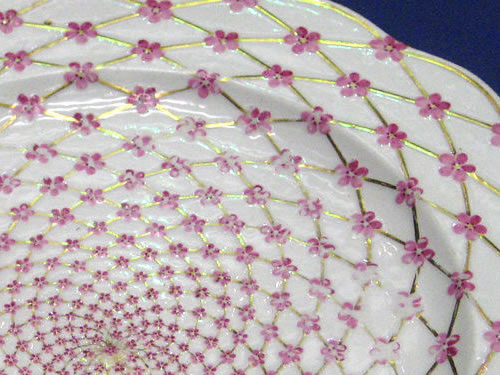 In 1765 Catherine the Great named it the Imperial Porcelain Manufactory (IPM). She commissioned everything she needed for court functions at her many houses and yachts.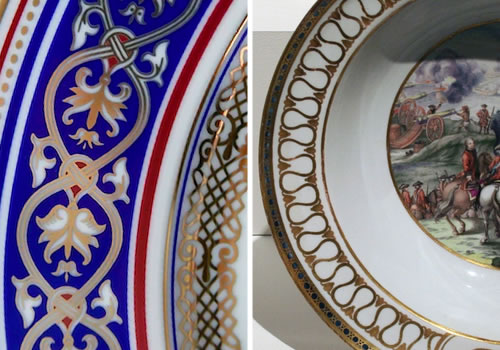 Borders of cobalt tear drops are another step toward the Blue Net or Cobalt Mesh pattern.
With the end of the Russian monarchy it was renamed a few times. First Gossudarstvennyi Farforovyi Zavod (GFZ). That means. State Porcelain Factory in Russian.
Then Leningradski Farforovyi Zavod imeni M.V. Lomonosova (LFZ) or Leningrad Lomonosov Porcelain Factory.  The factory hadn't moved. Saint Petersburg was renamed Leningrad and Oranienbaum was renamed Lomonosov.
The Lomonosov Porcelain Factory returned to the old name, the Imperial Porcelain Manufactory in 2005.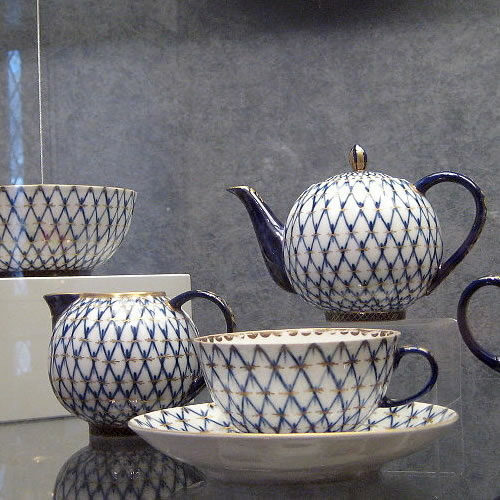 Blue Net or Cobalt Mesh Pattern
The Net pattern was introduced in 1944. It was first painted by Leningrad artist Anna Yatskevich. There are different accounts of what inspired her. It may have been the border on the Catherine the Great dishes. Or she may have designed the pattern in memory of the siege of Leningrad she had just lived through. The net pattern may be after the crisscrossing tape over the windows to keep the glass from flying from the bombing. It may have been after the cracks in the ice that formed as she kept a hole free to have water from the Neva river to put out fires.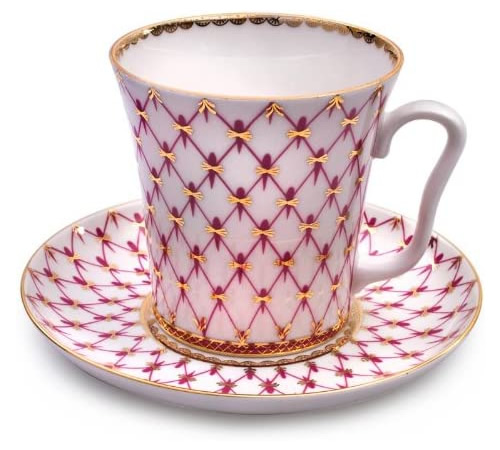 In 1949 the Lomonosov Porcelain Factory introduced the Blue Net or Cobalt Mesh pattern. Other colors and variations have been made, but the cobalt is the classic I love.