Blue and White Chinoiserie Towel Sets
I can never have too many hand towels. I prefer the cotton terrycloth ones. Any cotton towel that is absorbent is useful. And I have a lot of rather useless un-absorbent synthetic towels that I bought anyway because I like the picture so much.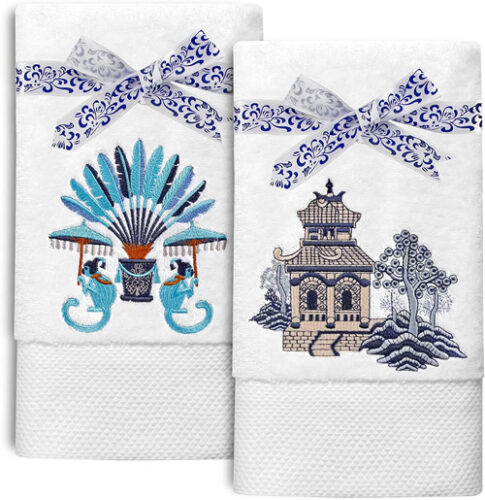 This set has chinoiserie designs embroidered onto cotton terry cloth.
Quera Blue Willow Pagoda Chinoiserie Monkeys with Umbrellas Hand Towels

13.7" x 29.5"
100% Cotton Terrycloth
White terrycloth towels with Chinoiserie embroidery
They are absorbent enough to work as bath hand towels.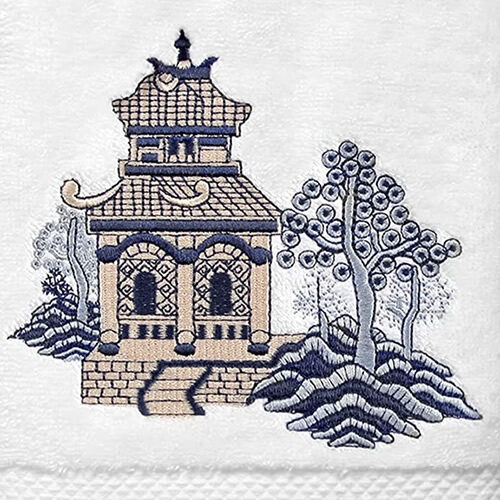 One has a Blue Willow pagoda in a warm cream color with silver grey and blue trees and mountains so that they will show up on the white towels.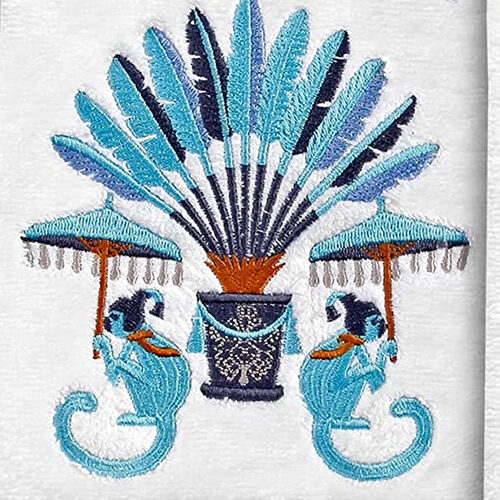 The other towel in the set has a stylized palm in a blue pot with two parasol carrying monkeys in turquoise.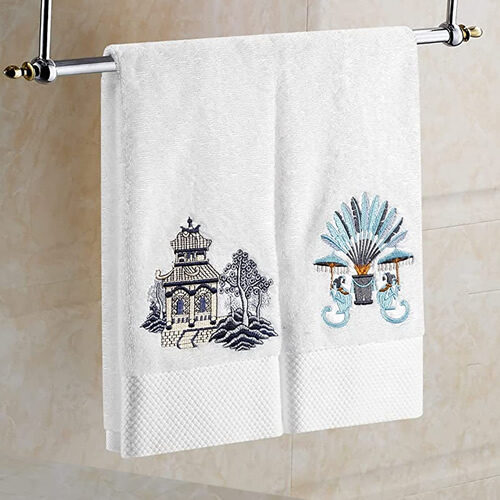 The colors are wonderful to coordinate with the Vern Yip Chinoiserie Collection Blue Willow Bath Towels and Bath Accessories.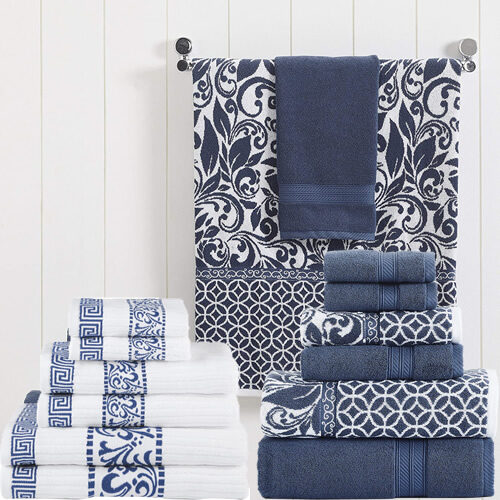 These bath towels aren't exactly Blue Willow or Chinoiserie, but the colors and patterns will work with Blue and White China.
This set is thin cotton toweling. If you like towels that dry fast, these are for you.
Superior 6-Piece Cotton Bath Towel Set, Navy Blue

100% Cotton Lightweight Single Ply Terry Cloth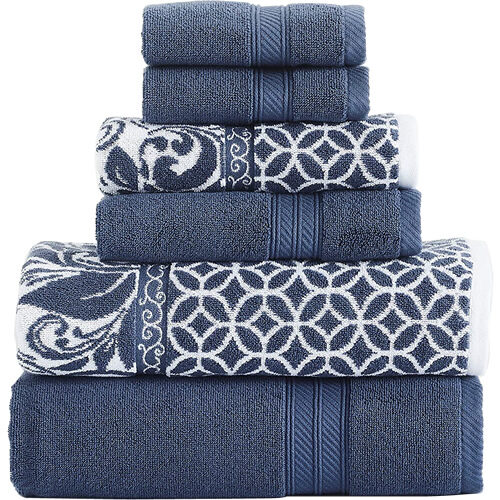 This set is also 100% cotton, but they are thicker.
Modern Threads Trefoil Filigree 6-Piece Reversible Yarn Dyed Jacquard Towel Set

6-Piece Set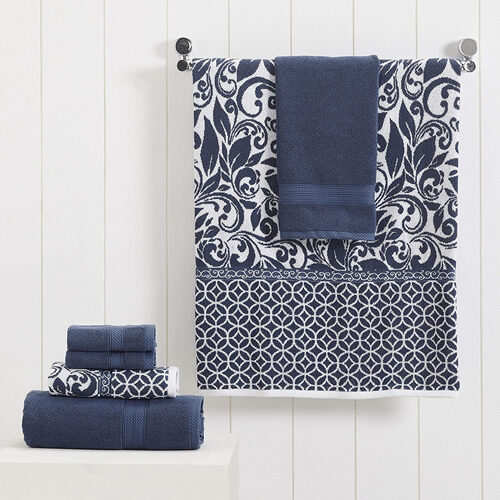 The set includes 6 pieces, in coordinating print and solid.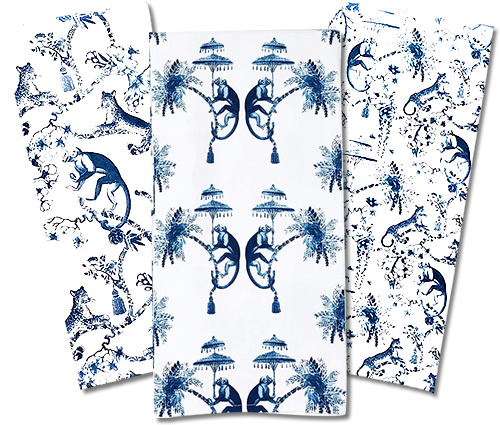 This set of hand towels is not terry cloth. They are absorbent cotton with a hanging loop.
All Day Soirée Blue and White Chinoiserie Tea Towels

20″ x 28″
Hanging tab
Machine washable
100% Cotton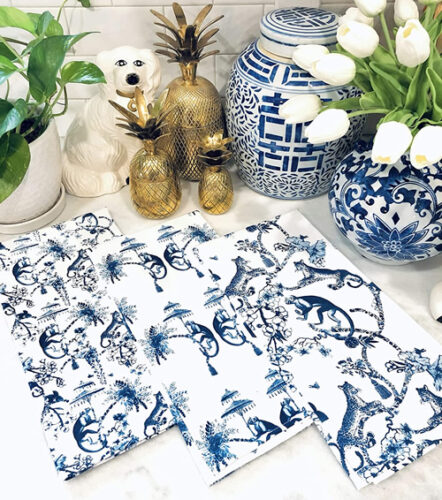 The set of three has one in each pattern, leopards and monkeys and monkeys with parasols.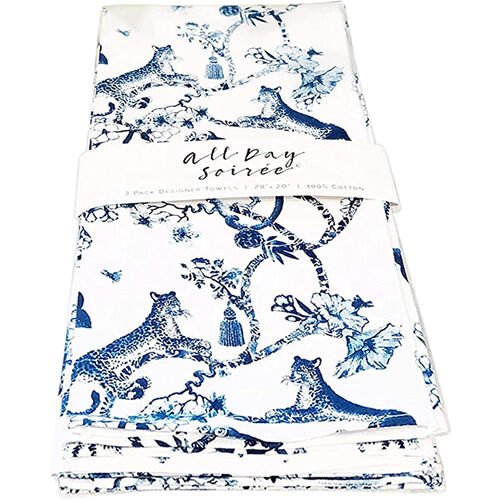 All Day Soiree is a female-owned business in Richmond, VA.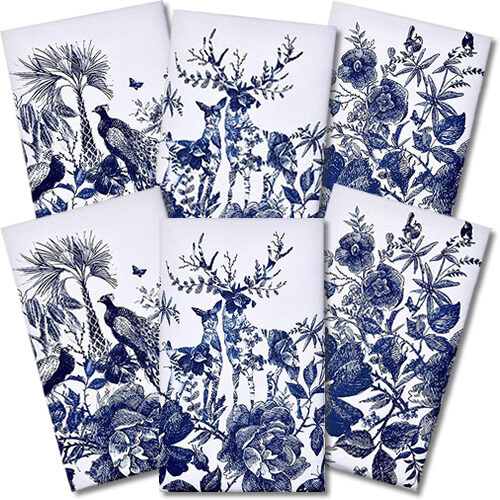 This is one of those sets that is more for looks than to use.
My favorite is the one with the peacock.
Geiserailie China Blue and White Tea Towel Set of Six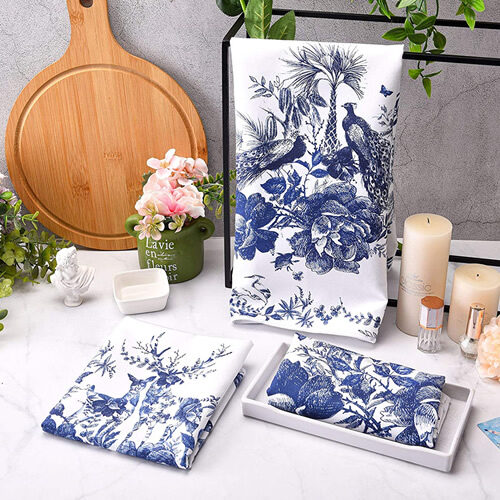 The other two aren't exactly chinoiserie… actually I would say any are very chinoiserie, but they are blue and white and the price is very practical even if the towels aren't.