Square Blue and White Chinoiserie Flower Pots and Planters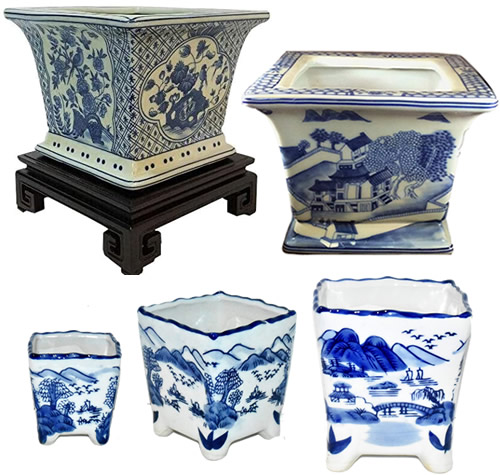 I have a lot of round plant pots, but I would like to mix in different shapes. There are a lot of choices available. Prices range from super inexpensive to investment prices.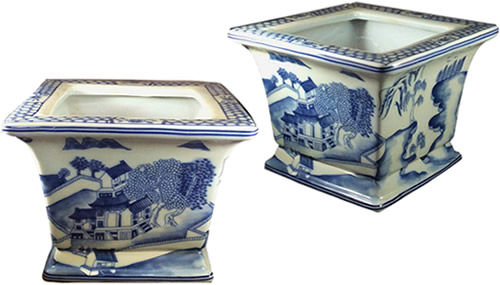 Asian Caravan makes this planter. It has a lot of the Blue Willow motifs.
Asian Caravan Blue and White Chinese Porcelain Square Planter

This classic Chinese blue and white square planter is hand painted porcelain and would look terrific with any plant or flower, great for an orchid.
Wider at the top, it measures 7 1/2″ x 7 1/2″ at the top and tapers down to 5 1/2″ x 5 1/2″ at the bottom.
The overall height is 5″ and the planter's opening is 5 1/4″ x 5 1/4″ and 4 1/2 " deep.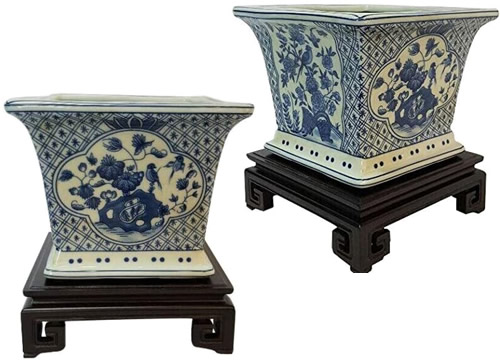 This blue and white porcelain planter is shown on a wood stand that is sold separately.  The pattern has a lattice and framed floral and bird panels. It is imported by Oriental Furniture Warehouse
Chinese Arabesque Porcelain Planter

Our unique square porcelain planter is now available in blue and white with Chinese Arabesque pattern, and bird and flower paintings detailing all four sides. This Chinese porcelain is kiln fired, glazed, and water tight for years guaranteeing years of use. Two different painted panels embellish the 4 sides of this square planter. Perfect to display a overload of myosotis scorpioides and iberis sempervirens flowers, this square cachepot can be used outdoor as well as indoor as a classy home for plants or simply as a catch-all on a table top. We suggest using a wooden vase stand to enhance this beautiful porcelain piece. 7.5" X 7.5" X 6H Opening-5.5"x 5.5″ x 4.5"H Base 6"X 6" Water tight, Chinese Porcelain Hole/ piercings not included Stand not included Expert packing, Ships Fed Ex; Insured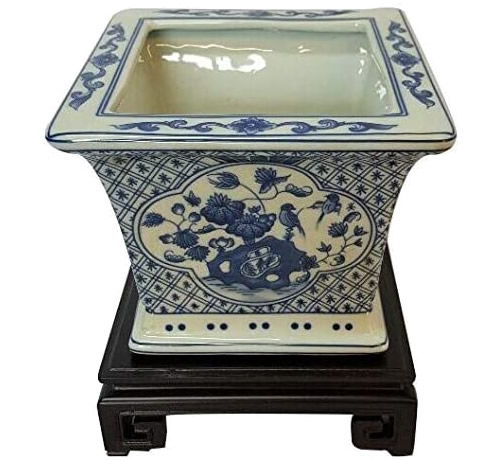 It is glazed inside and out.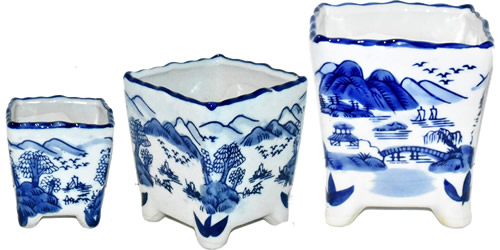 These small pots come in three sizes, 3 1/2″, 5″ and 6″. They are handpainted with a mountain and water scene that looks like a Blue Willow pattern with a whole family of birds.
Small

3.5″ tall x 3.25″ high

Medium

5″ tall x 4″ high

Large

6″ tall x 5.5″

high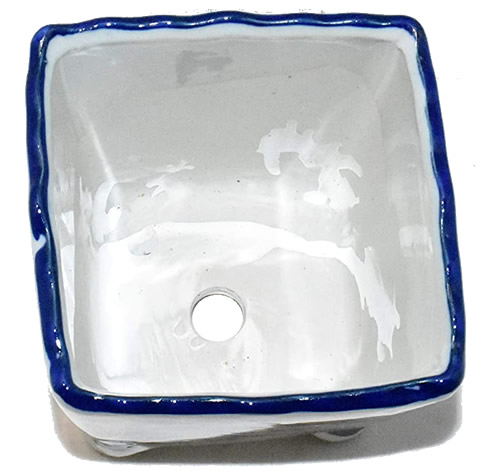 They have a drain hole, so they are great for plants that don't like wet feet. And they are really inexpensive.
There are a lot more variations to choose from.