Mottahedeh Blue Canton Decor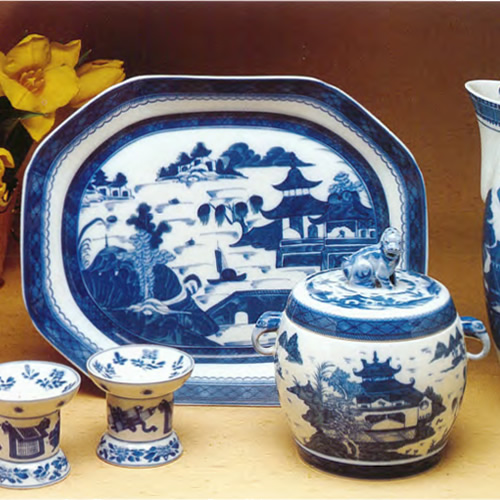 I was helping someone identify what they thought was Blue Willow china and found this beautiful collection, Blue Canton by Mottahedeh. Besides the dishes, serving pieces and bake ware in this pattern, they also make these pieces that are pretty much just for display.
| | |
| --- | --- |
| HC191 | Small Platter (9 1/2″ x 12″) |
| S1629 | Salt and Pepper Set (2 1/2″ h.) |
| HC86 | Fu Dog Jar (6 1/2″ h.) |
Mottahedeh Small Blue Canton Fu Dog Jar

The small Fu Dog jar is a unique Mottahedeh piece. Blue Canton design elements decorate the item and a small Fu Dog serves as the finial. Licensed product of Historic Charleston.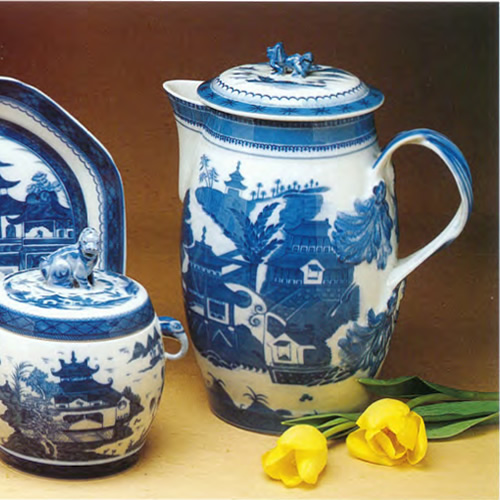 The jug shown in this photo is food-safe to be used on the table.
| | |
| --- | --- |
| HC86 | Fu Dog Jar (6 1/2″ h.) |
| HC140 | Cider Jug with Lid (10 1/2″ h.) |
Search for Mottahedeh Blue Canton on eBay >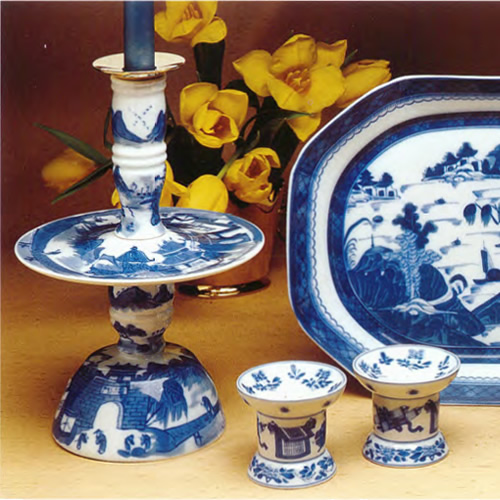 | | |
| --- | --- |
| HC99 | Bell Candlestick (10″ h.) |
| HC191 | Small Platter (9 1/2″ x 12″) |
| S1629 | Salt and Pepper Set (2 1/2″ h.) |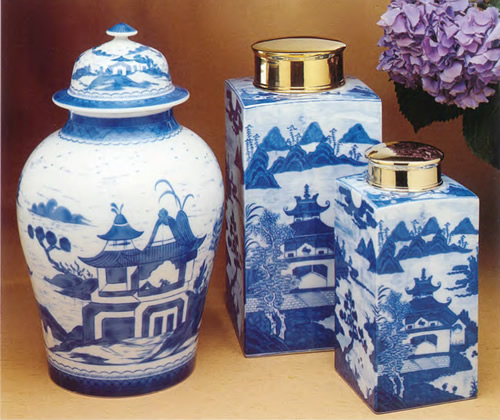 | | |
| --- | --- |
| HC132 | Ginger Jar (16″ h.) |
| HC139 | Tea Jar, Large (14″ h.) |
| S192 | Tea Jar, Small (10 1/4″ h.) |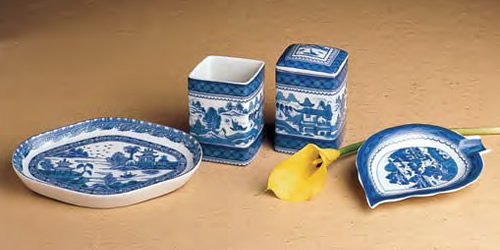 | | |
| --- | --- |
| HC137 | Oval Tray (7½" l.) |
| HC133 | Cup (3½" h.) |
| HC122 | Covered Square Box (4″ h.) |
| HC115 | Leaf Tray (6½" l.) |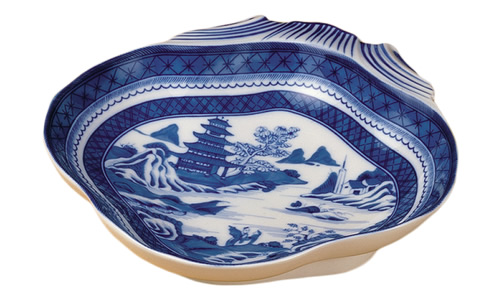 | | |
| --- | --- |
| HC121 | Shell Dish (8¼" dia.) |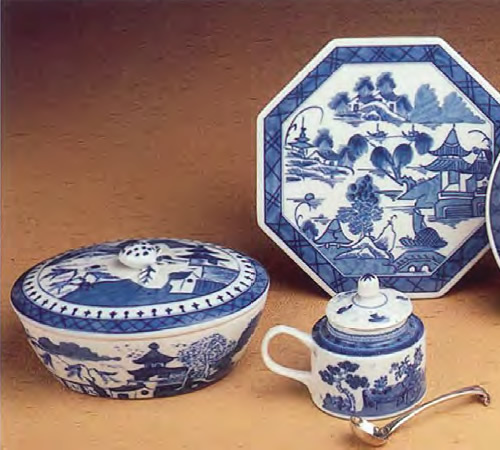 | | |
| --- | --- |
| HC128 | Covered Oval Box (5¼" I.) |
| HC91 | Mustard Pot (2¾ • /1.)) |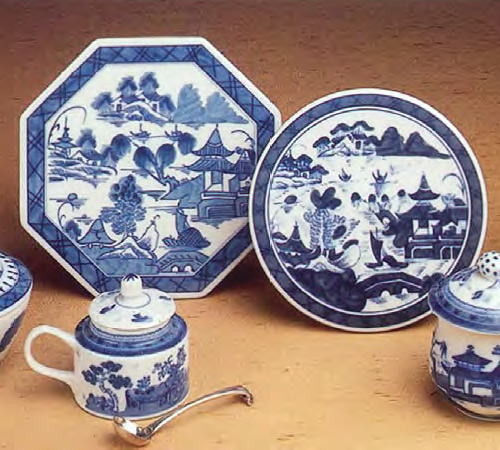 | | |
| --- | --- |
| HC91 | Mustard Pot (2¾ • /1.)) |
| HCl34 | Octagonal Tile (5¼" /1.) |
| HCl35 | Round Tile (5¼" IL) |
| HC/42 | Pot de Creme (JW /1.) |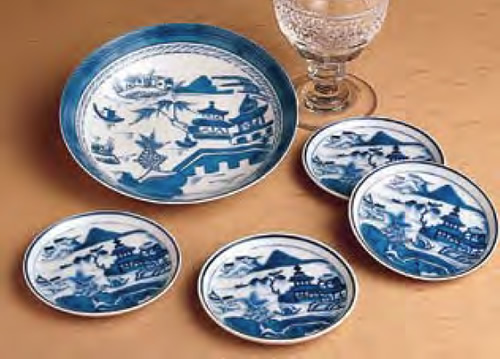 | | |
| --- | --- |
| HC136B | Fruit Saucer (6¼" dia.) |
| HC92 | Coasters, Set of 4 (3¼" dia.) |
Search for Mottahedeh Blue Canton on eBay >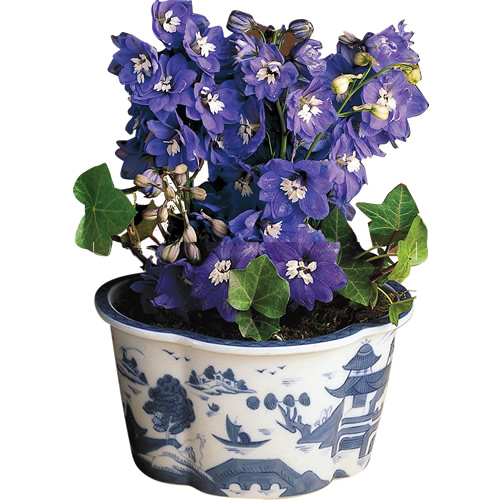 Cachepots and Vases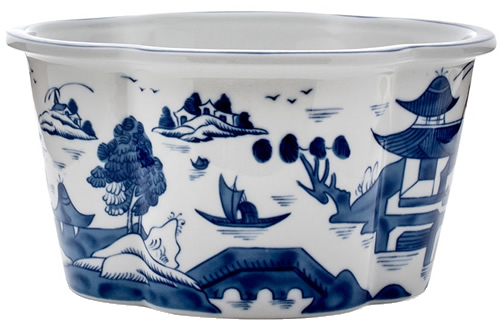 HC125
| | |
| --- | --- |
| HC125 | Four-Lobed Cachepot (8½" x 6½") |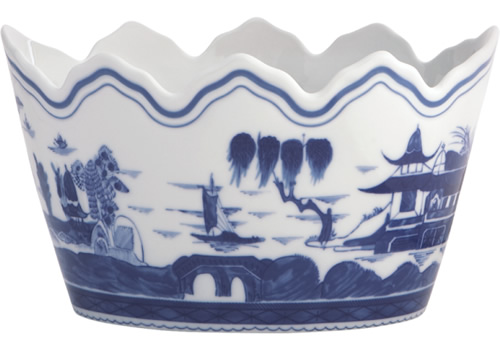 | | |
| --- | --- |
| HC84 | Monteith Cachepot (10 1/2″ l., 6″ h.) |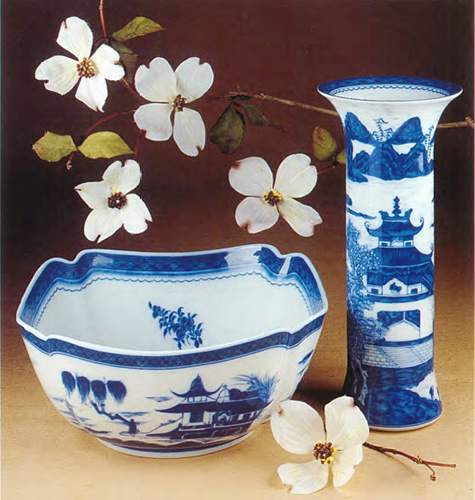 | | |
| --- | --- |
| HC87 | Large Square Bowl (10 1/4″ dia.) |
| HC83 | Trumpet Vase (11″ h.) |