Blue Willow by Colin Thompson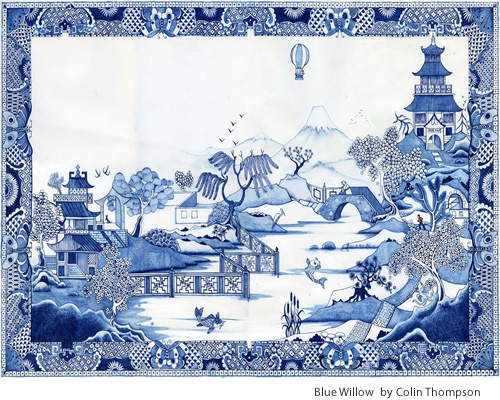 This is Blue Willow by Colin Thompson. This print has been used on a lot of things. You can get it as a poster or print for your wall.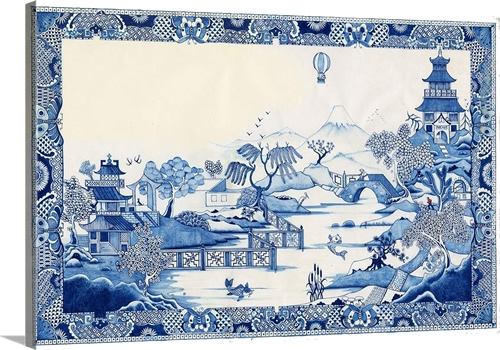 It is available printed on canvas, poster paper or photo paper. It can come wrapped on the canvas, framed, with a floating frame or as a rolled print ready for you to matt and frame yourself. You can also get it as giant peel-and-stick wall art.
It is available in sizes from 24" x 16" up to 60" x 40" from Great Big Canvas and some other companies.
Colin Thompson

Best known as a writer and illustrator of children's books, Colin Thompson's work is packed with fun and intrigue. With subjects playing on parody and images full with objects and events, each image is guaranteed to keep you interested.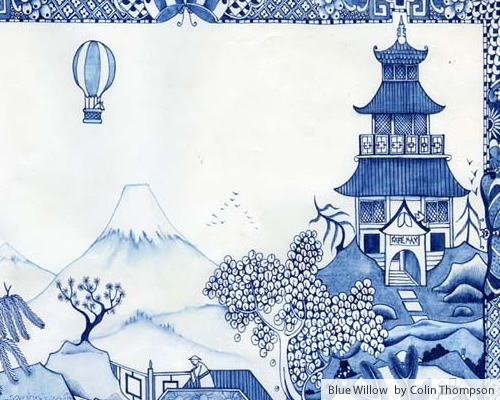 This looks like Mount Fuji.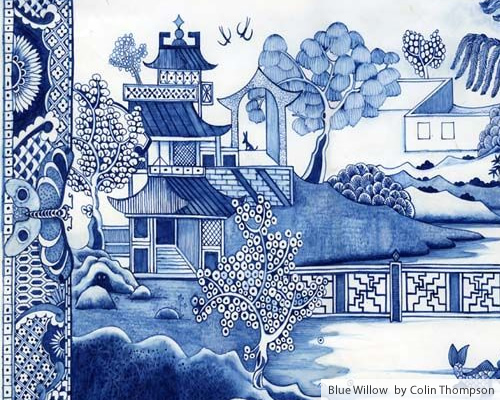 The border has bugs along with all the traditional blue will border motifs.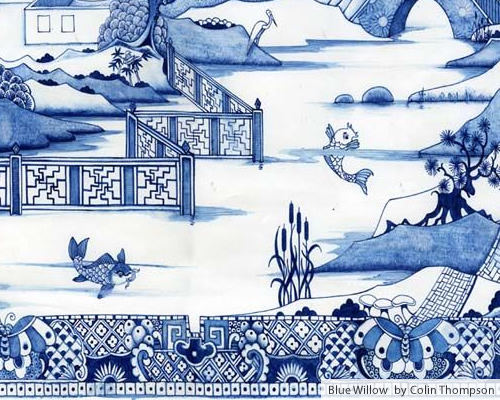 Koi fish in the water, mushrooms, cattails…
And this little guy with a red shirt.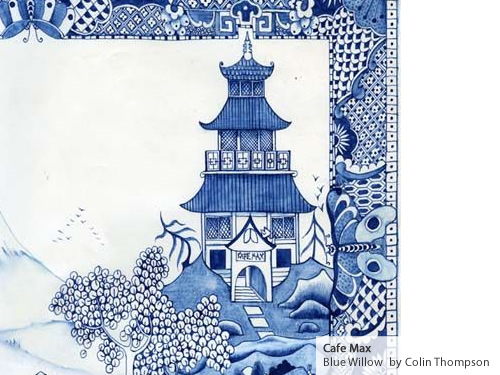 Cafe Max
The pagoda has a sign on it, Cafe Max.
Max was a tiny dog Colin Thompson's daughters, Hannah and Alice found at an animal refuge in 1984. If you search, you can find a little dog shadow on almost every page in Colin Thompson's picture books. On his website, you can download and color his first illustration of Café Max.
Colin Thompson
Colin Thompson is from England.  He writes and illustrates children's books. He has also written for older kids and young adults. Many of his illustrations have been turned into coloring books, puzzles, cross-stitch kits and skins for electronics.
Colin Thompson worked as a silk-screen printer and a graphic designer before he went to the London Film School and worked on documentaries for the BBC. He worked in ceramics for a long time. He started drawing in 1987. His first commission was in 1989, for a calendar. His first books were published in 1991.
He moved to Majorca, the Outer Hebrides, Cumbria and then Australia, where he still lives.