Blue Willow and Red Willow Throw Blankets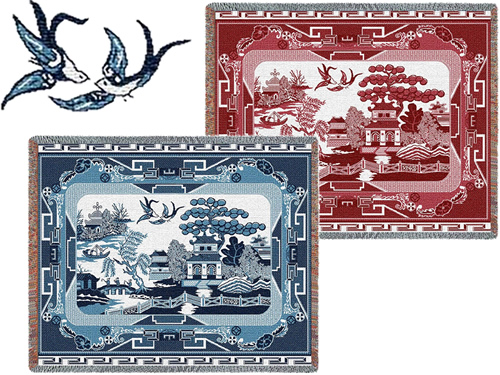 Pure Country Weavers makes Blue Willow Throws. They are large, 72" x 54". The pattern is exactly the same as the one on my plates, the birds, bridge, pagodas, trees… all the motifs I love. They make them in blue and red.
Blue Willow Throw Blanket from Pure Country Weavers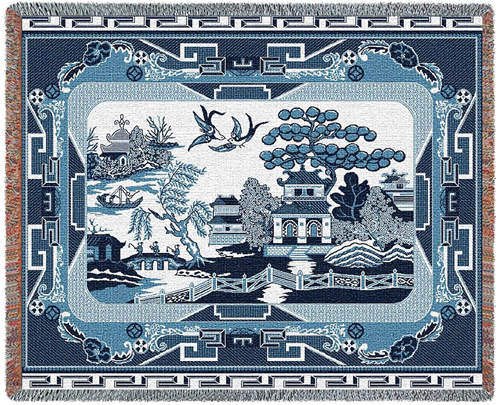 This is the blue version. It has all of the same patterns as the ones on my china. Even the bands from the outsides of the plate.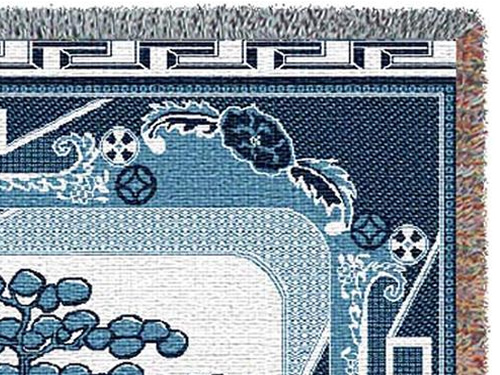 The blankets have a deep fringe all around.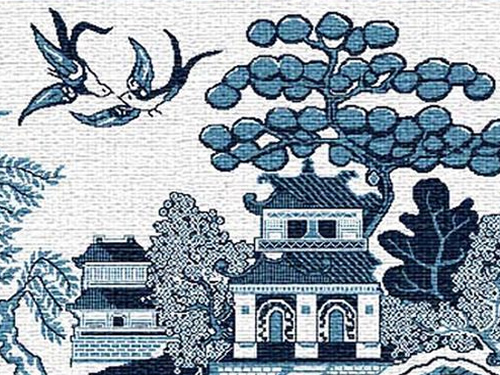 Here is some detail of the pattern. You can see how it is woven in.

Red Willow Throw Blanket from Pure Country Weavers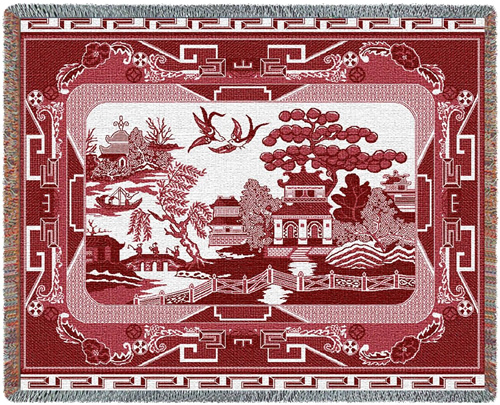 This is the red version. Red has been a traditional color for Blue Willow transferware.  This looks just like the Red Willow I used to have.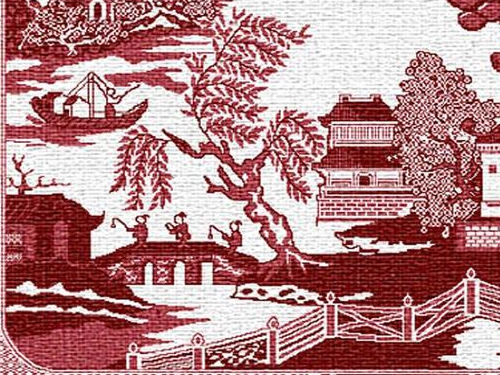 Here is more detail of the pattern.
Made in North Carolina
It says China, but it means like the pattern on the china, not that it comes from China. These are made in an American Textile Mill in Lynn North Carolina.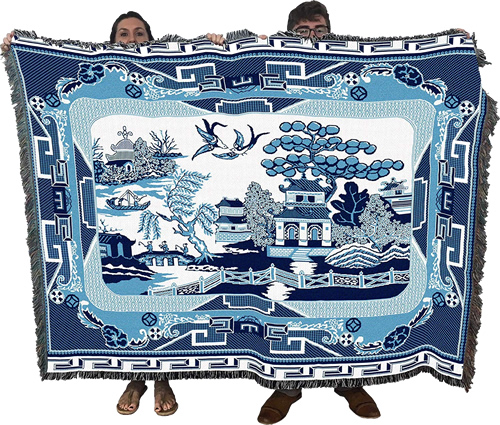 Practical
These blankets aren't made just to hang on the wall. They are made to be used. They aren't fragile tapestries. The pattern won't fade away if you snuggle up under them.
The blankets are large, 72″ x 54″. That's a foot wider than a Queen sized bed.*
The Blue Willow blankets are made of 100% cotton, soft, cozy and washable. They are durable. You can throw them through the washer and dryer.
The Blue Willow design is not printed on. It is woven in using Jacquard weaving techniques. The cotton yarn is dyed in the various colors before. Then the various colors of yarn are woven to create the beautiful Blue Willow pattern. This pattern uses 8 miles of colored cotton.
Jacquard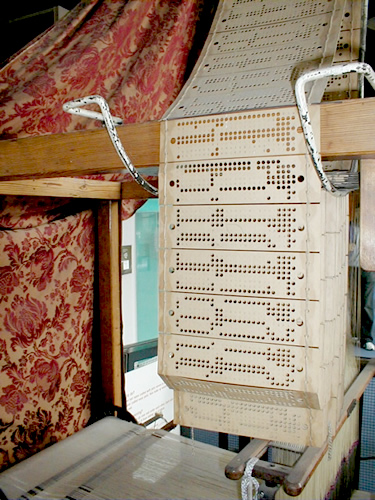 Pure Country Weavers uses Jacquard weaving techniques. The Jacquard weaving machine uses punch cards to guide the loom. Jacquard was invented in 1804. The punch cards for early computers were invented after the punch cards for Jacquard looms. The name Jacquard is after the inventor, Joseph Marie Jacquard, not a French word for the cards.
Pure Country Weavers
Pure Country Weavers is a family business. It was started by Margaret and Jay Clark, making Jacquard woven blankets. The company has grown. They now also sell woven placemats and tote bags. Their son, George W Clark is still the President.
* A Queen sized mattress is 60″ wide. A King sized mattress is 76″ wide.