Fun Colorways for Pagoda Pendants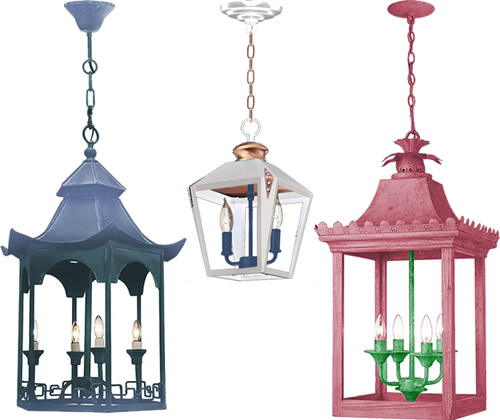 Chinoiserie colors can draw on inspiration from so many sources! Blue-and-white porcelain, glossy red or black and white lacquer, and fun less traditional peony pink and green.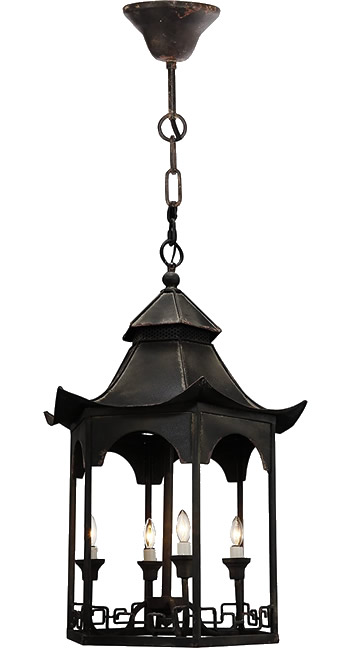 Black Pagoda Pendants
Most pagoda pendant lights you find come in black. It's a solid statement.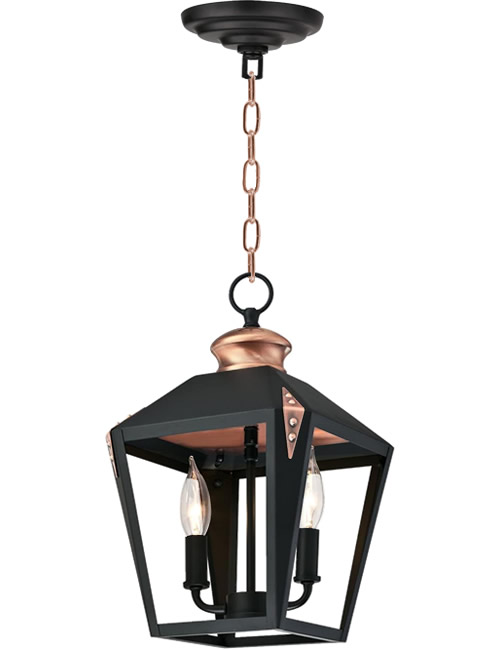 Sometimes the black is ornamented with some metal accents. This pendant is not actually sold to be a pagoda pendant. It is part of a collection of exterior lights that are meant to be a traditional American style. But, the shape has a pagoda feel.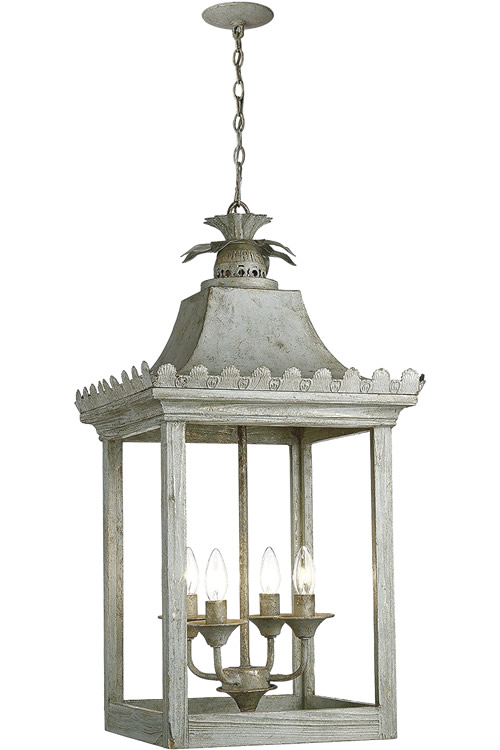 Keep the black and ad a little interest by incorporating some grey.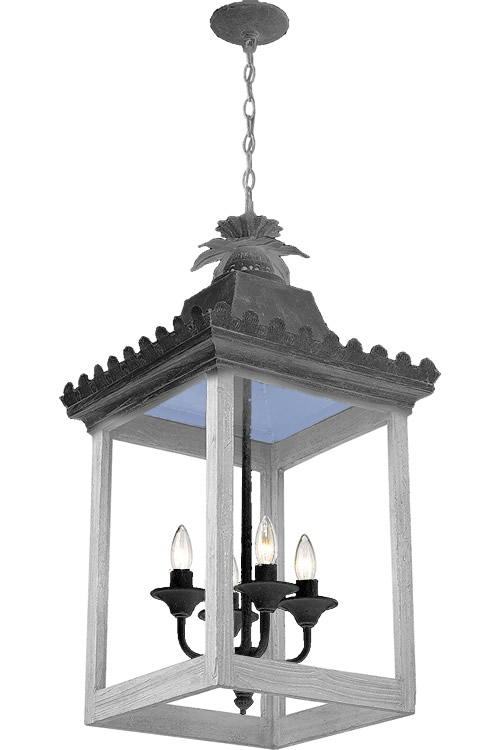 Or use the black for contrast.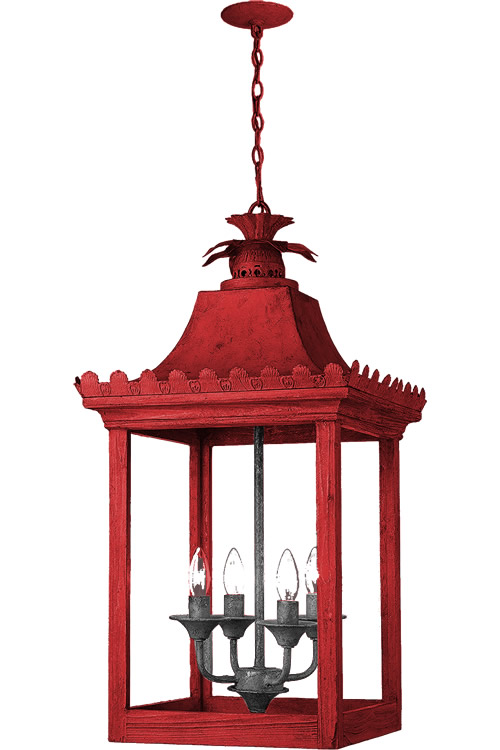 Red Pagoda Pendants
Red is a great choice. Either in a bright shade, or more muted.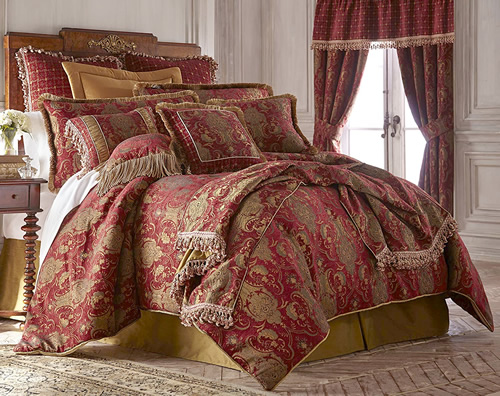 This red and gold bedroom would look great with a red pagoda pendant!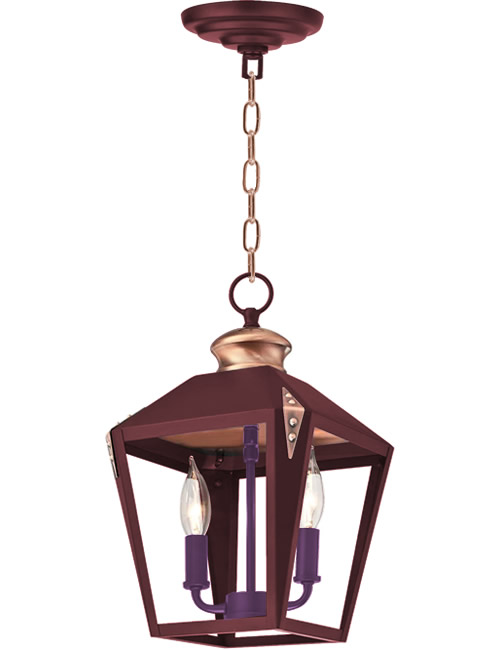 This pendant has a more muted dark lacquer red, with the surprise of a purple bulb cluster.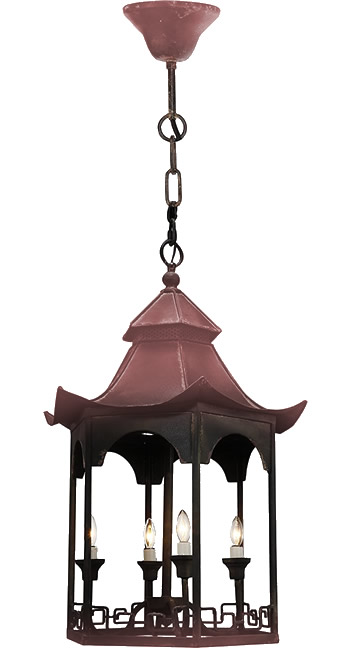 This distressed rust red color is very traditional in feeling.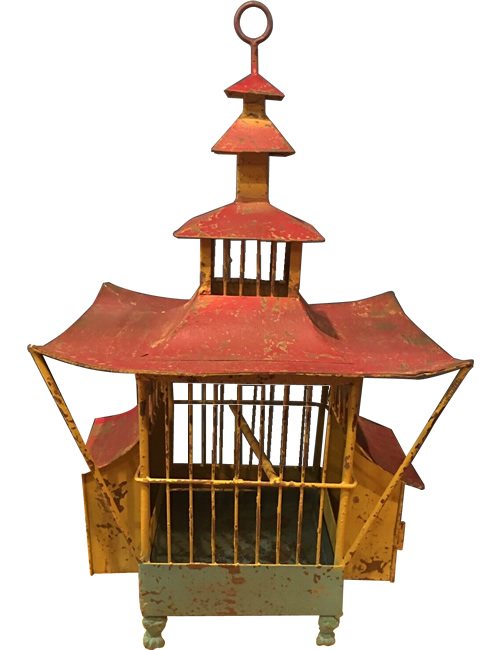 Or you can draw inspiration from vintage things, like this pagoda bird cage.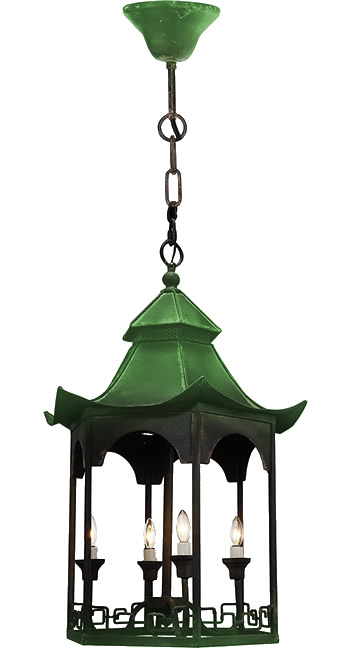 Green Pagoda Pendant Lights
Green is another traditional color choice.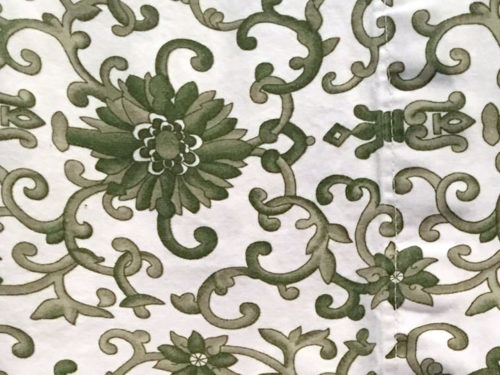 Ralph Lauren has a version of his Chinoiserie inspired bedding in a shade of olive green.
The Westinghouse Valley Forge Pendant with copper accents would look wonderful with a shade of olive green.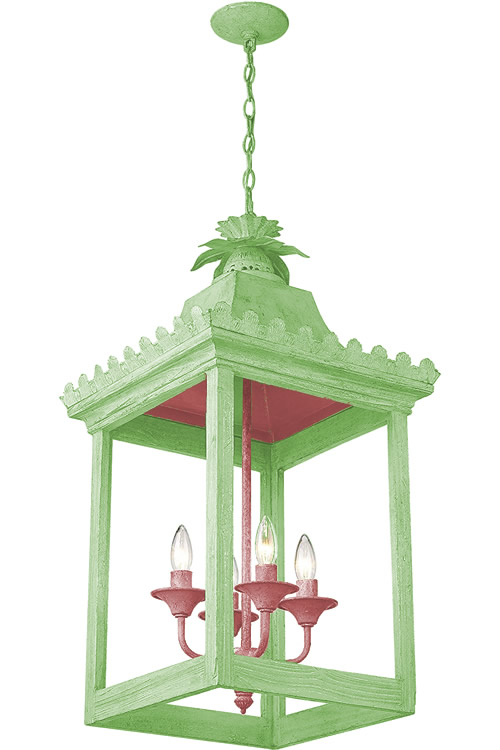 Pink and Green Pagoda Lighting
A fun newer look is a bright green with peony pink.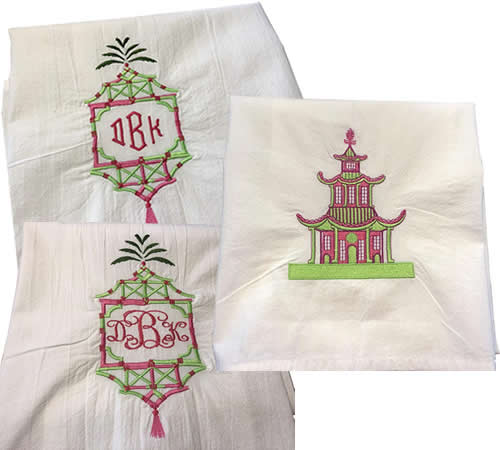 Shades of pink and green in fun Asian inspired motifs are available in a lot of places.
Chinoiserie Embroidered Towels by Jessiemaie >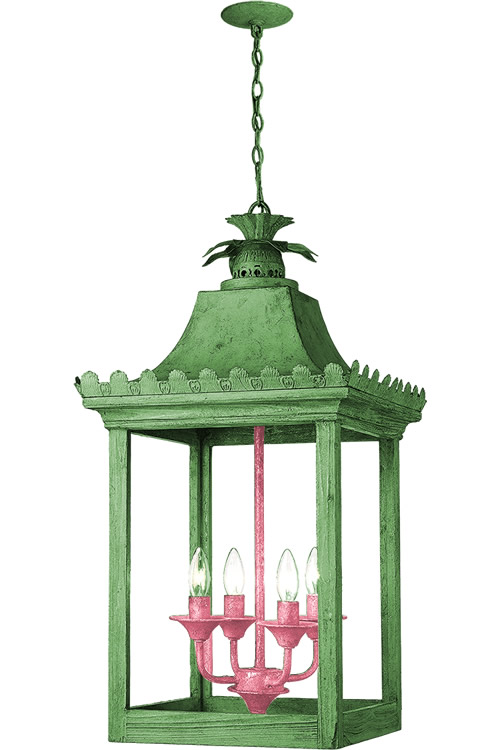 Different shades of pink and green add a fun feeling, not too serious.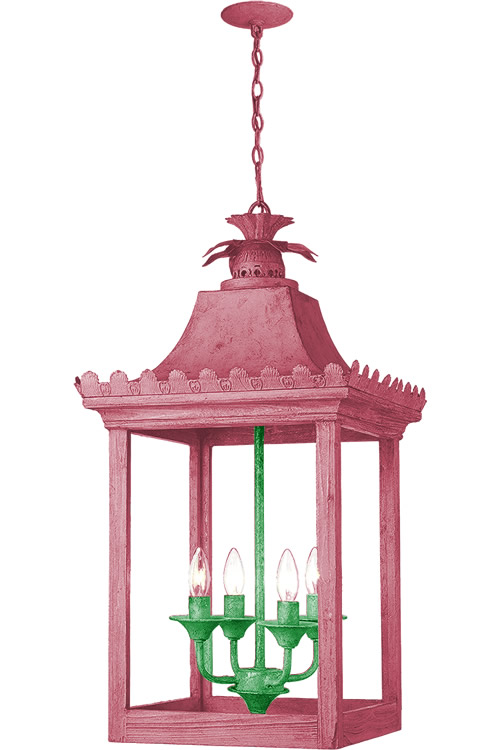 Adding these colors even to a chandelier or pendant that you already have, creates an instant happy place.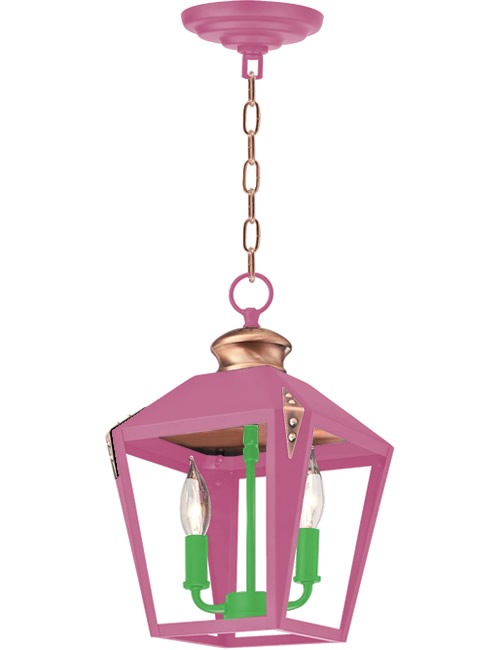 There are a lot of variations in the colors, that work.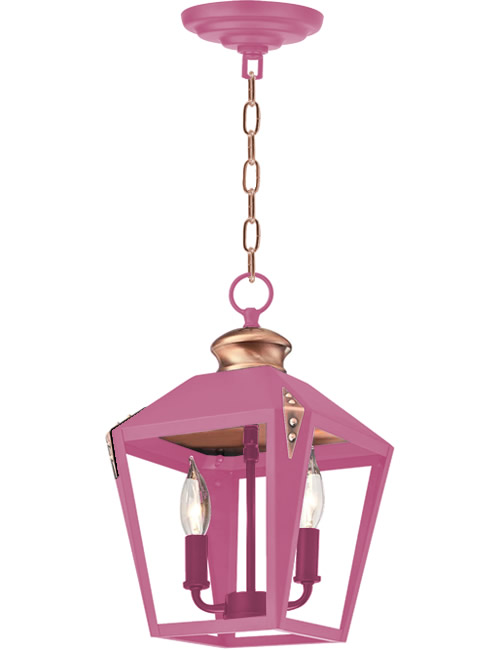 Pink Pagoda Pendants
Instead of green, coordinate the peony pink with a richer shade of pink.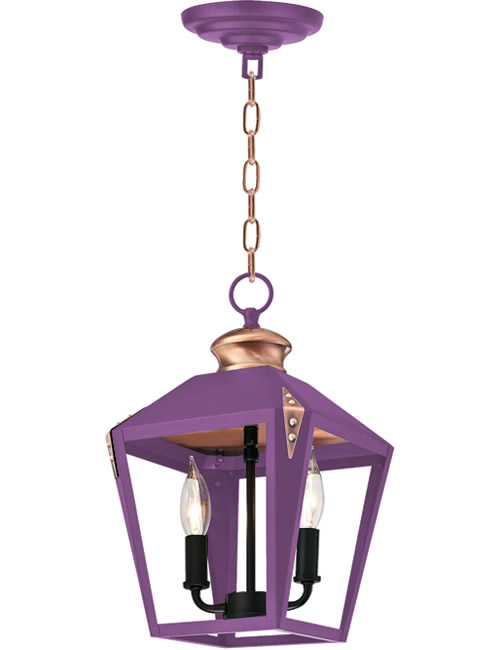 Or contrast pink or even purple with black.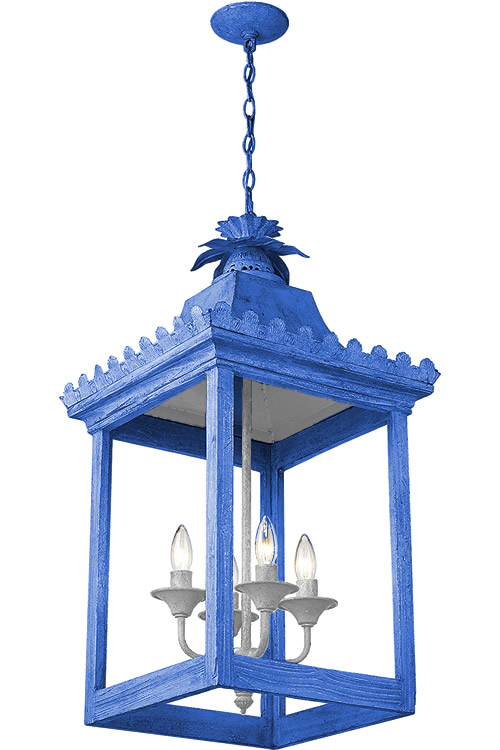 Blue and White Pagoda Pendant Chandeliers
Blue and white is a traditional combination (and what is in my house).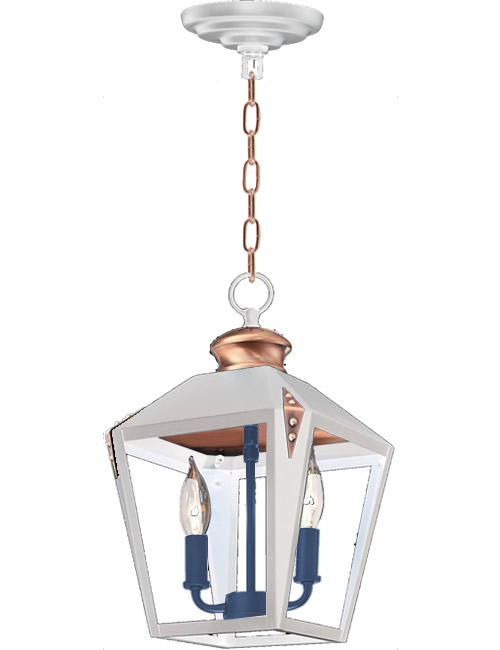 Brighten up your lighting with whatever shade of blue you are using. You can contrast it with white.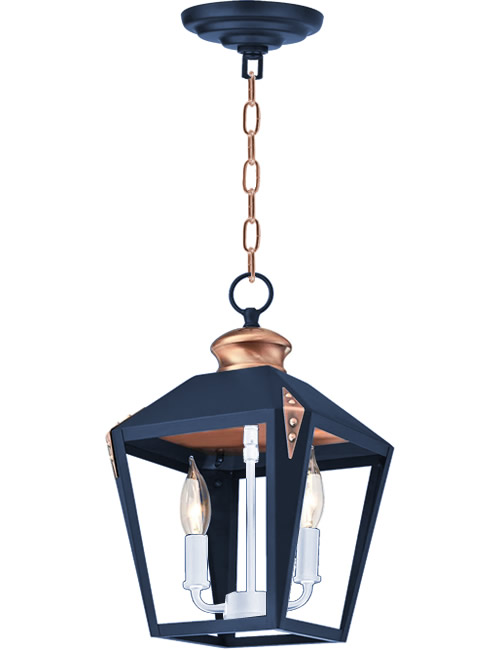 Or have a very dark blue on the outside, with only the socket cluster highlighted in white enamel paint.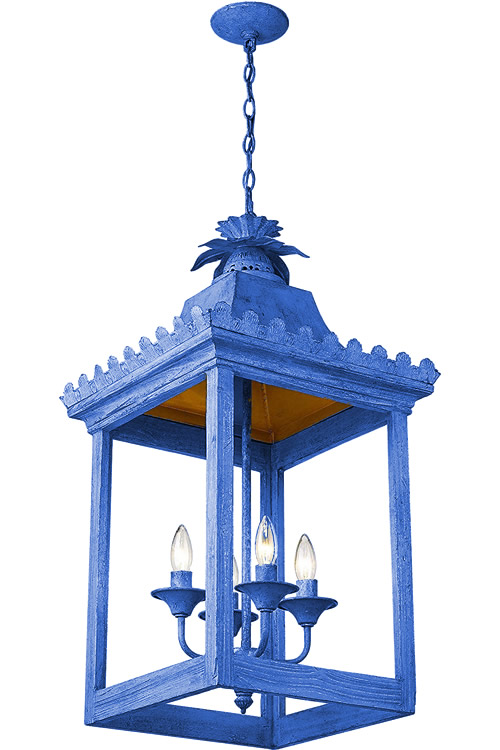 Bright blue alone is a contrast against a white ceiling.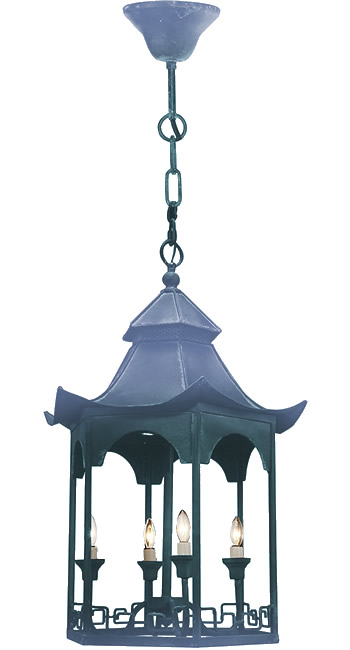 Dark matte blue paint is distressed over the original black on this pagoda chandelier.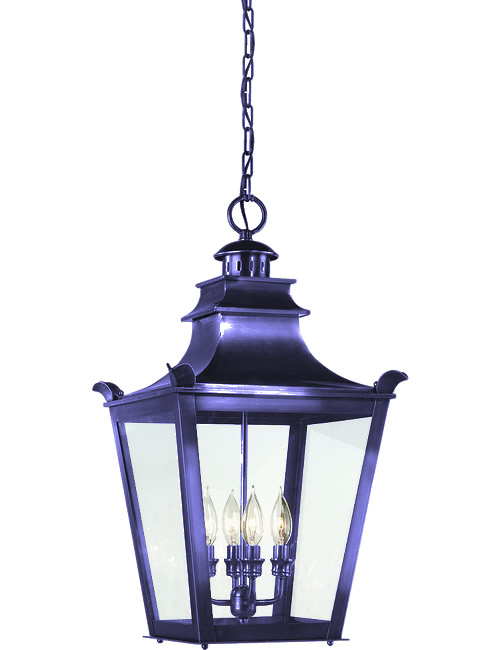 Blue metallic paint works indoors or out.
All of this lighting is from Oriental and Asian Inspired Chandeliers and Pendants on Deep Discount Lighting >
How to Paint Lighting
I'm not going to go into a lot of detail. There are plenty of how-to videos on YouTube that handle this so much better.
You don't have to be as careful with painting lighting as with a lot of other things because they are not going to be examined very closely and because they aren't going to be handled a lot.
When just adding a little detail with a paint pen or changing the outside color with a brush, I have painted it in place. You can even unscrew the ring holding the canopy down and brush a new color on. I wrapped the chain in saran wrap first to keep the paint off the chain.
But if you really want to paint it all, take it down. Turn off the power first, of course.
If it has glass, see if you can remove it. If not, use some masking tape and paper to keep the paint off it.
You can often easily remove the socket assembly, by unscrewing the loop at the top that holds the light to the chain. If not, I wrap it with saran wrap.
If you are using spray paint, remember to keep it moving and to apply it in light layers. Otherwise you will get lumps and runs. If this happens and it is noticeable, wait for it to dry completely and file it smoother with a fine nail buffer (like for a manicure), then give it another very light spray if it needs it.
If you are painting with a brush, you can smooth any runs as you go. There is a product called Latex Paint Remover. It is your friend. It will clean even dried on latex paint from your clothes, your floor and anywhere else you don't want it.
Another tool that will make a lot of jobs easier is chain pliers. They open and close chain without bending or scratching it.