Make any room feel bigger
November 2014 Redbook has a great article in the Design School series.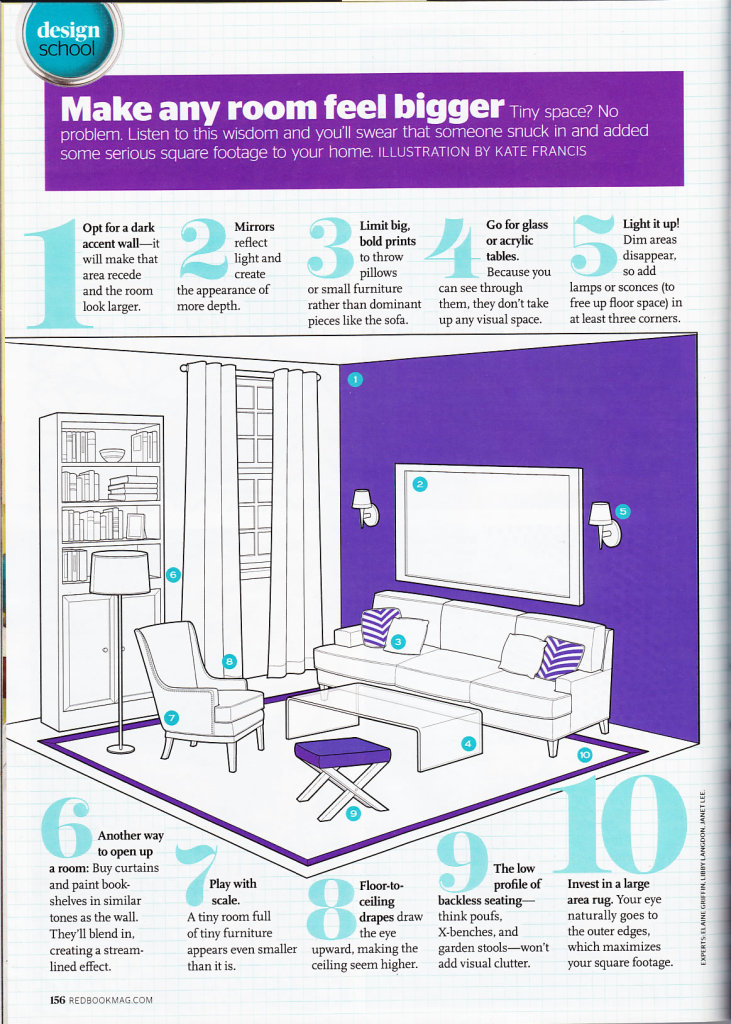 Make any room feel bigger
Tiny space? No problem. Listen to this wisdom and you'll swear that someone snuck in and added some serious square footage to your home.
Opt for a dark accent wall-it will make that area recede and the room look larger.
Mirrors reflect light and create the appearance of more depth.
Limit big bold prints to throw pillows or small furniture ranther than dominant pieces like the sofa.
Go for glass or acrylic tables. Because you can see through them, they don't take up any visual space.
Light it up! Dim areas disappear, so add lamps or sconces (to free up floor space) in at least three corners.
Another way to open up a room: Buy curtains and paint bookshelves in similar tones as the wall. They'll blend in, creating a streamlined effect.
Play with scale. A tiny room full of tiny furniture appears even smaller than it is.
Floor to ceiling drapes draw the eye upward, making the ceiling seem higher.
The low profile of backless seating-think poufs, X-benches, and garden stools-won't add visual clutter.
Invest in a large area rug. Your eye naturally goes to the outer edges which maximizes your square footage.
Experts Elaine Griffin, Libby Langdon, Janet Lee.
Illustration by Kate Francis
Lamps and sconces come in such a wide variety of styles to coordinate with any interior.
Wall Sconces & Brackets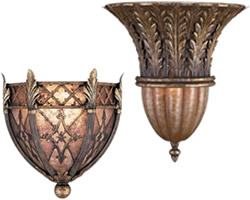 Antique Reproduction Sconces These wall sconces coordinate with Old World Antiques or Antique Reproduction furnishings. These sconces incorporate elements from a variety of historical sources.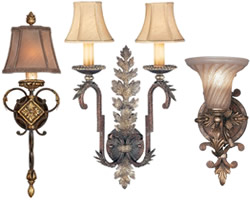 Antique Reproduction Brackets Drawn from historic sources, these wall brackets work with a variety of formal or traditional interiors. Look for iron, gold or silver finish in patinaed metal or painted finish.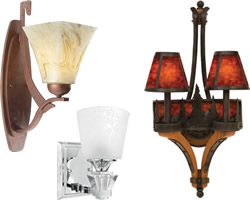 Arts and Crafts Style Brackets Ranging from elegant to rustic, these brackets coordinate with a variety of Arts and Crafts Style interiors.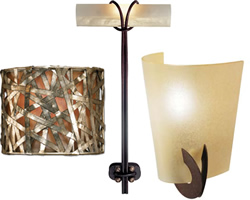 Contemporary Sconces These sconces are a beautiful addition to your contemporary interior design.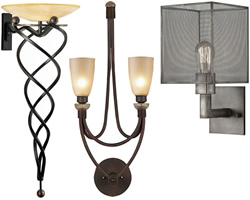 Contemporary Brackets This collection of wall brackets demonstate the range of choices that coordinate with a contemporary interior.