Kitchen with Tech Lighting Mini Melrose Pendants

Kitchen with Tech Lighting Mini Melrose Pendants
This contemporary kitchen uses a variety of lighting sources. Recessed Lighting is over the sink. The countertops are with undercabinet lighting. Over the island, two Tech Lighting Mini Melrose Pendants provide a focal point, while adding task lighting. The Bi-pin Lamps provide plenty of light while the Tahoe Pine Amber glass diffuses it, so that there is no harsh light in your eyes.
Recessed Lighting
Countertop Lighting
Tech Lighting Pendants
Tech Lighting FreeJack
Tech Lighting Mini Melrose Pendants
Available Colors

Blue-Violet
Ferrari Red
Tahoe Pine Amber
White Frit

Available Finishes

Antique Bronze
Chrome
Satin Nickel

Gracefully shaped glass shade, richly layered in brilliant frit, with machined top detail.
12 volt Halogen, 24 volt Halogen, LED 12 volt LED 3000k
Six feet of field-cuttable suspension cable
Swag Hook option available
FreeJack Canopy
Tech Lighting allows you to customize your pendant by choosing from a variety of available canopies. FreeJack 4″ Round Flush Canopies are shown in this kitchen. The canopies are available for an individual pendant, as shown above or to hang three, four or five pendants from a single canopy.
Available Hardware Finishes

Antique Bronze
A darker finish designed to simulate aged bronze
Chrome
Similar to a polished nickel with a slightly cooler tone
Satin Nickel
A brushed nickel similar in appearance to brushed stainless steel

Available Wood Canopy Finishes
2″ Square
4″ Round
4″ Square
Domed Canopy
Venus Deep Canopy
3-Pendant Linear
3-Pendant Round
4-Pendant Round
4-Pendant Square
5-Pendant Round
Adapter to replace recessed can light with a pendant
Adapter to hang pendant from track light
Other Options
The Mini Melrose Pendant can be suspended from single canopies as shown above or from a Kable System, Single Circuit or 2-Circuit MonoRail System or T~trak.
These Pendants are compatible with Tech Lighting Kable, Free jack, Monorail and 2-Circuit Monorail.
Adapters are available to use these on Track Light or T~trak.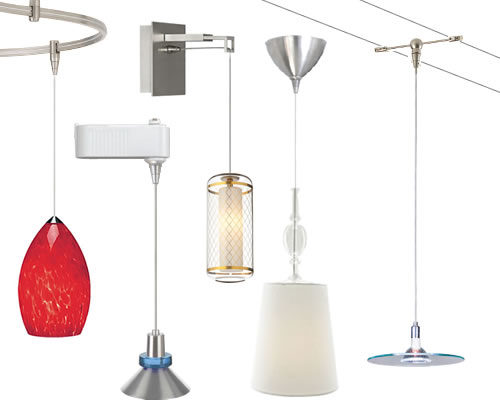 Tech Lighting Pendants are completely customizable.


Choose your pendant.


Choose how to hang it.
Single Canopy
Choose a Single Canopy complete with all necessary transformers or power a Series of pendants using a single remote transformer. Available as small as 2″ square.
Multiple Pendant Canopy
Square, Circular or Linear canopies hold up to 5 pendants from a single canopy.
Replace a Recessed Can Fixture
Easily retrofit an existing recessed down-light into a new dimmable Pendant or Spotlight using a Recessed Can Adapter.
Track Pendant
A Track Adapter allows any FreeJack Pendant to be used on Halo, Juno, Lightolier or other popular 120 volt track lighting systems.
Monorail Pendant
Suspend these pendants from Monorail, 2-Circuit Monorail or T-Track line voltage Monorail using the correct adapter.
Kable Pendant
These smaller and more light weight pendants appear to almost float in space suspended between two parallel cables.
Ensu Wall Bracket
Turn any of these low-voltage pendants into a wall bracket sconce.
Or start with your system, then decide which pendants, fixtures and accessories to add.