10 Tips for an Organized Office
This is the time of year we all want to get organized. An organized desk is the first step to organized paperwork.
Minimize Papers
Don't print it unless you need to. Go through the mail as it comes in and immediately toss or shred anything that does not need action. (Put the catalogs in the bathroom.)
Have an Inbox
Whether it is a place on your desk that is reserved for incoming papers or a wall pocket near the desk, have one single place so they don't scatter all over the desk.
Have a Trash Can or Shredder
Make sure you don't have to get up or try to toss your papers into the trash.
Have a To-File Box
Rather than make a heap on your desk of items waiting to be filed, have a single file box under the desk that you can put items in. They're still convenient if you need them immediately. File them correctly eventually.
Have a Pencil Cup (Or a segregated spot in the drawer)
Take all of those pens, pencils and highlighters out of the drawer, make sure they write, sharpen the pencils and put them in something easy to reach. (Throw it away if it doesn't write.)
Have Good Lighting
Make sure you are not working in your own shadow. An adjustable desk lamp , floor lamp or swing arm wall lamp is a great investment that will pay you back with more efficiency and less eyestrain.
Use the Room
If you need it close, but aren't going to use it soon, get it off the desk. Stack it on shelves. Put it in a box. Or rethink it. You may just want to file it, shred it or donate it. Give it a little time and nearly everything isn't worth keeping on the desk or in the office any more.
Get Rid of Clutter
Move the family photos and knickknacks to somewhere else in the room.
Schedule Tidying Your Desk
Pick a time every week to lift and dust, wipe down keyboards and throw away all those little things that accumulate.
Use Hold Time
Any time you are sitting on hold, put it on speaker phone and make use of the time. Sort your Inbox. Or stand up and do a couple of exercises like High Knee Lifts or with Arm Circles.
"Now's the time to carve out a spot for paperwork, scheduling and similar tasks. 'When it comes to home offices, neutral walls, simple patterns and streamlined furnishings create a calm and inviting feeling,' says interior designer and blogger Danielle Oakey. Proper lighting is another must. Place your desk near a window for sunlight, if possible and add a task lamp for extra brightness. Oakey also suggests movable furniture-a comfortable chair on casters, a rolling cabinet-which allows for flexibility in small areas."
Style at Work Family Circle January 2014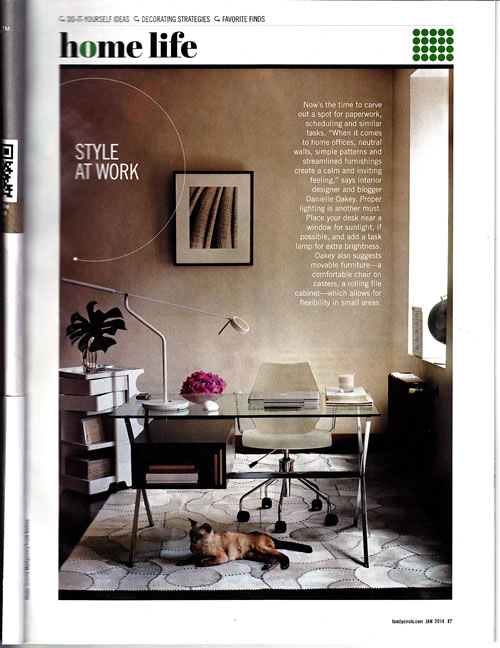 Deep Discount Lighting Desk Lamps
Subscribe to Traditional Home Magazine >