How do I design my own Cable Lighting System?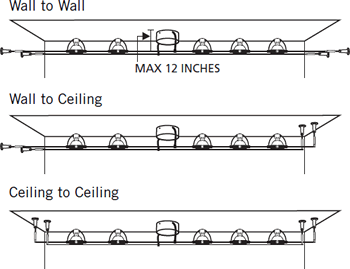 Cable Lighting may look complicated, but it is actually very simple. It is all the options that might get confusing.
The simplest thing to do is to start with a kit.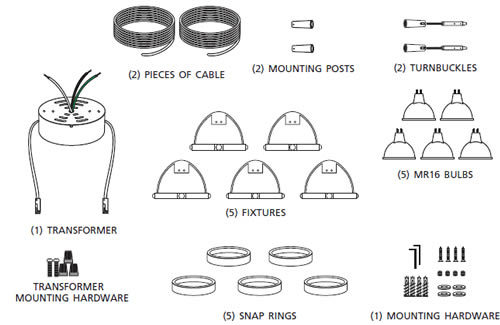 The Tiella Accent 5-Light Cable Kit includes 5 lights and their bulbs, a 100 watt surface transformer that covers a junction box like you would put any light fixture on, two 20-foot lengths of cable and the parts that attach the cable to the wall or ceiling.
The Only Parts You Need
Lights
Transformer
Cables
Something to attach Cables to wall or ceiling
DIY Guide to Buying and Designing Cable Light >
LED Changes Transformer Load
LED has changed things. LED draws very little current.
The biggest problem with that is, if there is not enough load on the transformer, the bulbs may not be dimmable.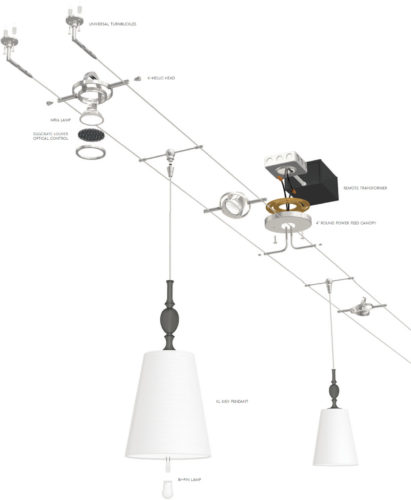 If you use a remote transformer, you will need some sort of power feed and to run wires, called leads, from the transformer to the cable.
Many transformers include these leads.
Kable Lite System Layout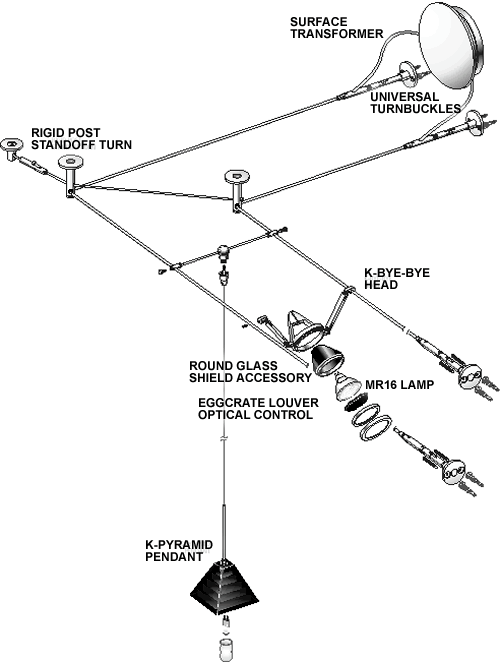 ELEMENTS (Pendants, Heads and Functional Art):
Choose elements
Check cable separation requirements. Cable separation is usually 1″, 2″, 3.5″, 5.5″, or 8″.
5.5″ separation has most element options.
Choose Accessories and Optical Controls, if required or desired.
Choose lamps, 12 or 24 volt, that do not exceed maximum wattage of element or accessory
Add up total lamp wattage on system
Choose finish of system and make sure all components are specified as such.
Use scaled drawing as a reference.
Identify mounting locations for turnbuckles and any turns in the run.
Measure Length of Kable Lite run; determine distance in feet.
Order two times the Length of run plus 10 percent.
Choose turnbuckles to tighten cable.
Select Your Transformer
Add up the wattage of all your lamps to find out the size transformer you need.

Remote Transformer
Choose:
Magnetic or electronic
12 volt or 24 volt
Single or dual-feed
Specify a Power Feed Canopy, single or dual-feed.
OR
Surface Transformer
Choose:
Magnetic or electronic
12 volt or 24 volt
Single or dual-feed
*Wattage of the transformer must meet or exceed wattage of lamps.
If powering system with more than one transformer, add Isolating Connectors to isolate the feeds from each other.
Mounting:
Determine how far below ceiling the system will drop. If using a Surface Transformer drop must exceed Height of transformer.
If mounting turnbuckles to ceiling and dropping the system a greater distance below ceiling choose either Rigid T Standoff or Rigid Post Standoff to mount before turnbuckles. Determine part number.
If cables will be making a turn off the wall specify either
Horizontal Turn or Wall Turn and determine part number.
If cables will be making a turn off the ceiling specify
Rigid Post Standoff Turn. Determine part number
If using heavier elements, such as glass pendants, or if a span of cable exceeds 20′ without support, specify Adjustable Standoffs.
Checklist
Make sure your Bill of Materials includes:
Transformer
Power Feed Canopy
Cable
Turnbuckles (one pair for each end)
Isolating Connectors (if necessary)
Ceiling or wall supports (if necessary)
Elements (make sure selected cable separation works with elements)
Accessories and Optical Controls
Lamps—if not included with elements; (lamps must not exceed maximum wattage of element or accessory)
Make sure all finishes match and computer numbers end with C (Chrome), G (Gold) or S (Satin Nickel)
You're done!
Sample Bill of Materials for Tech Lighting Kable Lite System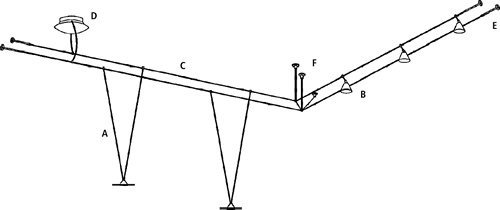 | | | | |
| --- | --- | --- | --- |
| Item | Quantity | Number | Description |
| A | 2 | 700LICOCO | Cone Glass Shield, cobalt |
| B | 3 | 700KPIV05C | K-Pivot 5.5″, chrome |
| B | 3 | 700KVBIZC | KV-Biz, chrome |
| B | 3 | 300BLV139 | 12v 50 watt MR16 lamp, GE EXN 40° |
| D | 60 ft. | 700KLABARE | Bare Cable, chrome |
| C | 1 | 700SRT30DW | Surface Magnetic Transformer, 12v 300 watts, white |
| E | 2 | 700PARTTC | Universal Turnbuckles, chrome |
| F | 1 | 700KSOT12C | Rigid Post Standoff turn 12″, chrome |
DIY Guide to Buying and Designing Cable Light >