The Basics of Track Lighting
The Basics of Track Lighting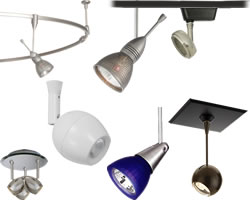 Track Lighting consists of a continuous track that conducts electricity from a single source. Fixtures may be attached anywhere along this track.
Track can be mounted to
Drywall
Plaster
Wood
Suspended Ceilings
Along architectural elements
Suspended from rods or cables
Sloped ceilings
Track lighting may be suspended using rods or cables.  Pendants may be suspended from the track. Track lighting is available in Line Voltage (120 volt) or Low Voltage (12 volt or 24 volt). Low voltage track uses a transformer to drop the electricity to the required voltage, connecting low voltage lights directly to the track. Line voltage track may still be used with low voltage fixtures with a transformer as part of each fixture. Be sure to anchor your track securely before hanging heavier fixtures.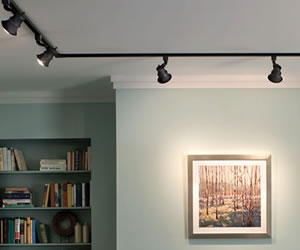 "Track lighting offers a great degree of flexibility to the designer, because not only the direction of the light, but also its location can be changed. This feature makes track lighting an ideal auxiliary or primary lighting source for a retail store. Track lights are also available with colored filters that attach directly to the fixture. The biggest drawback to track lights is the potential direct-glare problem. Because the lights can be positioned in any direction, it is likely the light source will be visible and produce glare. Some baffles are available to control glare, which cause the lamp to be recessed deep into the fixture. Even though this effectively cuts off light, store personnel must be instructed to be aware of the problem of direct glare, and the fixtures must always be positioned to control the problem."
Store Design: A Complete Guide to Designing Successful Retail Stores by William R. Green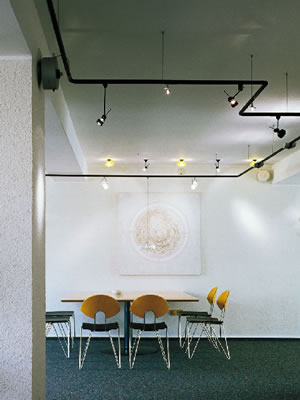 Ceiling mounted track lighting with adjustable spotlight fixtures and pendants are an excellent choice for both residential and commercial use. There are an unbelievable variety of attractive and functional fixtures available.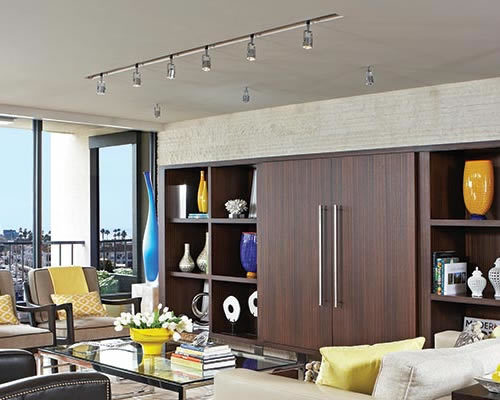 Track lights make it easy to make changes in your lighting. You can mix pendants and track heads to direct light on specific areas.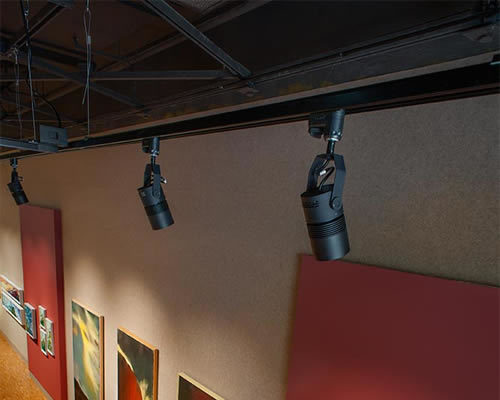 Standard Track Lighting Types
There are 3 standard types of Track lighting. If you are adding to an existing system you will need to determine which type of track lighting you have.
Halo or Halo compatible track has three wires or contacts
Juno or Juno compatible Juno or Juno compatible track is wider with only two wires about 1″ apart.
Lightolier or Lightolier compatible track also has two wires which are about 7/8″ apart
Power & Connections
Electricity is provided to the track using a Live End.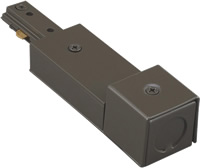 Power can be fed from one end of the track, from a connector, from a flexible or stem power feed or as a floating canopy anywhere along the track.
Track can be wired directly to a ceiling box or be attached anywhere, then plugged into a standard wall outlet using a cord set. If the outlet is not controlled by a switch, an in-line switch may be used on the cord.
If you wish to have areas of your track lighting controlled by separate switches, so that one area can be lit or dimmed without affecting the entire track, you may use an isolating end and an additional live end.

Track can be ordered in various lengths or cut to fit any area. It can be laid out in any design, using connectors to join sections. Right or Left "L" Connectors, "X" and "T" Connectors make right angles or use Flexible Connectors to join sections at other angles.
 More at www.deepdiscountlighting.com/track_lighting.htm >
Track Heads and Pendants