Farmhouse Style Lighting from Kichler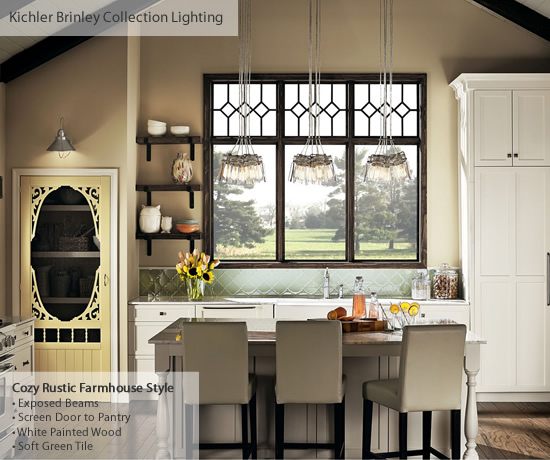 Farmhouse Style means different things to different people.
There are a lot of variations on Farmhouse Style. Modern Farmhouse Style incorporates comfortable Farmhouse pieces into a Classic Modern interior. Cozy Rustic Farmhouse has the appeal of a log cabin with perhaps farm elements like chicken wire. French Farmhouse or Farm Cottage styles have colors and details that bring a vintage look.
There's More Than One Way to Farmhouse

Weathered wood tones, wrought iron hardware and organic shapes come together to create contemporary pieces with a cozy feel. Combine these essentials with other farmhouse-inspired décor, and you'll create a room that's not only laid-back and livable, but also fresh and inviting.

There's More Than One Way to Farmhouse
www.kichler.com/lighting-ideas/blog/more-ways-to-farmhouse/
Farmhouse Style is comfortable and inviting. It is a style very easy to make your own, using the things you love around you. Farmhouse style works with things you already own.
Modern Farmhouse Style
Modern Farmhouse Style adds elements of Farmhouse style while keeping a clean open feel. It is uncluttered and easy to keep up, but still warm and inviting.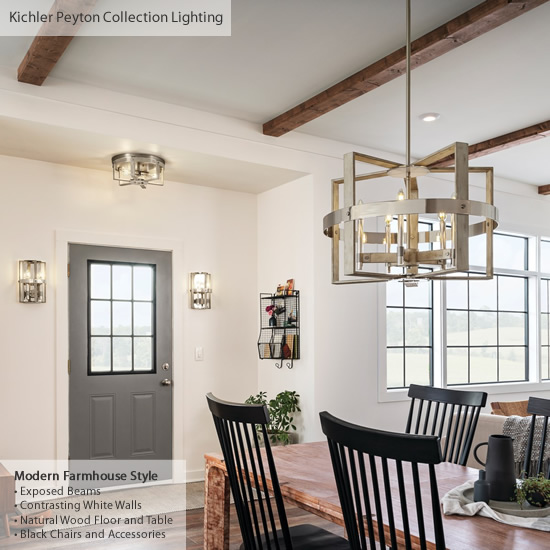 This photo from Kichler is a great example of Modern Farmhouse style. Exposed beams give a historic farmhouse feel. The white walls and black elements are high contrast, but the look is softened with the grey painted door and the warm woods. The black chairs are a modern take on a vintage classic, with elements of Windsor or turned chairs that would be found in a farmhouse.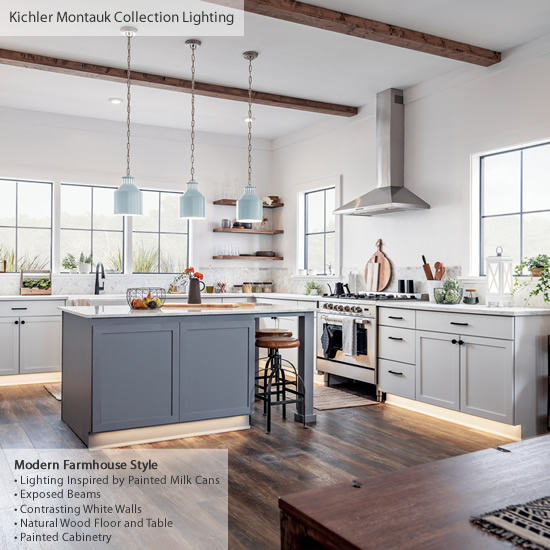 This kitchen has cabinets painted in two different shades of low shine grey paint, reminiscent of milk paint. The exposed beams and rustic wood floor make you feel like you are walking into an old farmhouse, while all the windows, the high ceiling and white painted walls make the room feel bright, open and airy. The Montauk Pendants are inspired by vintage milk cans. The creamy blue-white finish is perfect.
Cozy Rustic Farmhouse Style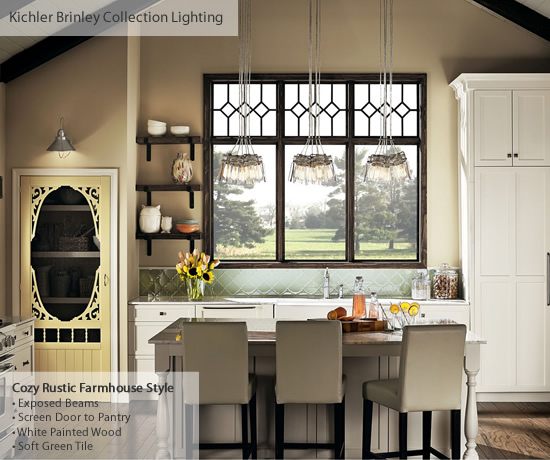 This kitchen is a great example of adding farmhouse elements to a kitchen. The door to the pantry is replaced with a screen door with carpenter gothic gingerbread. The low shine white paint on the cabinets and the turned legs on the bar all work together to bring the feel of a farmhouse front porch. The pendant clusters from Kichler's Brinley Collection have the feeling of canning jars.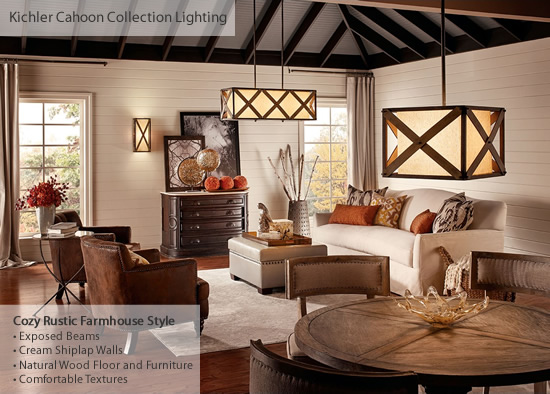 This living area demonstrates another way to incorporate Farmhouse Style touches. The furniture is more contemporary, but the ship lap walls painted a warm cream shade and the exposed beams bring a cozy rustic feeling to the space. The natural wood floor and furniture have a more sophisticated feeling. The Cahoon Collection lighting is finished in Anvil Iron with applied browns and greys. Beige linen shades keep the feeling refined and diffuse the light.
More Farmhouse Style Lighting
Farmhouse Style by Room

Farmhouse Style Collections