Take a Bow: Ribbons and Bows, Timeless Motifs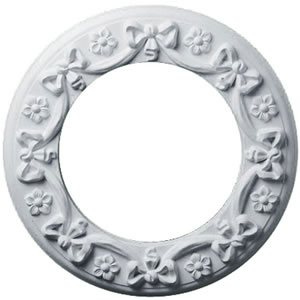 Ribbons and bows are not just for little girl rooms. This motif is timeless and works in Antique Reproduction Styles like English Baroque, French Country Style, Queen Anne and Queen Anne Revival and Victorian Style. It is a natural with any Country Style.
Traditional includes a wide range of period styles. These classic pieces are comfortable with many traditional interiors. Swedish or Gustavian Style often incorporates ribbons and bows.
The Best: Trending
Take a Bow

A style trademark of glam dames from Coco Chanel to Eloise, tousled bows work hard, but play harder – as emblems of effortless chic on necklaces and beyond.

House Beautiful March 2015
Get the look!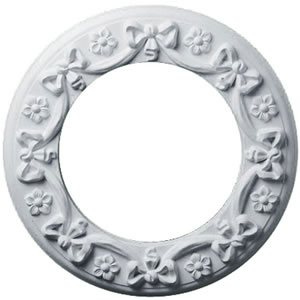 Ekana Millworks 12 1/4″  Ribbon with Bow Ceiling Medallion
This small ceiling medallion can be used as is or customized. It is easy to paint, stain or faux finish and easy to install.
Ekana Millworks Medallions are a real bargain! Starting around $10.00!
12″ to 15″ Ceiling Medallions >
Ekana Millworks Ceiling Medallions come standard with a ready-to-install, double UV-protective white finish. You can customize your Medallion with latex or oil base paints, faux finishes, gold leaf, sponging, feathering or marbleizing techniques to create your own, one-of-a-kind masterpiece. If you decide to paint, stain or faux finish your Medallion, it may work best to do this before installation. This can speed up the project by preventing any spills onto the ceiling or surrounding wall.
Ceiling Medallion Installation Instructions >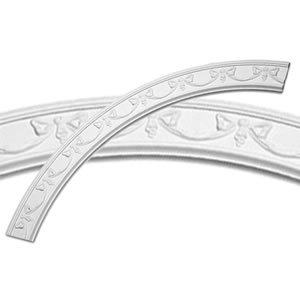 Ekana Millworks Ribbons and Bows Ceiling Ring or Rim
Use four pieces to create a complete circle around your chandelier canopy or ceiling light.
This rim is 67″ in diameter when completed. It is even easier to install than a medallion, since you don't have to remove the chandelier.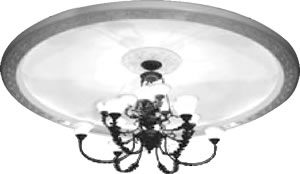 Focal Point 98521 Bow & Swag Light Cove Dome
This ceiling dome is 6.5 feet in diameter. What an impact!
Focal Point Lighted Dome
Designed exclusively for Focal Point, this dome was developed specifically for the creation of providing indirect illumination. The Installation: of this dome will give a romantic, candlelight ambience to any Interior.
This one piece unit will provide trouble-free Installation: with the support of a practical Installation: kit which is included. The Dome with Light Cove is made of a fiberglass composite that uniquely integrates the light cove with the dome. Flexible, UL listed, rope lighting (not included) may be used (approx. 19 ft.) and overlapped to increase illumination, dependent upon the lighting manufacturer's specifications.
Domes and other Architectural Details >
Subscribe to House Beautiful >