Chinoiserie Pagoda Style Mirrors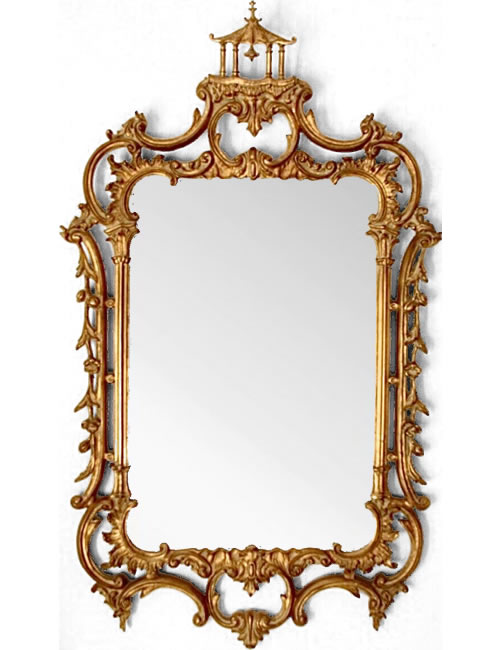 There is nothing like a pagoda-shaped mirror to bring instant Chinoiserie style to your home. They are available old and new. You can find opulent antique versions and recreations on eBay and Etsy. You can find them new, made of carved wood, MDF molded wood, plastic or resin on Amazon.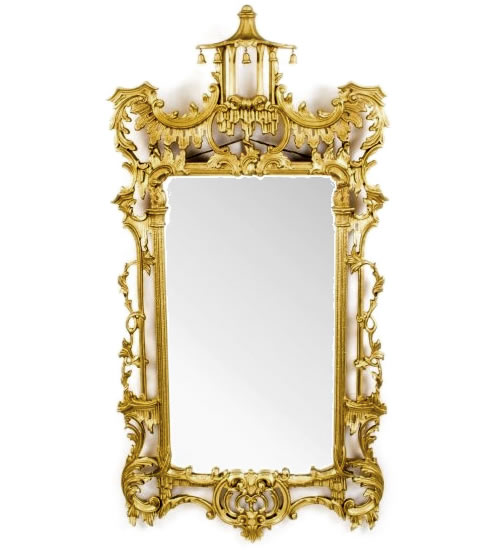 Don't you love the bells on this pagoda mirror? It looks just like this one on Chairish.
Large Stunning Italian pagoda bells chippendale mirror. Marked P. De Luca made in Italy including its original order number.
Ornately carved and designed with exquisite craftsmanship. 5 bells at the top of the pagoda design, hand applied gold leaf with antiquing.

Vintage Italian Gold Leaf Pagoda Bells Chinese Chippendale Mirror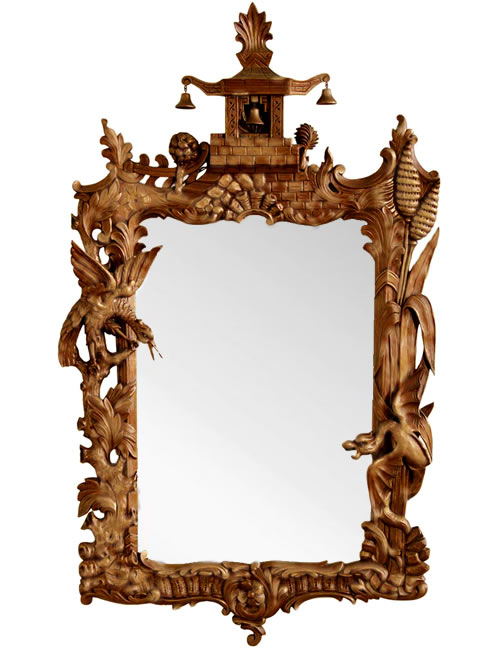 I can't put it any better than this blog post.
Chinoiserie pagoda shaped mirrors are one of those iconic decorating pieces you can spot everywhere from 17th century English manor houses to modern apartments on Upper East Side. Their unique form is based on the architecture of Buddhist temples but these days they come in all types of styles.

Love or Loath? Chinoiserie Pagoda Mirrors
Spicer and Bank by Allison Egan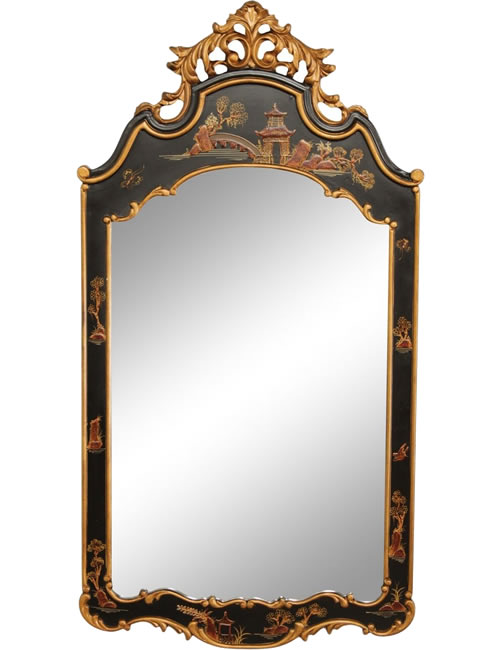 This import mirror has a lacquer frame with Chinese landscapes with pagodas, edged in gold.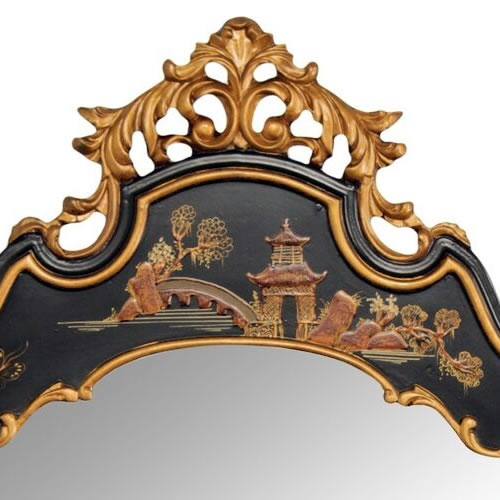 Here is a closer detail. It has the same pagoda and bridge as Blue Willow china.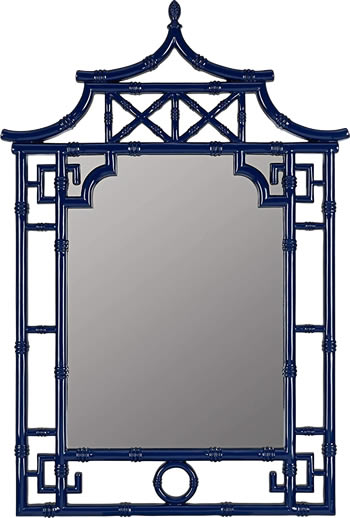 This mirror has the look of bamboo or rattan with a pagoda-shaped top. It is still being made by Cooper Classics.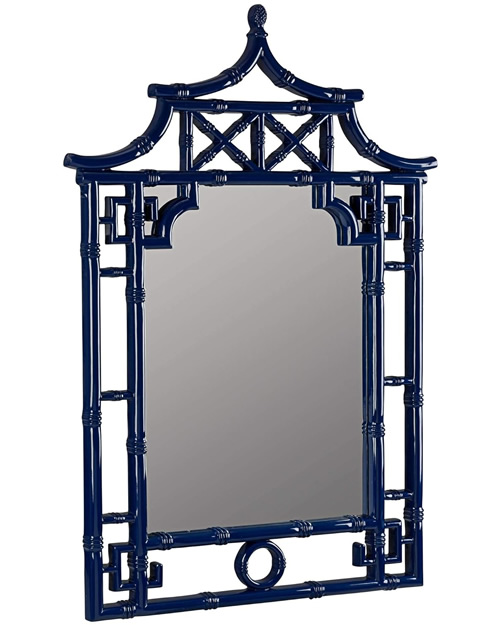 This pagoda mirror is from Cooper Classics. They call it the Pinlo mirror. It is made from Polyurethane Resin. It is available in Black, Navy or White Lacquer.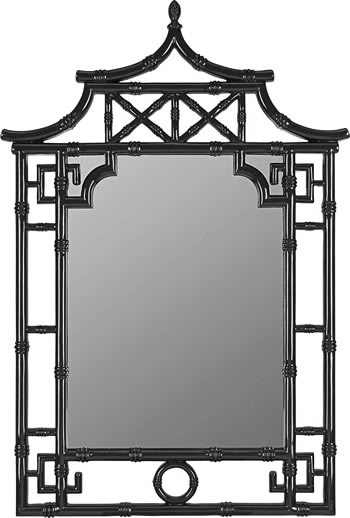 Cooper Classics 40740 Pagoda Mirrors

Frame: 28.25″ x 42″ x 2.5″
Mirror: 17.75″ x 24″

Ready to Hang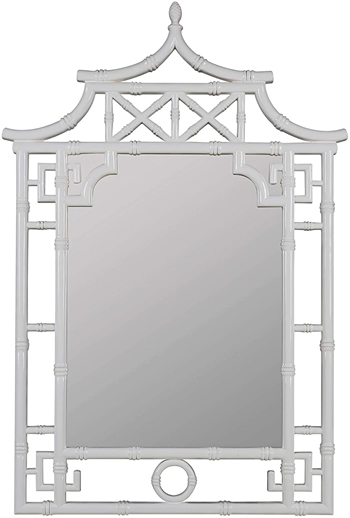 The overall size is 28.25″ wide and 42″ high.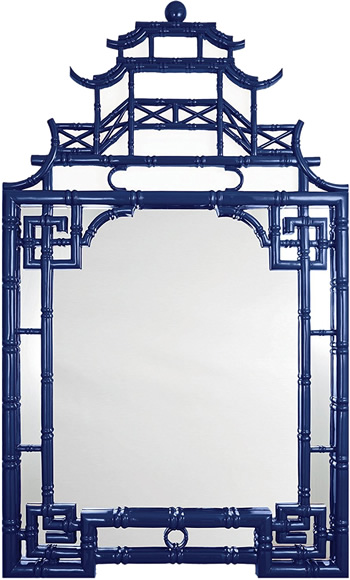 This pagoda mirror from Kathy Kuo Home is also still available.
Kathy Kuo Home Jemaa Global Bazaar Asian Lacquer Chinoiserie Mirror

Finish: Navy or White gloss lacquer

54″ high x 32″ wide x 1″ deep
Constructed from cast resin, wood and mirror
Frame finished in hand applied gloss lacquer

Mirror is not beveled
Includes hanging hardware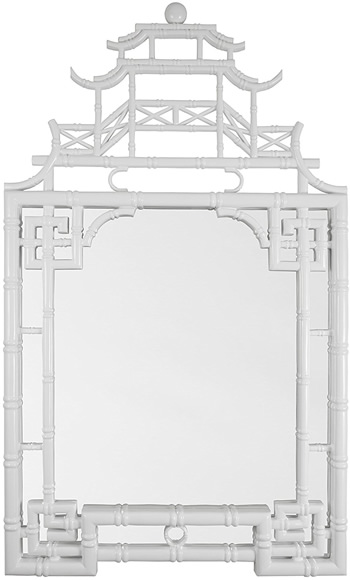 With an Asian-inspired frame and a unique lacquer, the Jemaa mirror brings an exotic look to your home. Whether you have a Chinese, Thai or other Asian theme or your room is decorated with exotic pieces to feel like a world traveler. This mirror tells a story of adventure and excitement.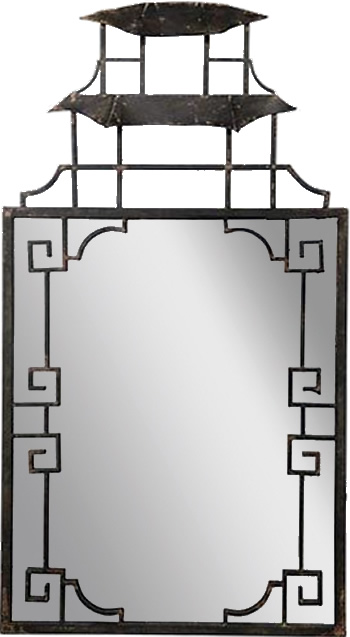 This pagoda mirror has a distressed metal frame with Chinese scrollwork and a pagoda on top.
A&B Home 1639571 Pagoda Mirror from the Florence de Dampierre Collection

26″ wide x 47″ high x 3″ thick
Finish: Distressed Black Natural Iron

The dramatic pieces in the Florence de Dampierre Collection are inspired by Chinese pagodas.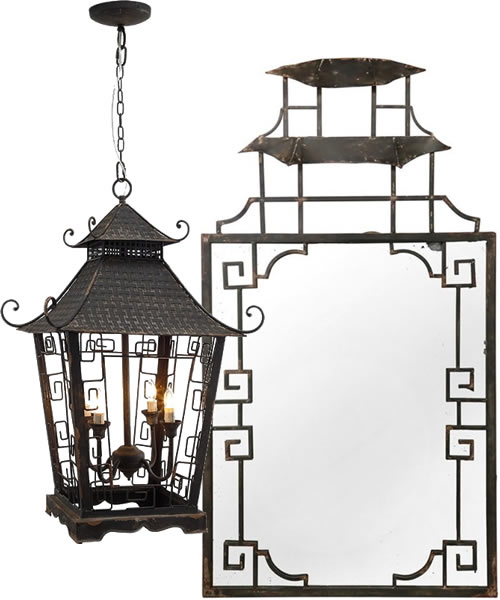 There is a pagoda lantern that matches it.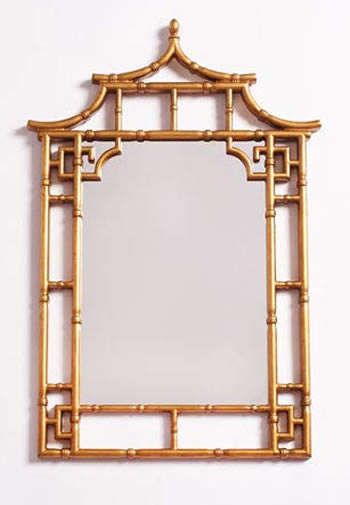 This smaller pagoda mirror is from 251 First. They make lighting, furniture and decor.
251 First Camden Gold Pagoda Mirror

Frame: 20″ x 30″
Mirror: 17.75″ x 24″

Finish: Gold

Ready to Hang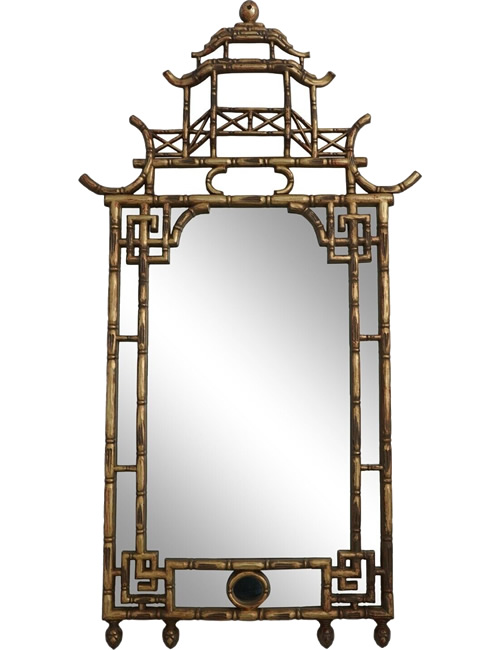 This pagoda mirror from Turner Accessories is 30″ wide by 58″ high. It was made in the late 1970s. It finds its way onto eBay and Etsy, too.