Blue Willow and Blue Chinoiserie Double Old-Fashioned Glasses from Culver Barware
Culver Barware makes generous-sized tumblers with Blue Willow and Blue Chinoiserie in cobalt blue and white on quality clear glasses.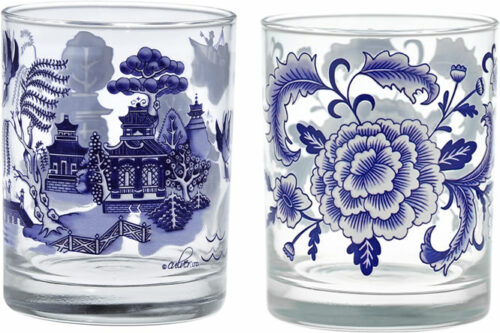 The tumblers are clear glass with heavier bottoms. The design is blue and white.
Both designs are ideally traditional.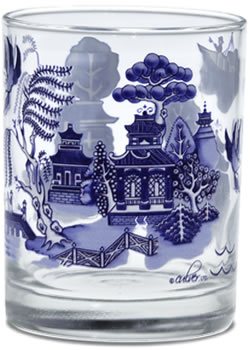 The glasses are labeled as DOF. That is an abbreviation for Double Old-Fashioned.  This is a popular glass size, big enough for a drink and any ice. A single old-fashioned glass holds 6 to 8 ounces. A double old-fashioned glass holds 12 to 14 ounces. This 13 1/2 ounce glass is a good size.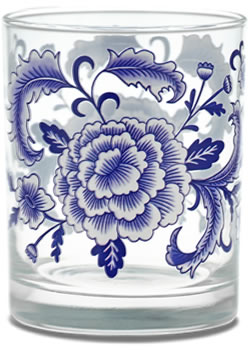 The glasses are 3.3″ wide at the top, 3.125″ wide at the bottom and 4.25″ high. They are tapered, but I would personally not nest them. I would hate to damage the design.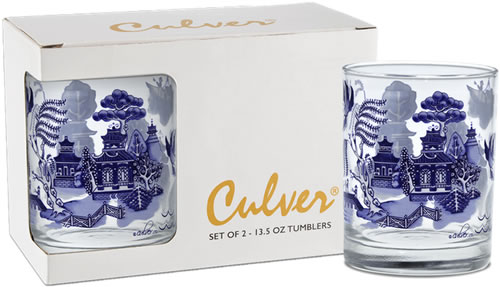 They are sold in sets of two.
Culver 13.5 oz Blue Willow DOF – Set of 2
Product #: 0065BLWI2RP

13.5 oz capacity
Window gift box
Set of 2 glasses
Made in the USA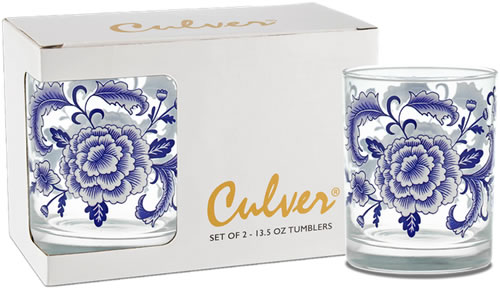 Culver 13.5 oz Chinoiserie Floral DOF – Set of 2
Product #: 0065CHFW2RP

13.5 oz capacity
Window gift box
Set of 2 glasses
Made in the USA
At least right now, there are no other sizes available.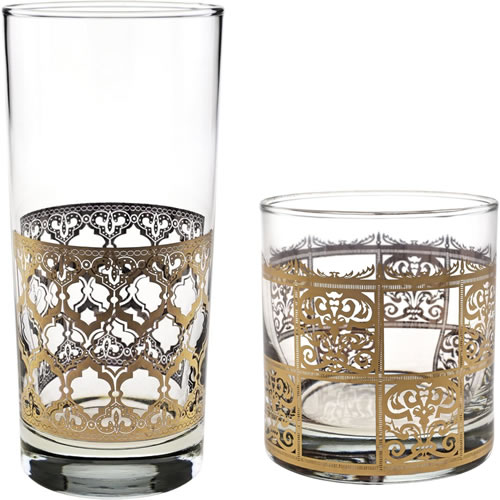 Culver Barware
Culver is an old brand. It was founded in Brooklyn, New York in 1939.
Since 1939, Culver has provided only the finest quality beverage and bar products for homes all across the globe. Eighty years later, we carry the same proud traditions of superior quality and design started by the Rothenburg family into the next generation of housewares.
They are best known for 22 karat gold decorated glassware.
The Valencia with gilded Moroccan-style trellis and raised emerald green diamonds is their most popular.
Perfect for the chic and casual connoisseur, and everyone in between, Culver offers lifestyle/theme specific barware you're sure to love.
They have been voted the best drinkware decorator in the industry for the past 15 consecutive years.
Through state-of-the-art equipment and many cutting-edge decorating processes,Culver's most recent endeavor has been the resurrection of the deep-rooted, vintage Culver designs with a contemporary twist. Through an in-house designer, the vintage Culver designs have all been recreated with a fresh perspective utilizing modern decorating techniques.
They make a LOT of different patterns. They are a practical gift for pretty much anyone who collects any motif.