Sauder Pagoda Hollywood Regency Collections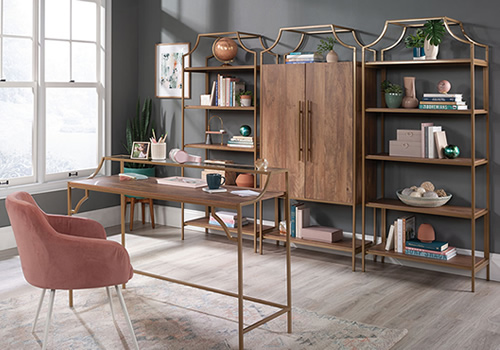 These affordable pagoda-form metal pieces will work with Hollywood Regency, Chinoiserie, Glam or Art Deco style.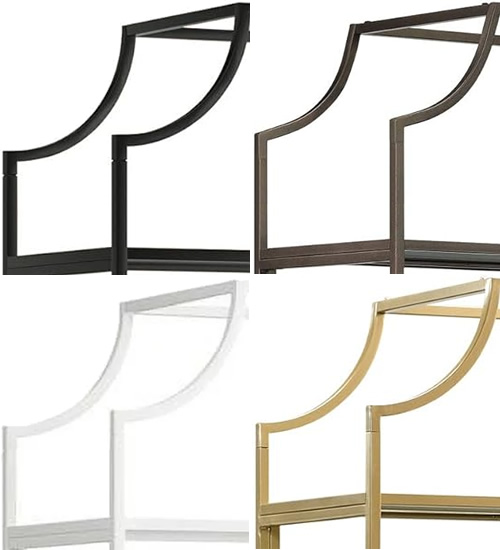 The pieces have a pagoda-shaped top. They are available in four finishes.
Finishes

Black
Bronze
Flat White
Satin Gold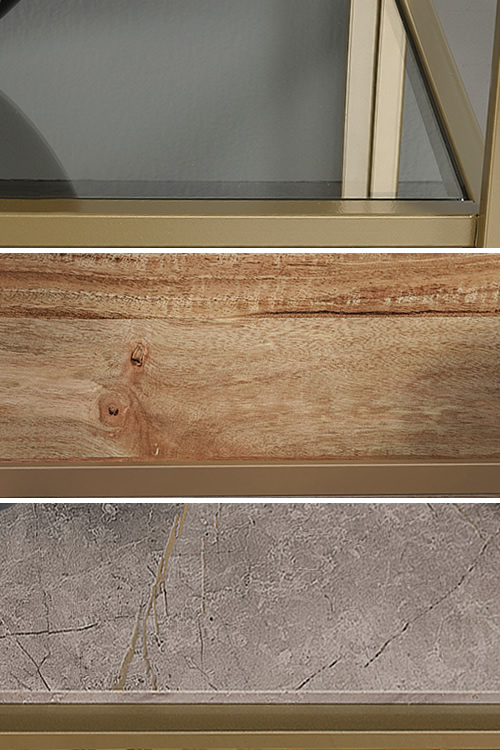 Most finishes come with clear glass surfaces. Satin Gold is also available with Sindoori Mango wood look or Deco Stone tops.
Shelves and Tops


Safety-tempered glass
Sindoori Mango
Deco Stone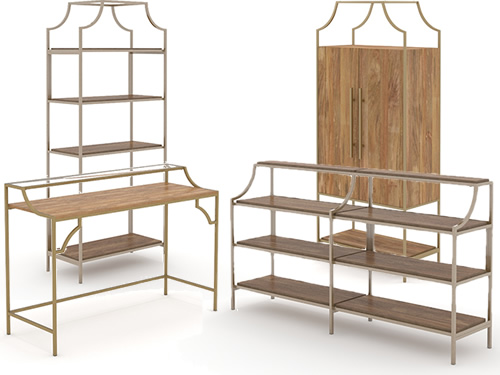 The pieces all incorporate the same pagoda-influenced curve.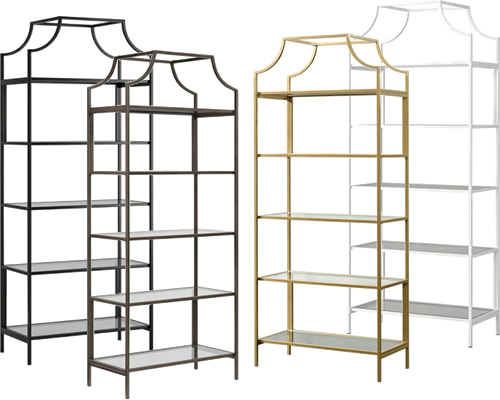 Bookcase
The bookcase is an open etegere style shelf.
30" wide x 14.5" front to back x 70.875" high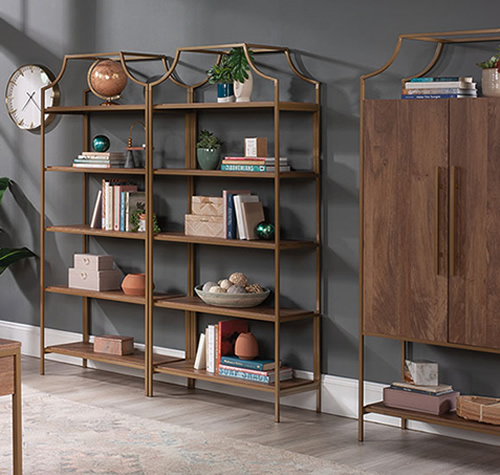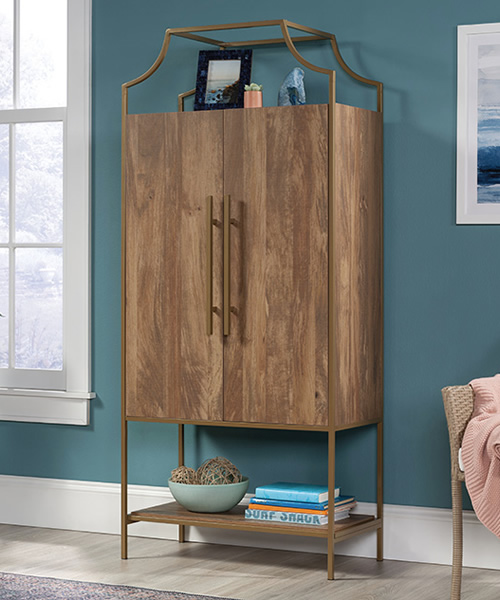 Cabinet
The 2-door Storage Cabinet with Shelving has long gold-finished handles on the doors. There are two shelves inside the cabinet. One is adjustable. The other is fixed. You can put things on the top of the closed cabinet and there is an open shelf at the bottom.
31.5" wide x 15.5" front to back x 70.875" high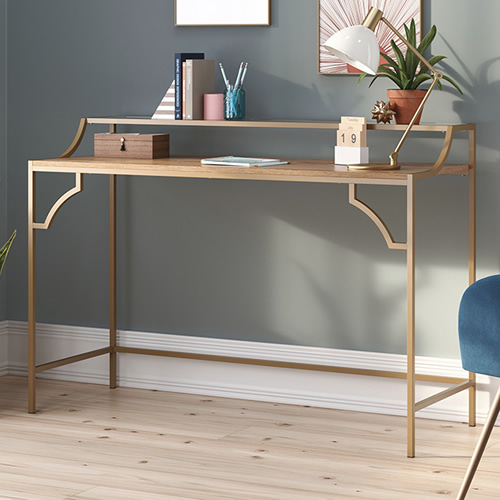 Writing Desk
The elegant writing desk has one shelf. The Sindoori Mango top is pre-drilled to accommodate easy installation of the Invisa Qi and Invisa Qi-PRO LED hidden wireless smartphone charger, sold separately.
48.75" wide x 18.5" front to back x 34.5" high
Hidden Wireless Qi Compatible Charger by Eggtronic

Compact concealed wireless chargers, designed to be embedded in tables, desks, nightstands, sofa's, recliners and more, ensuring top charging performances. Forget the cables and transform any surface into a wireless charging spot for smartphones.

Compatible with iPhone 8 or newer and Samsung 6 or newer, as well as several other popular brands of smartphones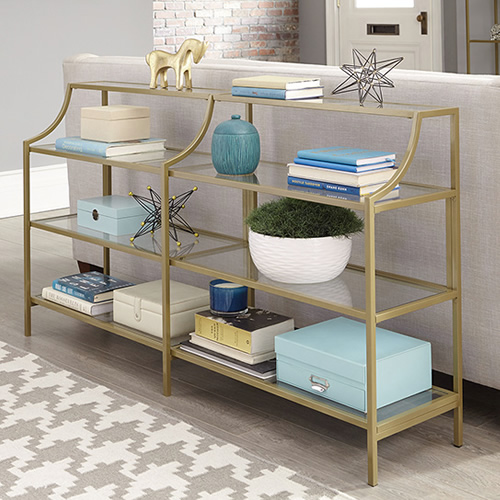 Console Table
The console table provides plenty of open shelving.
59.375" wide x 13.125" front to back x 32.625" high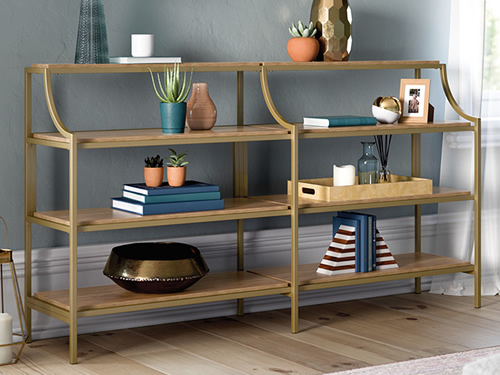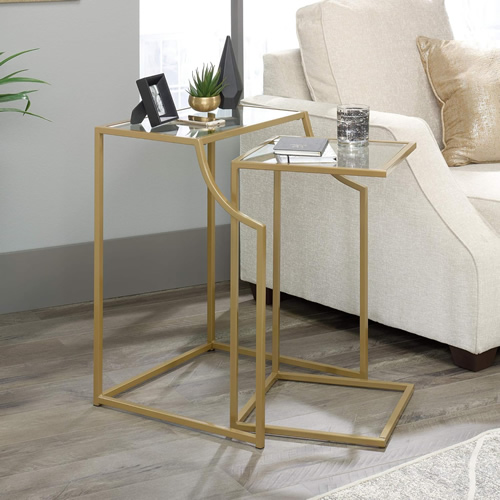 Nesting Tables
Nesting tables are great space savers. The top table has the pagoda shape.
19.45″ wide x 19.45″ front to back x 26.97″ high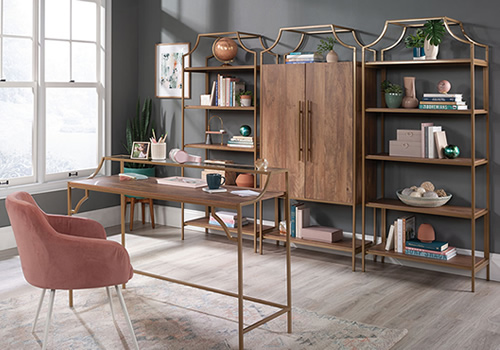 International Lux Collection
The pagoda-shaped metal furniture pieces are in larger collections with coordinating pieces.
Bronze Glass-Top
Satin Gold Glass-Top
Satin Gold with Sindoori Mango
Satin Gold with Deco Stone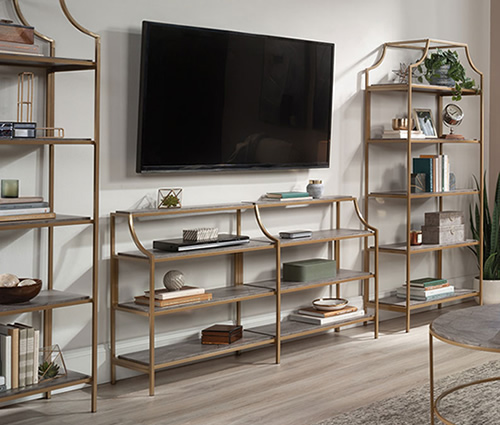 Finding stylish eclectic furniture has never been easier. International Lux® is a European-style furniture collection of dining and living room furniture boasting a variety of materials, finishes, accents, and function inspired by travel. From European-style bar carts to sleek metal frame furniture to storage and organizational units with a modern flair, there is something for everyone in this international-style furniture collection. And like every well-traveled globe hopper, these pieces are eclectic, sophisticated, and just plain cool.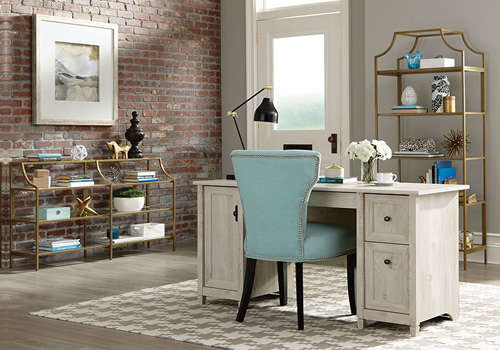 Curiod Collection
Curiod® brings the wonder of the classic and curious together to create a refreshing yet timeless selection of interior furnishings. Graceful metal framework finished in Gold satin lives comfortably alongside the finely detailed Chalked Chestnut finished cabinetry. Seating with a dramatic silhouette adds an eclectic splash of seaside color. And an unmatched combination of concealed storage and open display creates a home for every treasure in your home, no matter where it comes from.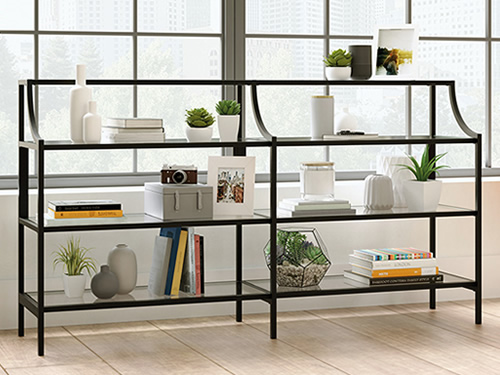 Harvey Park Collection
Contemporary aesthetic meets mid-century optimism in this fun and functional collection. The Sauder® Harvey Park collection features warm Grand Walnut finish, dark accents, brassy hardware and updated function to rock these nostalgic silhouettes with 21st century sophistication. The collection includes anything you will need to get the desired modern apartment flair, from wall organizers to side tables to asymmetrical shelves and colorful side tables and night stands. Get the mid-century modern look you want with the Harvey Park collection.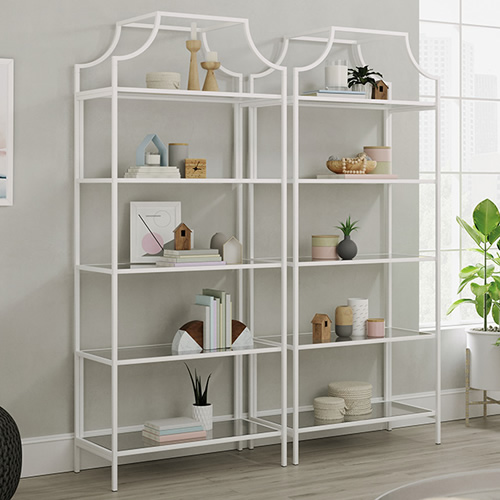 Anda Norr Collection
Less is more. Show some Scandinavian appreciation with these minimalist designs from the Anda Norr collection. Simple silhouettes, clean lines and natural looking finishes keep things light and airy, allowing easy movement from space to space while adding a modern aesthetic to your existing home décor. And these straightforward pieces were made with plenty of function in mind – they're jammed full of unique storage and display options, making them practical for multiple uses in any room.