Pagoda Tea Cozy Ready Made or Knitting Pattern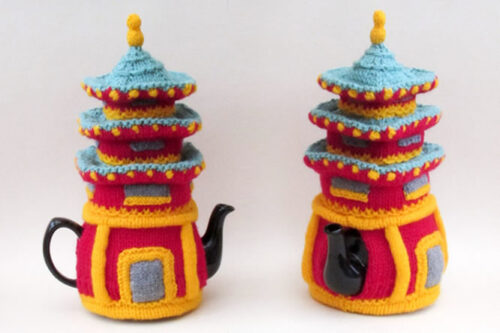 Oh my goodness this is SO cute! A pagoda tea cozy! A tea cozy keeps the teapot hot longer. These are knitted to fit a round teapot for 6-8 cups.
You can buy the Japanese Pagoda Tea Cosy as a knitting pattern or you can order one already made if you live in UK.
You can buy our patterns for digital download anywhere in the world but we only deliver actual tea cosies within the UK.
If you don't live in UK, you can get an instant download of the pattern and make one yourself. Or beg someone with the required skills to make it for you.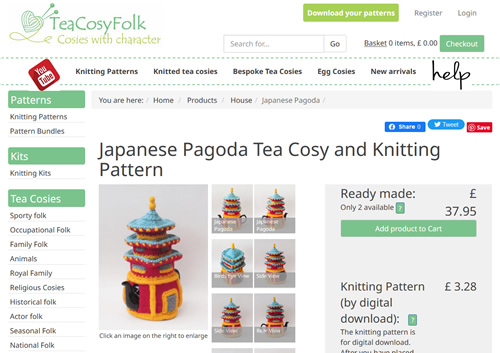 The main part of the tea cosy is the bottom floor of the Japanese pagoda. Then the subsequent floors are knitted and sewn on individually. The walls and roofs are knitted in one to avoid additional sewing up.

The windows, door, pillars and finial are then all knitted and sewn on to create this lovely and unique tea cosy.
Japanese Pagoda Tea Cosy and Knitting Pattern >
Spell check doesn't like British spellings. The website is called Tea Cosy Folks and the name of the product is Japanese Pagoda Tea Cosy and Knitting Pattern. So my own words use cozy, quotes and name of product use cosy.
Cosy vs. cozy

In American English, cozy is the standard spelling of the word meaning, mainly, (1) comfortable and warm, and (2) to make oneself comfortable and warm. Outside North America the word is spelled cosy. Both spellings are used in Canada, though cozy is more common in published writing from this century.