Blue Willow 2-Tier and 3-Tier Servers and Cake Stands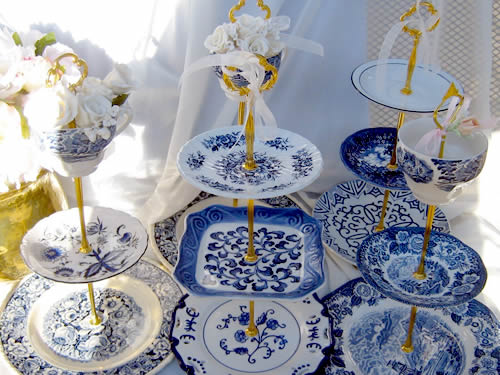 I have been looking for a two or three tier server that will go with my Blue Willow. My everyday dishes are made by Churchill. Churchill makes, or at least made, a 3-Tier server. The top is the size of the Churchill Blue Willow small plates. The middle tier is the size of the dinner plate and the bottom is the size of a platter.
These servers look great when you lay a buffet or a desert tray. You can't actually put a cake on it, but you can arrange cupcakes, petits fours or any bite-sized goodies.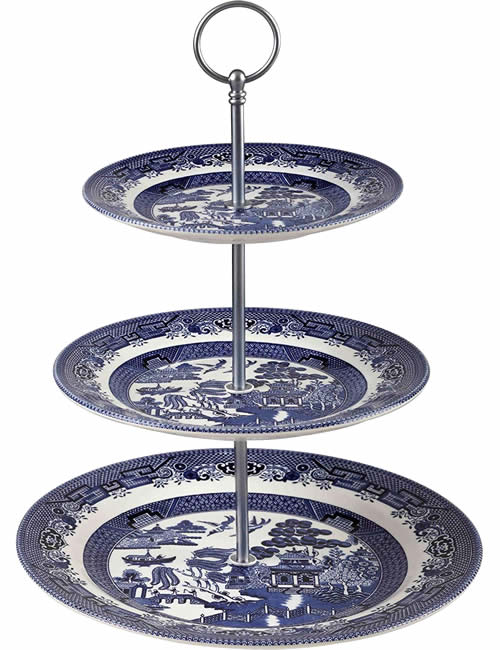 I looked on Amazon, but didn't find it at first. Then I realized I had to click a drop down.
Churchill China Blue Willow 10.2″ 3 Tier Cake Stand
Quintessential English, made by Churchill China 1795 in the heart of The English Potteries
One of Churchill's most famous and timeless collections, Willow tells the story of two lovers turned to doves. These pieces are classic and encompass the traditional feel that has made Willow world famous
This iconic design was originally made in 1818, crisp and clear pattern, beautiful blue color, smooth texture
Three tier case stand
Made in England, earthenware (English ironstone), dishwasher and microwave safe
Blue Willow Cake Stands on eBay >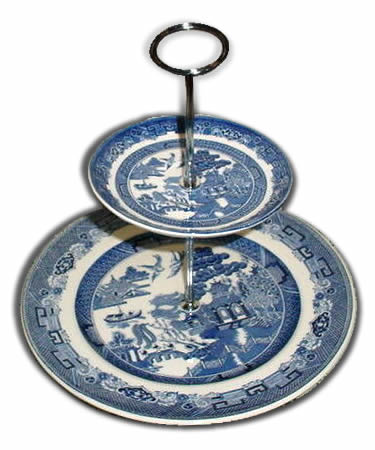 I found that Johnson Brothers makes a 2-Tier Tidbit Server. I didn't find the 3-Tier one from Churchill, but there were a few of these two level versions from Johnson Bros. It's eBay, so prices and shipping costs are all over the place.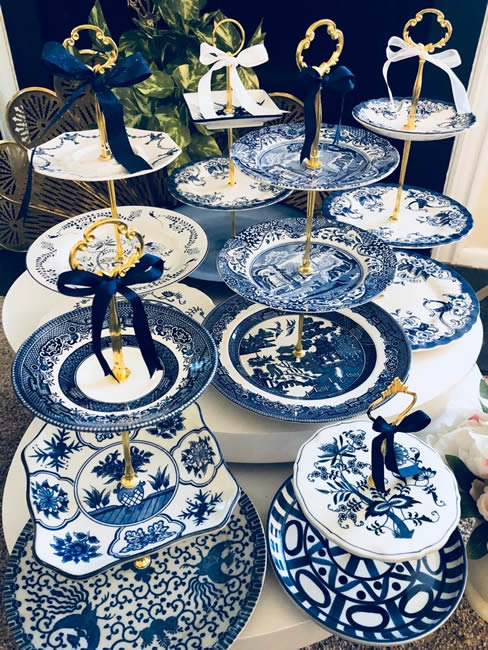 That's where I found these. Cake Stands Boutique is making all different kinds of Blue and White servers.
Cake Stands Boutique makes a variety of servers and sells them on eBay. They have their own storefront.
Cake Stands Boutique Store on eBay >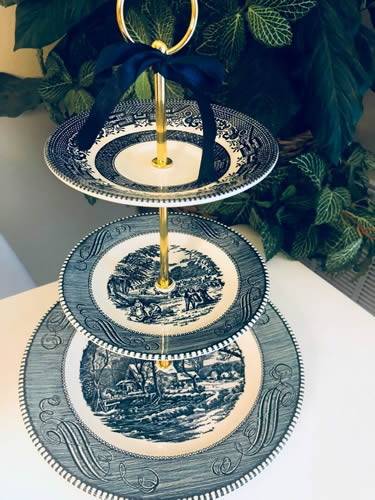 A number of them seem to use the saucer from Churchill's Blue Willow dishes for the top tier.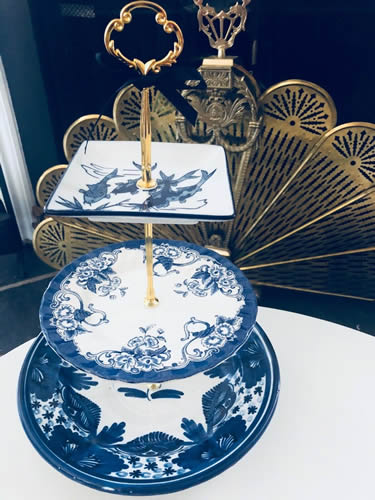 Others, that aren't actually Blue Willow pattern are really appealing, too!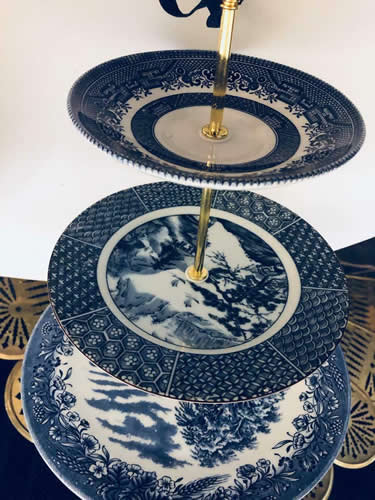 Loveramics Willow Love Story 3-Tier Cake Stand
I kept looking. I found this from Loveramics Willow Love Story pattern.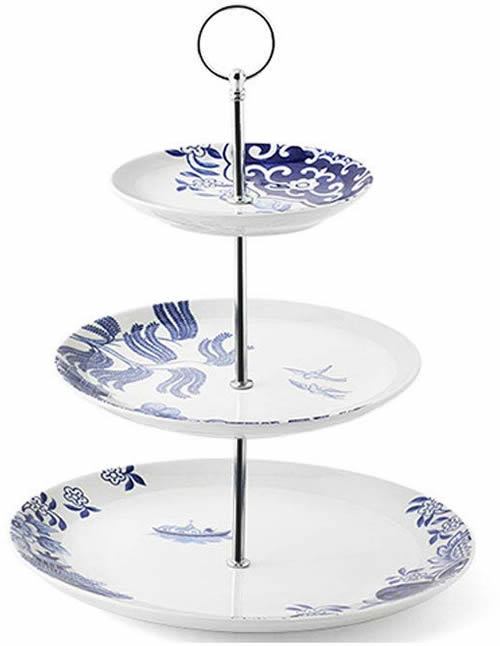 Loveramics Willow Love Story pattern has different elements from the Blue Willow pattern.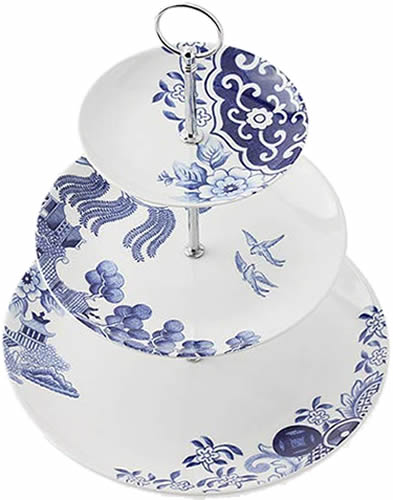 Don't you love it!?!
Loveramics Willow Love Story Pattern Dishes >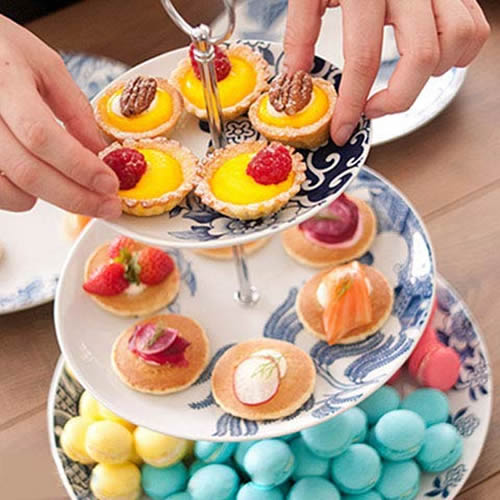 Yup! That looks great!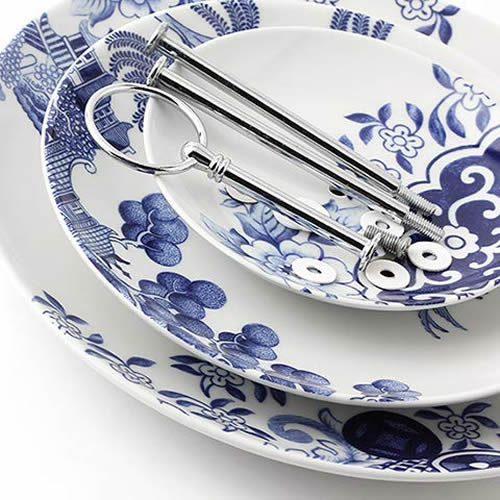 This is what ships in the box. The three tiers are three different sizes. The support is chrome plated.
Do-It-Yourself: Make Your Own 3-Tier Blue Willow Cake Stand
So, it is just the three plates, or platters… or saucers, cups, bowls… Then you have to put them together with the metal parts.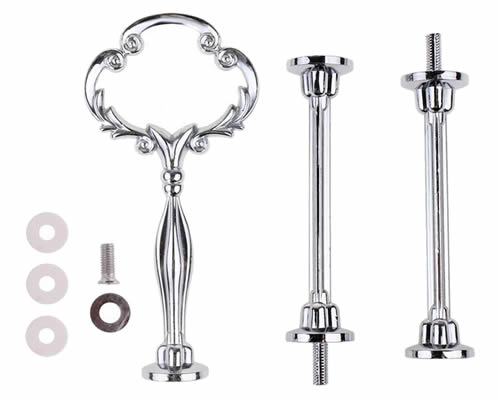 You can get the parts on Amazon. They you just have to be brave enough to drill a hole through your china.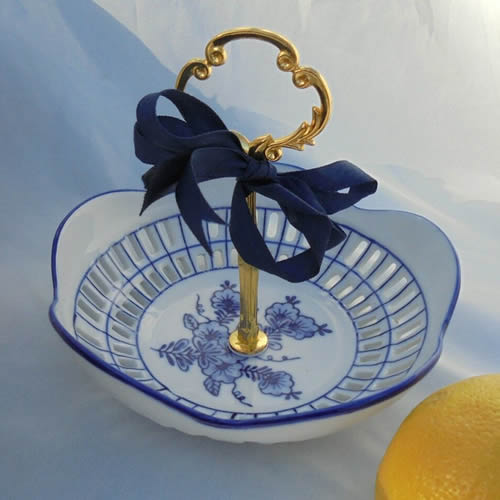 Here they used the handle on a little bowl.
Pie Rack Holding Blue Willow Plates or Bowls
Another idea is a pie rack. You can use a pie rack to support your Blue Willow plates. I use mine to hold serving-size bowls and fill them with strawberries and two different colors of grapes.
Pie Racks and Servers to hold Blue Willow Plates >
Marye-Kelley Blue Willow Melamine Serving Platter
While I was looking for a Blue Willow two or three tier server, I came across this. It was below, where it says "Customers who viewed this item also viewed."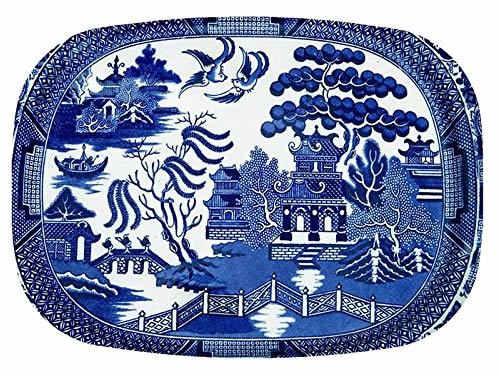 The brand is Marye-Kelley. It is 10″ x 14″, made of melamine, like Melmac, the mid-century dinnerware named after the planet ALF came from. I have a set of melamine dishes that I use when I serve on the porch. So far, it's been unbreakable. Just remember that it can't go in the microwave. They get really hot and eventually they will turn black or break.
Marye-Kelley is the same company that also makes Blue Willow Bathroom Accessories >