Kate Aspen Event Blue Willow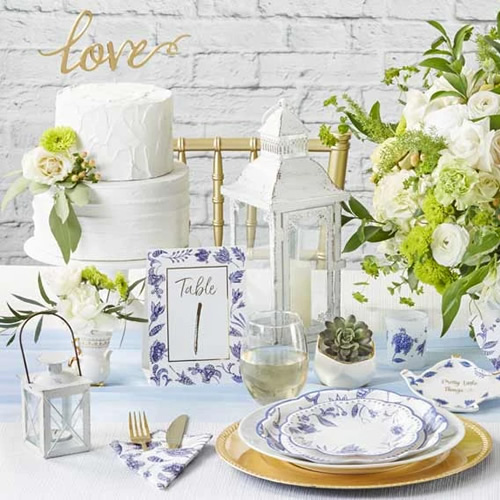 This beautiful set of elegant disposable dinnerware from Kate Aspen is designed to make entertaining simple and beautiful.
The pattern is called Blue Willow. It is blue on white and perhaps these are willow flowers and leaves, but it isn't the chinoiserie inspired Blue Willow. The site says it is French country and I can see that.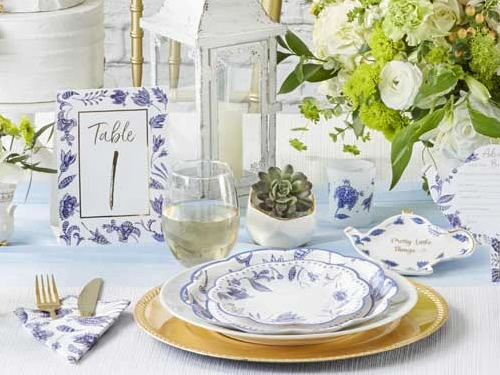 Kate Aspen presents an elegant blue willow collection for all your wedding needs. The heirloom design is exceptional for bridal showers, wedding dinners, and anniversary parties and reminiscent of fine china. The classic story of love and togetherness comes to life on these beautiful decorations and gifts in this collection.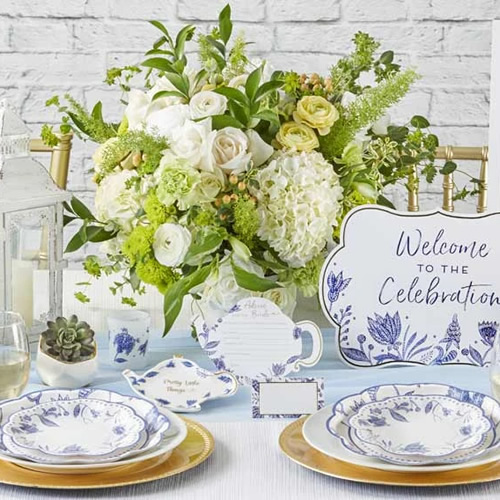 Products include bridal survival gifts for your wedding party and guest book alternatives with fun wooden hearts for your guests to sign. Your tables will look classically beautiful with blue and white disposable plates and matching decor that all will enjoy. When you need an elegant theme in a pinch, blue willow decorations are eye-catching and photogenic to make an event to remember.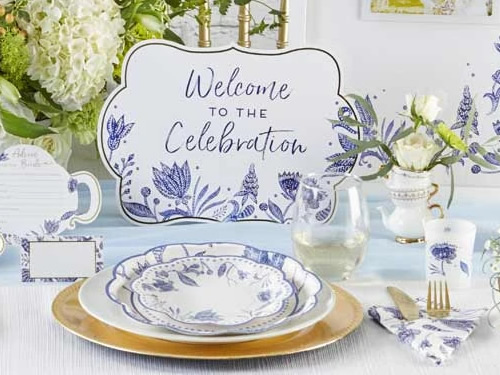 Kate Aspen is the place to shop for all that you need for your special day. The blue willow collection is simply exquisite in a French country design to breathe elegance to your occasion. These one of the kind items blend beautifully for an outdoor ceremony or inside that your friends and family will admire. You will love the addition of a guest book alternative shadow box at home to keep the memories alive and your guests can relive every beautiful moment with photos of your set up for years after the party ends.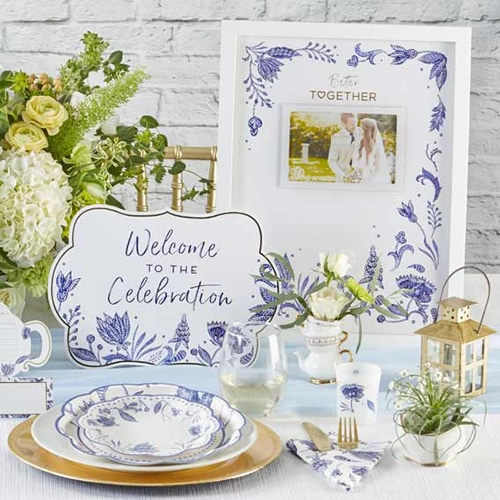 The collection includes everything you need. It mixes with other pieces, too.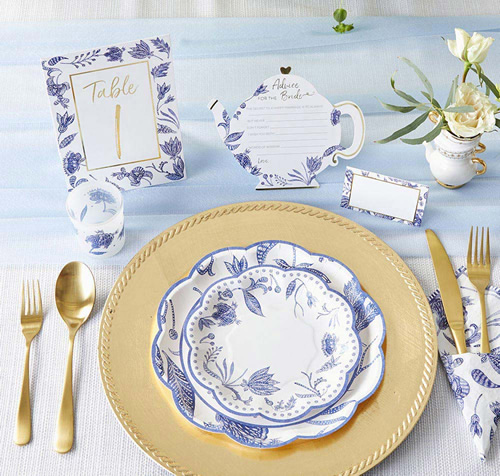 Blue Willow Premium Paper Plates
Kate Aspen Blue Willow Paper Plates are available in 7-inch and 9-inch. They are sold in sets of 16.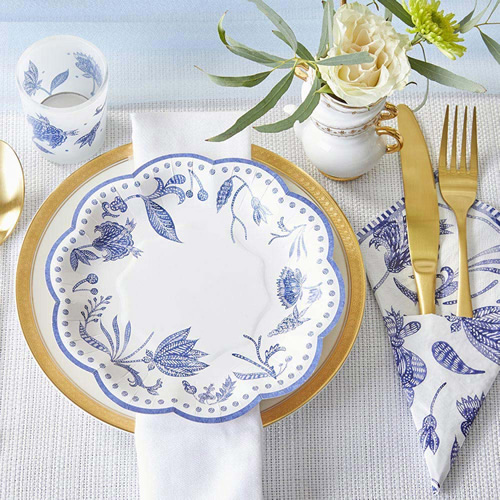 The Blue Willow disposable paper plates have a blue border followed in by blue dots, scalloped edges, and accented by blue motifs.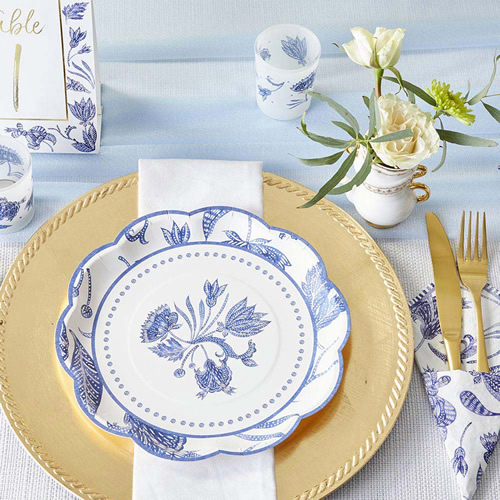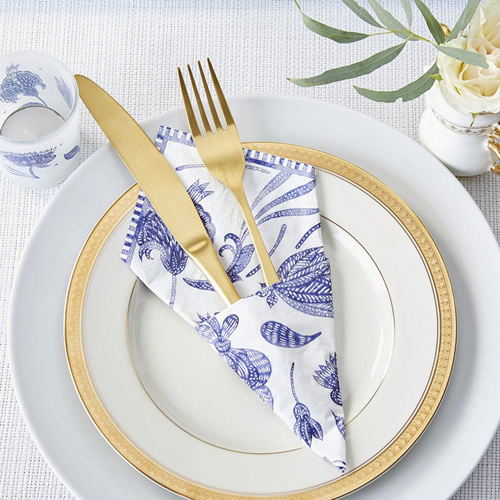 Blue Willow 2 Ply Paper Napkins
2-ply paper napkins are sold in sets of 30. They have a blue striped border around all sides and a design of blue motifs in the center.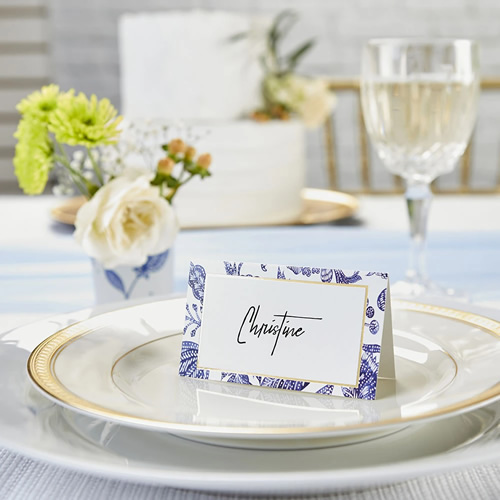 Blue Willow Tent Place Cards
Place cards are sold in sets of 50. You can use them as place cards or information cards, like to help people identify the decaf or the hot salsa.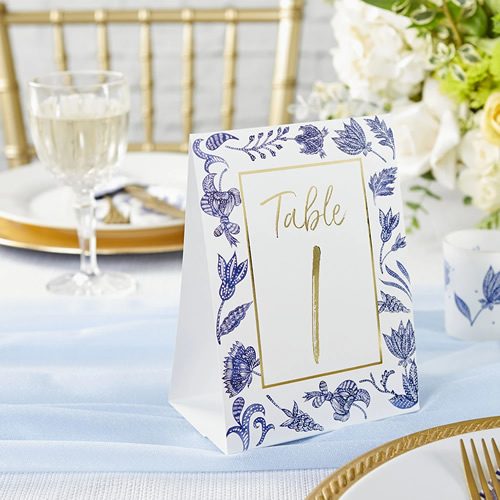 Blue Willow Wedding Table Number Cards
The table numbers are both practical and pretty. The set includes tent cards with numbers 1 through 25 printed on both sides.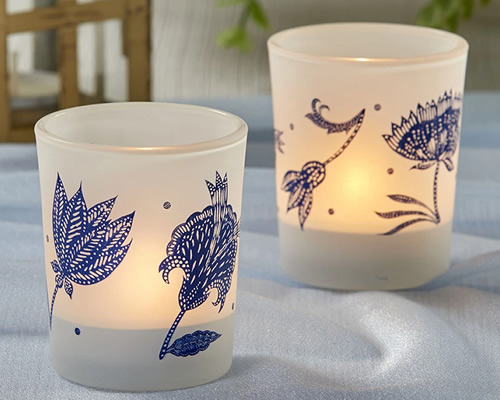 Blue Willow Frosted Glass Votive Candle Holders
Set of four votive tea light holders have Blue Willow motifs around the sides of the white frosted glass.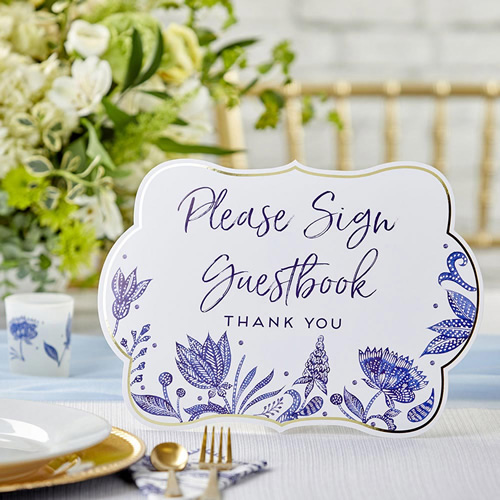 Blue Willow Décor Sign Kit
Blue Willow Décor Signs come as a set of eight blue, white and gold signs pre-lettered with eight different messages.
Welcome to the Celebration
Tasty Bites, Please Enjoy
Drinks, Please Help Yourselves
Please Sign Our Guestbook, Thank You
Love is Sweet, Please Take a Treat
Favors, Please Take One
Share the Love, ______
Cards & Gifts, Thank You
The signs have a kick stand.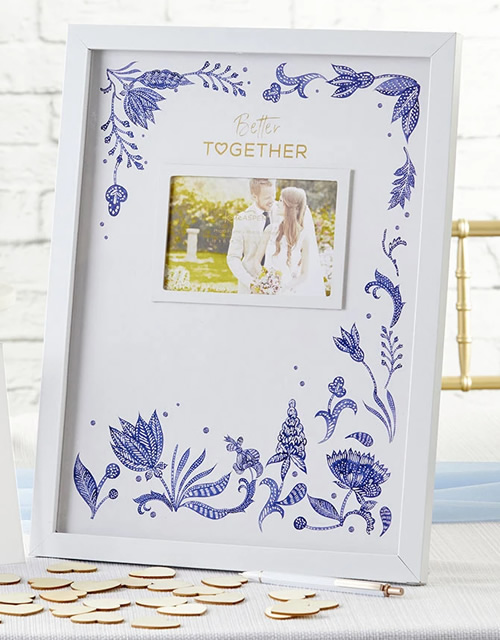 Blue Willow Wedding Guest Book Alternative
This is a cute idea! Instead of a guest book, 75 wooden hearts for guests to  sign and drop into a shadowbox frame.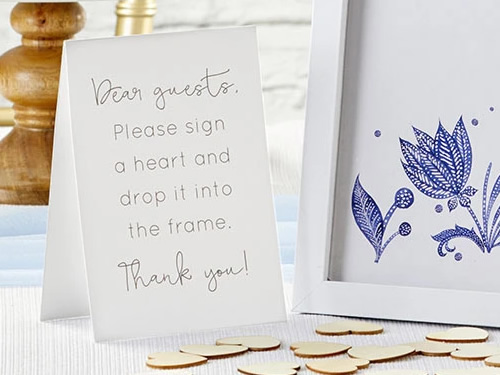 A pre-printed stand-up tent card reads "Dear guests, Please sign a heart and drop it into the frame. Thank you!"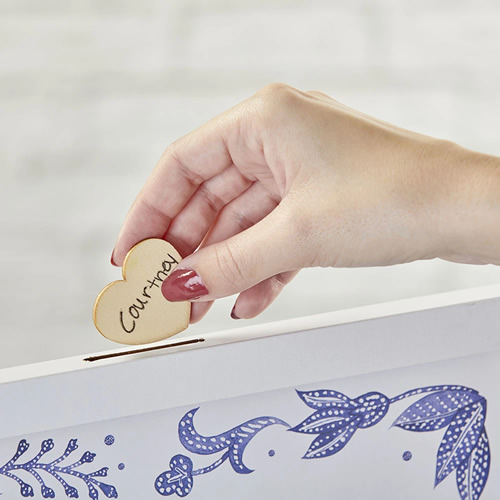 The set comes with 75 wooden hearts in an organza bag. The frame can hold up to 200 wooden hearts.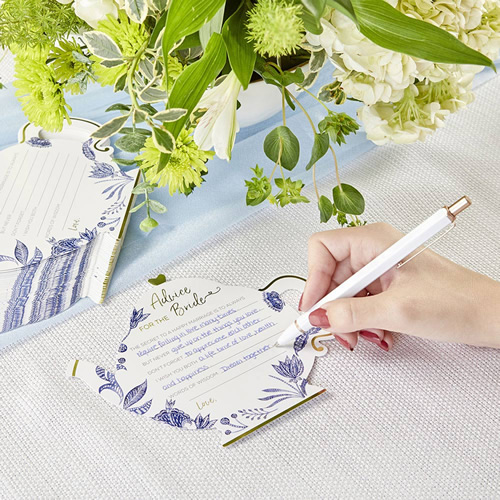 Blue Willow Teapot Wedding Advice Cards
A set of 50 "Advice for the Bride" cards to let your guests write a personal note.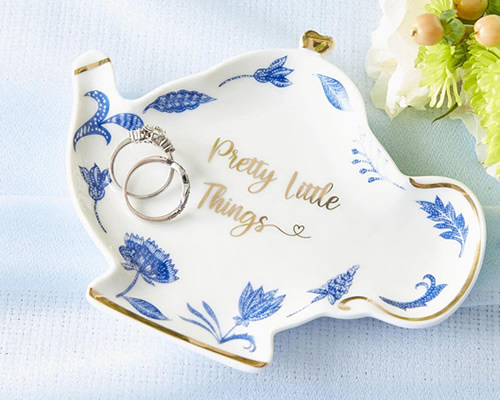 Blue Willow Teapot Pretty Little Things Trinket Dish
This little porcelain trinket gift can be a remembrance gift for you event.
This teapot-shaped trinket dish is versatile and functional for adult guests to make their own. You can even send your guests home with wrapped candies in their dishes to enjoy!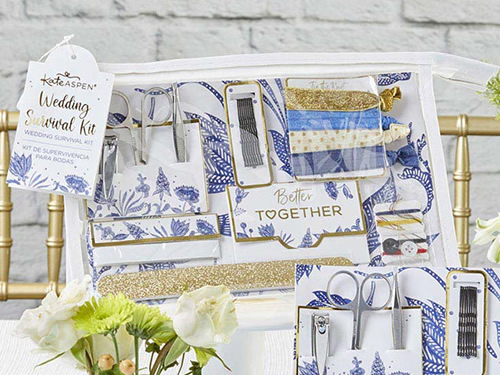 Blue Willow Wedding Survival Kit
The Blue Willow Wedding Survival Kit in blue and white motif design with gold foil accents is a lovely gift for your bridesmaids.
The kit includes a manicure set (with nail clippers, tweezers, and scissors), gold glitter nail file, 4 hair ties, 8 bobby pins, paper clothing tape, 12 oil absorbing wipes, and sewing kit displayed in a clear vinyl cosmetic bag.
About Kate Aspen and Coordinates
Kate Aspen designs and makes everything you need to make an event special.
Kate Aspen is a premier designer and manufacturer of favors and gifts for weddings, bridal showers, baby showers, and special occasion celebrations.
Kate Aspen specializes in wedding décor, complementing tablescapes and coordinating items. Small gifts and personalized favors are presentation ready to add a finishing touch.
Kate Aspen makes other patterns that can mix with the Blue Willow pieces.
You can find:
Banners
Candles Votives
Coasters
Cups
Favor Boxes
Games and Advice Cards
Guest Books
Lanterns
Napkins
Paper Plates
Party Kits
Photo Backdrops
Place Card Holders and Frames
Plates
Serveware
Survival Kits
Table Numbers
Votives
Wine Bottle Labels
Wine Glasses