New Vintage Blue Willow Ware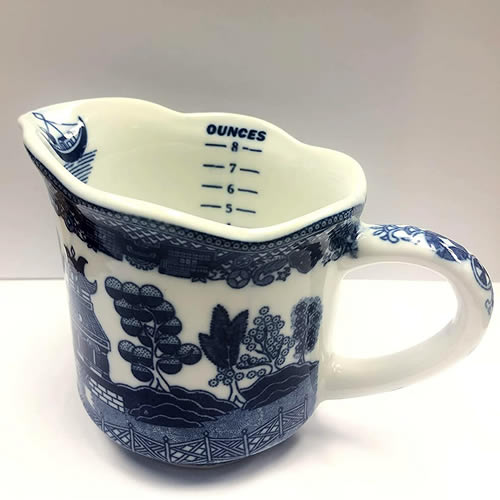 I found this measuring cup on eBay. It was listed as an antique. Maybe that one was, but they are still making it.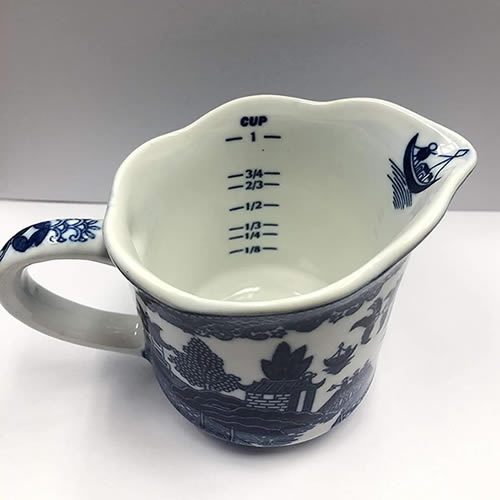 The liquid measure cup has a pour spout. It is 3 3/4″ high.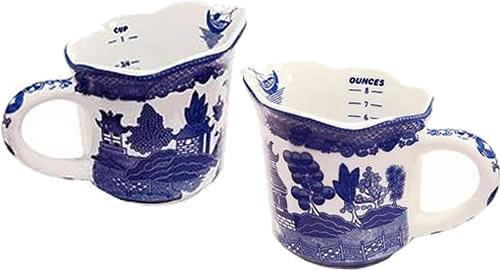 It has measure markings inside, cup on one side, ounces on the other.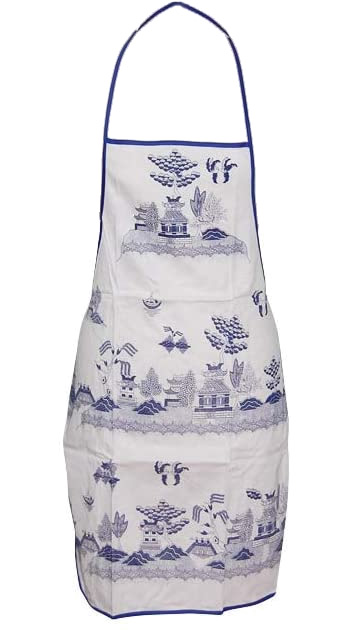 Blue Willow Apron
I had earlier found an apron that looked just like this on eBay. It went for quite a bit more, though.
This one says it is light weight cotton drill. Cotton drill is the fabric that scrubs are made out of. It's lightweight, but strong and doesn't stain or wrinkle badly.
The apron is 20″ wide and 30″ long.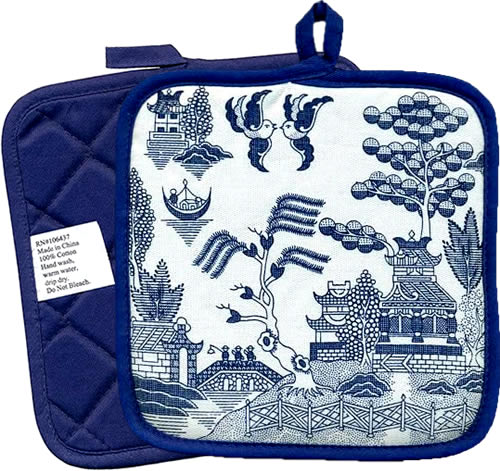 Blue Willow Pot Holders
UCO Blue Willow pot holders are 100% cotton. The tag says hand wash, but I can't see any reason why they can't be thrown in the washer. I found these and added them to a post about Blue Willow Potholders. That's how I found the rest of these things.
Blue Willow Pot Holders and Aprons >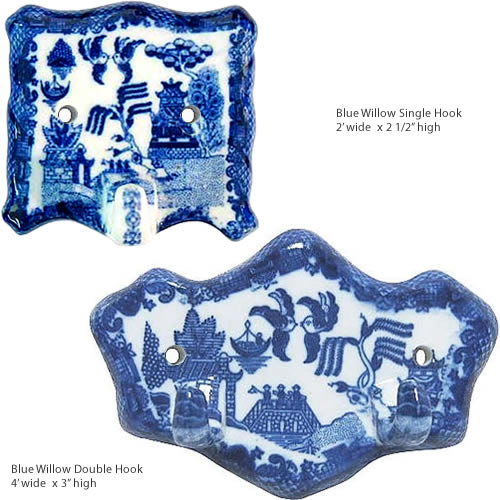 Blue Willow Hooks
I've come across these hooks before.  The single hook is 2.25″ wide x 2″ high. he double hook is 4″ wide x 2 1/2″ or 3″ high, depending what you read. Maybe depending on how they measure.
There are other sizes, too.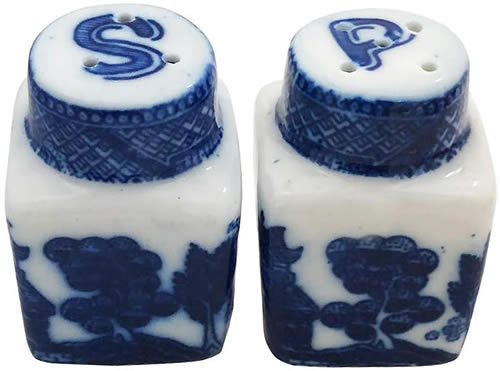 Mini Blue Willow Salt and Pepper Shakers
These little salt and pepper shakers are only 1″ wide by 1 3/4″ high. They are molded in one piece with the blue willow pattern transferred on. They have a hole on the bottom to fill and a little plastic stopper to plug it.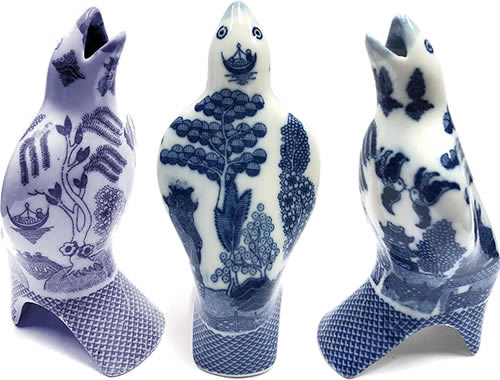 Blue Willow and Pink Willow Pie Birds
A pie bird vents steam from pie. That way you can seal the edges and the pie won't puff up too much or bubble over. They are Oh So Victorian. And they are in a lot of my Ireland books, too.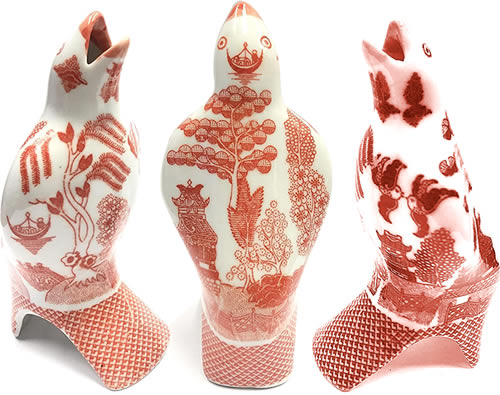 This one is very traditional. It is 4.5″ tall. They come in Blue Willow or Red Willow.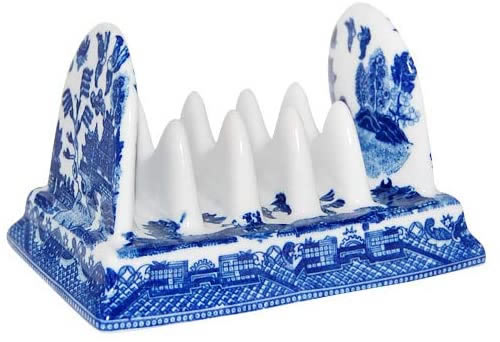 Blue Willow Toast or Mail Rack
This is a traditional toast rack. I was surprised when I visited a B&B in Ireland to find the toast cold on the table when we all sat down. If the toast is allowed to cool, it is crispy and the butter spreads over the hardish toast. I did not love it.
However, I use a toast rack by the front door for outgoing letters. And this one is cute. It really does look so vintage. It is 5 1/2″ long by 3 1/2″ wide.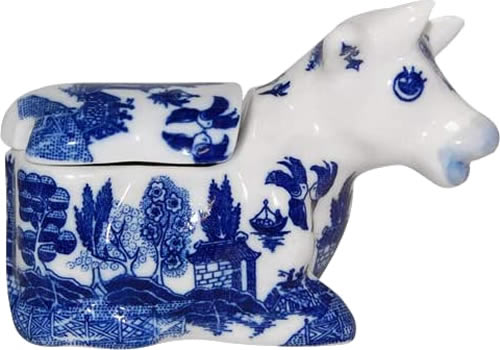 Blue Willow Cow Sugar Bowl
I saw this on eBay and thought it was an antique. Maybe it was, but this one isn't. It is new and not expensive at all. It is on the small side, 5″ long, 3 1/2″ high and 2 1/2″ wide. The lid has a little notch to leave a spoon in the sugar.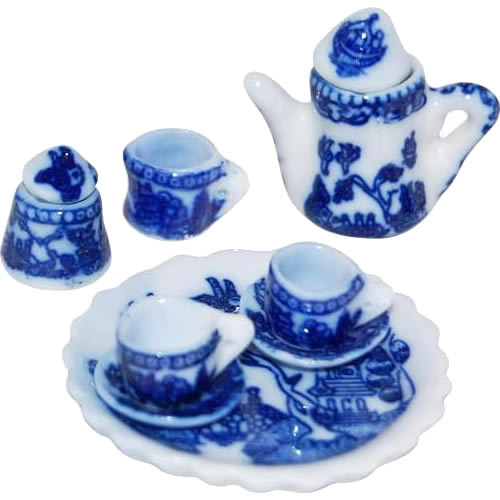 Tiny Doll House Blue Willow Tea Set
This tiny tea set has ten pieces, the teapot with lid, sugar bowl with lid, cream pitcher, two teacups with saucers and a little tray. They all have pieces of the Blue Willow scene transferred on in blue one white porcelain.
The set is very small. The teapot is only 1″ high and the tray is 1 1/2″ wide.
Durable Blue Willow Cabinet Knobs
The Blue Willow Cabinet pulls come in two sizes, 1.1″ and 1.3″ wide.
They ship with two screw lengths, for different cabinet door or drawer thicknesses.
I am really happy to find these! They are "porcelain underglaze." That means that the blue transfer is put on first, then the knobs are fired and finished with clear glaze. The pattern won't come off.
A lot of the knobs I've seen are glazed with clear first. Then the Blue Willow pattern is applied afterward. The pattern is not under the glaze, so it can wear off or wash off.