Two's Company Staffordshire Dogs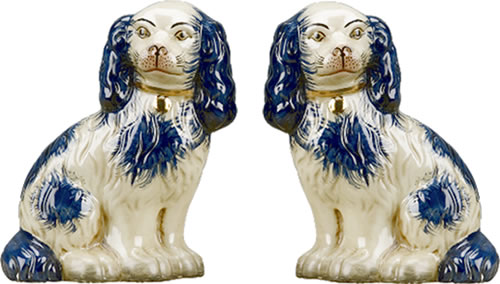 Since the 1720s, Staffordshire Dogs have been displayed on fireplace mantels and window sills. Victorians loved their knickknacks and these little dog pairs might be the most typical Victorian ornament ever.
Pottery factories in Staffordshire, England started making these pairs of little dogs, facing each other in the early 1700s. Soon potteries all over England and Scotland started making decorative dog sets. They are usually called Staffordshire Dogs no matter where they are made. In Scotland they are often called Wally Dugs.
All different kinds of dogs were made. Other animals were made, too. But, the most popular are the little spaniel dogs, King Charles Spaniels. They are not American Staffordshire Terriers. The figurines are little cream or white ceramic sitting dogs, with colored spots. They typically wore a little collar and chain with a tag or locket.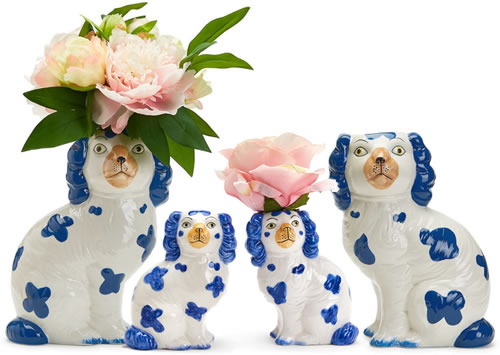 These replica Staffordshire Dogs from Two's Company are blue and white. They are also available in other colors.
There are vase sets in two sizes. The bud vases are 4″ high and 3″ x 1 3/4″ wide. The larger vases are 9 1/2″ high and 7″ x 4″ wide. Each set comes with two dogs facing each other.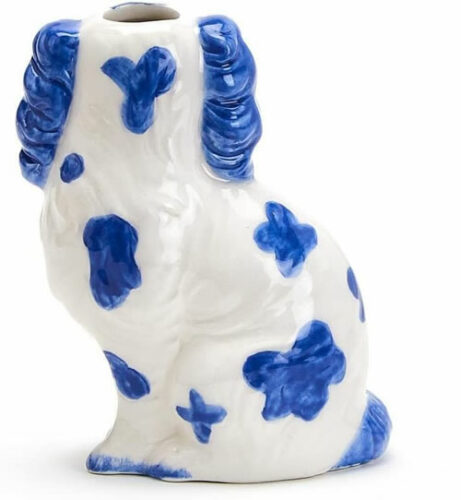 This is what they look like on the back.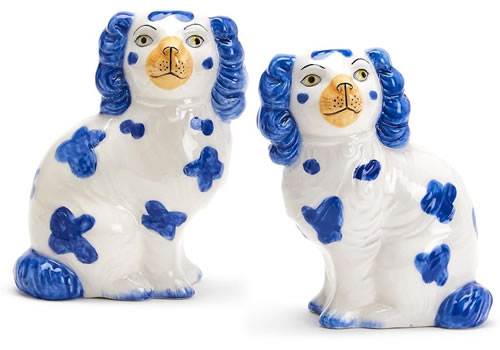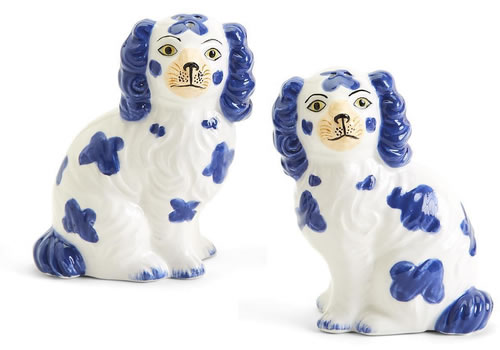 The Staffordshire Dogs Salt and Pepper Shakers are 3 1/2″ high and 2 3/4″ x 2″ wide.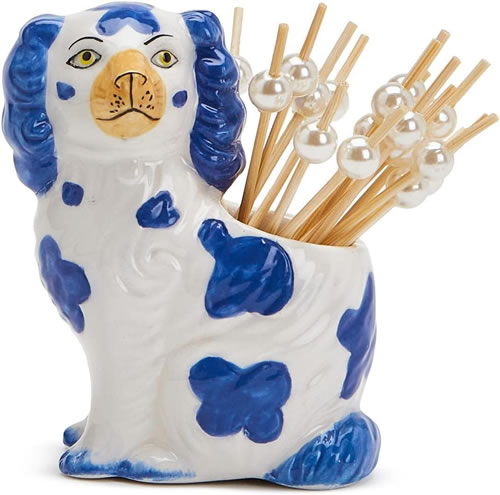 The little pick holder is just a little bit smaller than the salt and pepper shakers. It is 3″ high and 2 1/2″ x 1 1/2″ wide. It comes with 20 bamboo picks accessorized with faux pearls.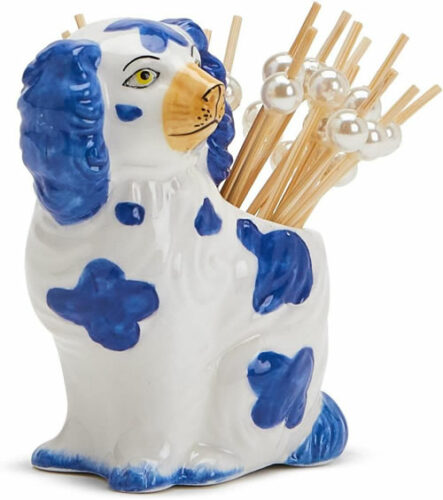 The little picks are perfect for hors d'oeuvres.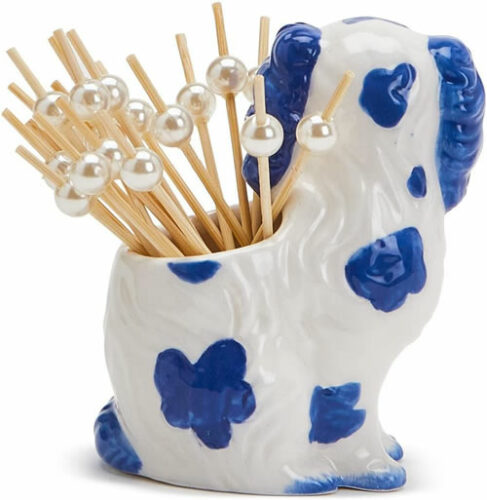 The little pick holder looks cute with a little succulent, too.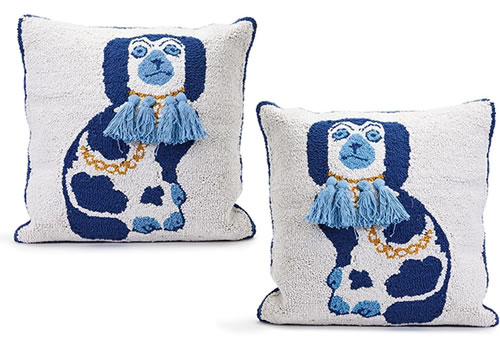 This set of pillows is adorable. They are 18″ square, a good size.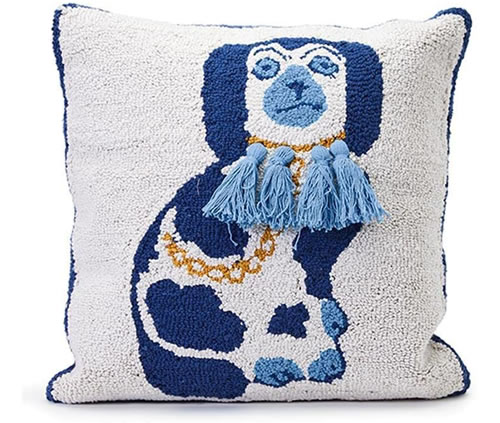 They are made in two shades of blue on white with the gold collar and chain. The tassels make them NOT machine washable.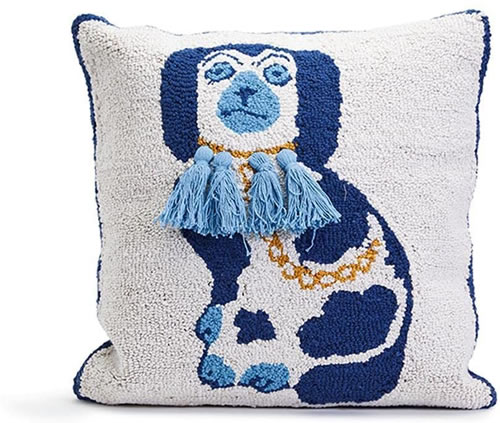 Each is punch embroidered in cotton. The insert has polyester fill. There is a zipper on the back.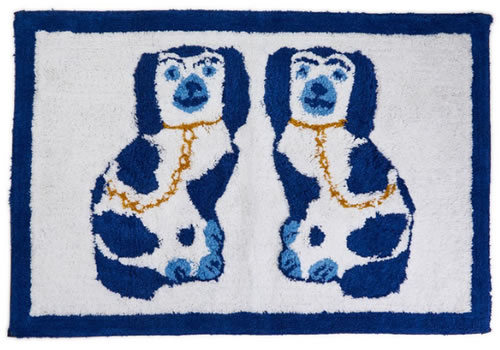 The mat is 36″ x 24″. It is made of punch embroidered cotton, like the pillows. It has non-skid rubber backing. It is also not machine washable.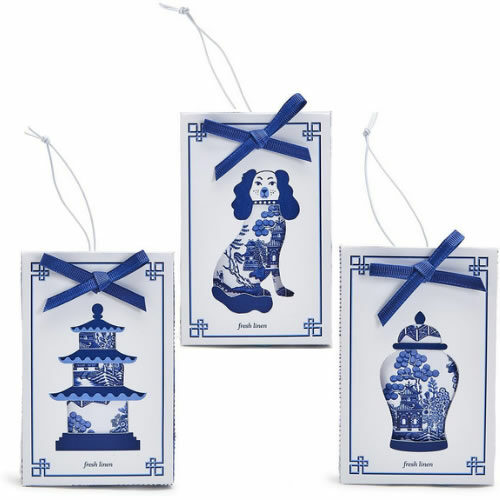 These little sachets are hard to find. I've only seen them at the check out at stores that sell other things by Two's Company.
They are 3 1/4″ wide, 5″ high and  x 3/4″ thick. There are three designs available, a Pagoda, a Staffordshire Dog, and a Ginger Jar, all made with Blue Willow print. They have a little bow tying them closed and a loop to hang them.
Breathe in the fresh linen scents with these wonderfully designed aromatic sachets. These sachets will turn your space into an instant oasis. Place the sachet under the seat of your car or in your suitcase to refresh your environment while traveling. Place it in drawers, closets and armoires for a subtle scent in any room.