Blue Willow Cabinet Pulls, Knobs and Handles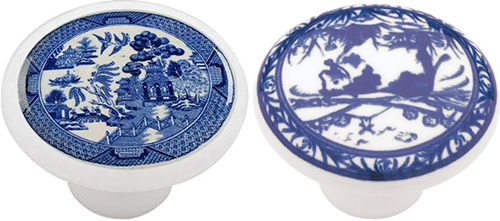 I've been looking for an option for the handles and knobs in our new kitchen. The countertops are going to be cobalt blue and I collect Blue Willow China.
Here are three of options I have found.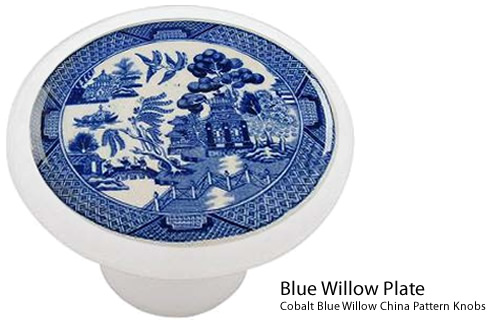 Blue Willow Plate Ceramic Drawer Knob
These ceramic knobs are glazed white with a transfer tiny blue willow plate. They are absolutely identical to my Churchill Blue Willow pattern dishes. The knobs are 1.5" across.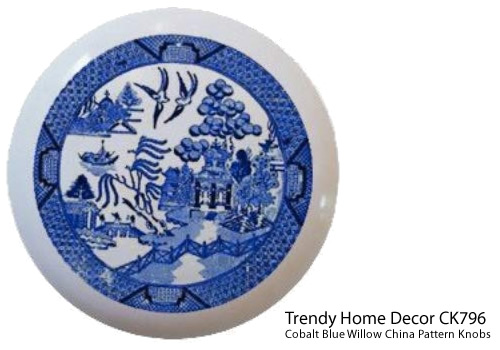 Trendy Home Decor CK796 Blue Willow Plate Ceramic Drawer Knob
These white ceramic knobs look exactly the same as the ones above. Both are glazed white with a transfer of the blue willow pattern identical to what is on my Churchill Blue Willow dishes. These knobs are also 1.5" across. They stick out one inch.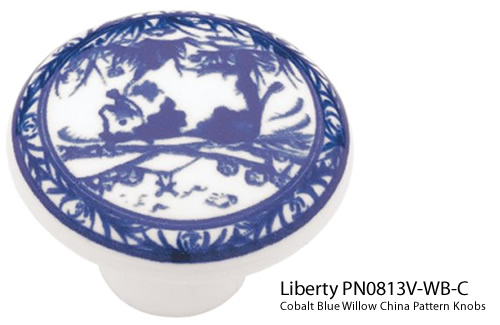 Liberty PN0813V-WB-C Cobalt Blue Willow China Pattern Cabinet Hardware
These are white ceramic knobs with an Asian scene that might be vaguely Blue Willow. It would coordinate for sure.  The knobs are 1.34" across and stick out a little over an inch.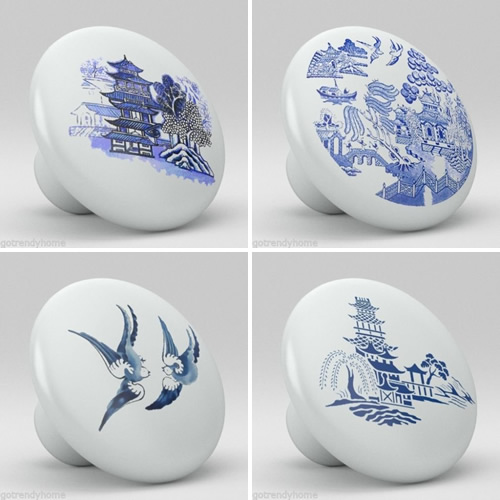 Go Trendy Home Cobalt Blue Willow China Pattern Cabinet Hardware
Go Trendy Home has quite a few options that incorporate elements from Blue Willow China. We could choose one or use a combination.
Go Trendy Home Blue Willow Cabinet Hardware on Amazon >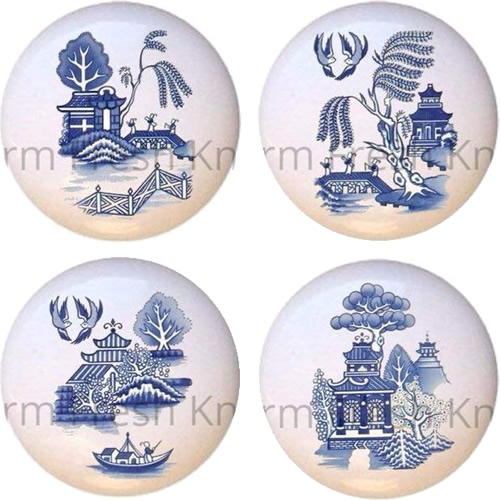 Farm Fresh Knobs & Pulls Blue Willow Knobs
Farm Fresh Knobs & Pulls makes Blue Willow knobs to order. She has four Blue Willow patterns that she sells as a set. Hers are decoupage, not transferware. You can email and talk directly to the woman making them.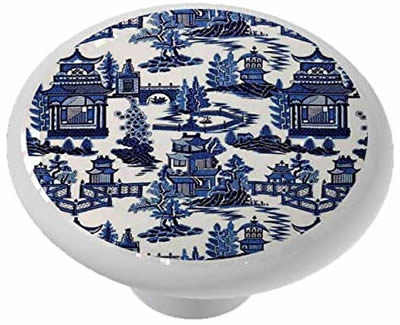 Here is a new choice from Gotham Decor Store. This knob is 1.5″ wide.
The company will give you Free Shipping with a $20 order.
Gotham Decor Store Blue Willow Cabinet Knobs

Add a splash of color or some fun designs to your cabinets and drawers. Our knobs feature vibrant crisp designs and are made of beautiful heavy-duty ceramic. Created using a heat fused, high definition image transfer, that is tripled sealed with a UV resistant glass like gloss finish to ensure durability, easy cleaning, and to obtain an enamel hard like finish.

Unlike some of our competitors cheaper plastic and wooden drawer knobs, our drawer knobs are made from high grade ceramic, the artwork is guaranteed not to fade, and hardware is included. Great for use on dressers, cabinets, closets, desk drawers, tables and More….. Simple to install, and great to quickly change for seasons, holidays, parties, etc.

We guarantee your complete satisfaction or money back.
We are sure you will be delighted with these unique items.

We off a large selection of matching products such as : Drawer Knobs , Switchplate Covers, Outlet Covers, Fanpulls, Nightlights , Fridge Magnets, Wall Prints, Trivets, Coasters, Mouse Pads, Mugs , Jigsaw Puzzles and more here on Amazon

THESE PRODUCTS ARE PROUDLY MADE IN THE USA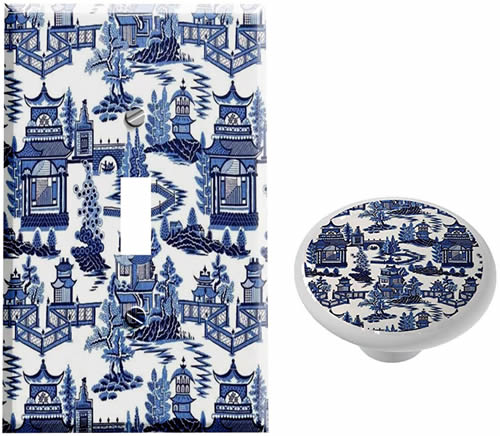 They make a matching Switch Plate Cover, too.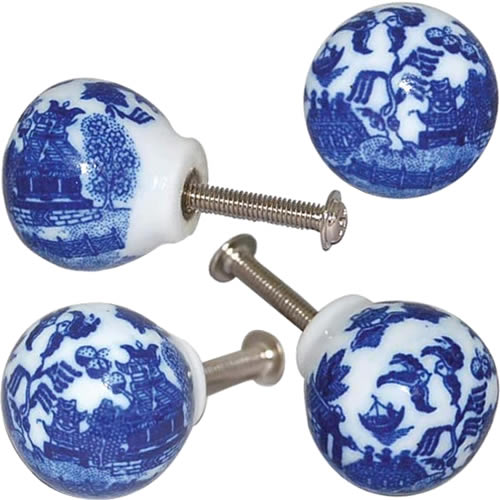 Durable Blue Willow Cabinet Knobs
The Blue Willow Cabinet pulls come in two sizes, 1.1″ and 1.3″ wide.
They ship with two screw lengths, for different cabinet door or drawer thicknesses.
I am really happy to find these! They are "porcelain underglaze." That means that the blue transfer is put on first, then the knobs are fired and finished with clear glaze. The pattern won't come off.
A lot of the knobs I've seen are glazed with clear first. Then the Blue Willow pattern is applied afterward. The pattern is not under the glaze, so it can wear off or wash off.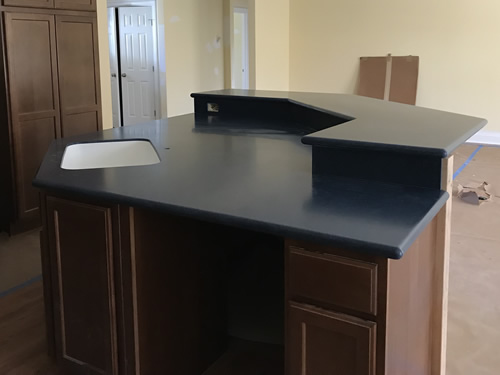 See progress on our new kitchen at www.ProgressSmallHouse.com >