Vern Yip Chinoiserie Collection – Blue Willow Bath Towels and Bath Accessories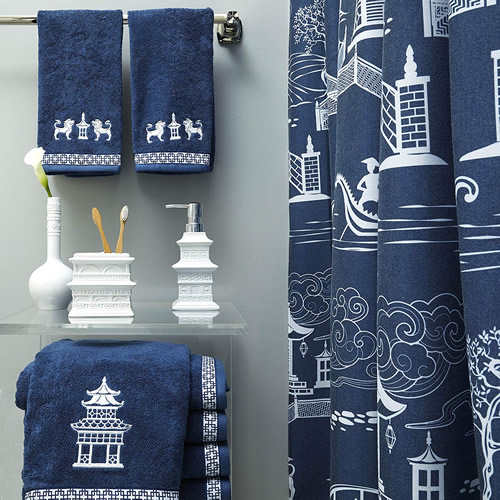 The Chinoiserie Collection is a collaboration between SKL Home and interior designer Vern Yip from Saturday Knight Ltd. The collection includes all of the motifs I love from Blue Willow china and adds in some other elements traditional to Chinoiserie.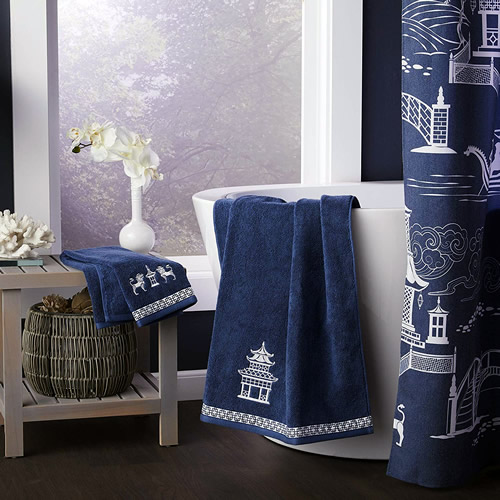 The collection is "Inspired from traditional Asian motifs and culture."  It "brings a modern twist to traditional patterns, mixing fashion and function… Chinoiserie offers a modern approach to this ornate style of design."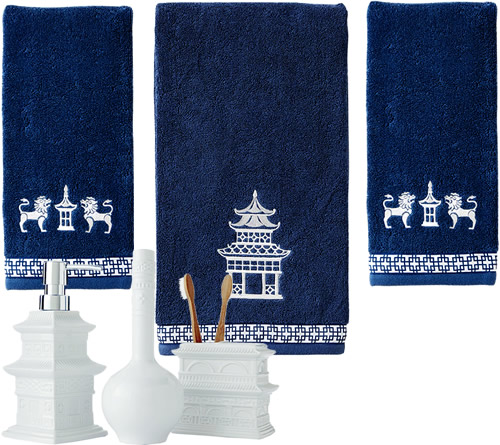 Vern Yip Chinois Bath Towels
Vern Yip's Chinoiserie Collection includes bath towels, bath accessories and shower curtains. The collection is Certified Standard 100 by OEKO-TEX. That means it is certified to be free from harmful chemicals. Oeko-Tex is the International Association for Research and Testing in the Field of Textile and Leather. It was founded in 1992 with headquarters in Zürich, Switzerland.
Oeko-Tex certified means free from harmful chemicals

If a product is labeled as Oeko-Tex certified it is completely free from harmful chemicals and safe for human use. To attain Oeko-Tex Standard 100 certification, the fabric has been tested and certified to be free from harmful levels of more than 100 substances known to be harmful to human health.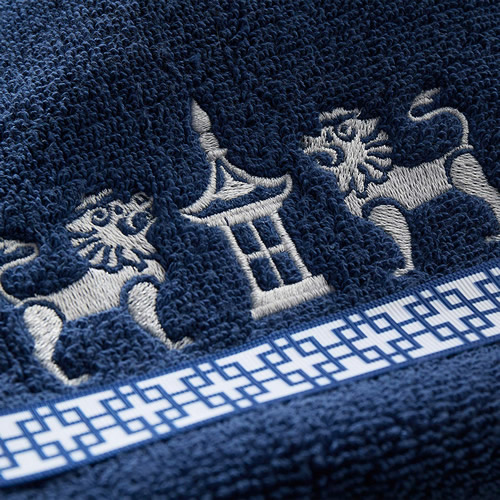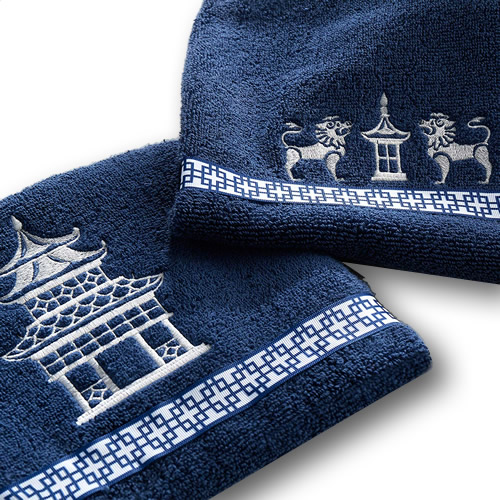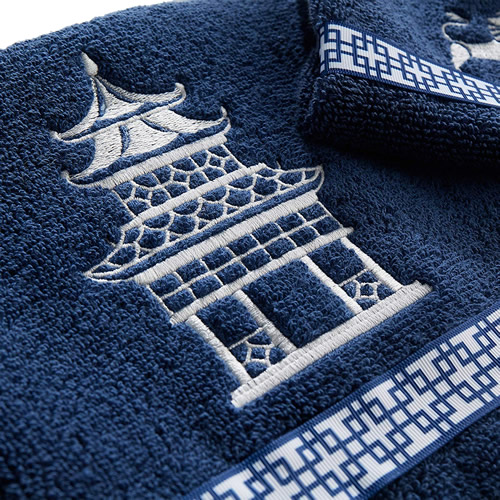 The towels are made of rich navy plush cotton terry with detailed white embroidery and decorative grosgrain ribbon trim.
The fabric is 100% Cotton terry.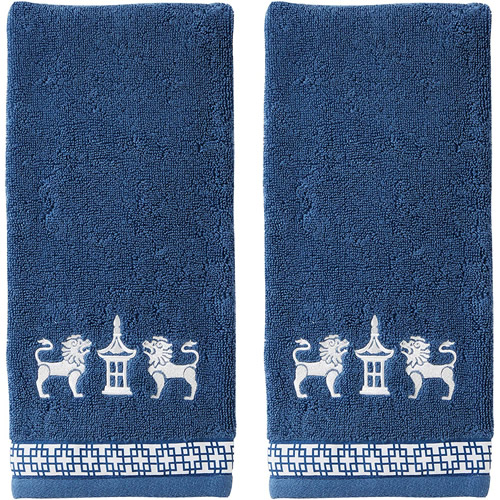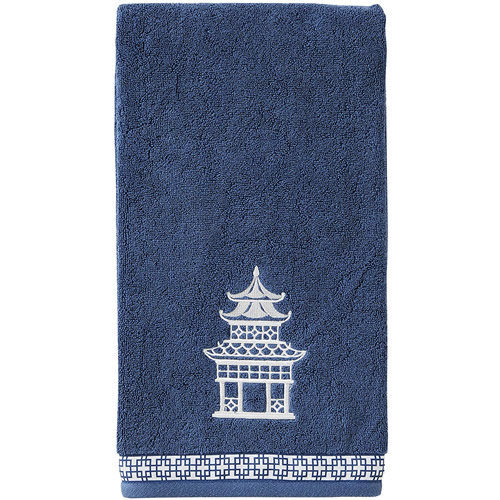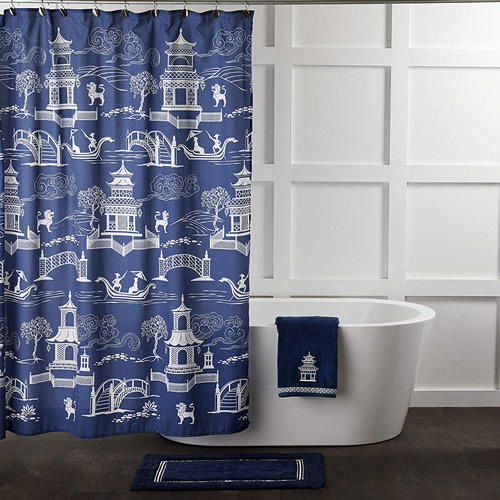 Vern Yip Chinois Shower Curtain
The shower curtain is standard 70" x 72" with holes for 12 shower curtain rings. It is made of 80% Polyester, 20% Cotton and is machine washable.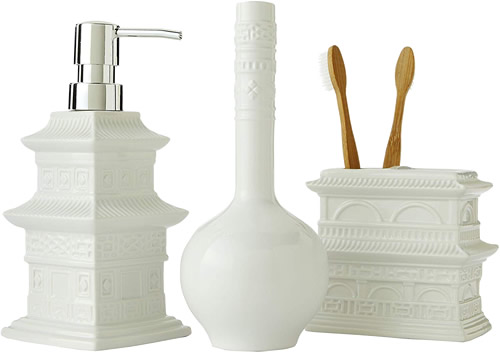 Vern Yip Chinois Bath Accessories
The bud vase, toothbrush holder and soap or lotion dispenser are made of stoneware, so they are not fragile.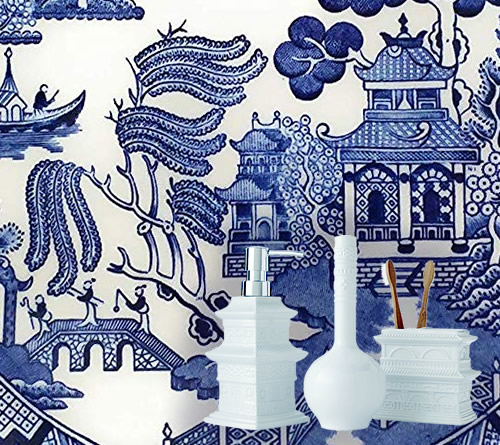 They pick up a lot of the motifs from Blue Willow china like the pagoda and the latticework in the bridge.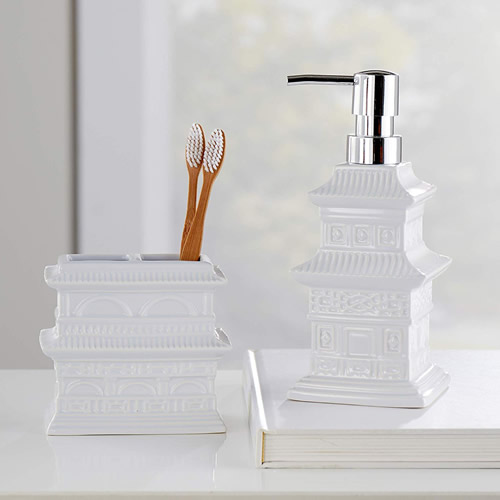 They are glazed in gloss white. The pump on the little pagoda soap dispenser has a chrome finish.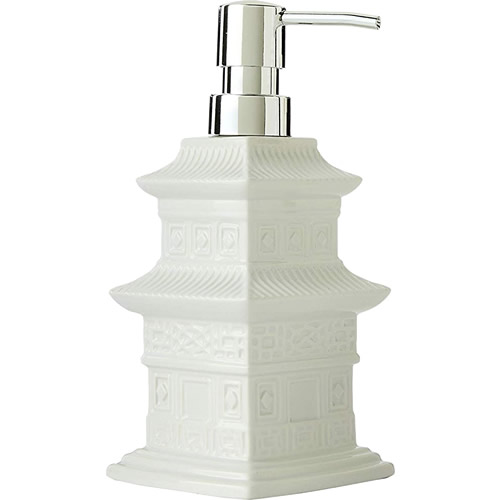 The little pump dispenser can be used for hand lotion or liquid soap. It is 8" tall and 3.5" square. The pagoda looks like the one on Blue Willow china.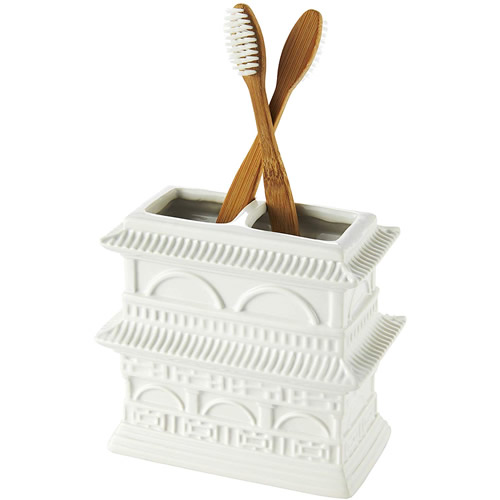 The tooth brush holder is 4" tall, 4 ½" wide and 2 ½" deep.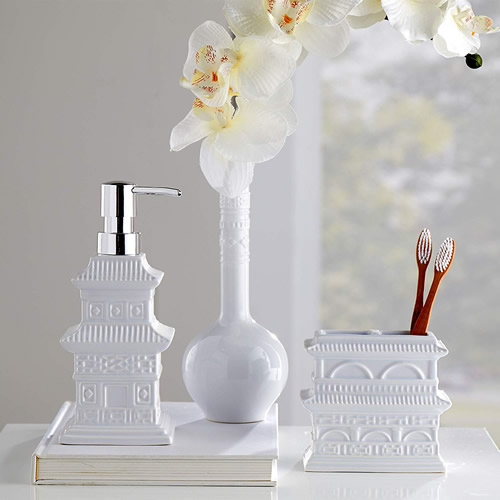 The little bud vase is 8" high and 3 ½" wide.
Chinoiserie
Chinoiserie is a European interpretation of traditional Asian motifs and culture. Blue Willow is the most common Chinoiserie.
chi·noi·se·rie /ˌSHēnˌwäzəˈrē,ˌSHēnˈwäz(ə)rē/

noun     the imitation or evocation of Chinese motifs and techniques in Western art, furniture, and architecture, especially in the 18th century.
The Chinoiserie Collection from Vern Yip by SKL Home offers "a modern approach to this ornate style of design. The Chinoiserie shower curtain is a true reflection of this with its rich blue hue and elaborate, printed white motif."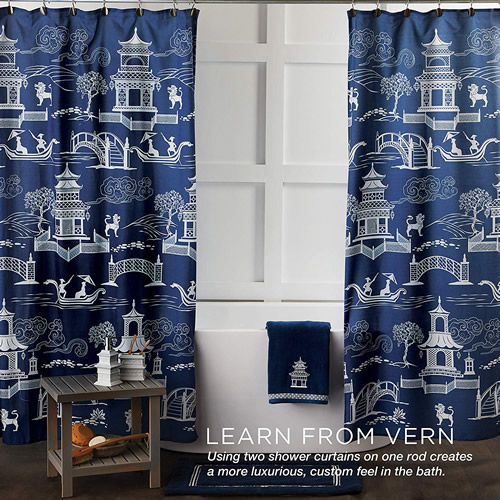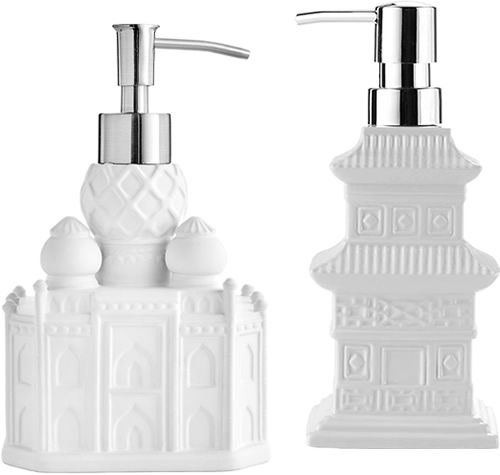 I think you could use pieces from the Chinoiserie Collection along with the Shangri La Oriental Collection.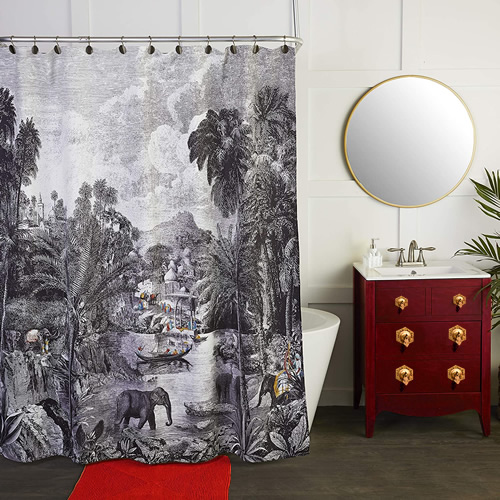 Vern Yip Shangri La Oriental Bath Collection >
Orientalism Ispired Bath Accessories
Vern Yip
Vern Yip is an Atlanta-based designer and author. He focuses on beautiful design, simplistic styling, and clean, organized living.
You've probably heard of Vern Yip from TLC or HGTV. His work is showcased on Trading Spaces, Design Star, Urban Oasis, and other programs. He has a regular column in HGTV Magazine and has two books out.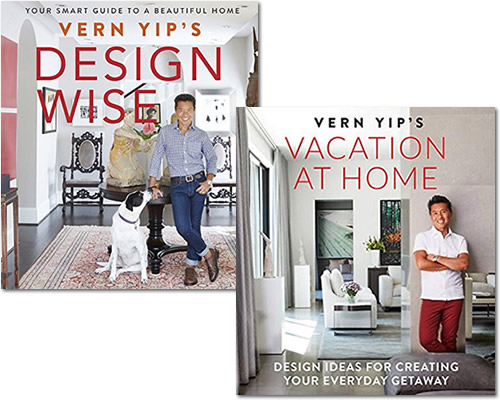 Most famously known for his work on TLC's Vern also has a column in HGTV Magazine and is the author of two books, Design Wise and the newly released Vacation at Home.