Aristochiens or Aristopets, Thierry Poncelet and Paintings of Dogs in Clothes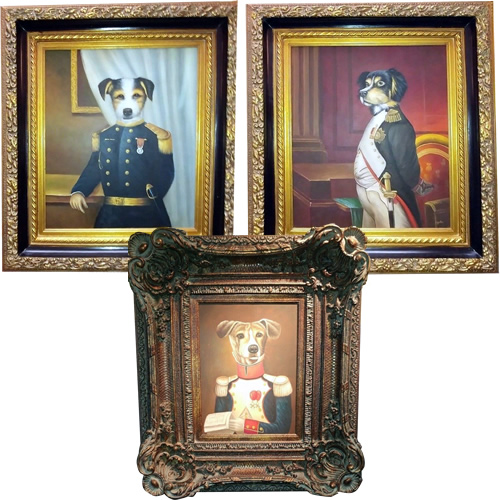 Dogs in clothes is a thing. Paintings of dogs in uniform is a thing. I came across these when I was looking at Blue Willow dog dishes and I just had to share. If you Search for Dog in Emporium St.Louis eBay Store, you find these paintings of dogs.
You can commission a painting of your dog wearing the clothes or uniform of your choice. They are all over Etsy and if you Google, you will find a million of them.
Dogs in Clothes Paintings on eBay >
Thierry Poncelet
They often refer to the paintings as Poncelet style or as Aristochiens or Aristopets.
Thierry Poncelet was born in 1946 in Brussels, and studied Fine Arts at the St. Luc Academy. He was originally a traditional painter and art restorer.
One day, while he was restoring a painting, he decided to replace the head of a portrait he was working on with his own dog's head. It was just to amuse himself, but when other people saw the painting, they wanted one, too. He calls his paintings Aristochiens. Chien is the Belgian word for dog. So it is Aristo-Dogs. Portraits that look like family heirlooms, but with a dog.
If you Search for Dog in Emporium St.Louis eBay Store, you also find these items.