Furniture for Bibliophiles: Books Furniture and Accessories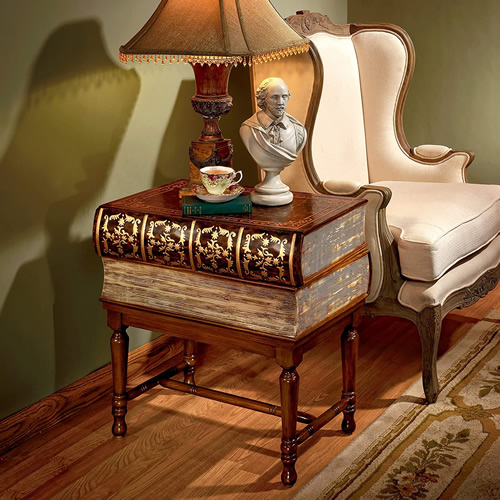 Have you seen furniture that looks like books? There are all kinds. Some are wood, some are resin and all are really fun and functional furniture
The Furniture for Bibliophiles from Design Toscano is made to look like worn leather bound books with faux gold gilding. They are wood or MDF (a strong kind of particle board).
Carved wood furniture is hand-painted to look like stacked books.

Our Toscano-exclusive trompe l'oeil side table "fools the eye" with its intricately hand-painted volumes that create a wooden work of furniture art. Faux books with authentic metal pulls slide out to reveal a single drawer, while others open as double doors for convenient storage near a favorite chair or in an entryway. This clever addition to any room is truly part fun and part function that's perfect for the most avid bibliophile!
Side Tables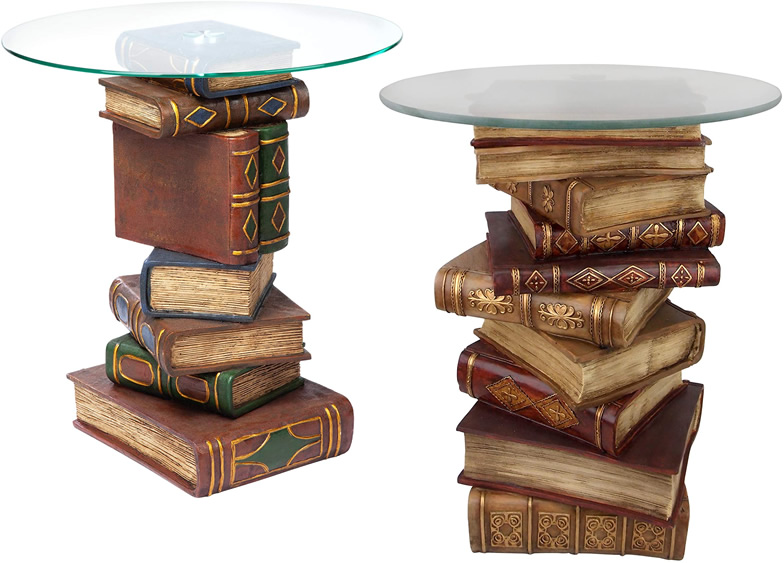 The end tables have tempered glass tops. They are very heavy and will not easily tilt.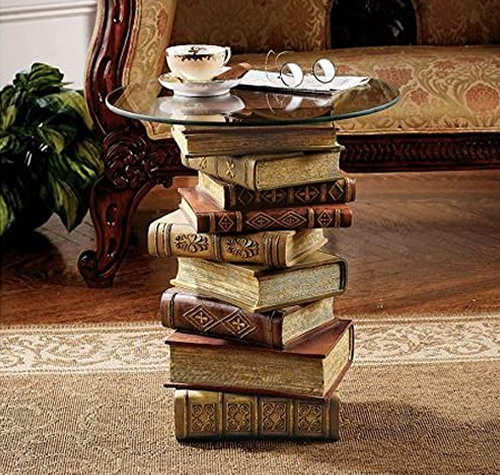 Power of Books End Table with Glass Top
NG32069 Design Toscano

16" wide top
21" high

Tempered Glass top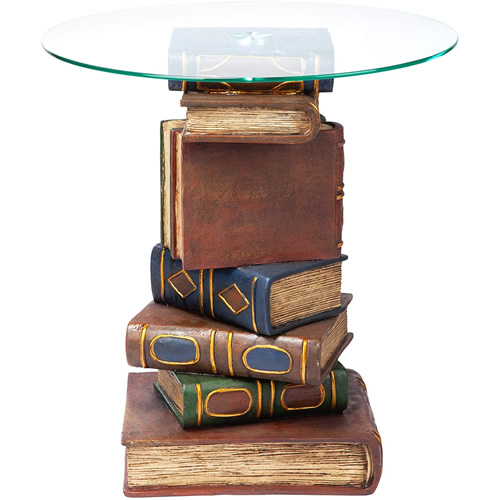 Book Volumes End Table with Glass Top
KY4049 Design Toscano

8.5″ wide pedestal
20" wide top
20.5" high

Tempered Glass top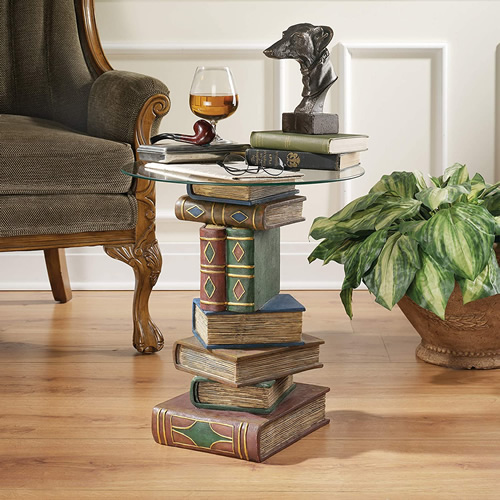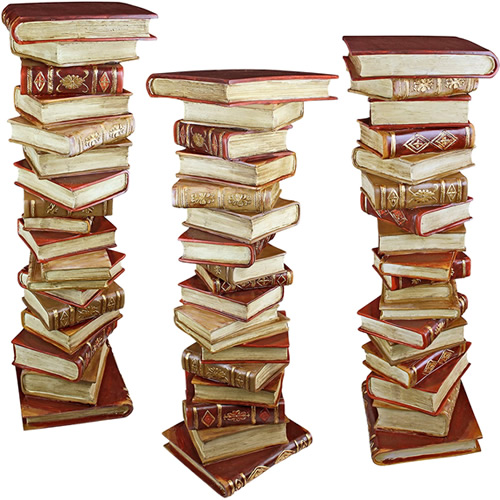 These pedestals can be used as a little side table or to support something.
Power of Books Pedestal
KY70738 Design Toscano

11" x 12" wide top
39" high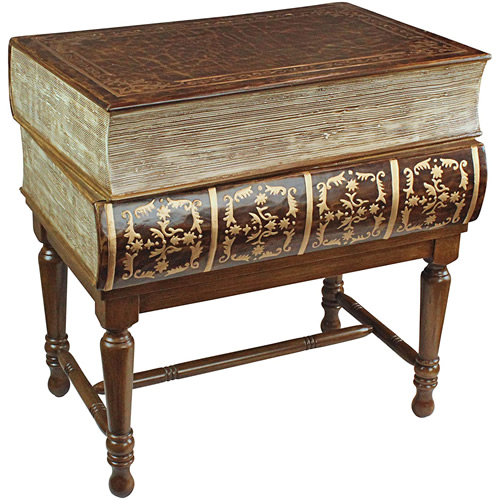 Design Toscano OA946 Stacked Books Side Table
OA946 Design Toscano

24.5″ wide x 17" deep x 24.5" high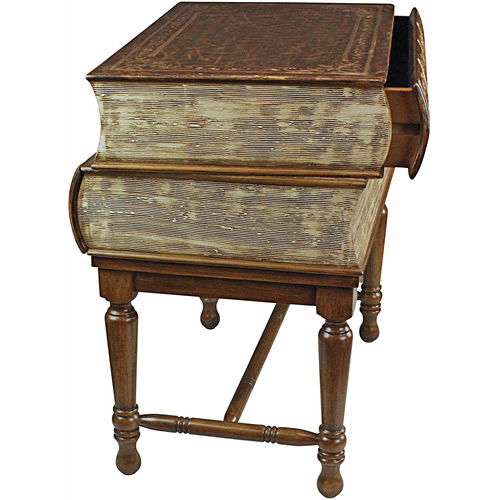 The top book is a drawer.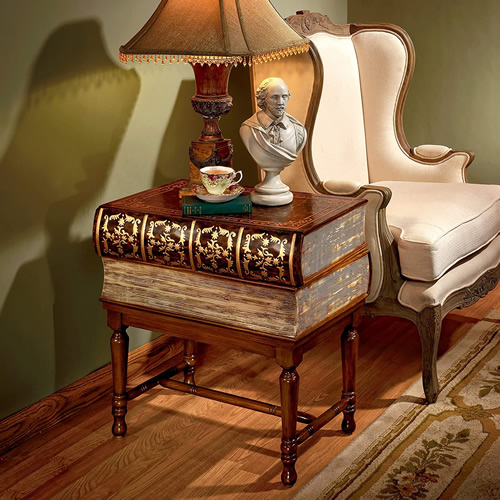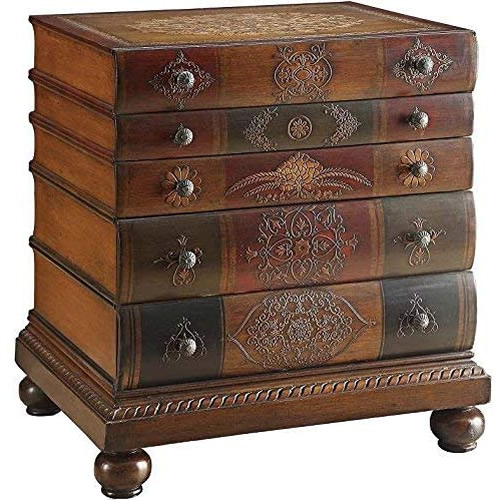 Crestview Library 3-Drawer Chest
CVFYR654 Crestview Collection

Three drawers

23.25″ wide x 19.5″ deep x 26.75″ high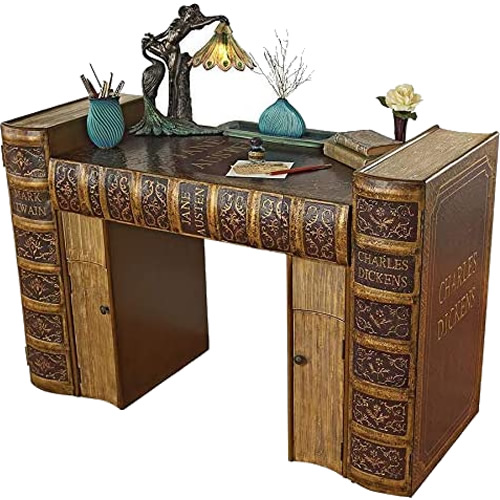 Giant Faux Book Desks
Literary Volumes Writing Desk
OA38136 Design Toscano

50.5" wide x 20.5" deep x 34.5" high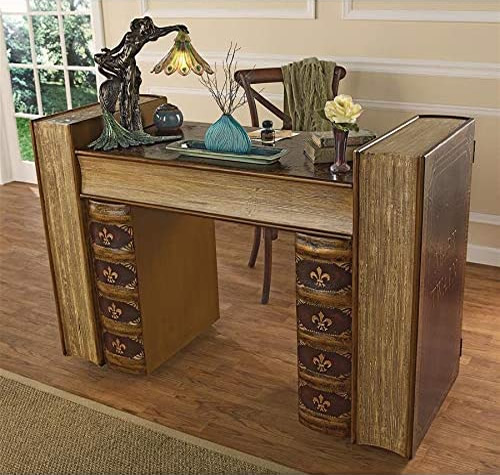 Finished on all sides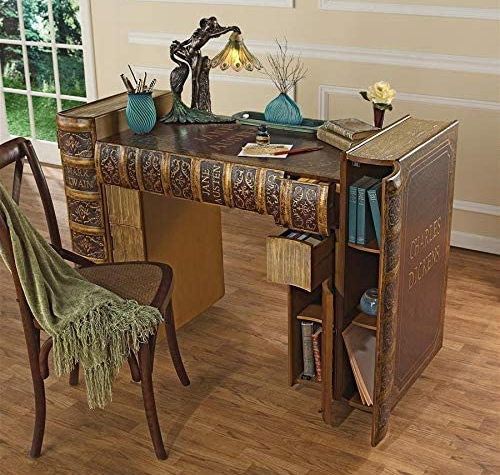 10 shelves behind the books
5 pull-out drawers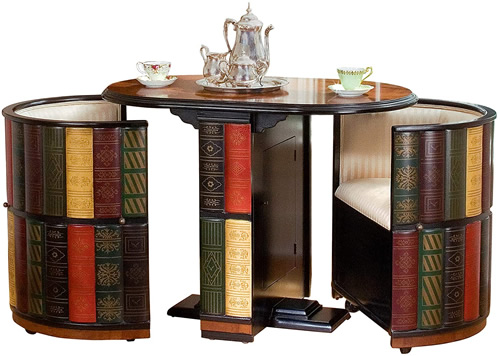 Nettlestone Library Nested Table and Chairs Set
OA3650 Design Toscano

Hand-painted, lacquer-finished top of faux burled wood with ebony trim tops
Tone-on-tone cushioned barrel chairs on casters.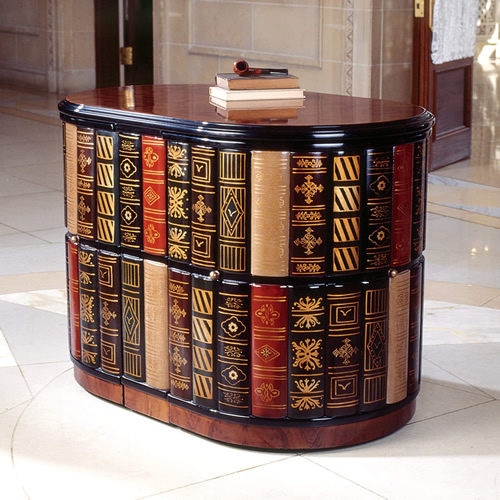 When Closed: 41″ wide x 26" deep x 30" high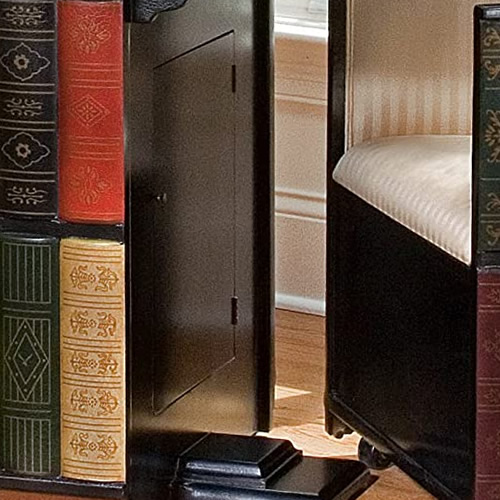 Table and two barrel chairs on wheels
There is a secret door in the table pedestal.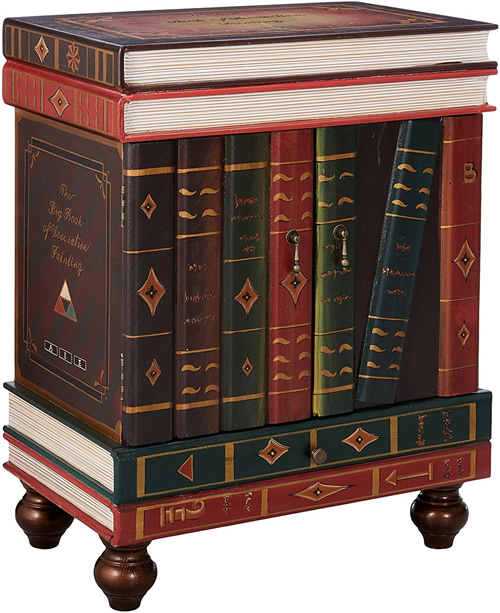 Lord Byron's Library
This little table and mirror are designed to look like they are made of books from Percy Byron's library.
Design Toscano SK3345 The Lord Byron Stacked Books End Table
SK3345 Design Toscano

22″ wide x 14" deep x 28" high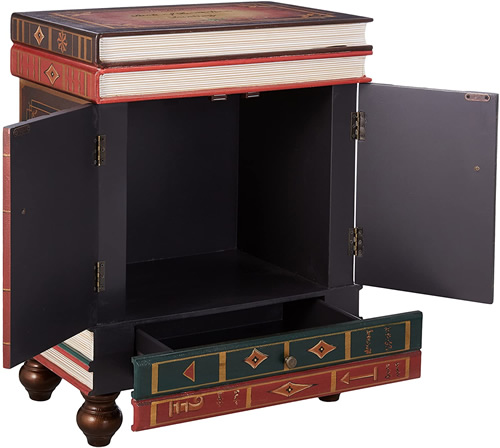 Two cabinet doors with metal pulls and metal hinges
Single bottom drawer with metal knob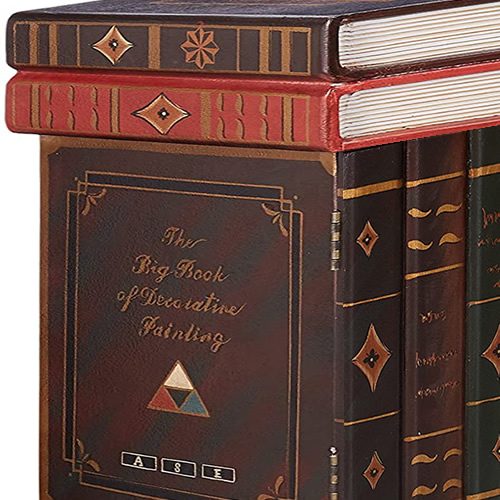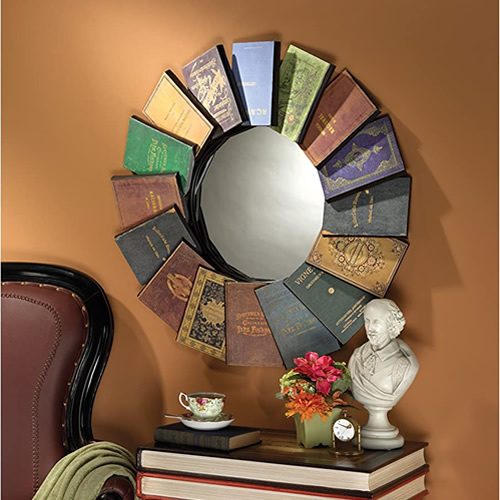 Lord Byron's Compendium of Books Mirror
MH40069 Design Toscano

16 books from Lord Byron's library is the frame for a quality mirror.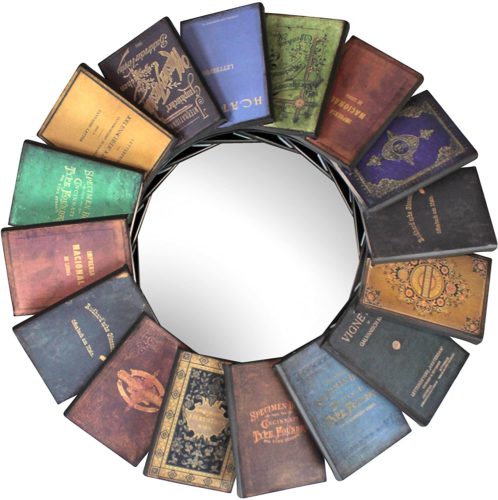 Design Toscano MH40069 Lord Byron's Compendium of Books Mirror

Frame 31.5" wide
Mirror 15.5" wide
2.5" thick

Keyhole slot hanging

Material: Metal and Glass
Antique Book Look Accessories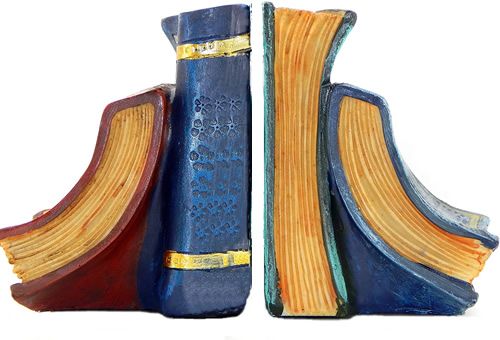 Faux Book Bookends
Bellaa

23354
5.4" wide x 5.2" deep x 7.7" overall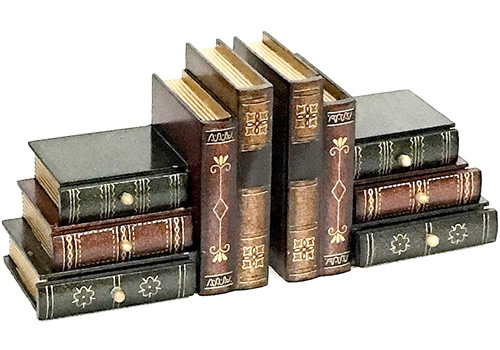 Bellaa 23868 Faux Book Bookends
23868
8.23" wide x 7.44" x 5.16"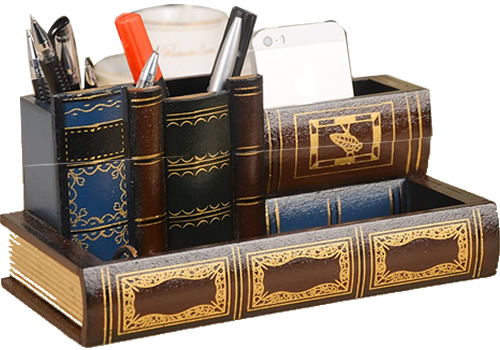 Library Book Design Desk Organizer
Tosnail
9.25" long x 4.5" wide x 4.3" high
Top 3 sections for holding pencils, pens, scissors, rulers, and more.
Bottom 1 open storage organizer