Looking for Blue Willow Curtains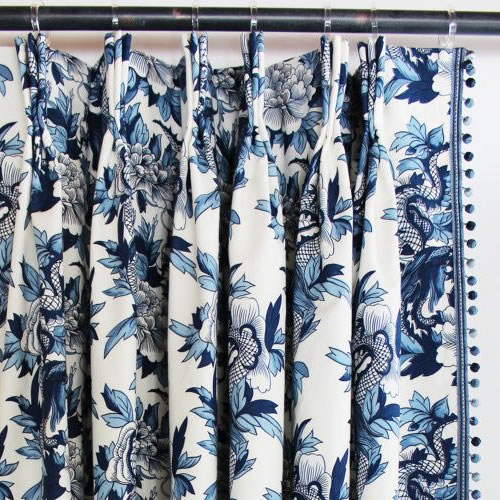 I've been looking for blue willow drapes for the bedroom. I put white shutters over the window, so they don't have to be room-darkening. I can already darken the room enough.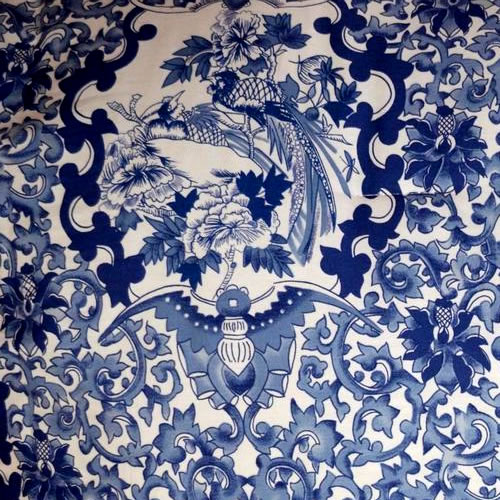 I bought the Ralph Lauren Tamarind Bird Porcelain Blue and White King Comforter and Shams. I want something with the same white background and cobalt print to go with it. I was hoping for something with a Chinoiserie sort of pattern, but I haven't found anything at all, so I am widening my search.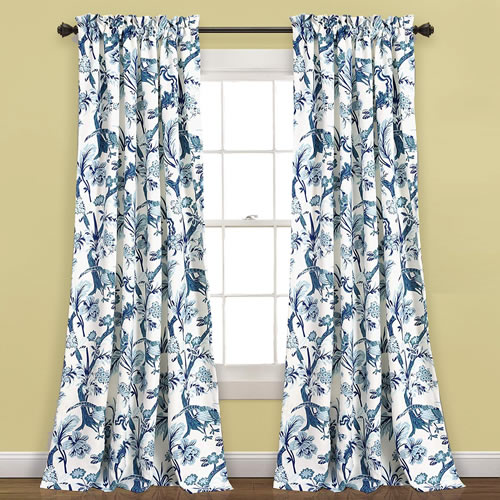 Lush Decor Blue and White
I found these from Lush Decor. They come in a lot of different sizes. One size is ideal for the windows and another would fit the glass door with very little alteration.
The motif is kinda similar… It is always hard to tell colors on the computer. They don't look the same blues at all.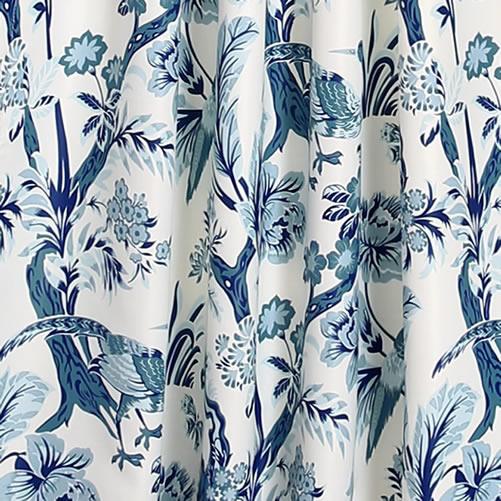 They are unlined, 100% Polyester. The rod pocket is available as 2" or 3", but I plan to attach it to rings, so it really doesn't matter.
They say that it is easy-care and machine washable, even tumble dry, but I have found that if you let curtains dry on the windows, you don't have to iron them and they don't shrink.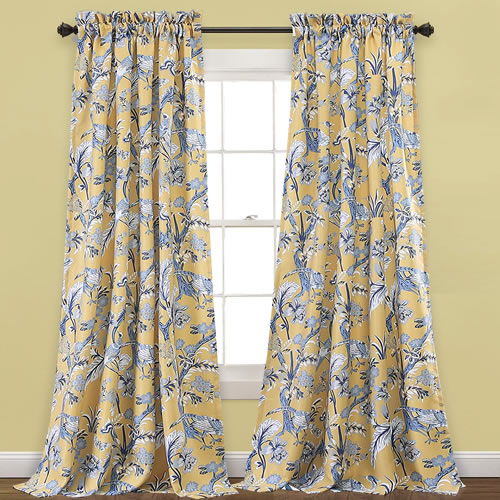 Lush Decor Blue and White Curtains with Yellow Background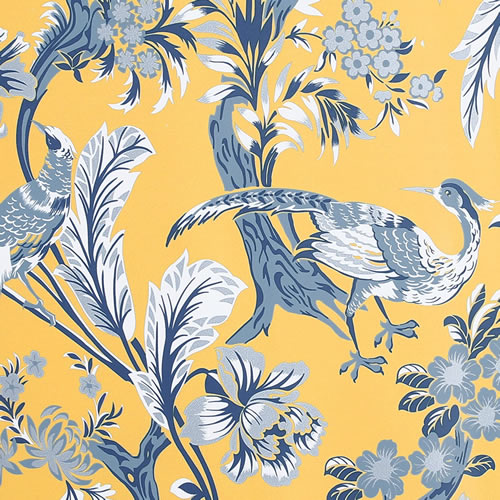 They also come with a yellow background. Could be good…
Lush Decor Blue and White with Yellow

Lush Decor Jacobean Blue and White
The same company also makes these. They call them a Jacobean print. They look more cobalt blue and white white, but it is so hard to tell from a photo.
They are also 100% polyester, easy-care, machine wash, tumble dry. They are not lined and have a 3" rod pocket.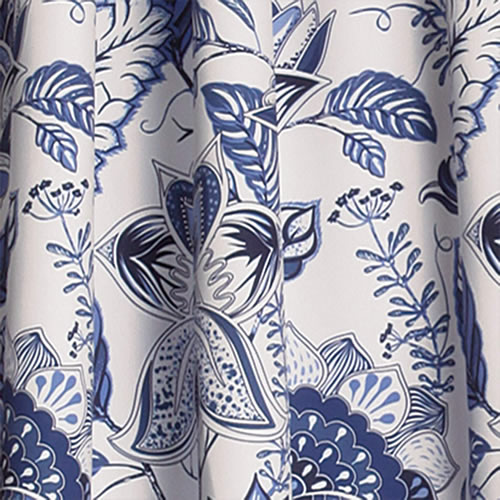 They are all returnable. Good, since it is really hard to tell colors for sure.
These drapes are part of the Cynthia Jacobean Print Bed and Bath Collection. It also includes bedding and a shower curtain.
Lush Décor Cynthia Blue and White Jacobean Print Bed and Bath Collection >
Saffron Marigold
Saffron Marigold is an Indian company that makes textiles and home furnishings. They sell direct on Amazon. Their hand block printed textiles are available in a lot of colors and patterns. None, of course, are Blue Willow, but the colors coordinate and blend. And when you buy from them "You are helping build a fair trade business where beautiful work is done, and a positive social impact is made."
Saffron Marigold makes cotton voile curtains. Semi sheer cotton curtain panels are perfect for summer. They make them with your choice of tab top or rod pockets.
A lot of their patterns come in blue. I like that they have a border print.
Some of their prints come in coordinating variations.
Saffron Marigold English Gardens
I love the two coordinating English Garden patterns. The first has a white background with flower prints. the second has winding vines inspired by William Morris's Willow Bough print. They are both truly blue and white.
I think these are my favorites, but I don't think they go with the bedspread. Or maybe they do…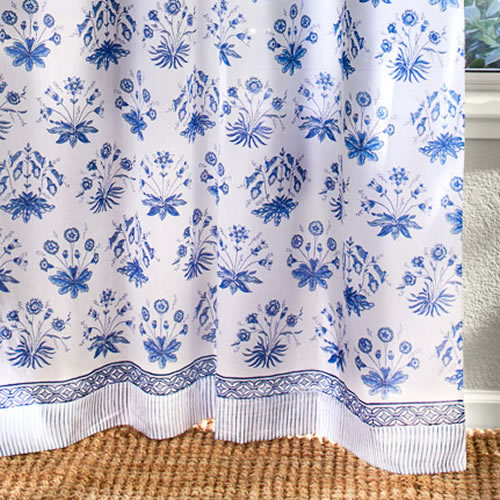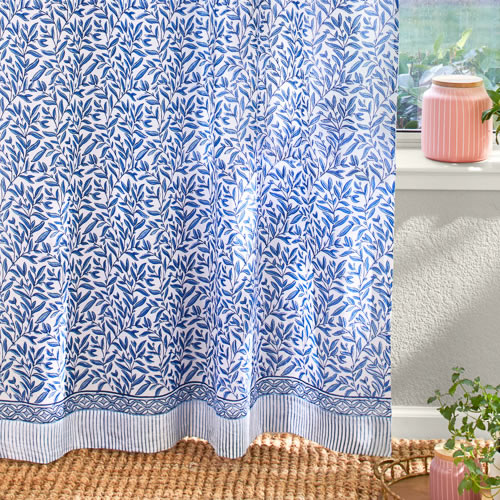 Saffron Marigold Starry Nights
Starry nights has two prints I prefer the one with white stars on dark blue. The coordinating print has blocks like tiles with stylized stars that look more like flowers to me.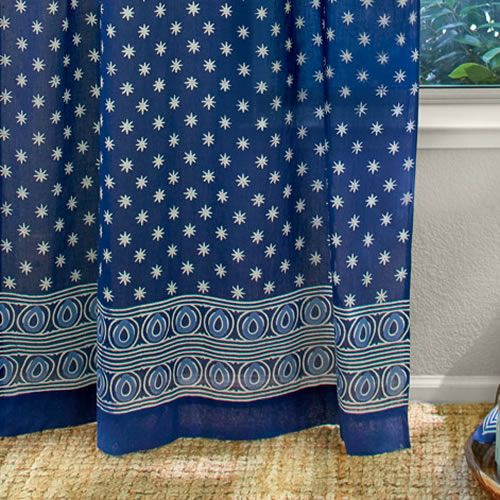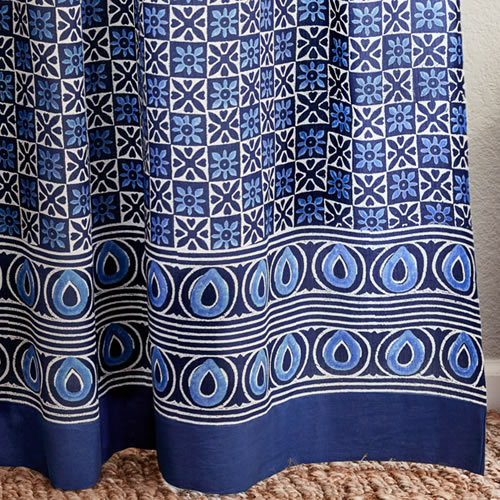 Saffron Marigold Midnight Lotus
The two variations of the Midnight Lotus pattern have variations of shades of blue. The background is white.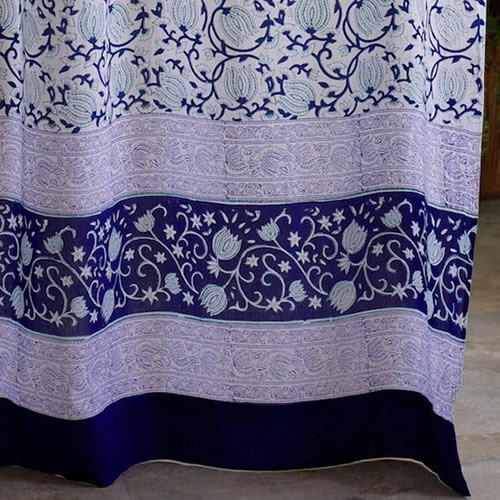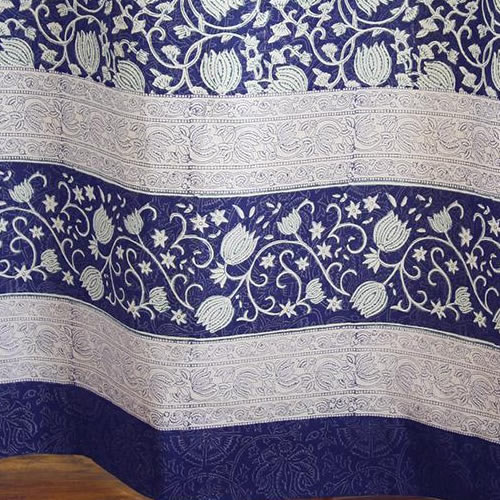 Saffron Marigold Pacific Blue
Saffron Marigold Pacific Blue comes in two variations, one with stylized waves and the other with conch shells. They are both printed in navy and indigo blue. The background looks white, but they say it is ivory.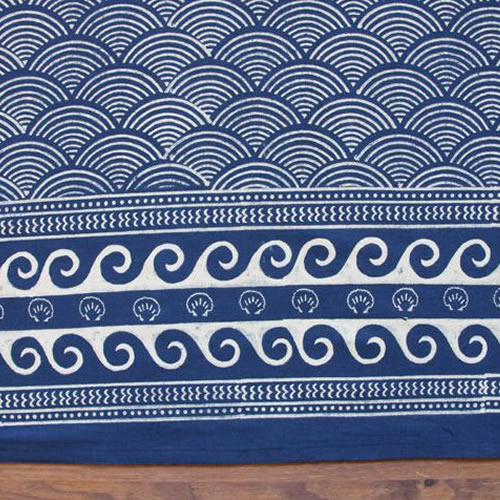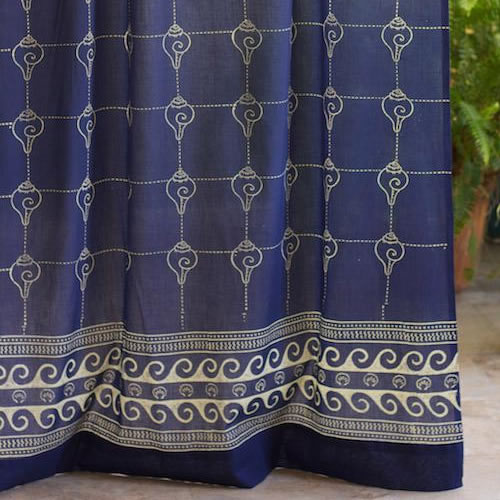 Ralph Lauren Tamarind Bird Curtains
Did Ralph Lauren used to make curtains in the Tamarind Bird pattern? I found them on Pinterest… but someone could have made them from sheets.
For that matter, I could make them from sheets. They are on eBay.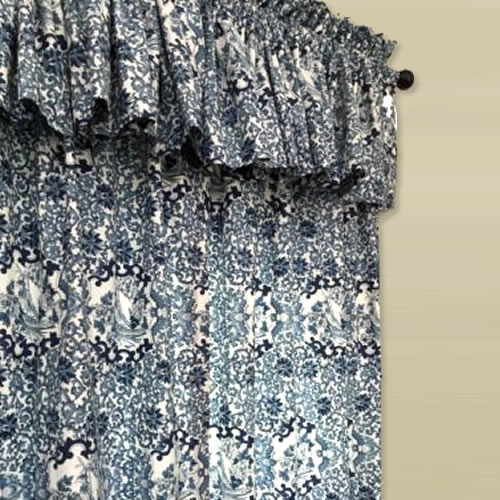 I found these on Pinterest, too. I am pretty sure someone made these.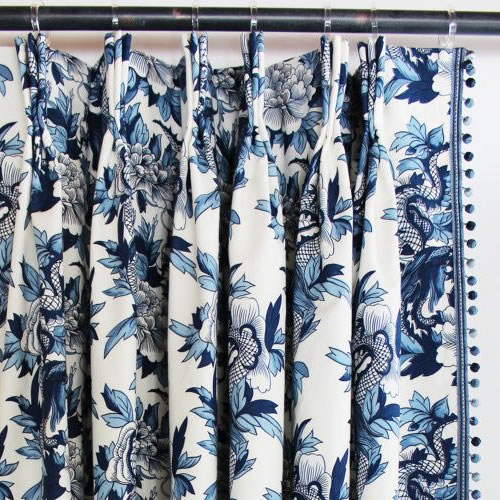 I love these! But the link on Pinterest didn't go anywhere. Before I buy anything else, I'm going to watch eBay longer.
Ralph Lauren Nanking Pattern in Porcelain Blue and White Curtains >