Blue Willow Cloth and Paper Napkins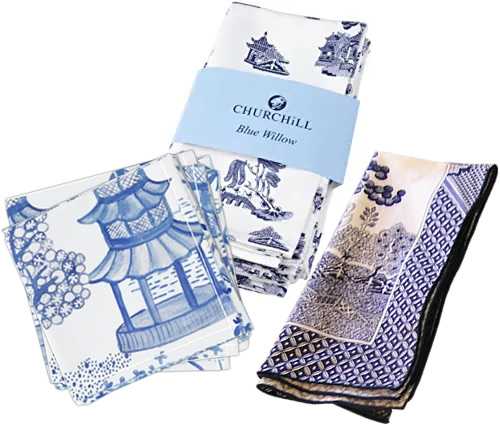 I found the Churchill Blue Willow Cloth Table Cloth on eBay. Now I am looking for some napkins to go with it.
Blue Willow Cloth Napkins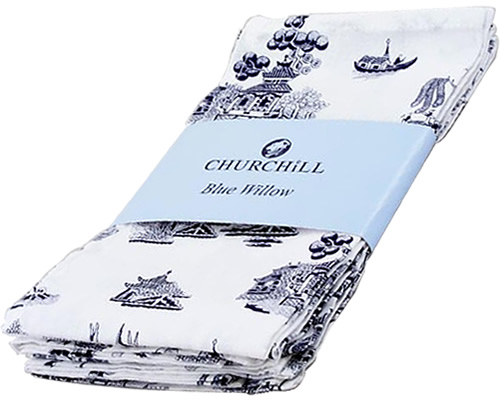 Churchill Blue Willow Cloth Napkins
Ideally, I would love to have the Churchill napkins, too. The pattern matches my dishes and the table cloth.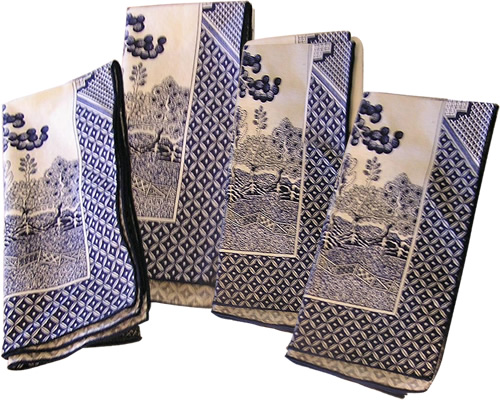 Royal Linens Johnson Brothers Blue Willow Cloth Napkins

16.5" x 16.5"
100% Cotton
The napkins that Royal Linens made for Johnson Brothers perfectly matches the Johnson Brothers Blue Willow dishes.
The border is the same border as Johnson Brothers Blue Willow dishes have.
Search eBay for Blue Willow Cloth Napkins >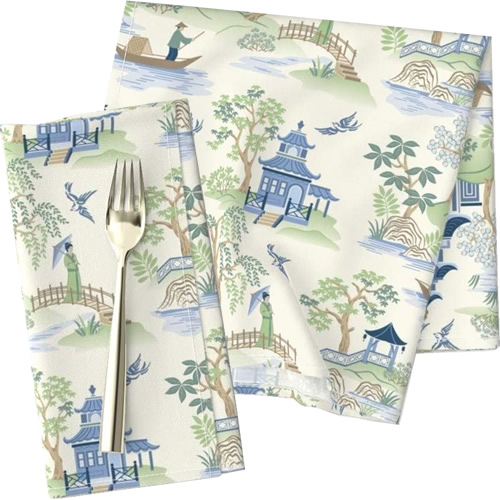 Roostery Chinoiserie Cloth Dinner Napkins
Spoonflower makes high quality fabric printed in beautiful unique designs, including a some chinoiserie toile variations that I love. Roostery sells made-on-demand home décor using this fabric.
Chinoiserie by Barbara Pixton has a Blue Willowish chinoiserie toile with a creamy background. It picks up the blues and adds some green.
I keep coming back to this and I am going to use it somewhere.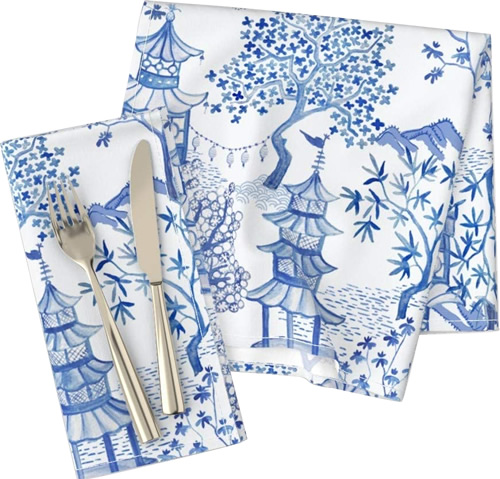 Roostery Pagoda Forest in Blues Cloth Napkins
Danika Herrick has designed selections of Cloud Pagoda fabric in different colors and variations. They are available as napkins and anything else.
Dinner Napkins are 20" x 20"
Cocktail Napkins are 10" x 10"
Linen Cotton or 100% Cotton Sateen fabric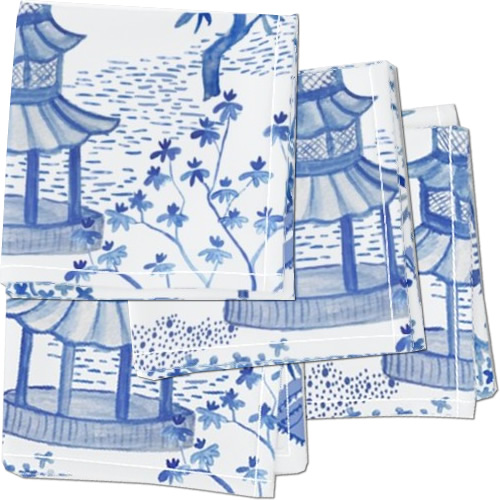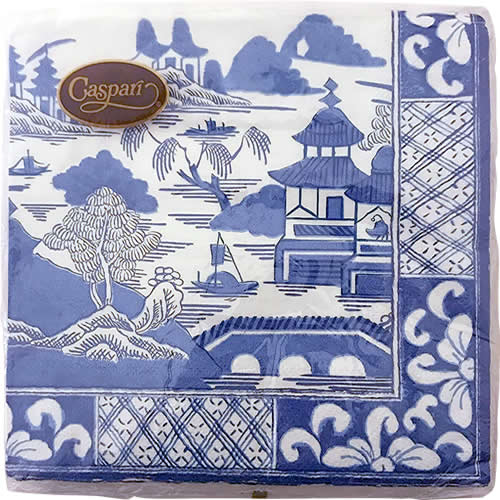 Blue Willow Paper Napkins
Caspari Blue Willow Paper Napkins
15" x 15"
7.5″ x 7.5″ folded
Caspari has Blue Willow paper napkins.
And these coordinating blue and white Chinese Fretwork napkins.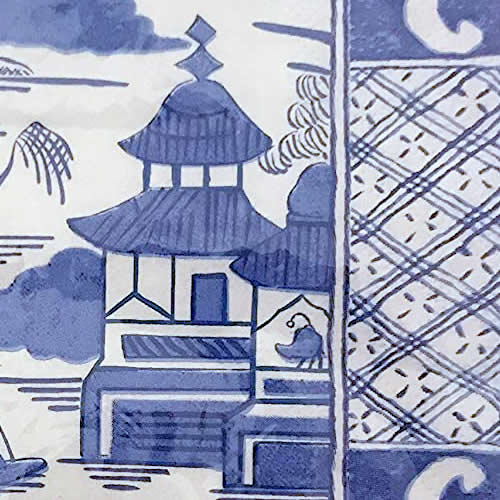 They would be great for a party. Or to use for decoupage.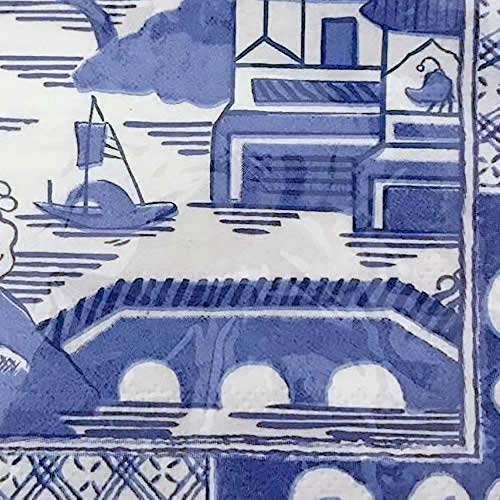 Caspari Blue Willow napkins are in variations of cobalt blue on white paper.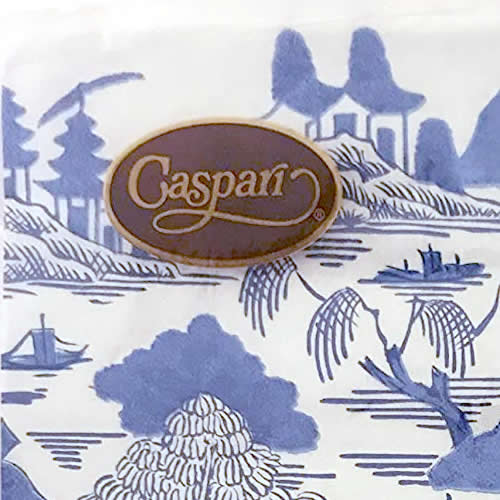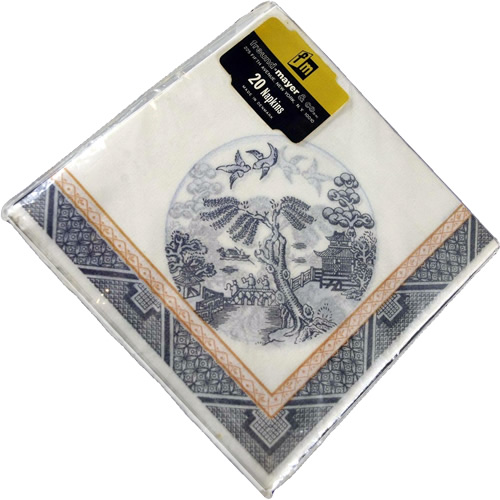 Freund Mayer & Co Blue Willow Paper Napkins
14" x 14"
7" x 7" folded
These Freund Mayer & Co Blue Willow paper napkins have the traditional Blue Willow motif in the circle and the border like on the dishes on the edges. They have a band in gold. The gold is not metallic.
These seem to be easy to find on eBay.
Search eBay for Blue Willow Paper Napkins >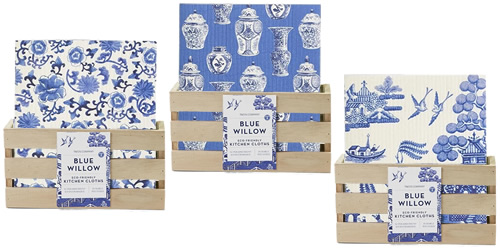 Blue Willow Cleaning Cloths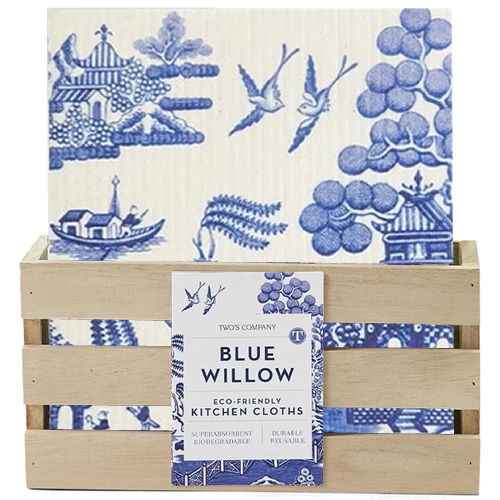 Have you ever used these reusable sponge cloths? I got some from Pampered Chef and I love them. They go through the wash and dry like a weird stiff board. But when you get them wet again they are super absorbent and great for washing dishes or cleaning up in the kitchen.
Two's Company Blue Willow Eco-Friendly Reusable Kitchen Cloths

Thick Spongy Cloths
70% Cellulose (Wood Pulp) 30% Cotton
6.75" wide x 8" high
Wood Display 8" wide x 4" high x 3.5" thick
This set from Two's Company has three sponge cloths in Blue Willow and other blue and white chinoiserie patterns in a little wood crate.
They would make a great gift.