L'Objet Pagoda Jewelry for Your Table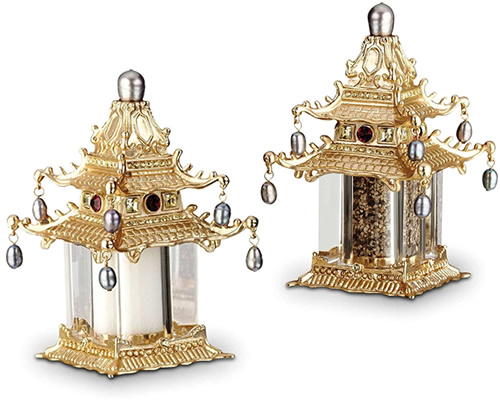 These little Pagoda salt and pepper shaker, napkin rings and place card holders, wine stopper and hanging ornaments are made like fine jewelry by L'Objet. They are hand-crafted and layered in 24K gold or platinum with hand blown and faceted crystal, freshwater pearls, hand-set semi-precious gemstones.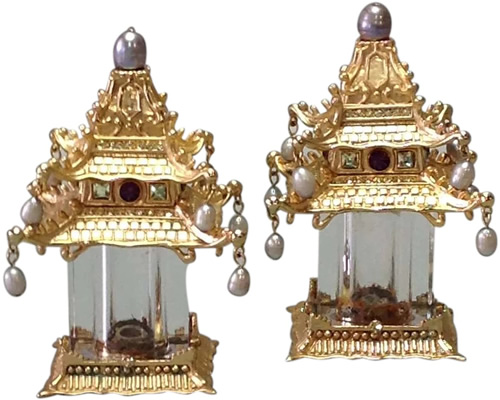 L'Objet Pagoda Spice Jewels
L'Objet salt and pepper shakers are called Pagoda Spice Jewels and you can see why.
SP6500 Platinum Pagoda Spice Jewels Salt and Pepper Shakers
SP6501 Gold Pagoda Spice Jewels Salt and Pepper Shakers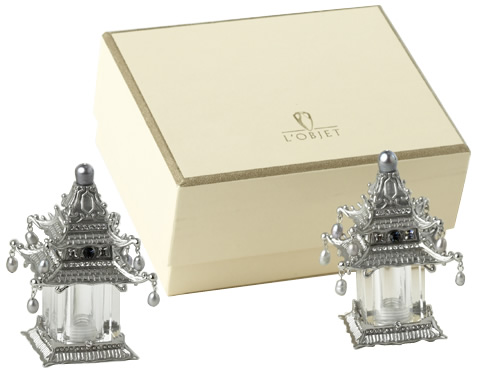 They are made or 24K gold or platinum like fine jewelry and presented in a gift box.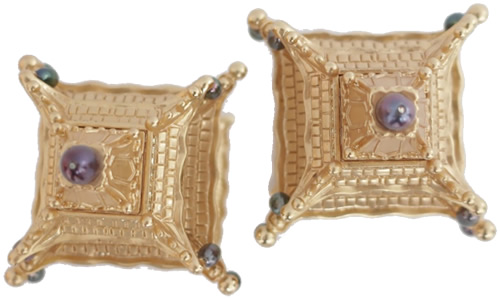 This is the top of the gold ones. The natural pearls are dark grey.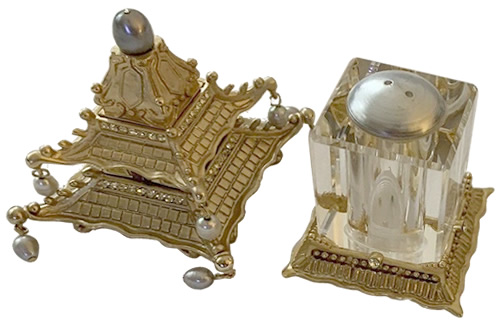 The heavy crystal that holds the salt of pepper is hand blown, then faceted.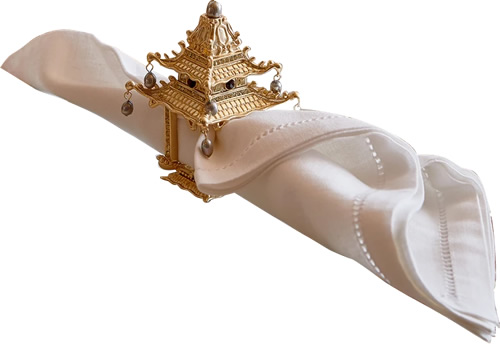 L'Objet Pagoda Napkin Jewels
The L'Objet Pagoda Napkin Jewels are sold in sets of two.
NJ6500 Platinum Pagoda Napkin Jewels
NJ6501 Gold Pagoda Napkin Jewels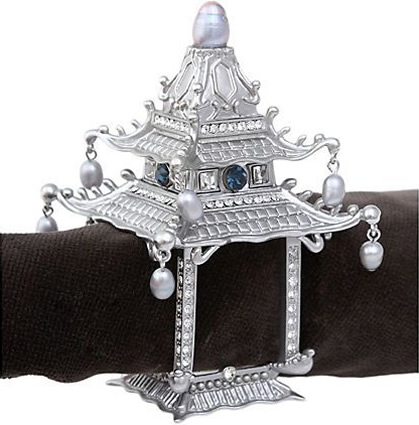 The platinum napkin rings have clear Swarovski crystals, light grey freshwater pearls and hand-set blue and white semi-precious gemstones.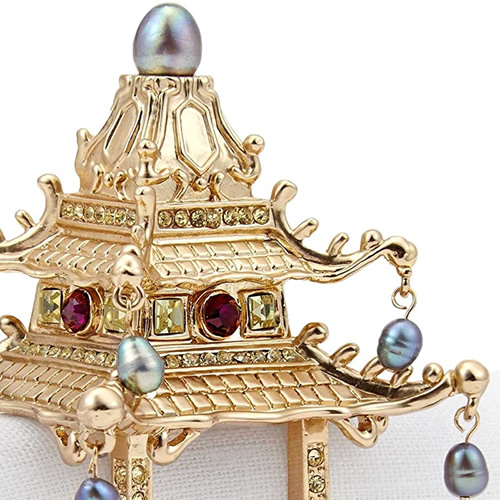 The 24K gold napkin rings have yellow Swarovski crystals, freshwater pearls in shades of greys and hand-set semi-precious garnet and topaz gemstones.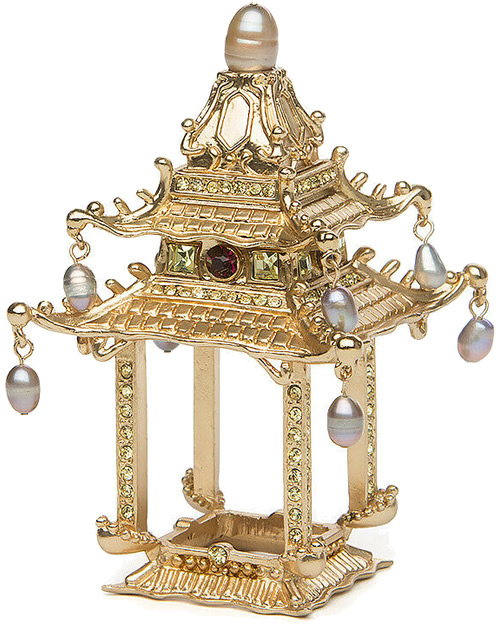 They are really unbelievably beautiful.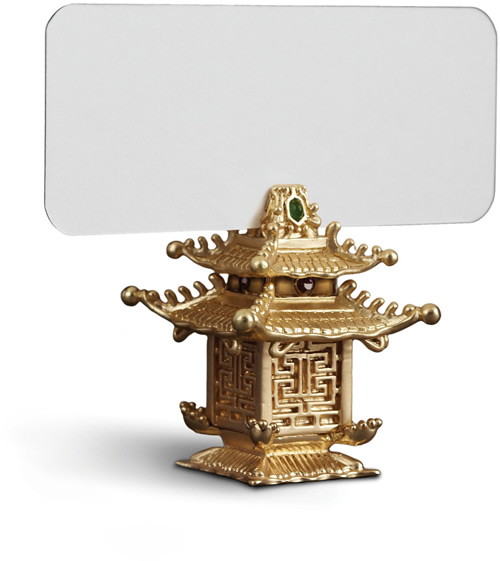 L'Objet Pagoda Place Card Holders
L'Objet Pagoda Place Card Holders are sold in sets of six.
PCH6500 Platinum Pagoda Place Card Holders
PCH6501 Gold Pagoda Place Card Holders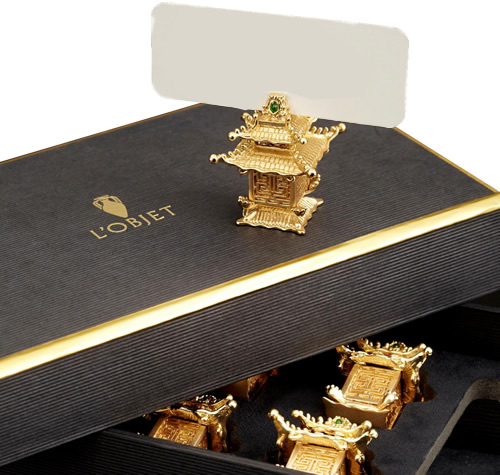 They are each 1.5" wide x 2" high. The set of six also includes 25 place cards. Refill cards are available.
They come beautifully boxed.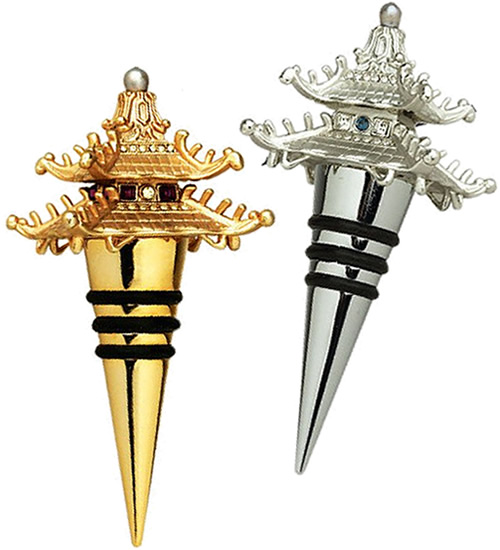 L'Objet Pagoda Wine Stoppers
The L'Objet Pagoda Wine Stopper are heavy and functional.
WS6500 Platinum Pagoda Wine Stopper
WS6501 Gold Pagoda Wine Stopper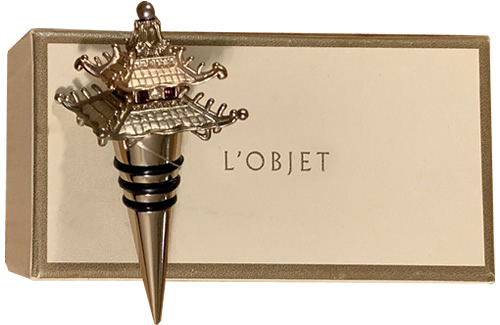 They are 5″ long and come in a presentation box.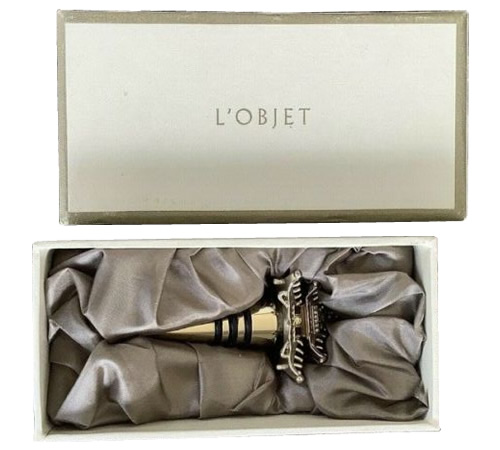 The wine stop is quite heavy and has rubber rings to keep the wine sealed.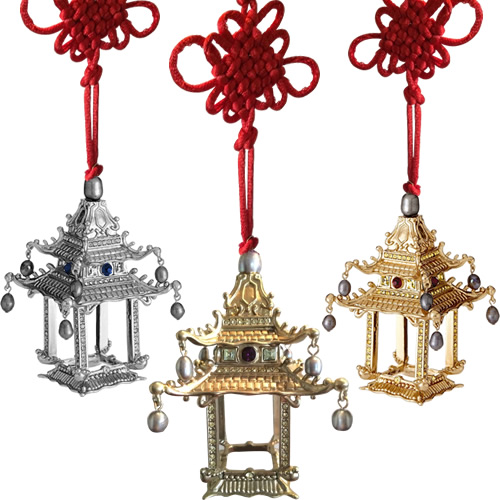 L'Objet Pagoda Ornaments
L'Objet Pagoda Ornaments have been made with different variations of crystals and semi-precious gemstones.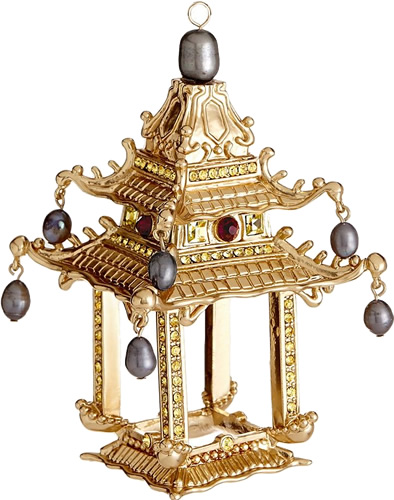 They are each 2.25″ wide x 4.25″ high. Every detail is perfect.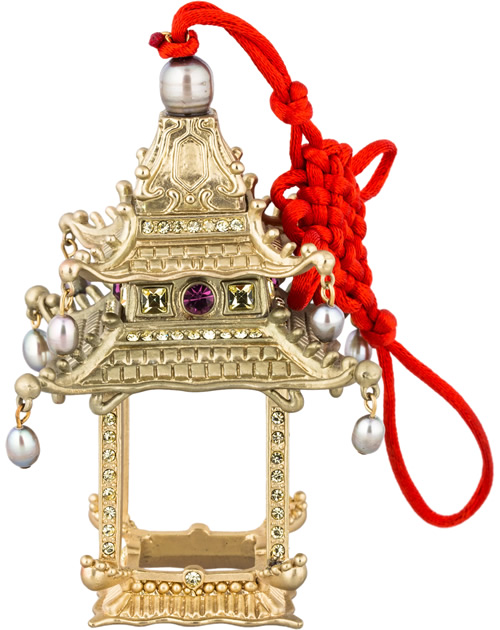 They come with a red cord tied into a Pan Chang knot.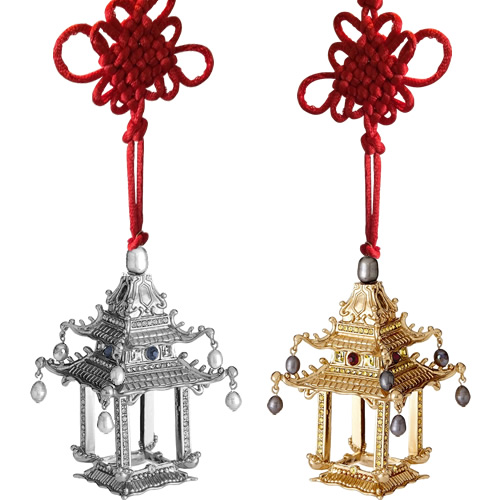 L'Objet
L'OBJET is the life work of Founder and Creative Director Elad Yifrach. Born and raised in Israel, Elad established himself as an interior designer in Beverly Hills, prior to taking up residence in New York. A lifelong traveler with a global design perspective, Elad imbues every design with its own story. Each collection is a spirited homage to both the cultures which inspire them and the artisans who bring them to life.

Founded in 2004, L'OBJET was born at intersection of meticulous craftsmanship and timeless sensibility. Today, the brand continues to set standards in the luxury lifestyle industry, while still employing many of the same craftspeople whom Elad met on his early travels.

Employing expert silversmithing techniques, L'OBJET works with artisans to create fine metal pieces for tabletop, desktop and home décor with weight, elegance and exceptional practicality. Emulating centuries of fine jewelry design and techniques, intricate gold and platinum photo frames are finished with beveled glass, satin lining and Italian leather and suede backs. High-quality hollowware pieces are hand-forged from polished stainless-steel and plated with brilliant 24K gold details. Innovative combinations of materials pair fine metals with cabochons, enamel, Swarovski crystals, and porcelain accents to comprise a collection rich in texture.