Bamboo Shelves, Lattice Shelves and other Asian Influenced Etageres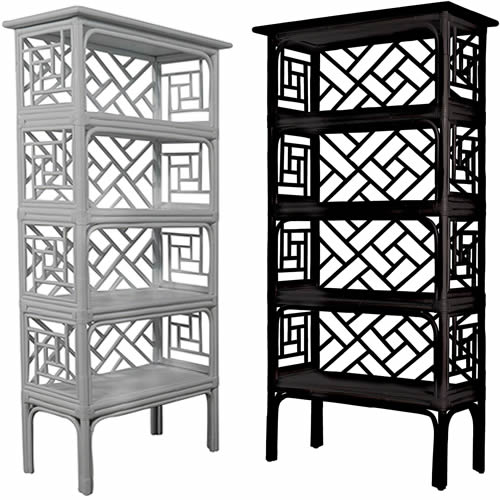 Whether you want a fun nod to Asian style, a formal Chinese Chippendale look, or somewhere to display your Blue Willow china. there are a lot of options in shelves, etageres and bookcases that work.
These shelves may not look obviously Asian, but the lattice reflects forms that are found in Asian and Oriental décor.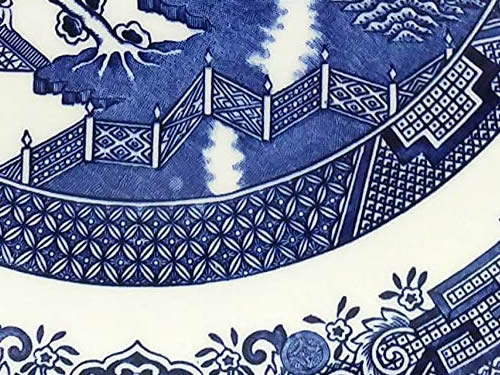 Have you ever noticed all the different patterns on the fence on Blue Willow plates? These patterns are used on a lot of Asian and Oriental furniture.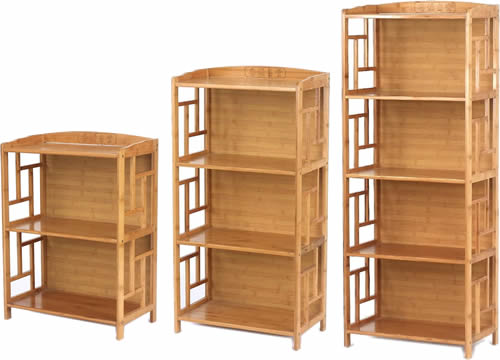 These small bookshelves have ancient Chinese characters combined with the lattice form on the sides.

It is available in different sizes. They are all 12" deep. They are 16", 20" or 28" wide and 28", 39", or 51" tall. They are REALLY affordable.
David Francis Chinoiserie
The shelves at the top of the page are Inspired by David Francis.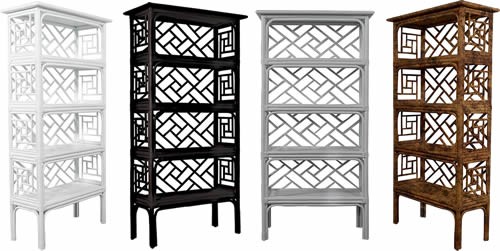 What is Inspired by David Francis? The website Perigold says "Beautiful hand-finished furniture inspired by the award-winning designer, David Francis." I'm not so sure it's a very good name. It sounds more like a name for a counterfeit, "inspired" by the real thing. It's not priced like a counterfeit.
I used to have a canopy bed that was made like these. I literally found it on the side of the road. It was falling apart, but the bamboo was still good. It took a couple of days to scrub it and re-bind it with some macrame cord I happened to have. I painted it a medium tan bamboo color, then rubbed a darker brown over it to make it look like grain. I used a paint brush with the darker color to bring out the details. After it dried, I gave the whole thing a good spray with clear polyurethane.  Once it wasn't sticky and stopped smelling to high heaven, I brought it in and assembled it around the bed using some L-shaped shelf brackets I had to hold the head  and foot pieces to the side pieces. Then I bound the top ring to the parts that met with some brown macrame cord. It was close enough in color, so I left it alone. It wanted to lean, so I attached the head board and poles to the wall at the top, center and bottom of each pole. It lasted until I got a larger bed. Someone somewhere may still be using it, since I sold it at a garage sale.
These are really just beautiful. And they give you an idea of forms that work.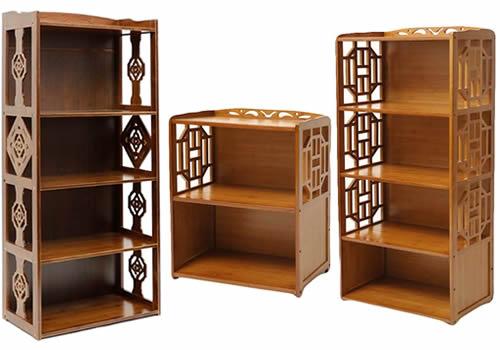 These bamboo shelves have a different lattice shape as the side panels.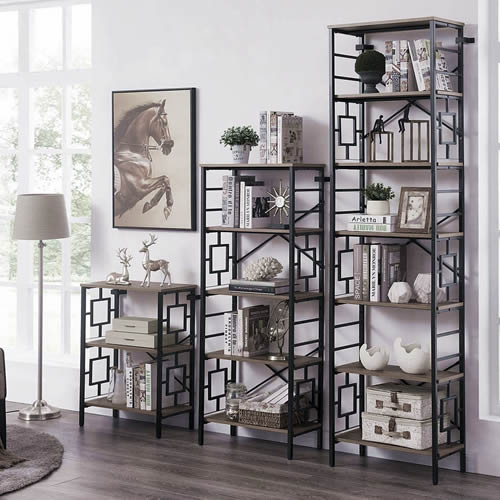 These inexpensive metal shelves have a pattern on the sides that would work well with Asian motifs. The shelves are not meant to hold anything very heavy. If you want to load them up, you are better off with bamboo.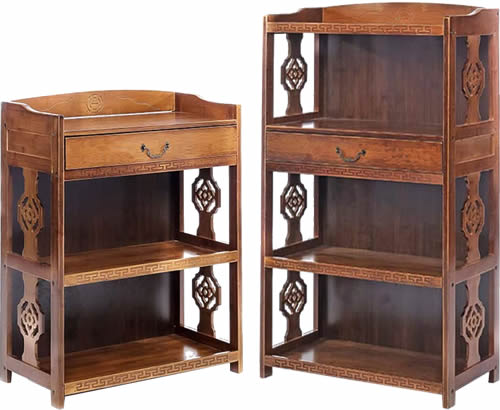 These shelves have a very usable surface on top and drawer. They are almost 12″ deep.  They come in five different widths and heights.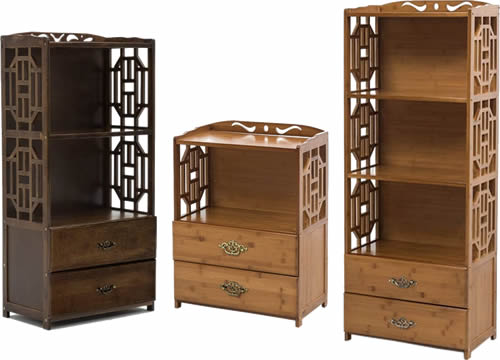 They come in two finishes, three different widths and three different heights. These are made by a lot of different companies with wildly different prices and shipping charges.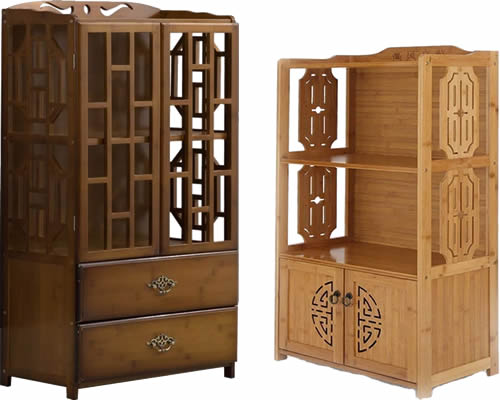 Here are two more versions. One with the drawers and open doors over the top shelves. The other with open shelves and two doors over the bottom storage.