Chinoiserie and Pagoda Étagères and Shelves
I love this pagoda shelf I found on Pinterest. I tracked it down on Amazon. The shelf is 86″ high, 23.5" wide and 21.75" deep.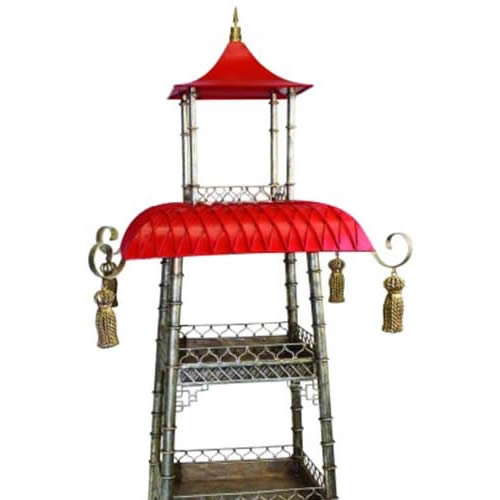 It is made of wrought iron, with a distressed dark gold bronze finish and the two red enamel roofs.
It is expensive. I looked around for anything comparable, but more affordable, but really couldn't find anything as much fun.
There are two different styles of Asian etageres and shelves.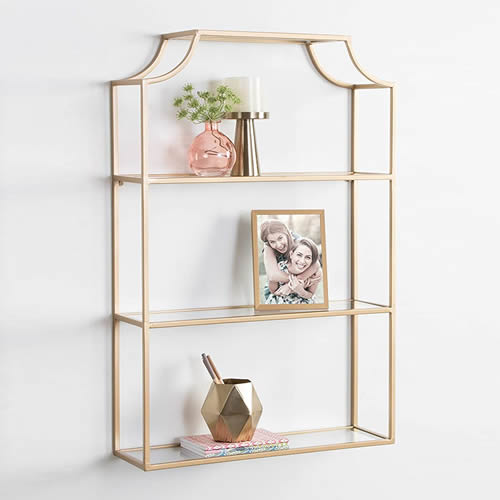 Pagoda Etageres
This style is sometimes called a Pagoda Etagere, sometimes called Hollywood Regency.
This version can be hung on the wall using metal eyelet hangers. It is 20″ wide and 30″ high overall. There is enough space for 9 1/2″ height on each shelf (only in the middle on the top shelf).
It comes in gold or silver metallic finish. The shelves are clear glass.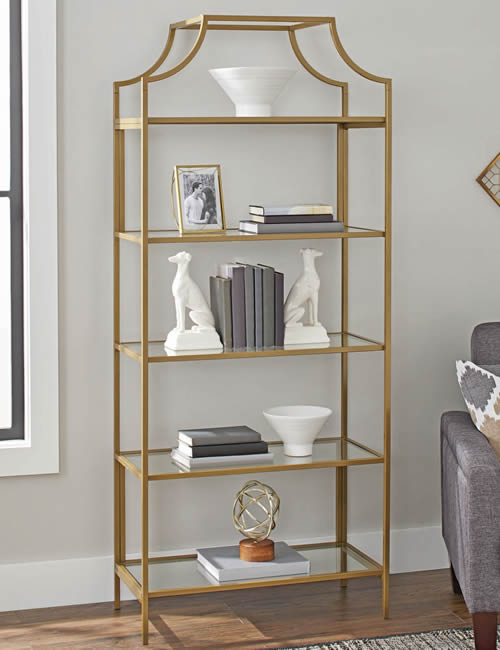 The floor version is available from many different companies.
Better Homes and Gardens Nola shelves are 30″ wide, 72″ high and 14.5″ deep. The gold color is not metallic.  It is gold paint on wood with glass shelves.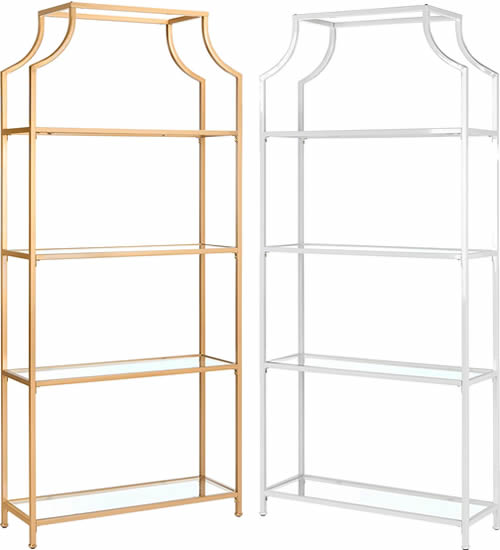 The Safavieh Home Collection Slater 4 Tier Etageres are wider and taller, 36″ wide, 80″ high. But it is not as deep. The etagere is 12″ deep and each shelf is 10″ deep. It available in gold matte metallic paint or matte white.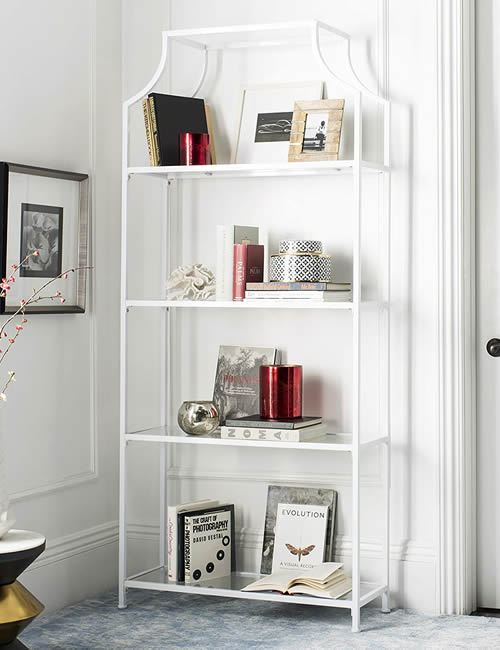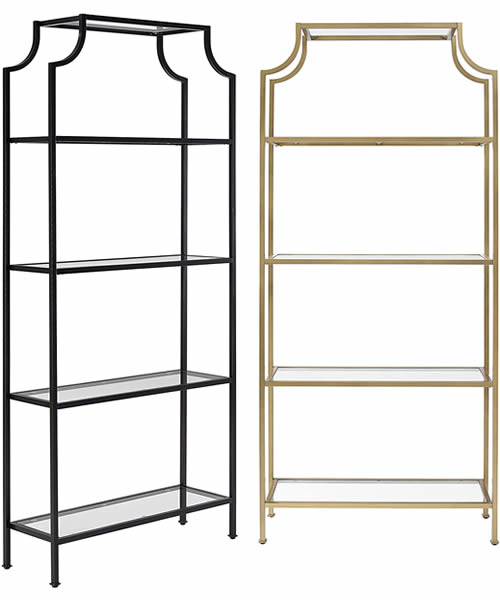 The Crosley Furniture Aimee Pagoda Etagere Bookcase is the same size, 36″ wide, 80″ high and 12″ deep. It is available in Gold or Oil-Rubbed Bronze.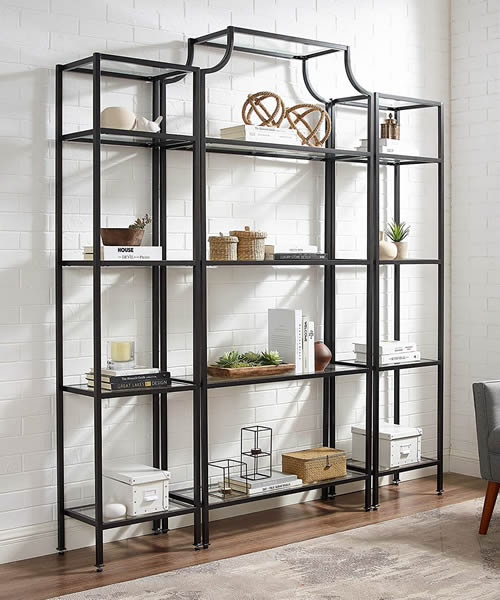 The Crosley Furniture Aimee Pagoda Etagere is also available with matching 18″ wide shelves to go on both sides, making the whole thing 72″ wide.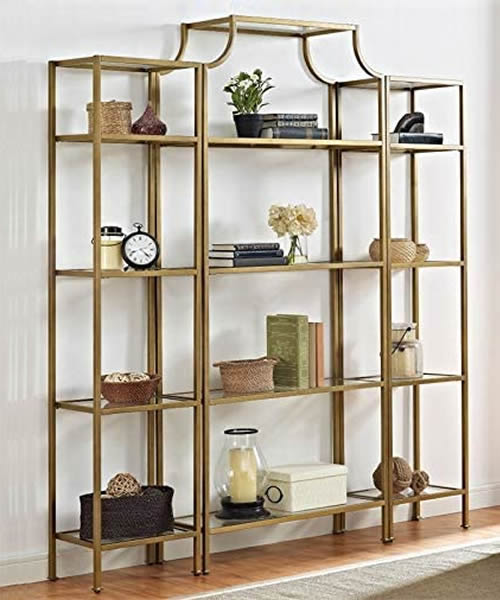 Pemberly Row also makes a pagoda etagere with matching shelves for either side. The pagoda shelf is 36″ wide, 80″ high and 12″ deep. The side pieces 18″ wide, 73″ high and 12″ deep. The pieces are made of steel with tempered glass shelves. The finish is a metallic Antique Gold.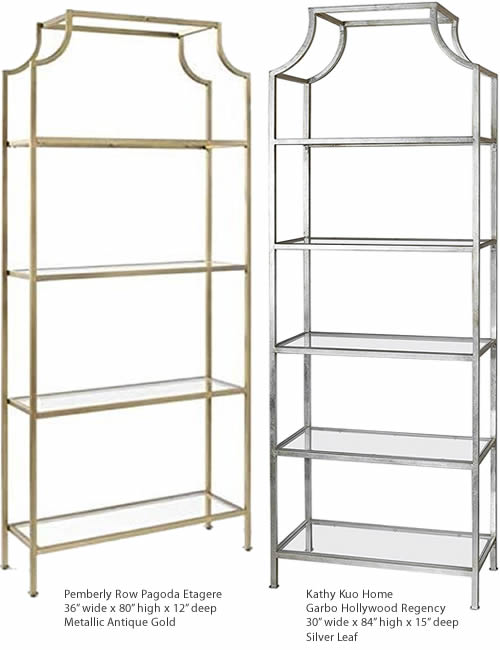 Kathy Kuo Home calls this version the Garbo Hollywood Regency Etagere. It is 30″ wide, 84″ high and 15″ deep.  It is finished in Silver Leaf.
HERE

The other style has a lattice pattern, The lattice is kinda like the lattice on the fence in Blue Willow china. It will be a later post.