Pet Pagodas and DIY Barkitecture for Dogs and Cats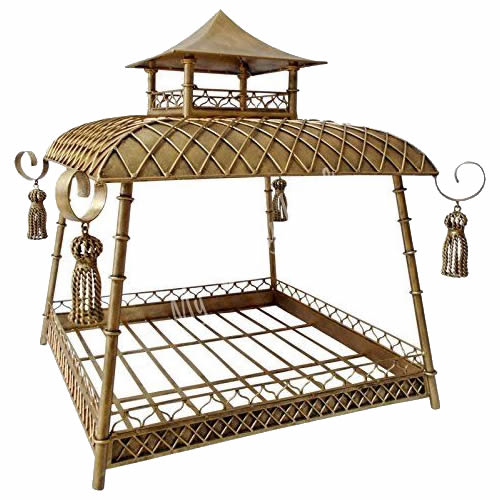 When I pinned the metal pagoda shelf, Pinterest showed me this pet bed. It looks like it is made by the same people. The link was expired and I haven't found it anywhere, but I did find some other amazing Pet Pagodas, a pattern to sew your own and three books with instructions to make actual functioning outdoor dog houses shaped like a pagoda or anything else you can think of.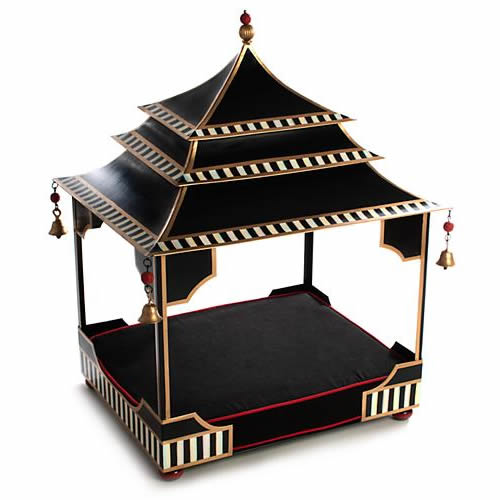 This amazing pagoda pet bed is from MacKenzie-Childs. You might have guessed, with the wonderful black and white that she (and Mary Engelbreit) use so beautifully.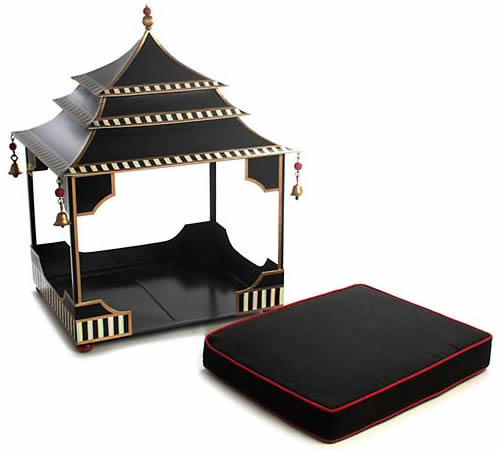 MacKenzie-Childs Courtly Pagoda Pet Bed

28.25″ wide, 23.75″ long, 38″ tall

Our Courtly Pagoda Pet Bed is the ultimate shrine for the pampered pooch or frisky feline. Made of iron, it features hand-painted stripes, hand-cast bells on the four corners, and is topped with a finial. The accompanying hand-stitched cushion lifts in and out and our Small Pet Bed fits inside.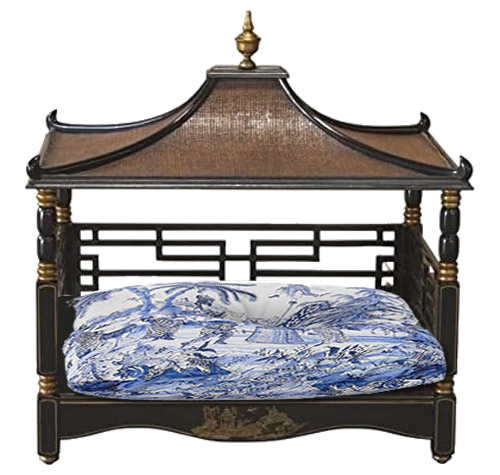 This pet pagoda was on Amazon.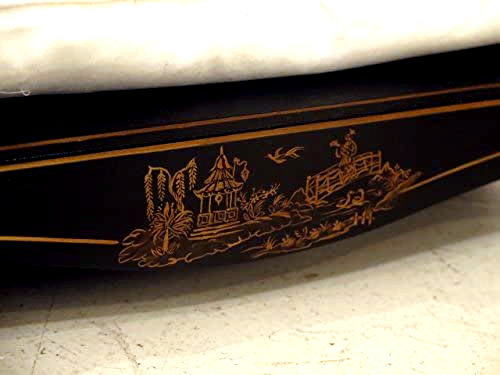 It is finished in black lacquer with a Blue Willow type pattern and details picked out in gold.
It comes with a white pillow.
The product number is JI-34037-CHIN-CALECO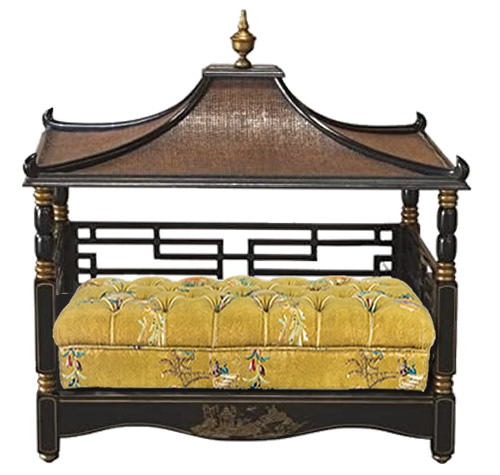 You could replace the pillow with another pillow, or add a cushion.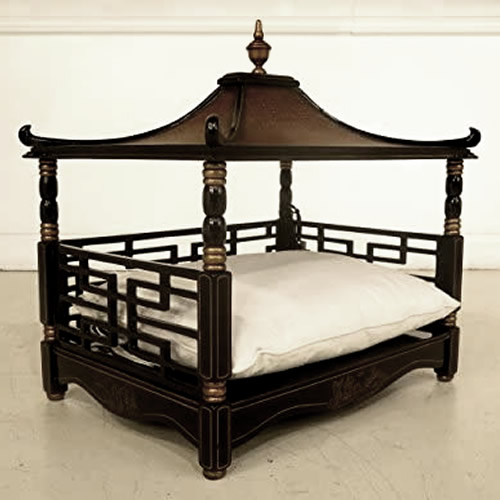 The black lacquer pet bed is 29″ wide x 21″ deep x 27.5″ high.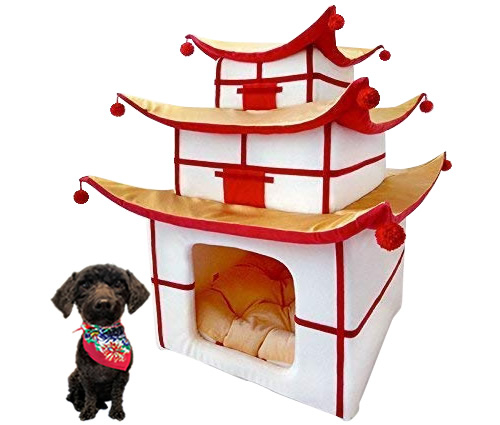 This pet bed is made of fleece fabric, 50% polyester, 50% viscose with silver raincoat fabric on the inside. It is washable.  They say it is big enough for two cats. It would definitely fit our poodle.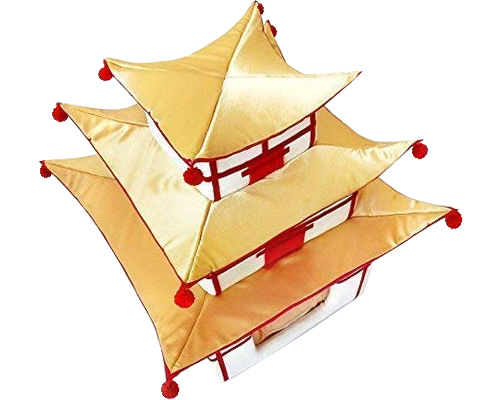 I love the gold fabric roof and the pompoms on the corners.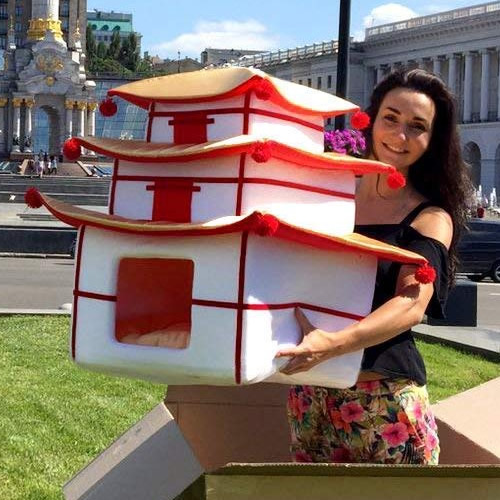 Either she is really small or the Pet Pagoda is REALLY big.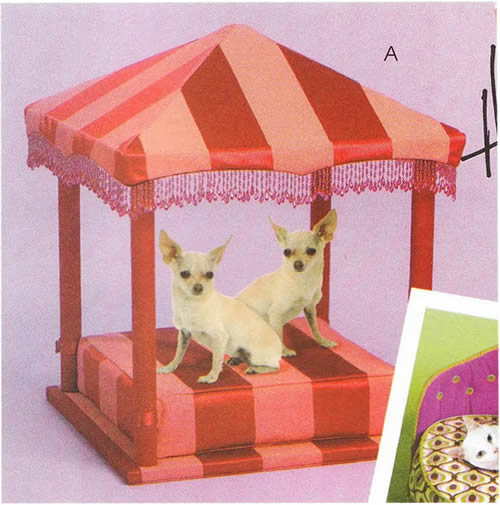 Pet Pagoda Pattern
McCall's Crafts Pattern M5677 from the Hillary Duff Collection includes a pattern to make a Pagoda Pet Bed, Pet Sofa and Pet Chaise Lounge.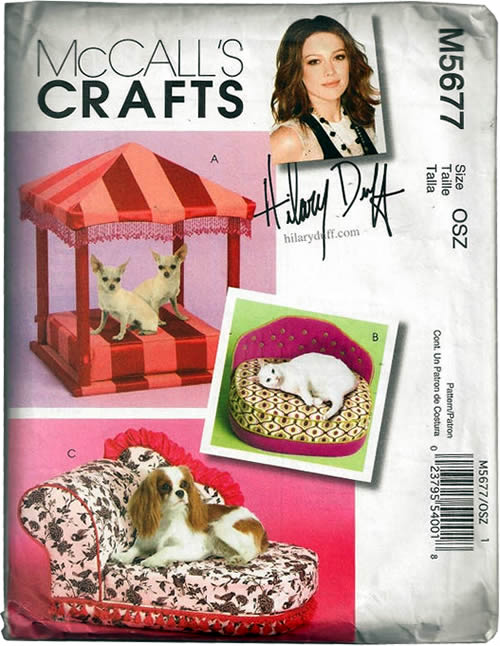 The pattern includes pattern pieces and instructions to make the three beds.
The Pagoda Pet Bed is 26" x 26" wide and 32" high. To make it you need 6.5 yards of 45" wide fabric, 4.75 yards of 54" wide fabric or 4 yards of 60" wide fabric.
The suggested fabrics include cotton, cotton blends or light to medium weight home decorating fabrics. The inner pillow calls for one yard of muslin or fleece.
You will also need:
Glue gun
Fabric glue
Utility knife
Small hand saw or electric knife
2" wide tape
6 pieces of 3/16" foamboard

one piece 26" x 26"
four pieces 25" x 25"
one 32" x 40" piece

One 20" x 20" piece of 4" foamboard
One 25" x 25" mat board
Four PVC pipe segments, 1 ¼" inner diameter, 24" long
Sand paper
1/8 yard of 1" VELCRO
3 yards of beaded fringe
Search for McCall's Crafts Pattern M5677 Hillary Duff Collection
to make a Pagoda Pet Bed, Pet Sofa and Pet Chaise Lounge on eBay >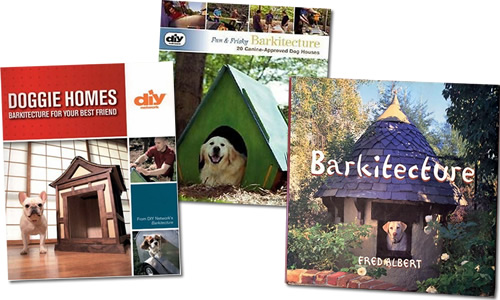 Barkitecture is a good name for architecture for dog houses. Here are three books that all thought so.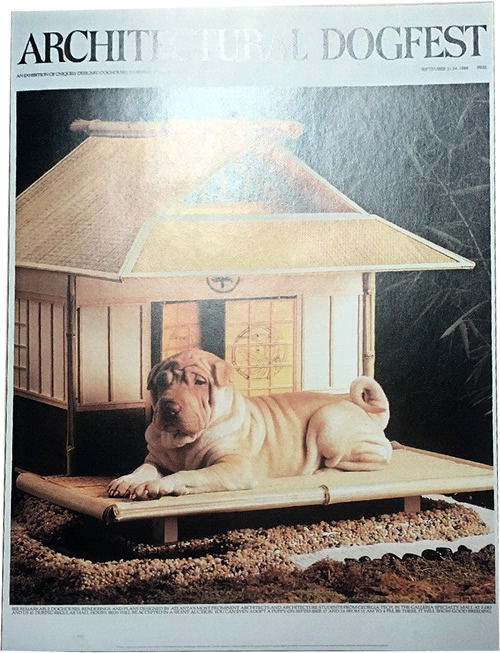 Barkitecture: The Ultimate Guide by Fred Albert has this Japanese style pagoda.
All three books give you enough guidance that you can complete the projects pictured in the book or design exactly what you want.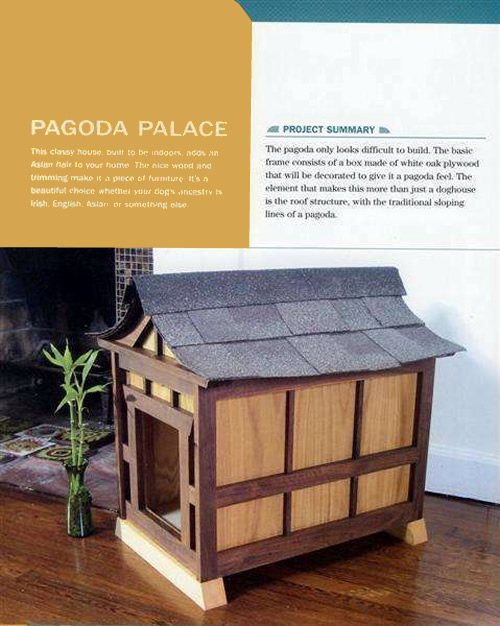 DIY Doggie Homes: Barkitecture for Your Best Friend Paperback by Matthew Klarich and Jeff Woods is broken down into projects with a materials list and instructions.
Find more Barkitecture books on eBay >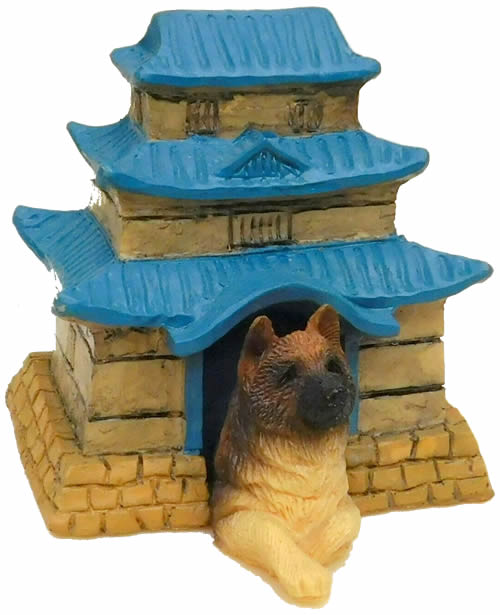 Barkitecture Pagoda Dog House Figurine
Since this came up every time I tried to find the metal one at the top of this post, I added it here. Barkitecture International Dog House Collectibles makes figurines, all of different breeds of dogs in different styles of dog houses.
Barkitecture Pagoda Dog House Figurine

Barkitecture
International Dog House Collectibles
A107 Japanese Pagoda and Akita

The ancient Japanese Pagoda houses the Akita who represents health, happiness, and long live.
Handmade in San Diego CA USA by Sandicast US and Foreign 1993 BRUE