Chinoiserie Melamine Dinnerware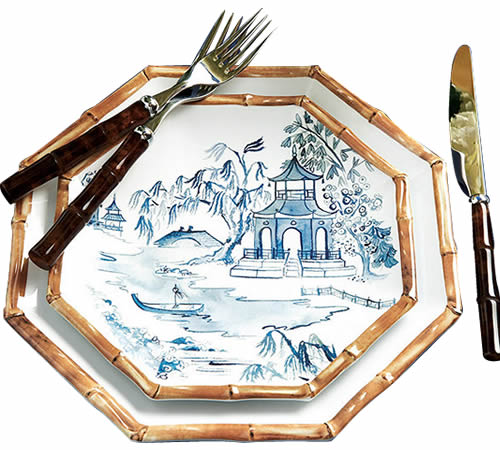 I looked and looked for Blue Willow Melmac for the porch.
Ballard Designs Bamboo Melamine Dishes
Ballard Designs has introduced this Bamboo Melamine Dinnerware that has a Blue Willowish scene in blue on white with a bamboo edge.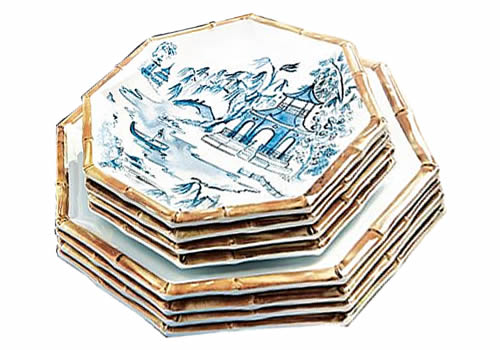 The smaller plate has the scene. The larger dinner plate is white with the bamboo edge.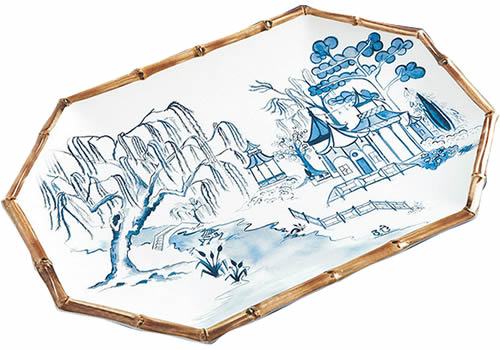 They also have a platter to coordinate.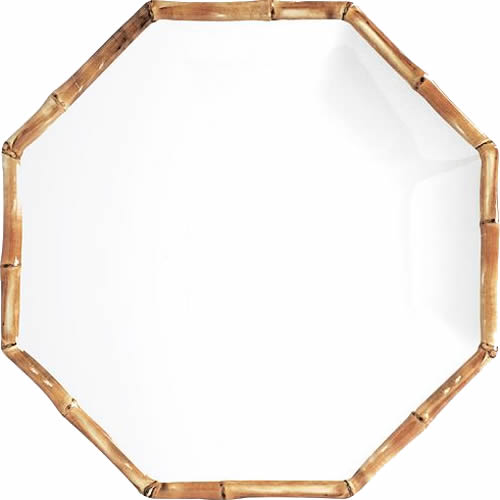 The big plate, Bamboo Melamine Dinner Plate, is white with just the bamboo at the edge.
It is  10 1/2″ wide.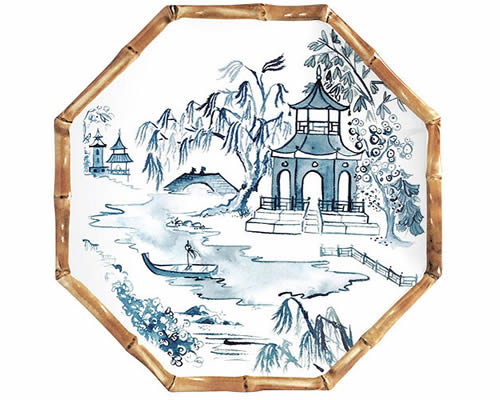 The Bamboo Melamine Accent Plate has the Blue Willow scene with bamboo at the edge.
It is 8 1/2″ wide.
The accent plate is also available without the Chinoiserie scene, in just white with the bamboo edge.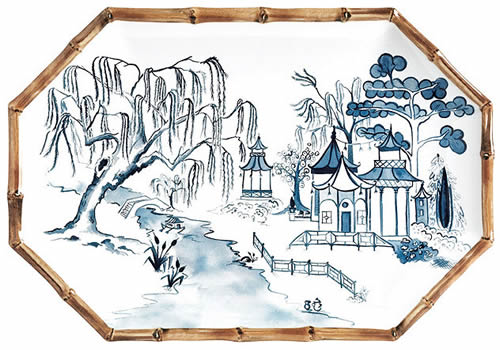 The Ballard Designs Bamboo Melamine Platter is 16″ x 11″.
These are available right now. You can get them at Ballard Designs website, or order from their catalog.
Ballard Designs Bamboo Melamine Dinnerware

Inviting tropical motifs for your spring and summer outdoor table. Our Bamboo Melamine Dinner Plate has a solid white ground with painted bamboo frame to showcase your favorite warm-weather dishes.

Made of melamine
Shatterproof
Dishwasher safe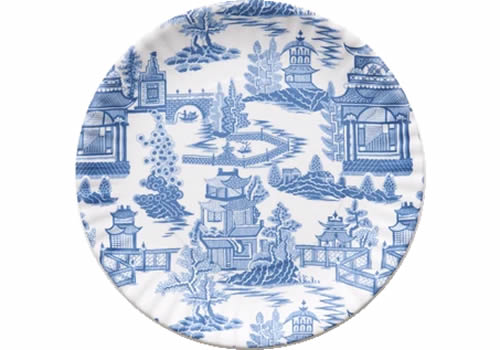 Caitlin Wilson Chinoiserie Melamine Plate Set
These plates with a Blue Willow pattern in melamine is available from Caitlin Wilson.
Caitlin Wilson Chinoiserie Melamine Plates

Set of 4 Chinoiserie Melamine Plates
9″ Diameter

This set of 4 blue and white Chinoiserie melamine plates instantly elevates any table. Paired in a set of four, it's sure to dress up your tablescape. Sophisticated, versatile, and classic this kid-friendly set makes dinnertime chic.

Sturdy weight with a smooth matte finish
Great for outdoor parties, picnics and kids
Dishwasher safe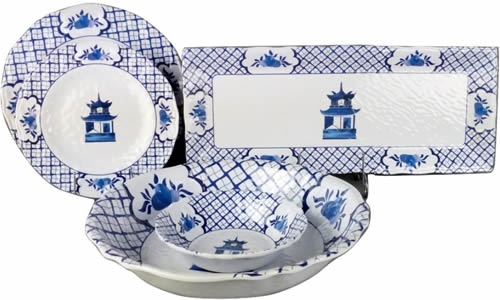 Enchanted Home Chinoiserie Melamine
Enchanted Home has the Fabulous Blue White Melamine Collection. It has the pagoda and other features from Blue Willow in a unique version.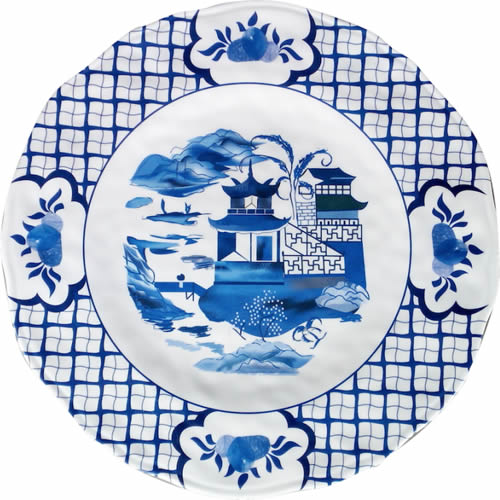 Only the dinner plate has the scene. The rest have just the pagoda.
Fabulous Blue White Melamine Collection

Dinner plates (11″)  sold in sets of 4
Salad plates (9″)  sold in sets of 4
Soup/cereal bowls (7.5″)  sold in sets of 4
Long serving dish (19.5″ x 7″) sold individually $28.00
Large round serving bowl (14″ round) sold individually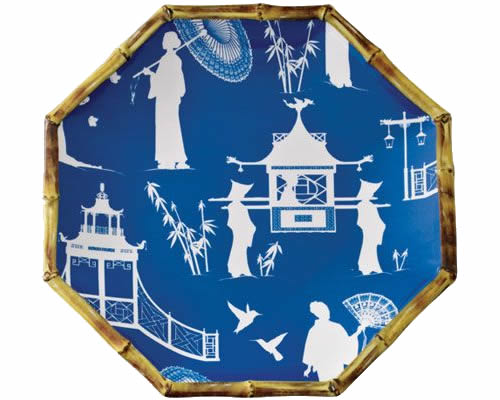 Kim Seybert Chinoiserie Plates
These beautiful chinoiserie melamine dishes, platter and coordinating napkins and things are in Google Images and Pinterest, but they aren't for sale on any websites anywhere.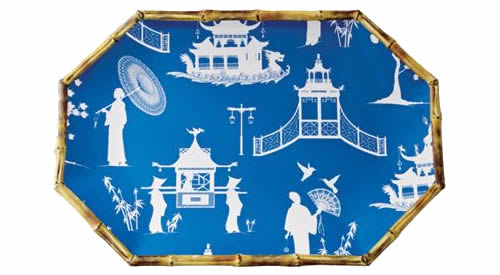 Links on Pinterest send you to www.horchow.com and www.graciousstyle.com. But they aren't available to buy.
About Kim Seybert

Designer Kim Seybert combines personal study in Old World techniques with a sense of current style to create uniquely elegant pieces for the home. Since 1997, her beaded and embroidered designs have helped to redefine beauty in home decor.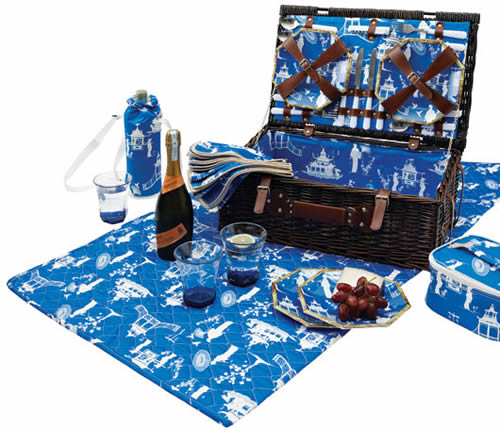 Kim Seybert  Chinoiserie Picnic Basket

Designed by Kim Seybert, this festive and fun picnic basket is an vibrant tapestry of blue. There's no better way to make your outdoor entertaining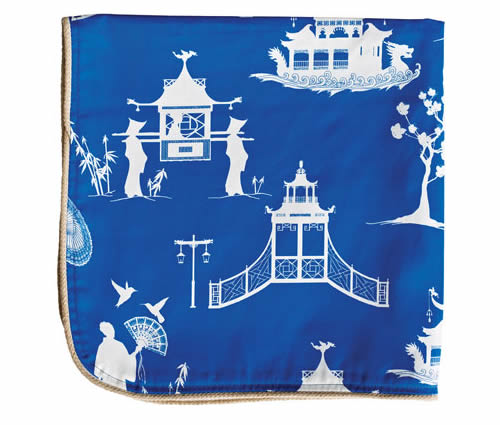 Kim Seybert Chinoiserie Napkin

Handcrafted of cotton.
Machine washable.
21" x 21" Square

This striking handcrafted napkin features white chinoiserie silhouettes on a bright blue cotton background accented with beige cord trim.
I haven't found them on eBay yet, but I will keep looking.
Search for Kim Seybert Chinoiserie on eBay >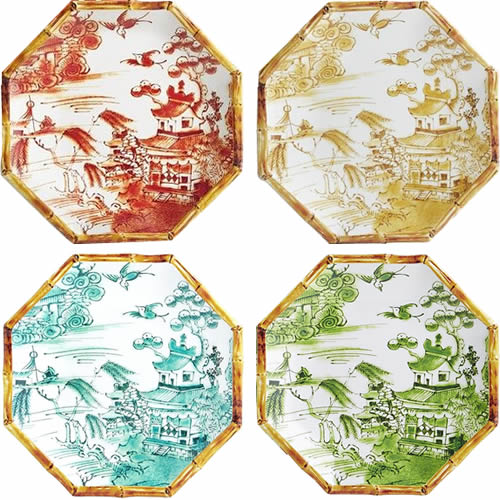 Pier 1 Chinoiserie Melamine
If they had made these in blue, I would have bought them. I came really close. But by the time I decided on the turquoise ones, it was too late and they were gone.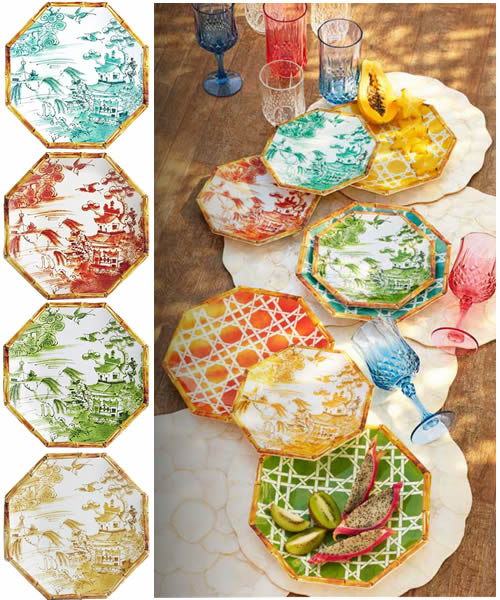 I really like both the scenic plates and the ones with the lattice pattern.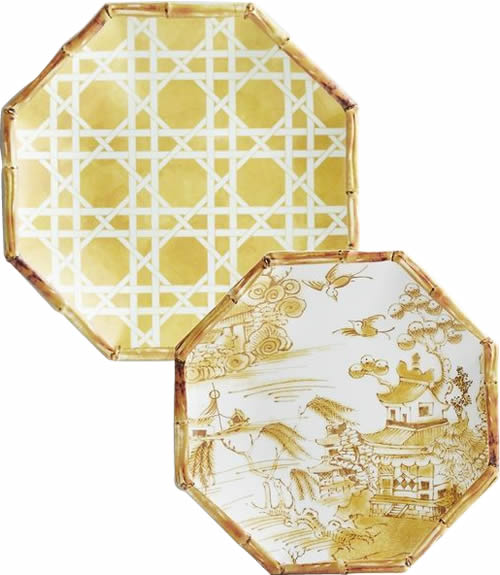 I really should have bought these when they were available. They are just beautiful.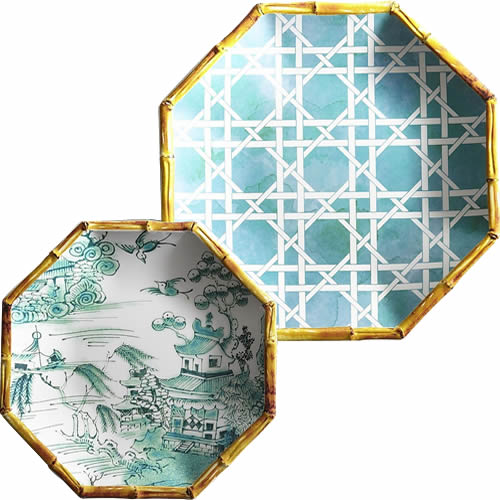 These are the ones I decided on.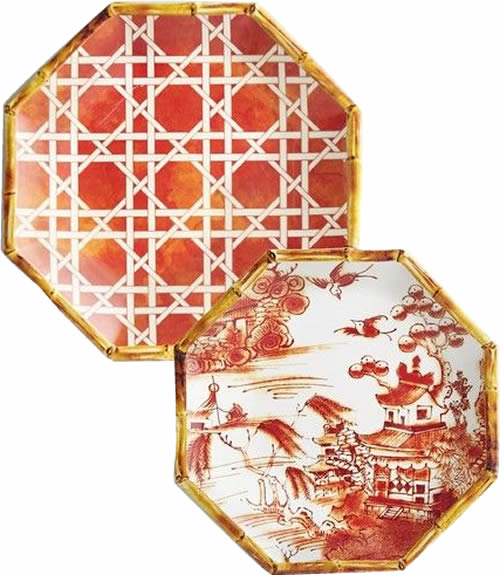 And I love it in the red orange, too!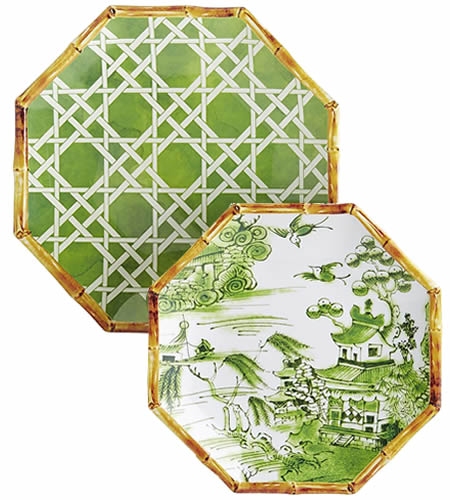 And here is the green. I love it, too.
Search for Pier 1 Chinoiserie Melamine on eBay >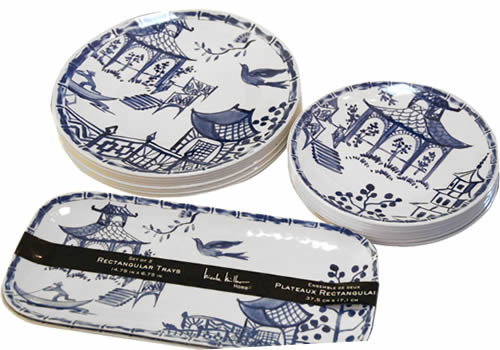 Nicole Miller Chinoiserie Melamine
The Nicole Miller Chinoiserie melamine was on eBay, but I never saw it again.
Search for Nicole Miller Chinoiserie on eBay >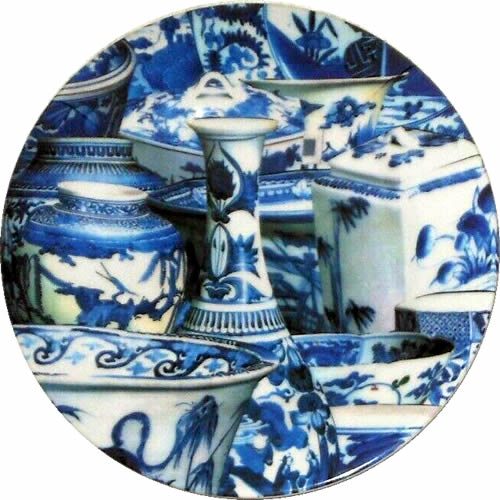 Annie Modica Imari Blue Melamine Dinner Plates
These are on eBay pretty often.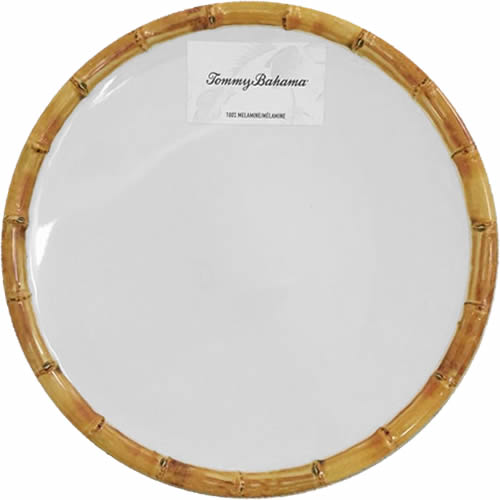 Bamboo Edge Melamine
A few companies make melamine dishes with a bamboo edge. Tommy Bahama Bamboo Edge Melamine comes in white and in beautiful rich watercolors.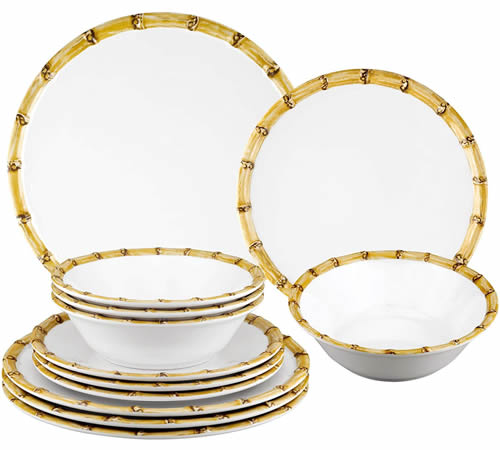 Gourmet Art Bamboo Melamine Dinnerware is on Amazon and doesn't cost a lot at all. They make it with a lot of different patterns in the center, but the white ones would be nice with the other chinoiserie dishes as accents.
Chinoiserie Melamine on Etsy
And finally, you can find Chinoiserie Melamine on Etsy.
You can find vintage pieces or monogrammed serving ware.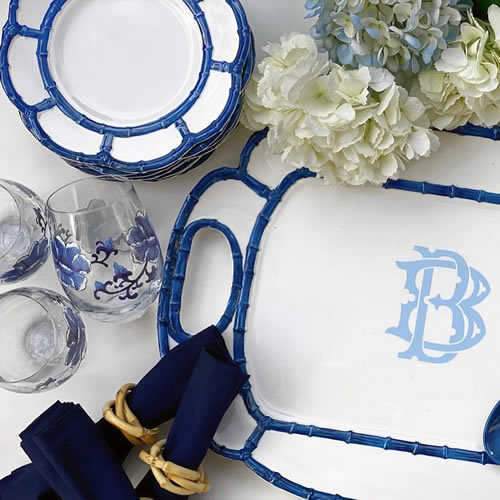 Two's Company Bamboo Touch Melamine Dinnerware from the Chinoiserie Chic Collection
I just found this collection of dinnerware and serving pieces, ready for summer on the porch!
Two's Company Bamboo Touch Melamine Dinnerware from the Chinoiserie Chic Collection >