LBL LED Illuminated Monorail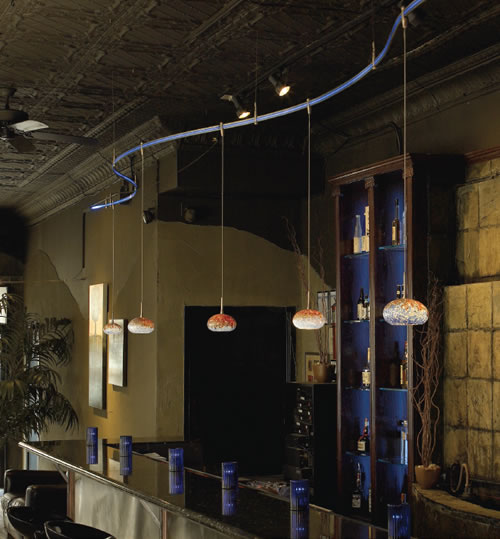 LBL LED Illuminated Monorail System
LED Illuminated Monorail
Hand-bendable Monorail with a fiber-optic band of colored LED light.

State-of-the-art LEDs (Light Emitting Diodes) brilliantly illuminate through fiber optic cabling that runs through the center of LBL's Monorail. Simply plug in a single-ended LED generator at the ends of the Monorail and you have a brilliant, glowing Monorail. Each LED only uses 3 watts of energy. 32′ of Monorail glows brightly with just two generators. The system is fully dimmable and easily expandable. Compatible with all LBL 2-circuit elements. (This system is not a 2-circuit system.)
Curved LED Illuminated Monorail with Blue LED Generator and LED Illuminated Monorail Jelly Pendants in Blue, Cable suspended

Any organic curve or straight run can be created in one of 5 colors, or mix in new colors each time you add a generator to deliver a full spectrum of possibilities.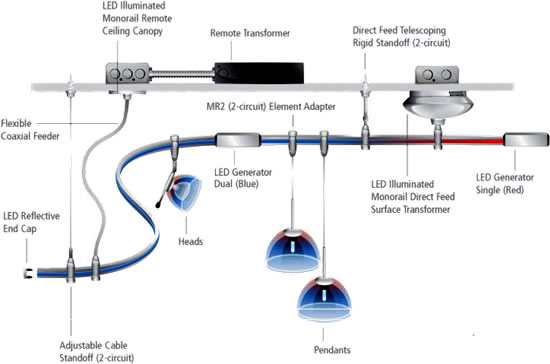 Design your rail.
Determine what you want to light.
Decide where track heads, pendants or both will be placed to direct light where you want it.
Design the Monorail run, connecting the lights.
Monorail can be shaped to follow room architecture or create an organic shape.
You can sketch out your room on paper. Draw in your lights, then decide how you want to design the track to suspend them.
You could use string to lay out your design on the floor to determine your length, especially if you have an especially curvy run.
Rail is available in connectable four or eight foot sections to be bent in the field horizontally to a radius as small as 6″ and vertically to a radius as small as 24″ as needed or used as a straight section.
Precurved pieces, prebent spirals and circles are available in a variety of sizes.
All rail pieces are field-cuttable and bendable.
Dead-End connectors allow you to switch and dim sections of rail separately.
Finish your rail with end caps.
Choose a finish; Satin Nickel or Dark Bronze.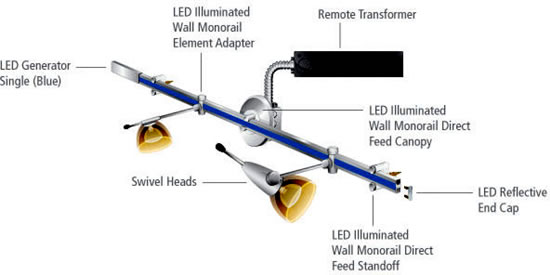 Determine your mounting.
Determine how far from the ceiling you would you like your rail to run.
LBL Monorail can be installed nearly flush to the ceiling. Rigid standoffs suspend track up to 96″. Adjustable cable standoffs hang up to 25′.
Rail can be curved horizontally or vertically, to run up and down.
Rigid or cable suspensions mount to flat ceiling, T-Grid ceiling using a clip or sloped ceilings using a Standoff Ball Joint Assembly.
Unique Telescoping Rigid Standoffs make height adjustment easier.
Use a support every 3 feet.
The total number of supports depends on the shape of the track layout.
A rigid power feed may count as a support.
Systems with very unique shapes or many pendants may require additional supports.
When mounting on concrete ceiling or wall, use a masonry adapter.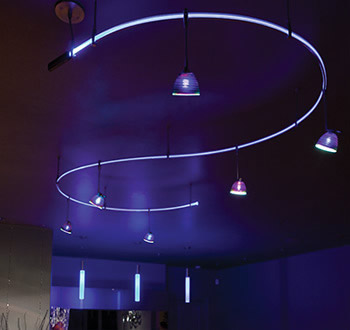 Choose your lights.
Decide where the fixtures should be installed to put light where you want it.
Select from an array of low voltage track heads and pendants.
Add optional colorful and decorative accessories and functional optical controls.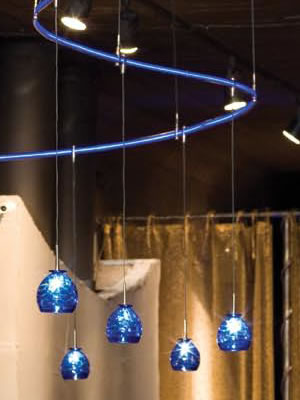 Select your transformer.
Add up the wattage from the lights you have chosen.
Choose 12 or 24 volt. LBL Monorail has a maximum capacity of 600 watts at 12 volts.
Select a visible surface mount transformer or a hidden remote transformer with power feed canopy.
Surface mount transformers install directly to a standard junction box.
Smaller electronic surface mount transformers are well suited for small runs.
Magnetic surface mount tranformers have a higher wattage capacity.
Remote mount magnetic transformers can be installed further away, in an attic or closet.
Magnetic transformers minimize any voltage drop potential.
Select your power feed if you are going to use a remote transformer.
 Add LED generators.
Each end of the run needs a single-ended generator.
An additional dual-ended generator would be used to expand your rail runs past 16′.
Illuminated Monorail Bendable Straight Rail
LED Illuminated Monorail
RAIL-ST-BZ96-LED LMRL Rail 96″ Long, Bronze
RAIL-ST-SC96-LED LMRL Rail 96″ Long, Satin Nickel
LBL LED Illuminated Monorail System has an open center channel for fiber optic cable illuminated by an LED generator.
LED Illuminated Monorail, with open center channel for fiber optic cable (fiber optic cable sold separately), is rated for 300 watts at 12 volts. Each piece of rail is shipped with straight conductive connectors to join rail pieces end to end. Order additional connectors if cutting and rejoining rails. All pieces are field-cuttable and hand-bendable to a horizontal radius as small as 12 inches.
Length: 96-LED 96″ long
Finish:
BZ Bronze
SC Satin Nickel
Search for LBL Monorail components on eBay >
Search for Lighted Monorail on eBay >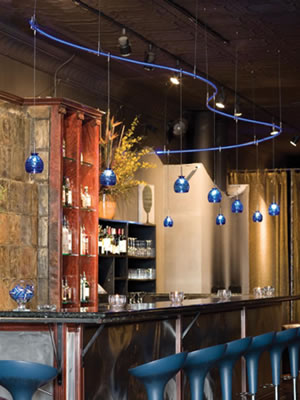 LBL LEDMRLE, LEDMRLC LED Generators for Illuminated Monorail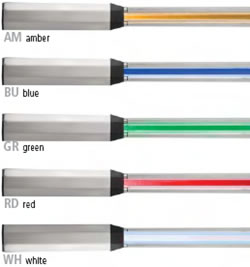 LED Color Generator for Illuminated Monorail
LEDMRLE-COLOR-FINISH LMRL Generator Single
LEDMRLC-COLOR-FINISH LMRL Generator Dual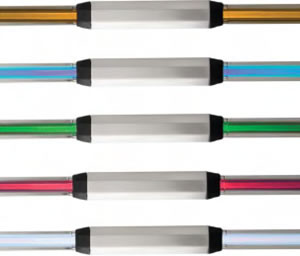 LED Generators may be chosen as single or dual ended light sources.
Recommended every 16 feet. LED Generators may be chosen as single or dual-ended light sources. Each end of the rail needs a single-ended generator. An additional dual-ended generator would be used to expand your rail runs past 16′. Mix colors with (2) different colored single-ended generators. Use a different color dual-ended generator to continue with additional lengths of rail.
LEDMRLE LED Generator Single
Single-ended 3W LED generator. Must be used on at least one end of a run.
LEDMRLC LED Generator Dual
Dual-ended 6W LED generator. Allows for extending a rail run beyond 32 feet.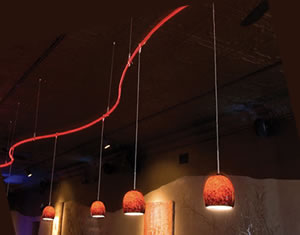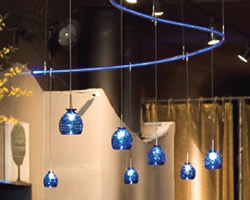 LED Illuminated Monorail fiber optic cable. Sold per foot.
Amber
Blue
Green
Red
White
About LBL Lighting and Tech Lighting
LBL began as a family business in 1971, founded by Ronald Stone. They used to be called Lightning Bug, so if you are looking for old stock, search Lightning Bug. Then the name changed to LBL Lighting. At some point they became part of Encompass Lighting Group.
Search for Lightning Bug Lighting on eBay >
Now if you go to the LBL website, it forwards to the Tech Lighting website. The website mergr.com says LBL Lighting, Inc. was acquired by Tech Lighting LLC on 2005-08-08.  The website pitchbook.com says that it was to be operated as a subsidiary of Tech Lighting.
April 3, 2017

The Harbour Group acquired Tech Lighting in 2004 and LBL Lighting in 2005 — both makers of architectural, specification-oriented indoor lighting products, mostly with a point source and decorative focus.
Both Tech Lighting and LBL Lighting have been part of Generation Brands for many years.

inside.lighting/lighting-news-archives/harbour-group-parent-company-tech-lighting-and-lbl-lighting-makes-acquisition