Progress Lighting Flex Track Monorail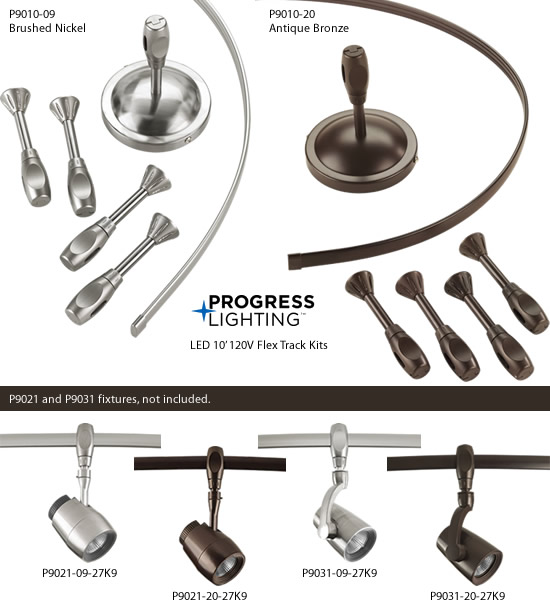 If you have been waiting to install monorail, Progress Lighting has made it easier and less expensive than ever.
The new Flex Rail Monorail kits have 10′ of rail and all of the components to install it in one easy kit. It uses line voltage, so you just wire it to a ceiling box just like any other ceiling fixture.
The kits come in P9010-09 Brushed Nickel or P9010-20 Antique Bronze finish.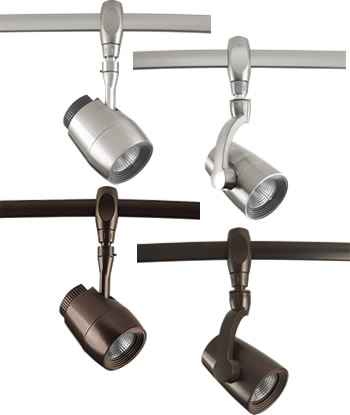 There are two different track heads to choose from. Both have integrated LED drivers. They put out 451 or 444 lumens per track head. That's about equivalent to a 40-watt incandescent bulb. The specular reflector aims the light where you want it and you can adjust the fixture itself. They draw very little current, so you can use as many as you want without popping a breaker and they are dimmable.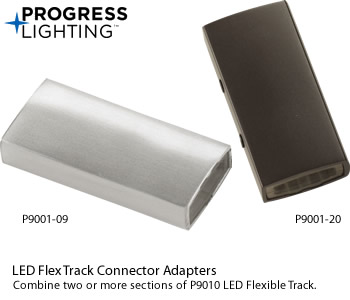 Progress even makes adapters. You can wire additional rails together using the same electrical connections and switch. Ideal for long hallways!
They are rated for residential and light commercial applications. The rail has a 1-year warranty. The lights are warrantied for 5 years.
Complete Monorail Kits >
More Monorail Starter Kits >
Monorail Gallery: Monorail Idea Photos >