Don't Let Your Lighting Age You!
House Beautiful's regular feature The Essentials; Solutions for the Busiest Rooms in the House tackles bathrooms in the February 2017 issue.
The article Renovating: Just Add Water states "Our primer on master-bath renovations has real talk on budgeting, who-knew insights, and a roundup of necessary luxuries."  It ranges from quick tips for a minor face-lift to sound advice for a total revamp.
Leading Lights

Of all the high-impact changes you can make in a reno, good lighting is the most transformative. Lights mounted high or directly overhead are wickedly aging – they cast shadows on the lower half of your face! But fixtures on either side of the mirror, each with 75 – or 100 – watt bulbs, will turn back the clock, providing focused, flattering light for applying makeup or shaving. Just put them on dimmers so you're not assaulted at night.

February 2017 House Beautiful
I'm guessing they mean 75 – or 100 – watt bulbs equivalent, since you can't get the incandescent bulbs anymore.
So, how do you do it? Here are some new ideas to mount fixtures on either side of the mirror.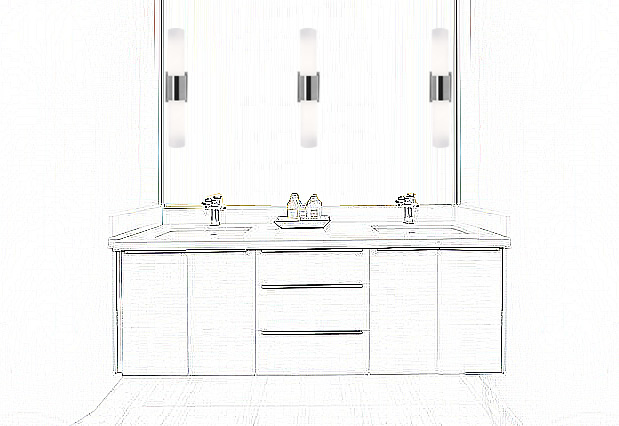 Do you have a large mirror? You can install lighting directly onto the mirror. Not every electrician will do this, so you might have to call around. Access 50567-BS/OPL Aqueous Wall Fixtures, shown above, use two 18w FT18DL Lamps for plenty of light.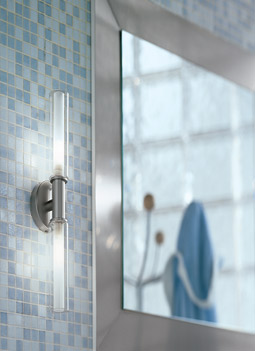 There are many fixtures that are designed to be mounted vertically. Studio Italia Design Sophie AP2 Wall Sconces can be mounted to the wall horizontally or vertically. It is available in chrome or satin nickel finish. Each uses two 40W T4 G9 120V halogen lamps.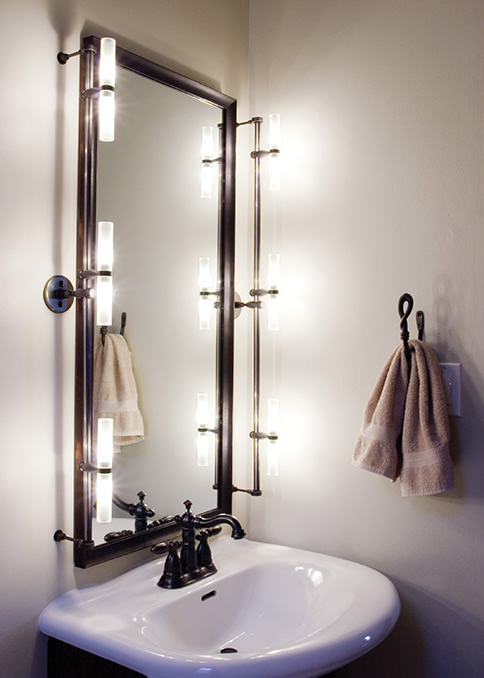 LBL makes a monorail kit just for bath lighting. What a great look!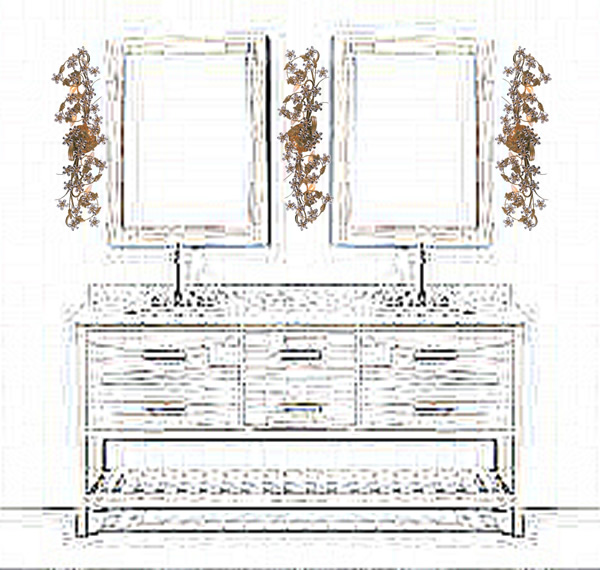 You can install many lights either horizontally or vertically.
Crystorama's Abbie bath lights are available in Antique White, Dark Rust or Gold Leaf finish. They feature Hand Cut Crystal flowers on a Wrought Iron Frame.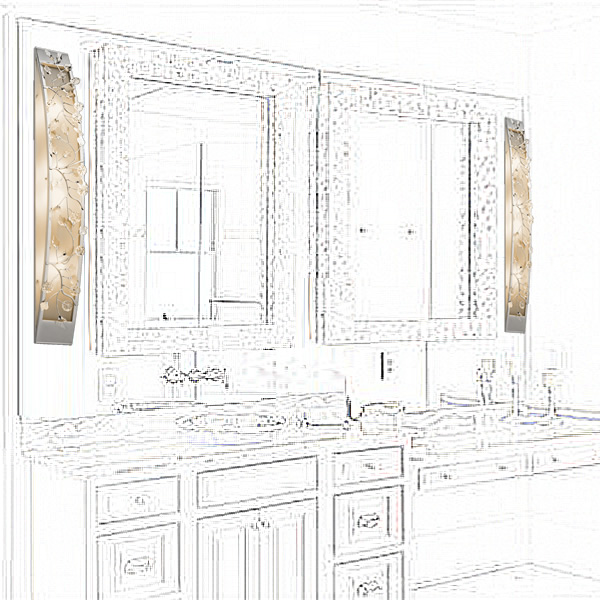 Kichler's 45293CH Bath sconce can be mounted vertical or horizontal. This unique bath light has sculptural, delicate flourishes with clear optic crystals and etched glass.

Vertical Bath Lighting

Vertical bath lighting may be mounted to either side of a mirror. This collection includes modern, contemporary and traditional options in Chrome, Brushed Silver, Oil Rubbed Bronze and other finish options.
Ideas From Previous Posts