Monorail for High Ceilings
Monorail is a great choice for a high ceiling.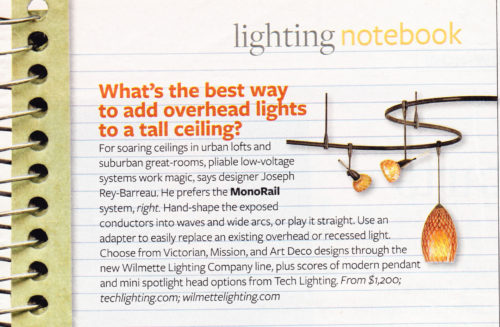 What's the best way to add overhead lights to a tall ceiling?

For soaring ceilings in urban lofts and suburban great rooms, pliable low-voltage systems work magic, says designer Rey-Barreau. He prefers the Monorail system, right. Hand-shape the exposed conductors into waves and wide arcs, or play it straight. Use an adapter to easily replace an existing overhead or recessed light. Choose from Victorian, Mission, and Arts and Crafts Style designs through the new Wilmette Lighting Company line, plus scores of modern pendants and mini spotlight head options from Tech Lighting.
Lighting Notebook, Better Homes and Gardens October 2007
Monorail for High Ceilings
Replace any fixture with a surface mount transformer, then run the rail along the ceiling. Stems and cables can bring the light closer and direct it wherever you want.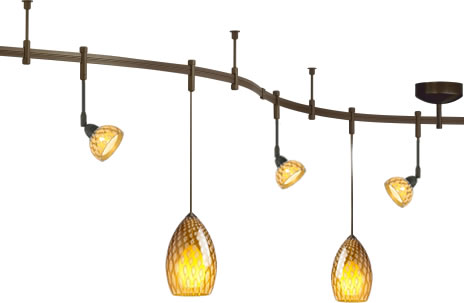 Tech Lighting Monorail in Antique Bronze Finish
Tilt Heads with Firebird Glass Shield Accessories and Firebird Pendants in Owl Amber glass.
Firebird is patterned Murano glass with a small frost rainbow glass diffuser.
Shown with 36" rail, 3" rigid standoffs, conductive connectors, surface transformer and endcaps.
Suspend the entire monorail with rigid standoffs up to 96 inches from the ceiling. Or use adjustable cable standoffs to hang up to 30 feet!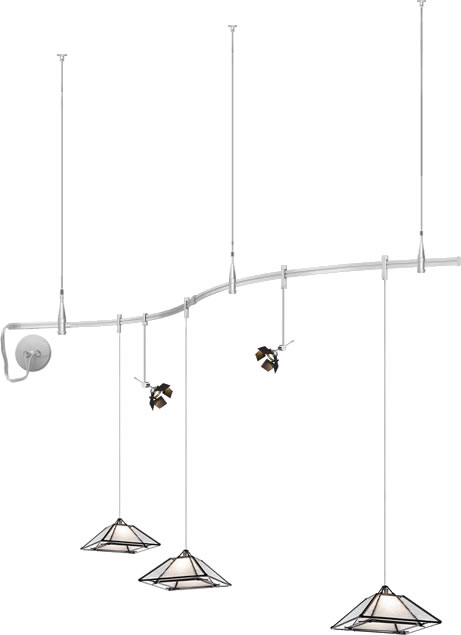 Tech Lighting Monorail in Satin Nickel Finish
Sprocket Heads with Handle and Barndoor Accessories and Oak Park Craftsman Style Pendants with Clear glass.
Shown with cable adjustable standoffs, conductive connectors, remote transformer with center power feed and endcaps.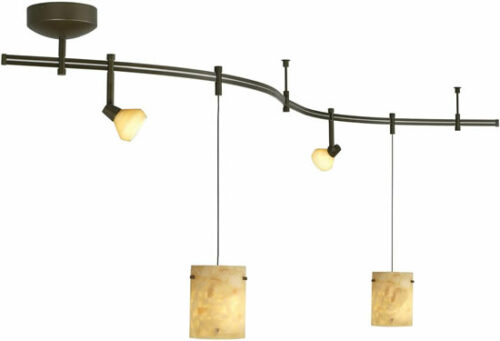 Monorail Kits
Complete kits make it easy to replace any ceiling light with monorail.
More choices and how to design your Tech Lighting Monorail System >
Tech Lighting Adaptable Pendants
Low Voltage Mini-Pendants P1 >
  Low Voltage Mini-Pendants P2 >
Low Voltage Small Pendants P3 >
  Low Voltage Small Pendants P4 >