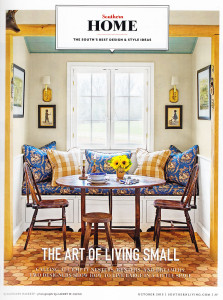 This month's issue of Traditional home's cover promised Ingenious Small Spaces and did they deliver!
So many pictures of small houses either look completely impractical, like living in a fussy doll house or a "she shed." Or they go to the other extreme and look like semi-glorified campers.
In the feature Southern Home – The South's Best Design & Style Ideas titled The Art of Living Small demonstrates two designers' ideas on how to live large in a small space.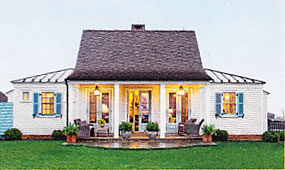 This is the front of the house. Very charming! The kitchen is to the left. The whole house is only 1200 square feet of floor space. This isn't as tiny as most Tiny Houses, but is a practical size. (Actually, it's bigger than the log cabin I live in.)
"It was very important to the owners that it was a comfortable, cozy place to be. It was hard not to make it charming too."
Sam Blount, from Decatur, Mississippi, based in New York City
The dining area, at the top of this page uses two traditional brass wall bracket sconces instead of a chandelier. The banquette gives additional storage. It's practical and adorable!
This is the kitchen. Enough work surfaces, storage and style! I love the small crystal lantern pendant over the sink.
The ideas that Blount recommends are:
Symmetry
Two rugs instead of one big one or a lot of little ones
Limited color palette
"Cunning" storage
Subscribe to Southern Living >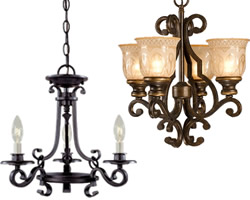 Antique Reproduction Small Chandeliers
Small scale Antique Reproduction Chandeliers bring elegance to many interior design applications. Use a single small chandelier suspended next to a sofa in place of a table lamp. A Series of small chandeliers can be used over a bar or kitchen island for a more traditional or historic interior.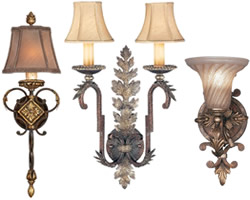 Drawn from historic sources, these wall brackets work with a variety of formal or traditional interiors. Look for iron, gold or silver finish in patinaed metal or painted finish.

These open lantern style pendants incorporate elements from a variety of historical sources. With antiqued or painted finishes and intricately designed cages, Antique Reproduction Lantern Pendants enhance a foyer or a high ceiling.