Track Lighting – Lots of Light for Any Style Kitchen
Are you trying to get a lot of light where you want it in your kitchen? One option is track lighting.
Just replace whatever light is already there with track. You can aim the light wherever you want. You can even add more light.
You don't want to overload the circuit. It's not just annoying to be constantly popping breakers, it really is a fire hazard. Check how many things are already on that breaker. How many watts are on the light you are replacing? You know you can go that high. With new high efficiency LED lamps, you can get a lot of light with very little electricity.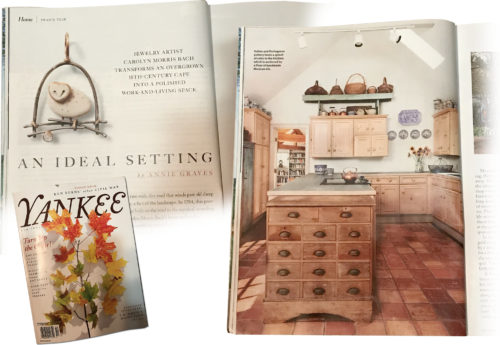 Don't worry that track lighting is going to look too modern. Track lighting can blend into any interior. The September/October 2017 issue of Yankee magazine has an article on Jewelry Artist Carolyn Morris Bach's careful and thoughtful renovation of her New England Cape House, built in 1784. When it came to the kitchen in this post-and-beam Cape in Richmond, Rhode Island near the village of Usquepaug, she used track lighting. And it fits in seamlessly.
 "The dark kitchen – an addition from the early 1900s – was gutted to the studs and opened to the peak. Velux skylights now overlook a peaceful blend of pale pine cupboards and terra-cotta tile floors. High shelves display baskets, teapots n and doll-sized Adirondack chairs…"

An Ideal Setting by Annie Graves
Jewelry Artist Carolyn Morris Bach transforms an overgrown 18th-century cape into a polished work-and-living space.
Carolyn Morris Bach lives in Southern Rhode Island.  You can visit her website at www.carolynmorrisbach.com.
Subscribe to Yankee Magazine >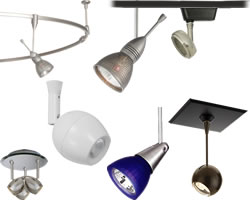 Design Track Lighting for Your Kitchen
More information on how to design your track layout, choose the lights and the variety of kits and components that are available can be found at www.deepdiscountlighting.com/track.html