WAC Lighting Landscape Lighting Plan for LED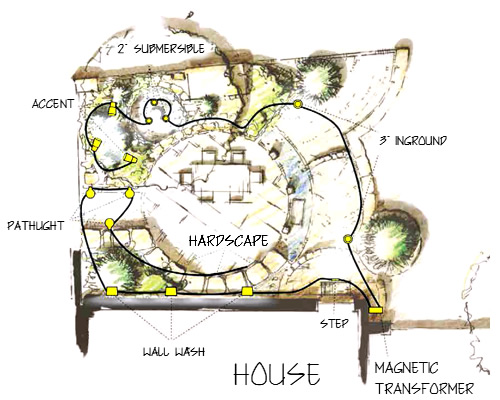 Here is a Landscape Lighting Plan provided by WAC Lighting. You can see that it has longer runs. With LED, you don't have to worry about voltage drop.
Here are the instructions WAC Lighting provides.
Step 1: Design
Select the focal points in the yard – these will be the main viewing objects on the projects and the first level of light.
After determining how these focal points will be illuminated, you will fill in light to accent the other areas of the yard.
More on Designing your Landscape Lighting >
Step 2: Fixture Selection
Path and Area: Ideal for illuminating pathways or illuminating flower beds.
Accent: Use to create dramatic effects when up lighting or subtle moods when used for down lighting.
Wall Wash: Use to create an even wide flood of light on any surface.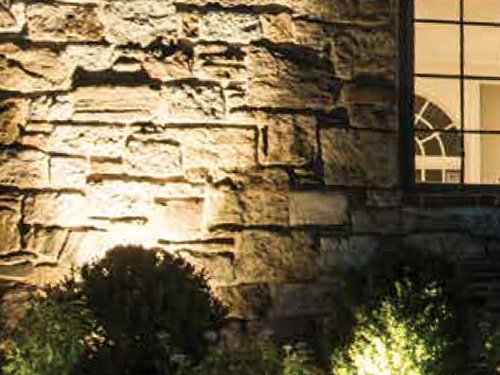 Hardscape Fixtures: Perfect for under a stack stone wall, deck handrails or a bench seating.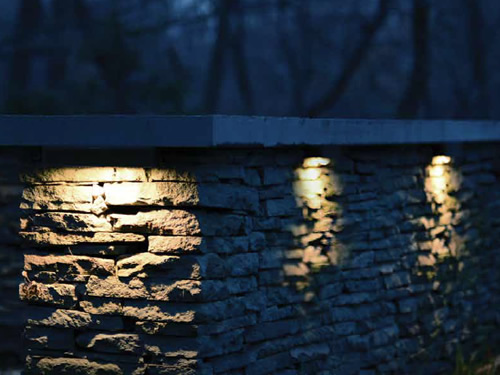 Tape Lighting: Illuminate irregular shaped hardscapes, in or around water features and ponds, or in an outdoor kitchen for entertaining.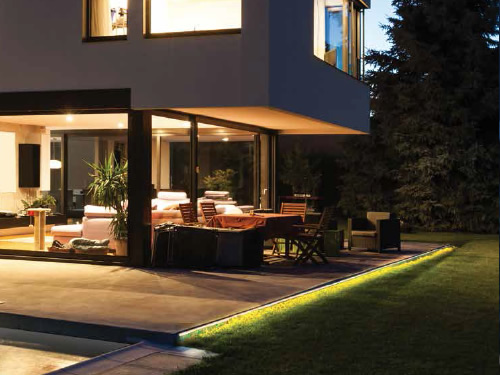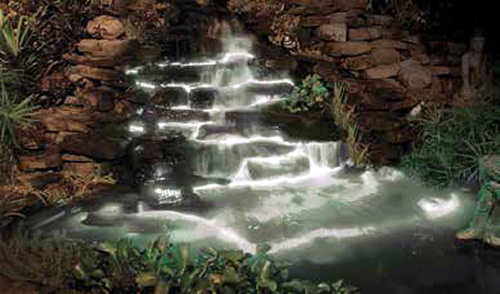 WAC InvisiLED Wet Location Outdoor LED Tape Lights >
WAC InvisiLED Palette Outdoor Color Changing LED Tape Light >
Submersible: Highlights ponds, water features and backyard streams.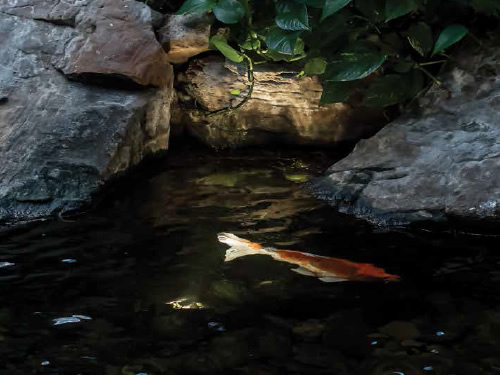 Step, Deck and Patio, Inground and Indicator Lights: Illuminate outdoor entertainment areas where foot traffic is prevalent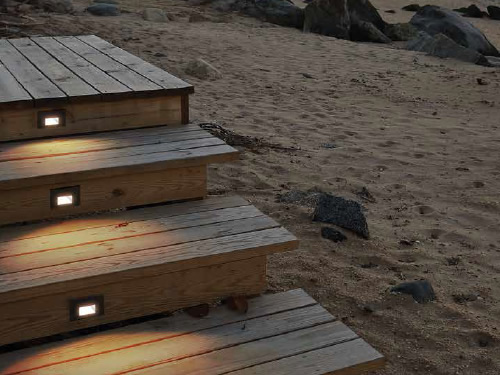 WAC LEDme Step and Wall Lights >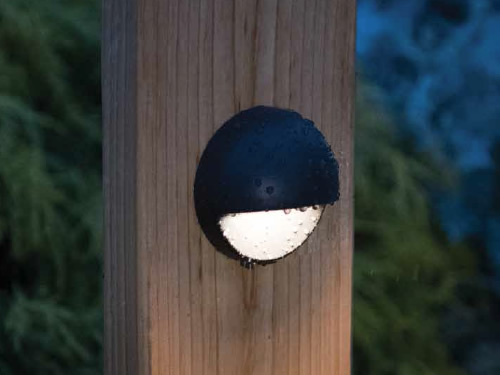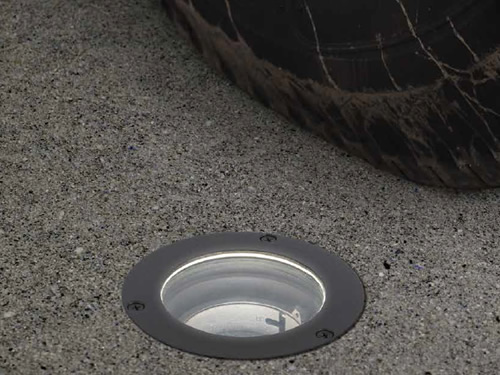 Step 3: Fixture Spacing:
Spacing is subjective. 6 feet of lead wire is provided across the offering for final location adjustments in the field
Bollard/ Path / Area: around 10' distance between each
Accents/Inground: Small objects require 1-2 fixtures, while large canopy trees with multiple viewing angles may require up to 4 fixtures.
Wall Wash: Placing 2' from your wall will cast nice even illumination
Hardscape: 3" for short, tight areas.
6" to illuminate under deck hand rails, retaining walls, or steps.
Larger sizes are available for greater illumination into areas needing a greater amount of light.
Tape Lighting: Tape lighting has approximately 40' maximum run distance, 5 amp max per run. Available in 1', 5' & 10' connectable lengths.
Indicator: Mark pathway borders with 18" spacing
Submersible: Rated for use up to 5 feet deep.
Step 4: Wire Runs
It is very likely that you will have several runs going out from the transformer to connect all of the fixtures. Adhere to transformer guidelines and above 9V at the end of the run.
Step 5: Transformer Sizing
Based on the fixture runs and number of fixtures on your project, you will select your transformer size (75W, 150W, 300W, 600W etc.).