Landscape Lighting Beam Spread and Light Control: Light where you want it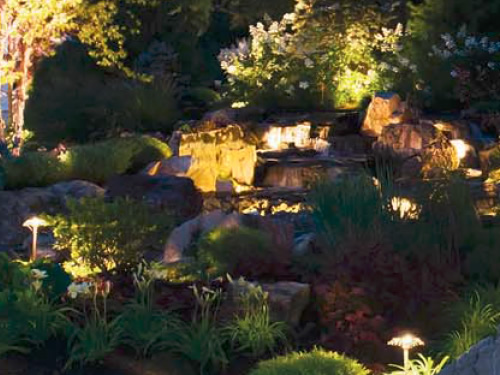 Deck and patio lights, path and spread lights are decorative, but the point of accent and in-ground landscape lighting is the light. You shouldn't really notice the fixtures at all, just the effect they create.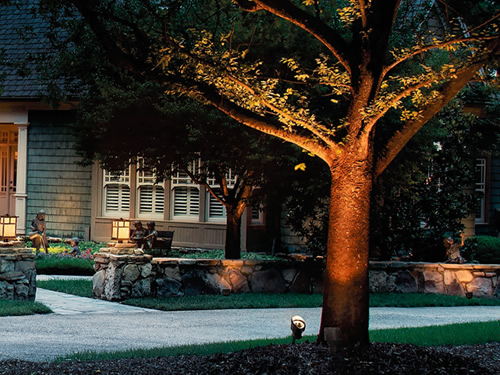 Have you seen the lighting at Disney World at night? Look at how they do it.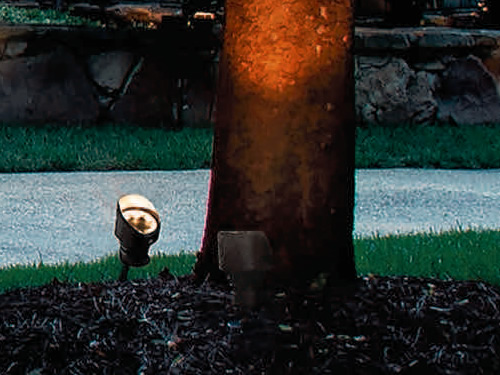 A combination of accent lights on stakes and in-ground or well lights are all perfectly positioned. Have you tried to get the look yourself and had less success? It could just be your beam spread.
Kichler LED Landscape Lighting >
Even the cool new Variable Lumen Output (VLO) landscape lights from Kichler that allow you to change how bright they are come in Spots, Floods, and Wide Floods. You have to pick the degree of beam spread.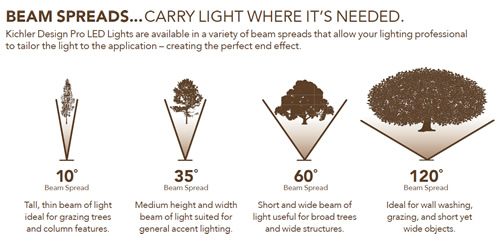 Beam Spreads… Carry Light Where It's Needed

Kichler Design Pro LED Lights are available in a variety of beam spreads that allow your lighting professional to tailor the light to the application – creating the perfect end effect.

10° Beam Spread

10° Beam Spread

Tall, thin beam of light ideal for grazing trees and column features.

35° Beam Spread

35° Beam Spread

Medium height and width beam of light suited for general accent lighting.

60° Beam Spread

60° Beam Spread

Short and wide beam of light useful for broad trees and wide structures.

120° Beam Spread

120° Beam Spread

Ideal for wall washing, grazing, and short yet wide objects.

Kichler: The Premium Choice in Landscape Lighting Catalog
New LED landscape lighting may have the lamps built right into the fixtures. Kichler's Design Pro Series Accent lights comes in 10° Spot, 35° Flood, and 60° Wide Flood beam spreads.
Beam Spread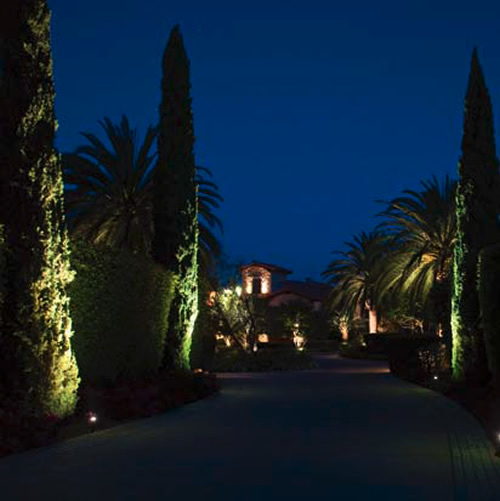 It doesn't seem like it would make so much difference, but it does. See how the narrow beam spread makes these tall narrow trees a real feature as you drive up to this home?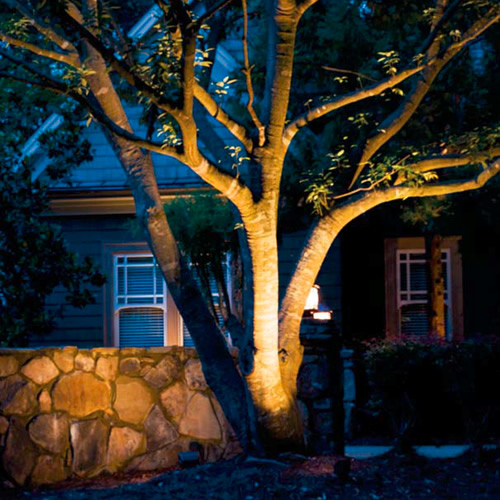 A wider beam spread lights up this tree.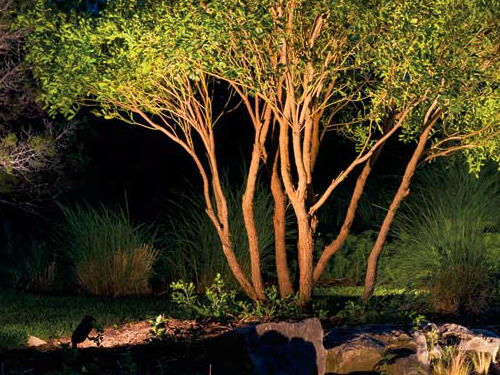 And an even wider flood at just the right distance makes these trees beautiful at night.
Kichler LED Landscape Lighting >
Beam Expander Lenses
Beam Expander lenses have to match the lens on your fixture. They work kinda like the lenses in your glasses. They widen the light coming out of the fixture, evenly distributing it over a wider area.
Other lenses can change the width or direction of the lens. Lenses don't have to be expensive, but they do have to fit.
WAC Lighting Shades, Shields, Lenses & Accessories >
Landscape Lens

MR11 Lens

MR16 Lens

Spread Lens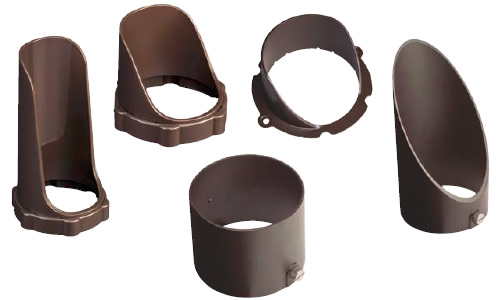 Hoods, Cowls and Shrouds
Some lights have these controls as part of the fixtures.
You can add hoods, cowls and shrouds to further control the light, if they don't come as part of the fixtures.
They don't have to cost much, but they do have to fit.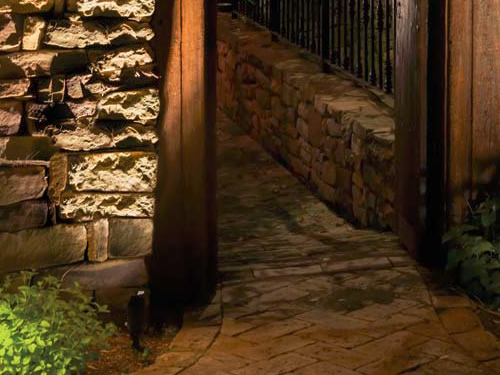 You should see the effects of the light, reflected. You should never be looking directly into a bulb. You never want to bright light anyone.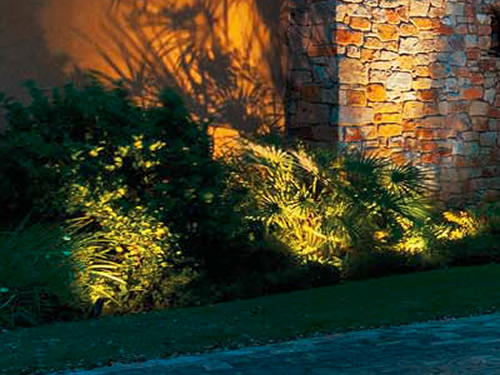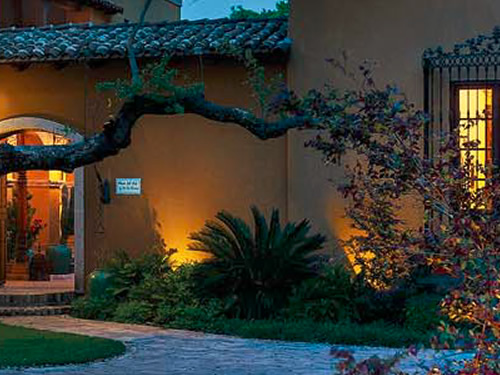 MR11 and MR16 Lamps
A lot of landscape lighting, both accent and in-ground, uses MR11 and MR16 lamps. You don't have to change your lights to change the effect of the lights.
Bipin MR11 and MR16 lamps are available in 15° Spots, 25° Wide Spots, 40° Floods, and 60° Wide Floods. Specialty lamps are available in an even wider variety of beam angles.
Conclusion
If you are still planning your landscape lighting, be sure to consider your beam spread.
If you already have landscape lighting, you may be able to get the look you want by just changing your lamps or adding cowls.
Kichler LED Landscape Lighting >