Six Steps to Your New Look – Step by Step Redecorating
Creating a beautiful comfortable home that reflects your taste and personality can be extremely rewarding. The secret is to take your time, make a plan and enjoy the process.
1-      What do you REALLY want?
What do you want?
If you don't already have a file of pages pulled from magazines, start one now. Pull the pages that interest you out of that stack of magazines you have been collecting. Most libraries have a stack of magazines to give away.  Ask your friends if they have any magazines they can part with.
Tear out any photos that you like. (Then you can throw the rest of the magazines away or take it back to the library if it is not too destroyed.)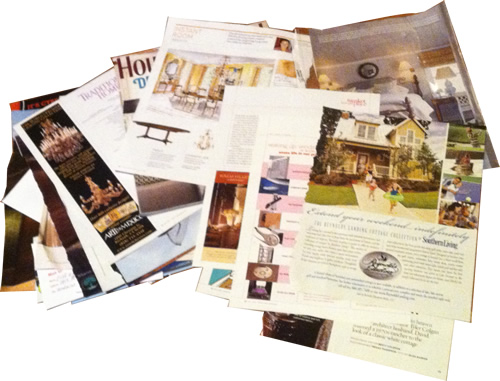 I put my favorite pages into plastic sleeves and keep them in a notebook. I have dividers for which room it is an idea for. It is my ultimate magazine. It has expanded to three volumes now. (Plus one for recipes and one for tips.)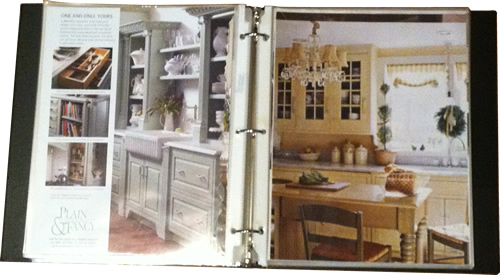 Now, look over those pages. What do you like about each picture? Is it the colors? Is it the windows? The style of furnishing? Lots of bookshelves?
Walk through furniture stores. Look around at your friends homes. Anywhere you go, if you like the way it looks, take note. Take a photo with your phone. Or even a Photosynth.
Look at what you already have.
Don't plan your room around things that are worn out, uncomfortable, the wrong size for the room or that you just plain don't like. Unless you have to. Sometimes you are stuck with things. If your mother-in-law bought it for you, your husband loves it or you can't afford to replace it.
If it is a matter of giving offense or hurting feelings, there may be a work around. Perhaps you can use it in another room. How long have you had it? Has the statute of limitations passed?
If you can't afford to replace it, perhaps you can make it work with paint or reupholstering. Talk to friends and family, sometimes you can trade.
My daughter Jessica's dining room set was not her style. It had been her husband's before they got married. My friend Laura loved it, but my daughter did not care for hers. Jessica wanted my very small set. I actually wanted a larger set, but something traditional, theirs were both more contemporary. So they talked Laura's brother into the trade. He bought Laura's set and gave her his set. I accepted his set for mine, which my daughter got, and Laura got Jessica's. Whew!
Start making your plan.
Write things down.
Price things.
Make a timeline.

What needs to be done now?
What can wait?

Take time to plan.
Measure your room and the things in it and put it on graph paper.
Step 2 – Six Steps to Your New Look – Step by Step Redecorating >