Faceted Orb Glass Pendants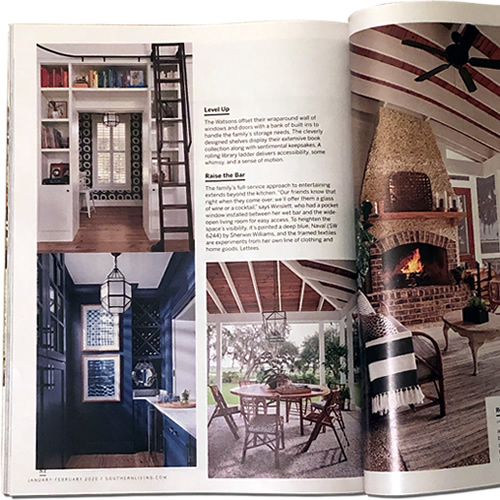 The latest issue of Southern Living magazine has an article Farmhouse on the Water. It is written by Valerie Rains with Photographs by Hector Manuel Sanchez and Styling by Elizabeth Demos. I've read about photo shoot styling. It looks like that is a real job that real people really have.
Anyway, the photo shows a lantern I really like. It has white glass and the finish looks like bronze. It has the feel of an orb pendant, but enclosed in glass.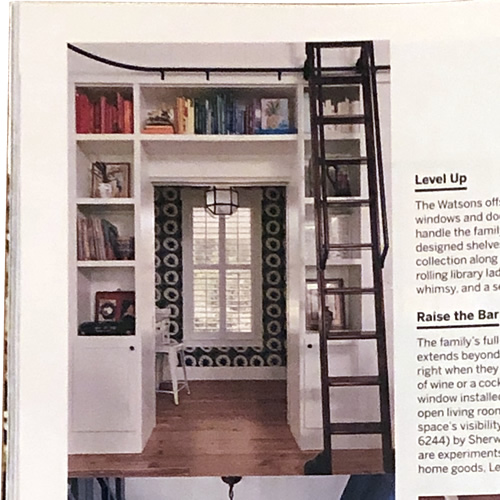 I can't tell whether there are two, or if the same one is just visible from two angles.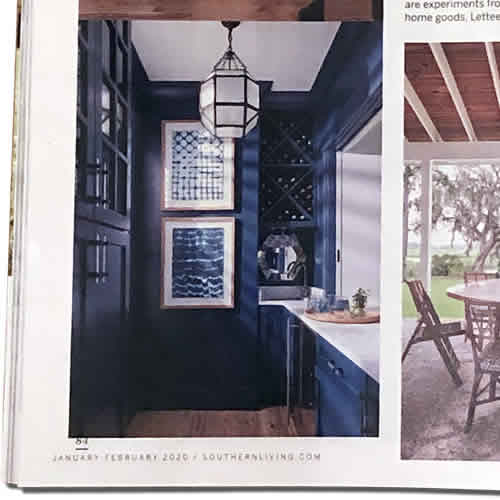 I love the white glass. It acts as a diffuser. A room with such dark paint is going to need a more light.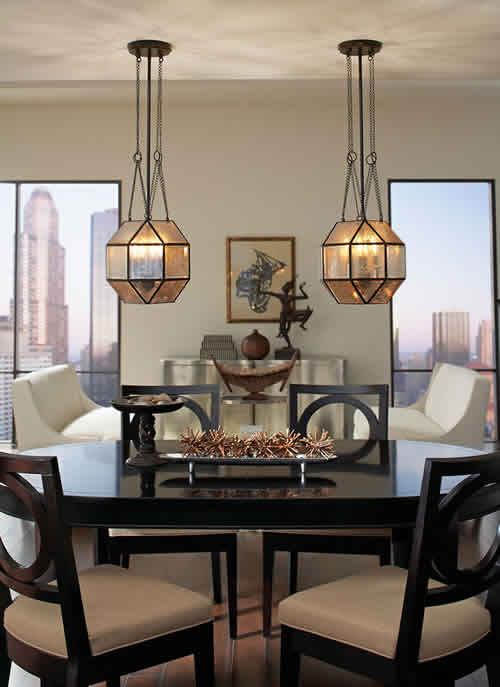 I thought it is one of the Lazlo Pendants from Seagull Lighting. But they only come with Clear or Mercury beveled glass panels. I really prefer the white glass.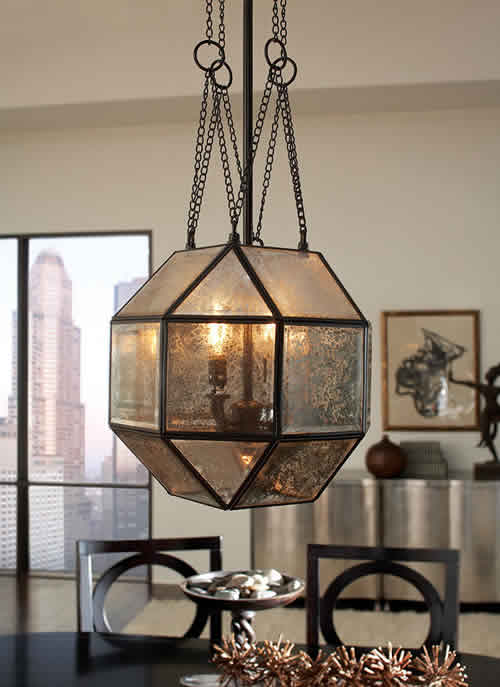 Mercury glass looks like a mirror when the light is off, but lets the light through when it is turned on. If the light has a warm cast, the pendant will glow soft amber.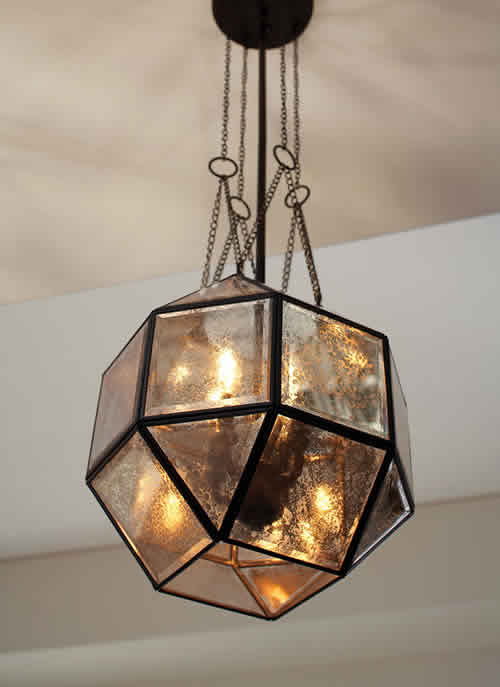 The Lazlo pendants have 24 panels of glass. The top and bottom are open. And it has a different chain configuration.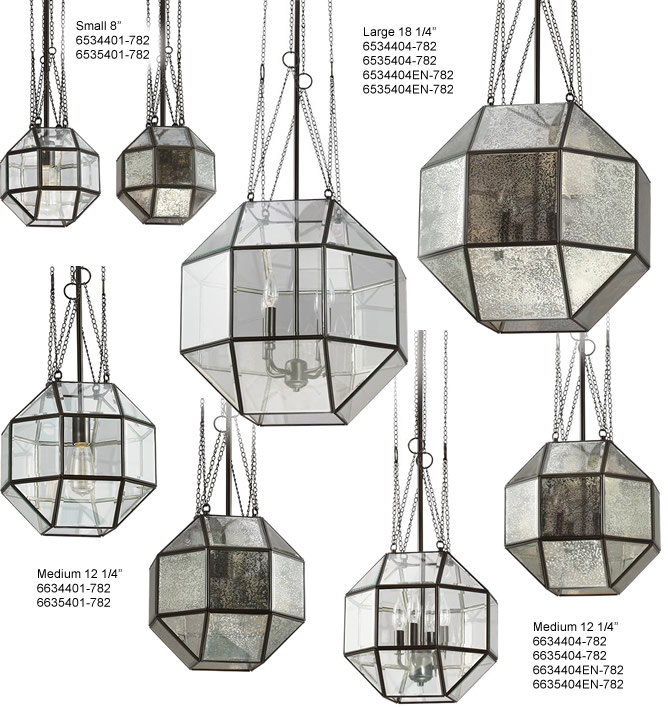 The Lazlo pendants come in Small, Medium and Large. The Medium version can have a single medium base socket or a 4-light candelabra cluster.
Sea Gull Lighting Lazlo Collection Pendants

The masterfully crafted Lazlo pendant collection by Sea Gull Lighting features Clear or Mercury glass panes (24 in all) secured within an octagonal frame in an Heirloom Bronze finish to create a captivating appearance of a faceted orb. Dramatically hanging from uniquely cross hatched chains, the fixture is open-ended at the top and bottom to allow a touch more illumination. The assortment includes small and medium one-light pendants as well as medium and large four-light pendants. Incandescent and ENERGY STAR-qualified LED lamping are available; all fixtures are California Title 24 compliant.
Sea Gull Lighting Lazlo Collection >
I used Pinterest to identify these lanterns. I just searched for Seagull Lazlo pendant, then looked through the visually similar pendants until I found these, Morris Lanterns from McGee & Co.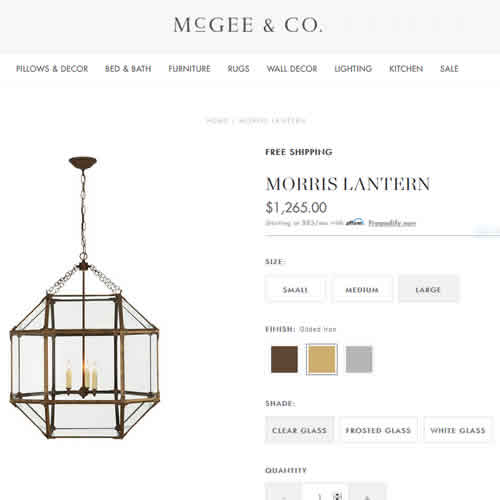 It is the Morris Lantern from McGee & Co.
Morris Lantern from McGee & Co. are available in Small, Medium and Large. The finish comes in Antique Zinc, Gilded Iron or Polished Nickel. And you can choose Clear, Frosted or White glass.
Our oversized Morris Lantern is the perfect statement for any space! This pendant light features iron edges and glass panels creating the quintessential combination of texture and shine. Update your lighting design with this contemporary styled lantern.
www.mcgeeandco.com/products/morris-lantern
Evidently they are all considered oversized. When you change the selection to small, it still says oversized.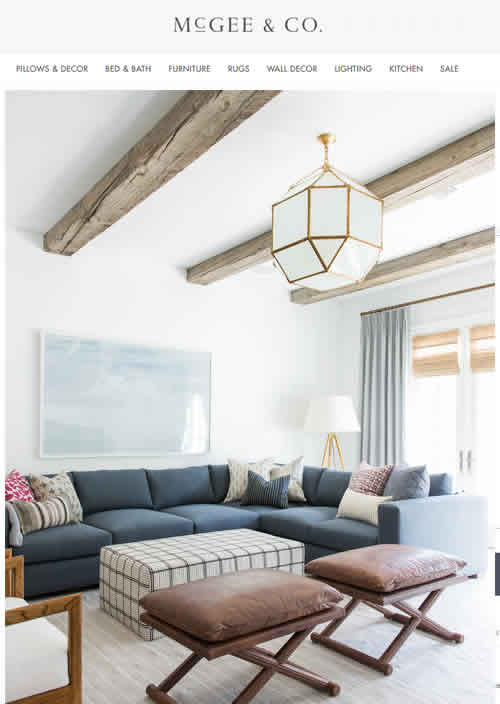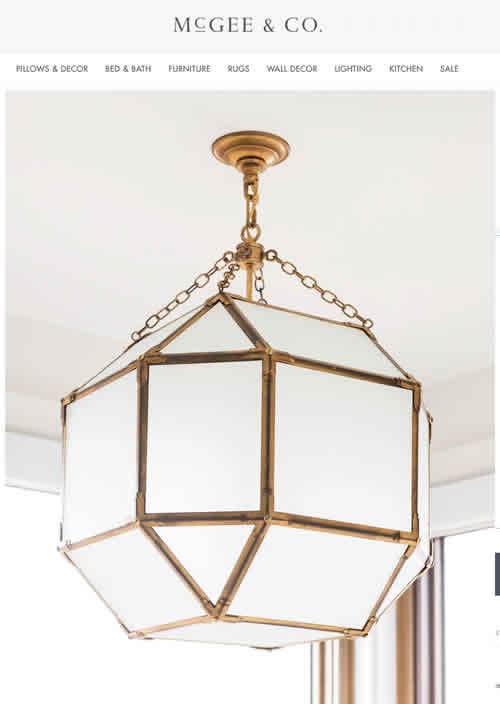 This looks like the Large version. It is in Gilded Iron with White Glass. I think the one in the magazine has frosted glass.
This is bigger. It doesn't look as white as the white.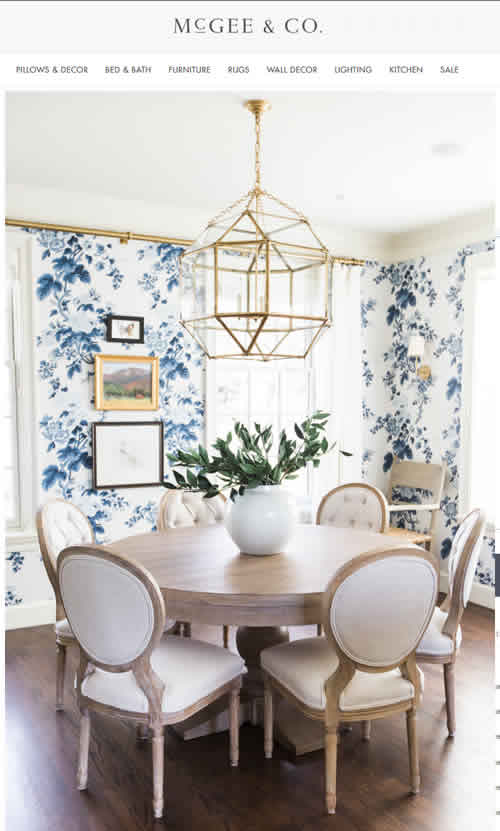 Here it is shown with clear glass. I love a lantern over a round table.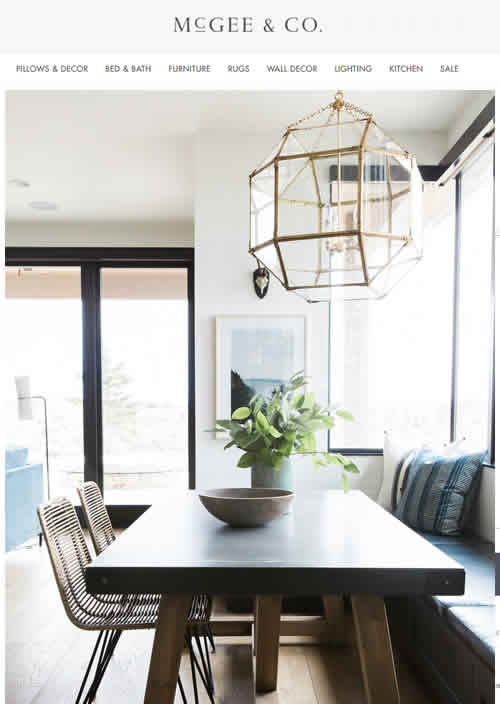 And here they have it over a banquette. It's not at all centered at this angle, but I'm guessing it is from the angle that matters. Maybe the table is usually pushed in?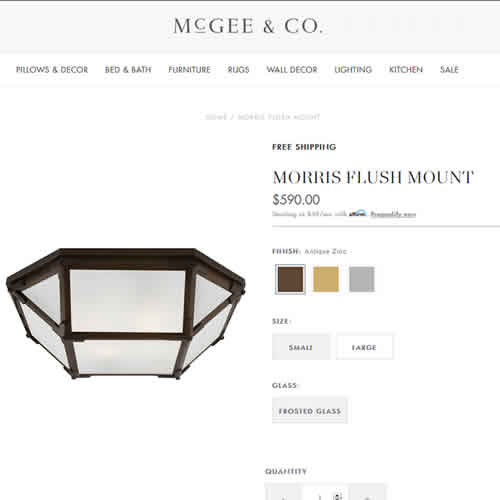 McGee & Co. Morris also has ceiling lights to coordinate. They are also available in Small, Medium and Large with Antique Zinc, Gilded Iron or Polished Nickel finish and Clear, Frosted or White glass.