Remember the woman who bought the Renoir at a flea market for $7?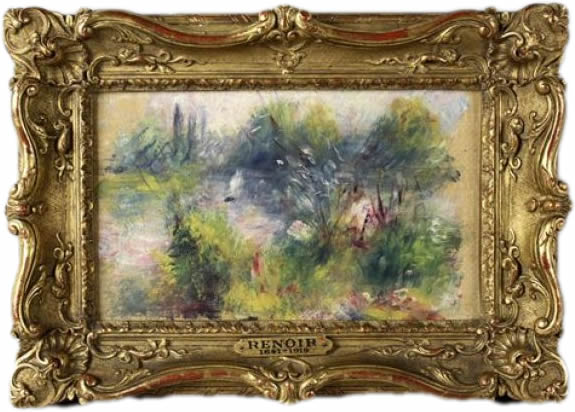 Remember the woman who bought the Renoir at a flea market for $7? Here's the latest from the news this morning.
The painting has been seized by the FBI because the painting was stolen more than 60 years ago from a Baltimore museum. The insurance company that paid the claim may be the owner.
"Fuqua told the FBI under penalty of perjury that she bought the painting at a flea market in Harpers Ferry, W. Va., never believing the painting to be a true Renoir, even though a plate reading "RENOIR" is attached to the frame. She describes herself as an "innocent buyer" and questions the FBI's authority to seize the painting.
"'Because I am not an art historian, collector, appraiser, or dealer, I lacked the expertise to identify the Renoir Painting's authenticity, origins or previous ownership history,' she wrote" www.washingtonpost.com
The latest? Fuqua's 84-year-old mother graduated from Goucher College, located in Baltimore in 1952 and lived in Baltimore in the 1950s, when the painting was stolen. She operated an art school for decades and specialized in reproducing paintings from Renoir and other masters.
A man who identified himself as Fuqua's brother, Owen M. Fuqua, told the Post that the painting had been in the family for 50 or 60 years and that "all I know is my sister didn't just go buy it at a flea market."
The man later retracted his story, and ultimately said it was another person using his name who gave the initial interview.
Recent developments: http://www.northernvirginiamag.com/entertainment/entertainment-features/2014/04/22/the-art-of-deception/