Without Light There Is No Color – Clamp On Display Lights for Art Shows & Craft Shows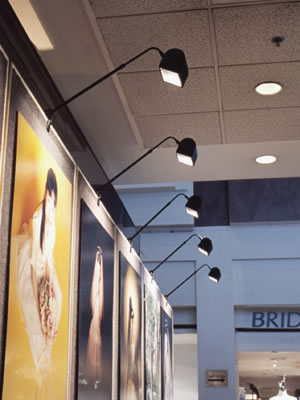 Do not underestimate the importance of lighting in planning your display for an art show, craft show, trade show or merchandising display. Display lights are ideal for lighting temporary exhibits, booths and craft displays.
"How should art be presented to enable it to be appreciated by viewers? There is no uniquely correct answer, and clearly this question involves more than just lighting… lighting does not merely make things visible… it affects their appearance, and for artworks, this implies that it will affect viewers' appreciation of the artworks.

"Anyone who becomes involved in providing lighting for museum displays, and particularly lighting for art, needs to give thought to how the nature of the lighting that they will provide may influence the viewers' experience."

Light for Art's Sake by Christopher Cuttle
This can present challenges.
"Lighting artwork poses challenges from both the technical application and design aspects. Proper lighting can bring out nuances and effects in your artwork that you may have not seen previously in a different light."
www.deepdiscountlighting.com/wac_lighting_artwork_successfully.html
Your lighting is meant to display your products at their best. It is more like merchandising lighting.
"Proper lighting is vital to selling, both inside and outside the store. Light directs customers' eyes to the merchandise and invites them to buy.

"The cheapest and most effective starting place in getting attention and recognition is with good lighting. Good lighting does not have to drain the store's operating budget… Without light, there is no color!"

Visual Merchandising and Display by Martin M. Pegler
Lighting is very effective In making your booth, your works stand out.
"In your craft booth proper display lighting is vital to selling. It pulls customers' eyes to the merchandise and encourages them to buy. Not only does it bring out the colors (particularly in a room with florescent lights) but will help make your craft booth display "stand out" and look inviting. People buy because they see."
www.beading-design-jewelry.com/display-lighting.html

"The people who use merchandise display techniques effectively are able to make colours appear brighter, shiny surfaces appear more glossy, and transparent materials appear to sparkle. These skills are the stock-in-trade of high street window dressers, and such trickery deserves to be shunned by museum lighting designers. Nonetheless, it needs to be recognized that lighting substantially influences how well the visible attributes of displayed objects are revealed… "
Light for Art's Sake by Christopher Cuttle
Lighting is a fundamental part of planning and designing an effective display.
"So do what you can to draw the eye and appeal to the senses… Suitable signage, attractive tablecloths, appropriate lighting, homey touches, shiny tabletop accents, and dangling displays, etc. are all examples of how you might improve your visibility."
www.craftsreport.com/show-basics/153-booth-layout-at-a-craft-show.html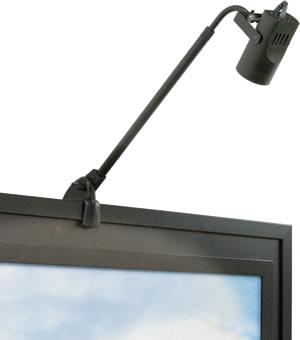 Wac Lighting Clamp Mount Display Light is available in black or white. It easily attaches to a frame or display. The optional Framing Projector accessory easily attaches allowing the display of a four-sided image. This allows a square or rectangular area of light to be formed on artwork with minimal light spill, giving paintings and drawings a "self illuminating" effect.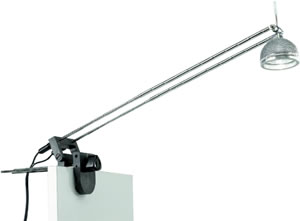 Tech Lighting has lightweight and versatile clamp on fixtures with a universal clamp that provides a secure grip on any surface shape, from a 1/2″ pipe to 4″ wall. Complete with 12 volt plug-in transformer with in-line switch and 10' cord. They are available for 50 or 75 watts. 12 volt, MR16 lamps.
www.deepdiscountlighting.com/tech_lighting_display_exhibit_collection.htm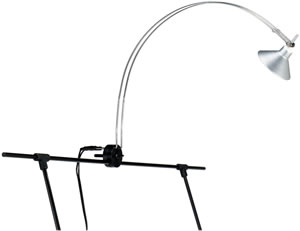 Tech Lighting LC-Archie Lite Clamp Fixtures 700DJARCH is
17.5″ long, with a 10″ high swooping curve. The head pivots to direct beam. It uses a 12 volt, MR16 lamp of up to 75 watts. The round clamp grips securely to a panel as slim as 1/4″ or as thick as 1″. The banner channel allows a tight hold to 5/16″ banner frames. The length of the fixture may be adjusted by sliding the arms back and forth through the clamp. It has a 12 volt, 75 watt plug-in transformer on a 10′ cord to plug into a standard outlet.
www.deepdiscountlighting.com/tech_lighting_display_exhibit_collection.htm