Swing Arm Wall Sconces – Clever!
I love swing arm wall sconces. I have them on both sides of the bed. They come in so many sizes and styles. I've had traditional ones for quite a long time now, but I ordered these new ones from Holtkotter. They adjust in every direction. I am really looking forward to them.
The best part? The switch! You turn it on and the light comes on starting very low and dim.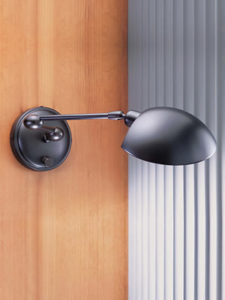 Holtkotter (Holtkoetter) Swing-Arm Halogen Wall Sconce 522/1
This classic swing-arm wall sconce has a maximum extension of 21″. Equipped with a turn-knob dimmer and a 100 Watt halogen bulb by Osram. Backplate Width is 4 5/8″ to accommodate a standard electrical box. Pin-up kit with a 19″ cord cover and 7′ cord is optional and sold separately.
Finish: Antique Brass, Black / Polished Nickel, Hand-Brushed Old Bronze, Polished Brass, Polished Brass / Brushed Brass, Polished Brass / Satin Nickel or Satin Nickel
Dimensions: Backplate Width 4 5/8″x 21″ Extension
Maximum Wattage: 1 x Q 100 DC/CL – 120V/max. 100 Watt Bayonet Base Halogen Bulb Manufactured by Osram

This month's issue of Southern Living, April 2016 shows a great house on Kiowah Island, South Carolina. (By Kaylee Hamonds, Photos by Laurey W. Glenn.)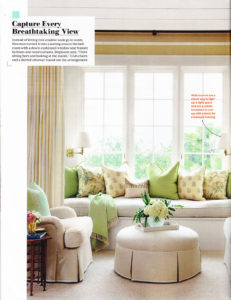 "Wall sconces are a clever way to light up a tight space and are a subtle invitations to curl up with a book for a tranquil evening."
Low Country Living, Southern Living April 2016

Swing Arm Lamps & Goose Neck Wall Lamps
Linear, circular or square canopies in bronze, satin nickel, chrome or other metal finishes suspend an incredible selection of glass diffusers. Select the options that best coordinate with your interior.

Besa Swing Arm Lamps
These are totally customizable swing-arm lamps. Choose your finish, then choose from literally hundreds of options in metal or glass shapes and colors.
Clearance Wall Sconces & Swing Arm Lamps
You might get lucky! If there's anything left, there are some great deals!
I posted more about this a couple of years ago. www.mydesign42.com/a-swing-arm-lamp-creates-a-comfortable-reading-nook-in-a-bedroom